Merry Christmas messages, wishes, quotes, card, images, videos, GIFs
The bells are jingling, carols are playing on the radio stations, and the house is covered in glitter, a sign that the festive season has kicked in. The excitement that the season brings calls for merrymaking. These lovely Christmas messages and wishes will brighten the beautiful occasion and spread love.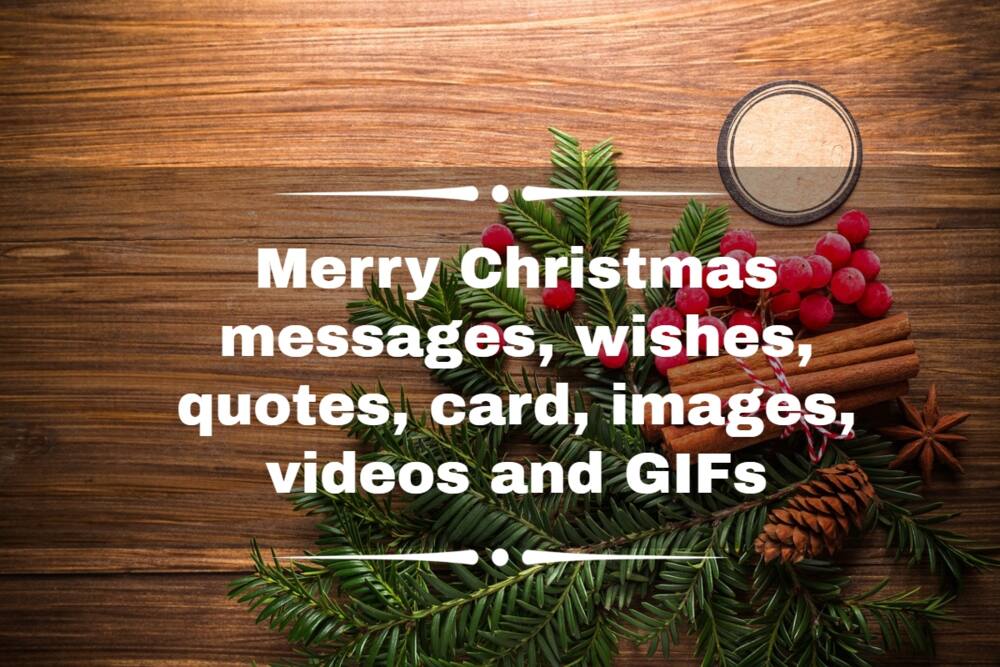 It does not matter whether you enjoy Christmas or not because when the cheery wave hits, you do not have much choice but to go with the flow. During the festive season, sharing heartwarming messages is a tradition that most people have embraced, and you not doing so might come out as being rude. You can send your friends and loved ones sentimental Christmas messages, wishes, quotes, cards, videos, and GIFs.
Merry Christmas messages
In a season when gifts are essential, it might not be simple to jot down a heartfelt Christmas message to express your thoughts and wishes about the present. Therefore, this list of the absolute thoughtful Merry Christmas messages will come in handy.
Inspirational Christmas messages for friends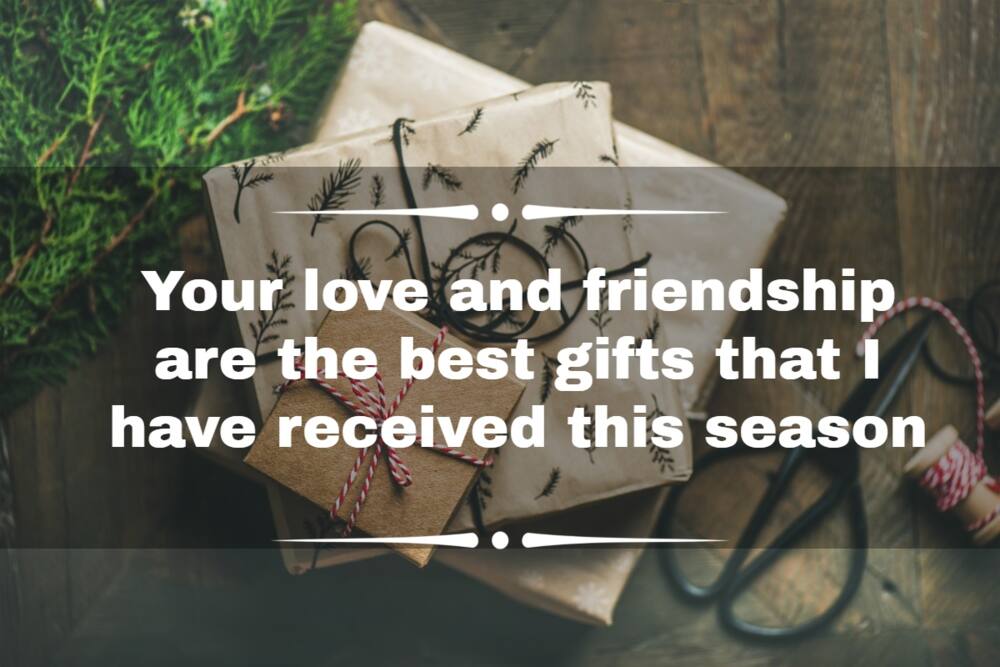 Because of the year that 2020 has been, appreciating your friends is a great gift that you could give. Therefore, what is the best message for Christmas? These messages are a gesture of how much you appreciate them for being in your life.
Christmas is the feeling of love and laughter that real friends bring.
Your love and friendship are the best gifts that I have received this season.
I hope that your festive season is as wonderful as you are.
I am honoured to have had you as a friend all year. Have a memorable festive season!
The best gift anyone could offer this festive season is to spend time with you.
We have been through so much this year, and you being there for me is a selfless gesture. The much I could do to repay you is reciprocate the love and let you know that you are never alone.
Religious Christmas messages for family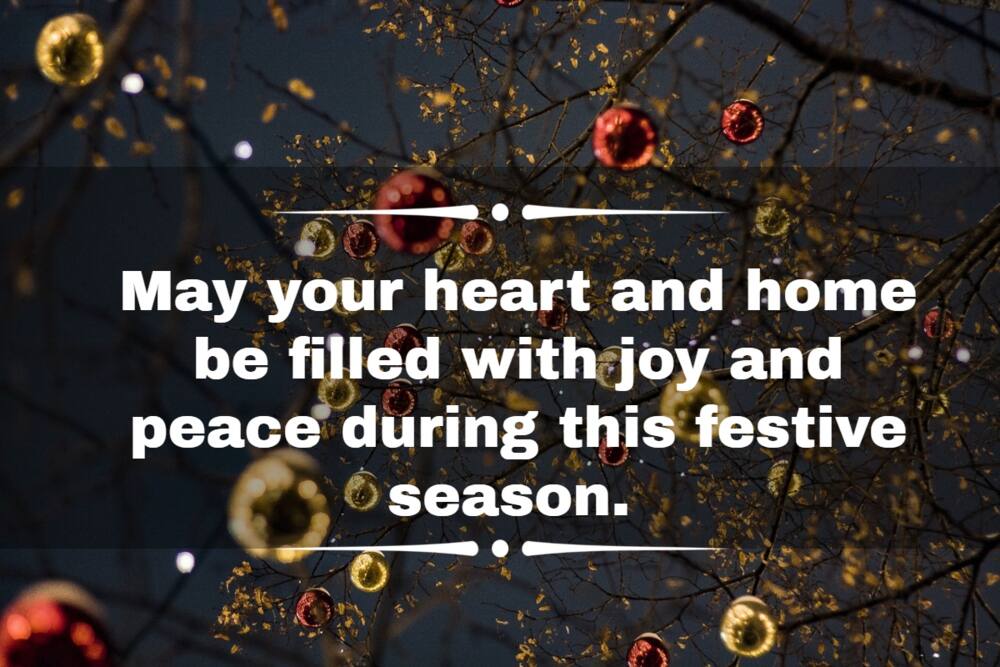 With the current state of affairs, joining your family members for the festivities as it has always been might not be possible. That does not mean that you do not stand a chance to share the joyous mood. These messages could go a long way in expressing how much you appreciate and love them.
During this holy season, I wish you blessings, happiness, and love.
May your festive season be filled with the miracles and real meaning of this festive season.
I wish you warmth and good cheers during this holy season. Jesus was born for you!
I wish you the unconditional love of God in all the dreams of your heart and your everyday prayers. Merry Christmas!
I wish you joy, peace, and the best this incredible holiday has to offer. May this season be a time to find joy in God, family, and friends. May you receive abundance from it.
I hope that during this season, Jesus will give you peace, joy, and love.
May God grant you a peaceful festive season and year.
May the divine presence of Jesus Christ be with you during this holiday!
I thank God that our paths crossed, and I am forever grateful to God for you. Have a blessed festive season!
May your heart and home be filled with glorious joy and peace during this festive season.
Funny Christmas messages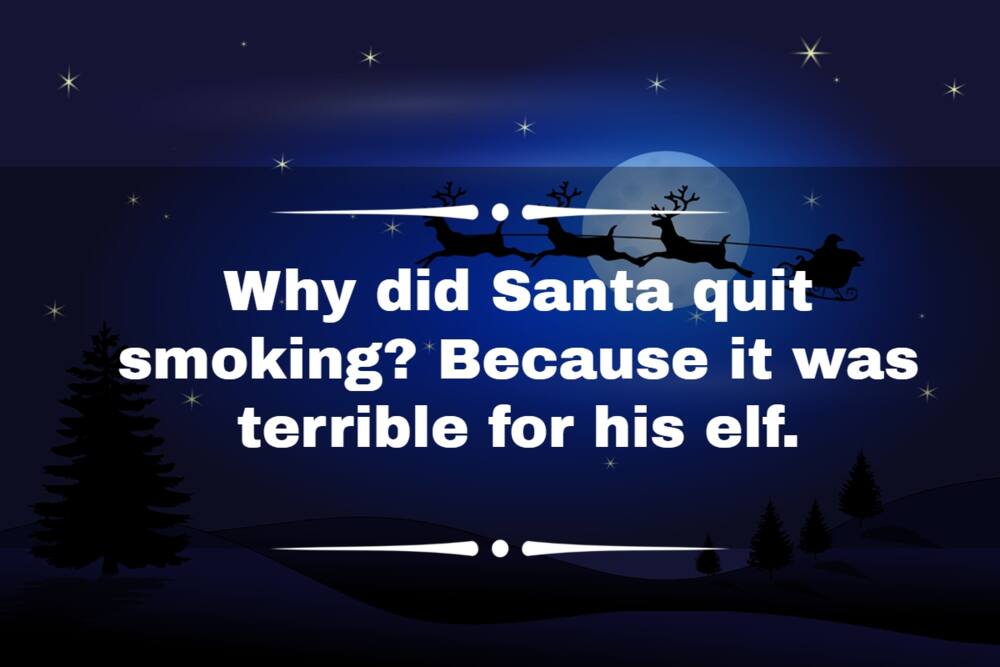 If you are looking for ways of adding a little hint of humour to your messages, these are some of the messages that you could share. The best part about it is that most of them are related to the occasion. They are the best to share with your siblings and friends.
Why did Santa quit smoking? Because it was terrible for his elf. Merry Christmas!
You can tell a lot about a person by handling three things: a rainy day, lost luggage, and tangled Christmas tree lights.
Whoever said 'all is calm' has never been to our house around Christmas. Some might say we are not very bright, either.
Yay! It is Christmas! Let us buy loads of stuff no one needs!
I hope your festive season is coming along well with minimal stress.
I hope you fall in love with the gift that you asked me to get you.
Merry Christmas wishes
Apart from the thoughtful messages and gifts, you could express yourself through Merry Christmas wishes 2020. They are a pure way of stating how you feel about your friends and family. Think about some great things that you wish them to have.
Merry Christmas wishes for boss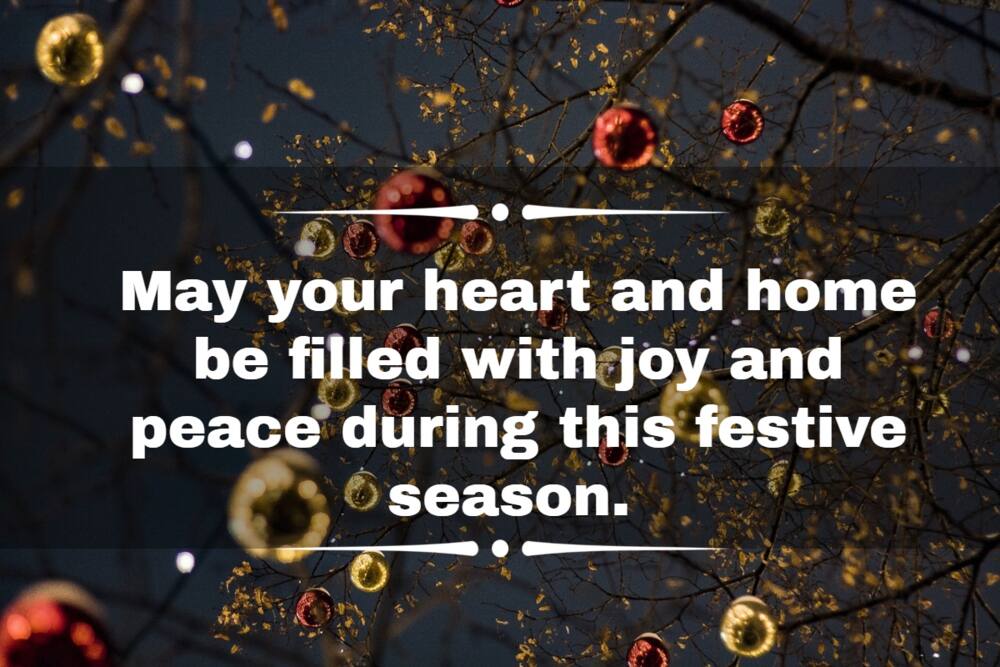 It is a little more than obvious that you want to be in good books with the person that reviews your performance and approves your request for a vacation. However, the dilemma is what the message and wish should entail. This list provides casual but respectful wishes that you could send to your boss.
Merry Christmas wishes to the boss who has supported me throughout the year.
I wish you and your family a blissful festive season.
May you and your family be filled with joy throughout this festive season.
May you have a blast during this festive season because this is the only season for you to rest.
May the festive season bring prosperity to you and your family.
I am sending good wishes to our talented and hard-working boss.
Getting the rare opportunity to work with you has been one of my most significant blessings this year. Receive my warmest wishes to you and your family during this festive season.
May this festive season bring you and your family great gifts and unforgettable memories.
Have a wonderful festive season! Thank you for all that you do for our team.
Merry Christmas wishes for clients
If you are in the business-oriented world, you can attest to how important it is to maintain a cordial relationship with your clients. Creating rapport and good communication are some of the most critical factors that keep the business afloat. Therefore, these wishes will remind your clients how much they mean to you.
You are one reason I have had a fruitful year, and I am grateful for that. Merry Christmas!
Nothing beats the experience that we have had working with you, and as the festive season unfolds, my wish for you is that this season will be blissful for you.
Sending warm wishes to one of the best clients we have had the opportunity to work with.
We feel honoured to have worked with a faithful client like you, and our wish is that you will have a memorable experience this festive season.
Besides commitment and respect, we value our partnership very much. We wish you a memorable festive season this year.
I wish you a fun-filled festive season!
We wish that the festive season brings you blessings for being a fantastic client.
It was a meaningful experience to do business with you, and I hope this festive season will bring us together.
This year has revealed the dimensions of our relationship, and it is an honour that we got to work together. May you have a memorable festive season!
We are sending heartfelt wishes to our best customers. We hope that you will create the most blissful memories during this season.
Merry Christmas wishes for wife and husband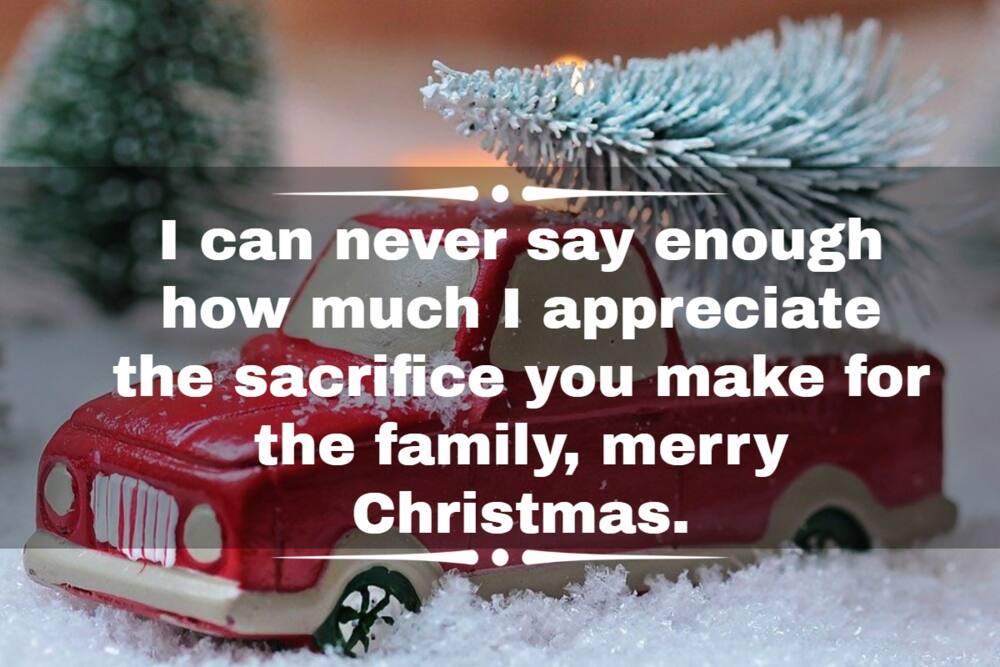 Nothing beats sending your spouse a warming short Christmas text message to make their holiday special. It may seem daunting to come up with the best words to express your emotions in a blink. Nonetheless, these are some of the memorable words you could use to express your warm and romantic side.
My wish is that I get to be with you for the rest of my life because you are my best gift. A happy festive season, my love!
Waking up every morning and being reminded that I get to spend the rest of my life with you is the most priceless gift. Merry Christmas!
I do not think I need a Christmas gift because I have you, and you are the most priceless gift that ever happened to me.
Words can never measure how much I adore and love you. A happy festive season, my love.
Being loved by you is the most beautiful thing. Merry Christmas!
The festive season is special when we are together. Love you!
I can never say enough how much I appreciate the sacrifice you make for the family; here is to creating more memories during this festive season.
You are the joy in my not-so-exciting life, and I thank God for you, merry Christmas.
You showing up in my life is a miracle, but choosing to stay in my life is because of the love we share. Merry Christmas, my love!
You have selflessly loved me, and the least I could do is wish you a joyous Christmas.
Merry Christmas quotes
Most of the times, a quote cements your message and sentiment in the best way. The best part about it is that you could jot them down as notes or on custom-made cards. These are some of the favourite quotes that you could use.
Peace on earth will come to stay when we live Christmas every day. – Helen Steiner Rice
Christmas is the day that holds all time together. – Alexander Smith
Christmas is not as much about opening our presents as opening our hearts. – Janice Maeditere
Perhaps the best Yuletide decoration is being wreathed in smiles. – The author is unknown.
Christmas is not a date. It is a state of mind. – Mary Ellen Chase
I will honour Christmas in my heart and try to keep it all the year. – Charles Dickens
Blessed is the season which engages the whole world in a conspiracy of love. – Hamilton Wright Mabi
Merry Christmas card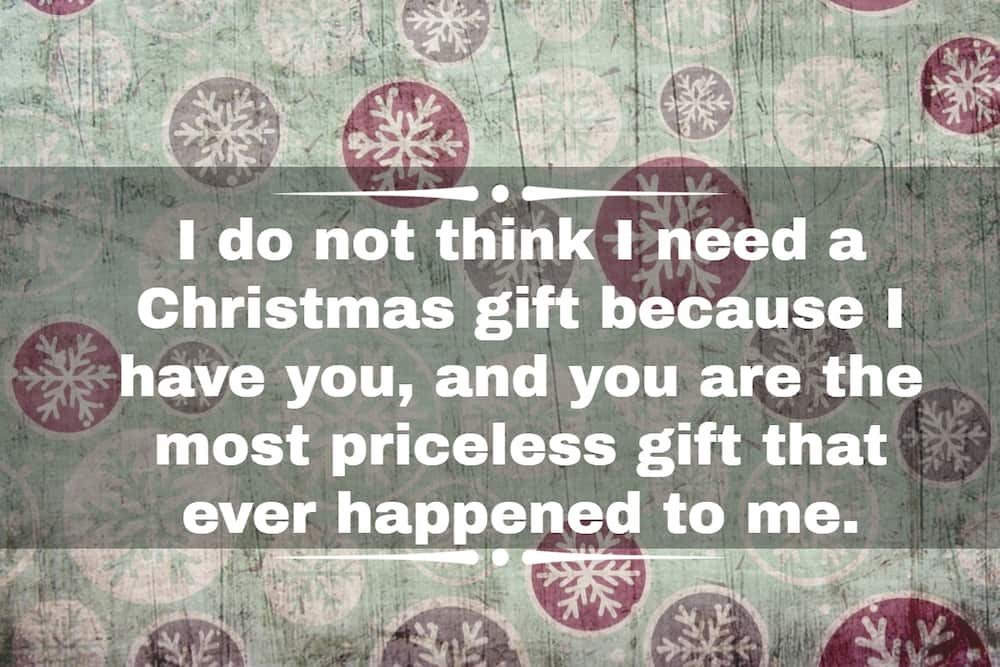 Homemade Christmas cookies are nice, and a freshly baked cake is not bad. However, everyone knows how heartfelt it is to receive a gift or card from a loved one. It is a selfless way of reminding them that you cherish them. The best part about it is that you are not limited to the card's message, and you can always customise them. The best part about Merry Christmas cards is that they are not as expensive as you might think.
Merry Christmas images
Are you artsy and would not mind expressing that side? If that is the case, you could choose images over Merry Christmas wishes text. The best part about it is that you could choose the traditional themed Christmas or the modern one.
Merry Christmas videos
It is implausible how quickly the mood changes whenever a Christmas carol plays. It does not matter whether you choose to play traditional songs because the vibe that they bring is unmatched. Therefore, apart from the messages and wishes, you could send your loved ones Merry Christmas videos.
Merry Christmas GIFs
If you find the messages, wishes, and quotes cliche, you could go for other alternatives like GIFs. They are a unique way of sending the message and love in an entertaining way. The best part about it is that you do not have to go the extra mile to create a Merry Christmas GIF because you could access some that are already made.
This list of outstanding Merry Christmas messages, wishes, quotes, cards, images, videos, and GIFs must have left you with more than enough ideas. If you were worried about expressing yourself during this festive season, these options could go a long way.
READ ALSO: Somizi: Khaya Dladla wishes bestie happy birthday with sweet post
Briefly.co.za recently shared details of a post that Khanya Dladla made to wish Somizi Mhlongo good tidings on his 48th birthday. Khanya Dladla, the former Uzalo actor, moved Mzansi by the beautiful post that he made to celebrate his bestie on his birthday. The caption of the photo of the two of them was warming birthday wishes on how God had blessed him by bringing Somizi to his way.
Source: Briefly News