Happy New Year wishes, quotes, messages, song, card, gifs
A new year is around the corner, and as usual, families and friends share new year cards, exchange unique year gifts, and greet one another with Happy New Year. Nevertheless, every new year comes with new resolutions and choices for a better life.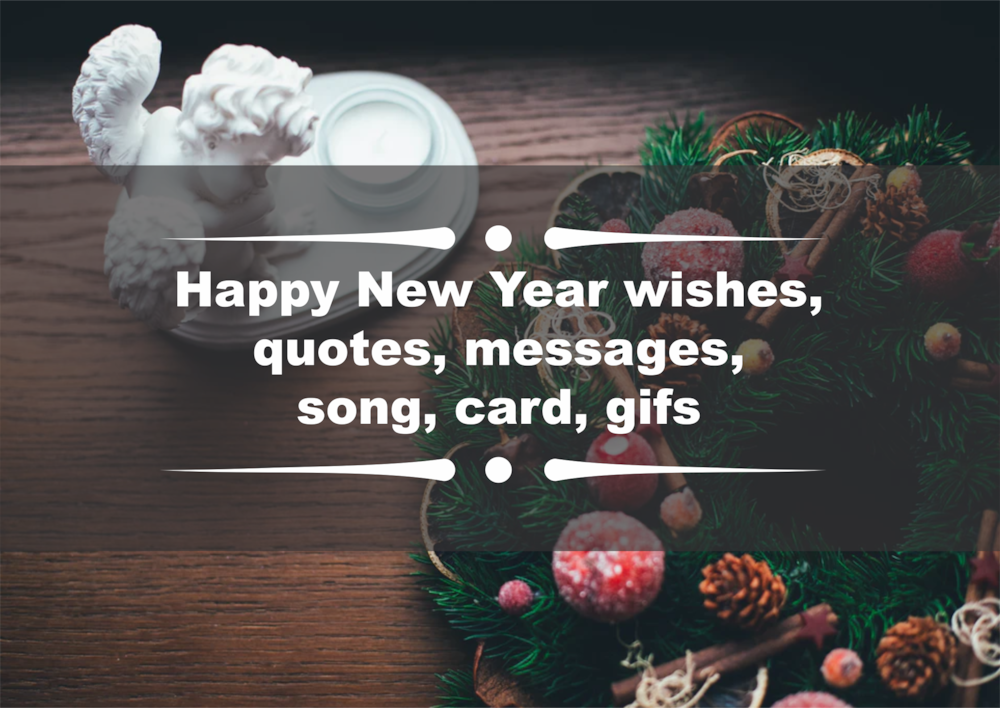 The new year is celebrated globally on the 1st of January every year, and it is a significant day in people's lives as they rejoice with friends and loved ones. They also embark on some other activities that bring happiness for the rest of the year.
Happy New Year wishes and messages
Are you looking for the top-best Happy New Year wishes for your family? Or, are you wondering what is the best new year message? If both questions have been on your mind, there are several ways you can wish your friends, families, and colleagues a happy new year. Any Happy New Year message that you send from the list below will be received with love.
Happy New Year! Let's toast to yesterday's achievements and tomorrow's illustrious expectation.
Life is full of ups and downs, but I can never feel down; thanks to you guys. Thanks for being my support. I love you so much. Happy New Year. May God bless you.
Wishing a delighted new year to the one who adds sunshine to our family.
May this year bring new happiness, new goals, new achievements, and many new inspirations to your life. Wishing you a year fully loaded with happiness.
I hope your life will be full of surprises and joy in the new year that's about to begin. May you be blessed with everything you want in life.
I hope that this new year will be the best year of your life. May all your hopes are fulfilled and all your dreams come true. Happy New Year!
May the new year bring all the good things in life you truly deserve. You had an amazing year already, and you're going to have another more amazing one!
May all your dreams come true and may you find the love of your life this new year. I have only a good wish for you. Thank you for being such a good friend to me!
Thank you for holding on to me when things get hard and I get tired of life. May the Lord bless our bond. Have a great holiday. Happy New Year.
Happy New Year wishes for friends
Sending new year wishes to friends is one way to keep friendships alive. As friends come in and out of our lives, we have to look back and be glad for those that stood with us through thick and thin.
How do you wish someone a happy new year? There is no right or perfect way to wish someone a happy new year. All you have to do is make sure it comes from your heart and then share your greetings, new year messages, and gifts to those you hold dearly in your life. Below are some Happy New year wishes.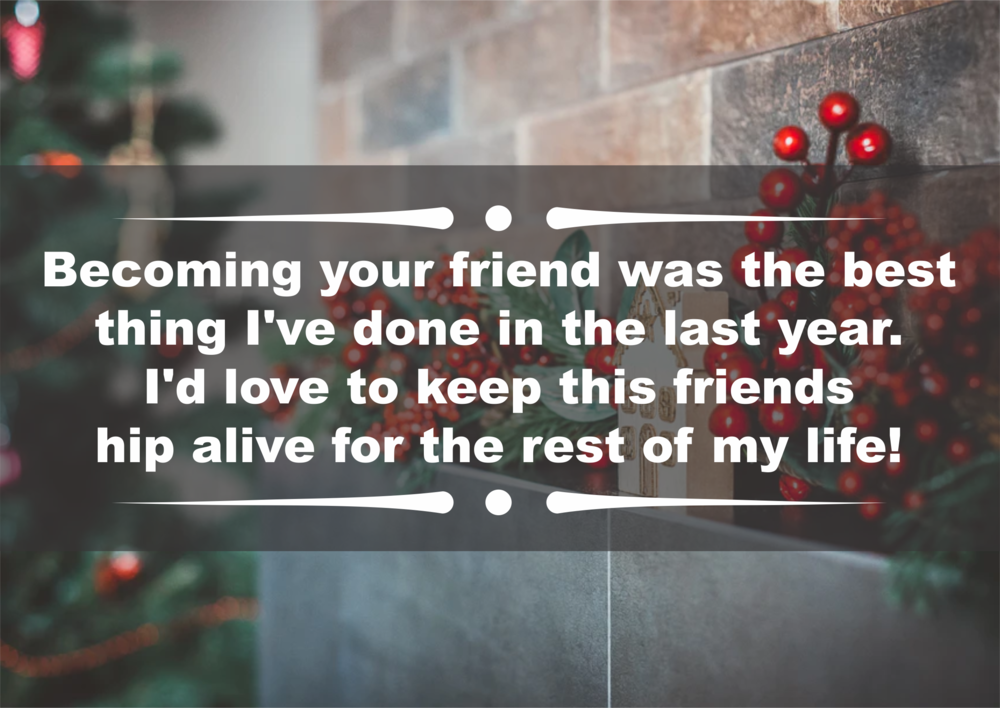 Becoming your friend was the best thing I've done in the last year. I'd love to keep this friendship alive for the rest of my life!
Since we're going into a new year, I'd like to tell you all that it's only because of you that I'm living my life to its fullest. I wish you all a Happy New Year.
Happy New Year, dear friend. Don't forget the past, learn from it and go out. My best wishes are with you.
I'm so glad that we are friends. Let our glasses clink, and let's hope for all the best things that life can offer. Happy New Year, my friend!
Friends like you can make a bad year feel great at the end. Friends like you can make life great throughout the year. Happy New Year!
Life is nothing but a journey, and without good company, this journey can feel boring and tiresome. I am lucky that I have you in my life. Happy New Year, dear friend!
It's tough to put in words how much you mean to me. I will choose you again and again because I am truly, madly, and deeply in love with you. Happy New Year.
I wish you pure joy, laughter, and peace of mind in this New Year. Happy New Year!
New year's card message ideas for every occasion
Sending a Happy New Year card to clients, customers, and business partners is one sure way to promote brand loyalty and care, establish goodwill, and show gratitude for their unwavering support throughout the year. Nevertheless, ensure you develop new year messages that are appropriate and right for your business and customers.
What should I write in a Happy New Year card? Below are some simple messages that portray the right professionalism.
As we reflect on the past year, we realize how much you've done for our company. We want to thank you for your partnership and wish you a very prosperous and Happy New Year. Cheers to another year of our cooperation!
It's been a pleasure serving you over the last year, and we're looking forward to working together in the year ahead.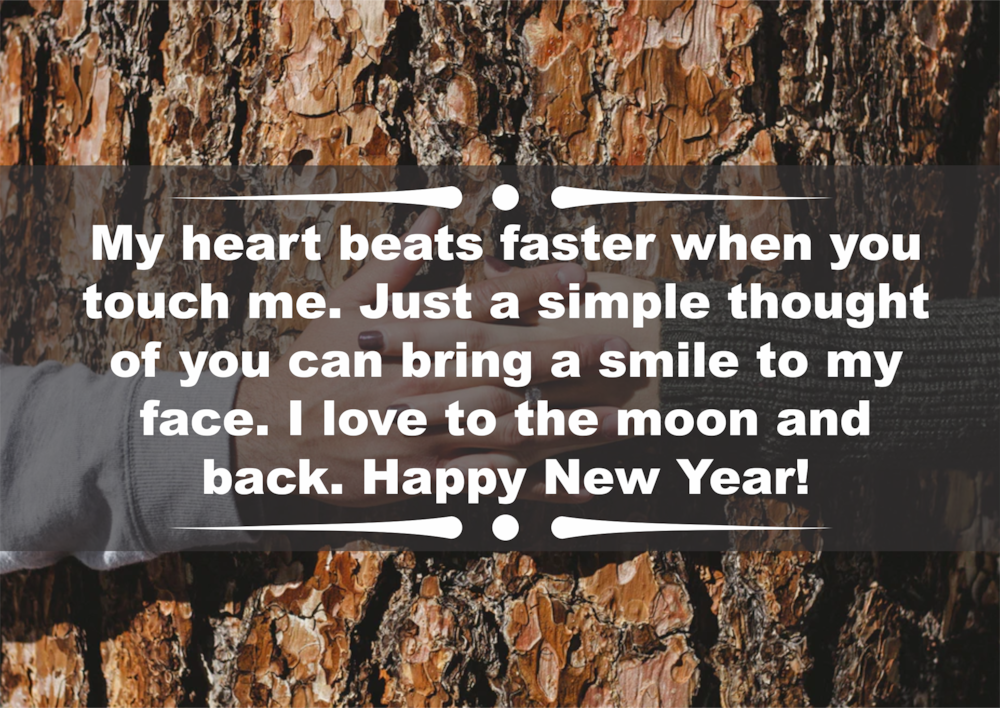 Another great year is on its way. Just wanted to thank you for being the prince of my fairytale. I love you till death tears us apart and even after that. Happy New Year.
Thank you for making me feel like the most important person. I love you more for making me fall in love with myself! Happy New Year, you handsome sweet fella.
Our whole team wishes you a lot of joy and happiness during this holiday season. May the upcoming year will be full of new achievements that will bring you huge success. Happy New Year.
Being a businessman is extremely hard nowadays. But somehow you make it look so easy. You are a born leader. May the upcoming be only about prosperity and wealth. Cheers to success!
I wish you a joyous holiday season and continued success in the New Year.
Wishing you a happy and joyful holiday season; may this amazing time bring peace and harmony into your homes. We can't wait to work with you in the new year and achieve our every goal together. Happy New Year!
New year GIF
You are likely to see one constant thing during the new year celebration on social media: a GIF. During this time of celebration, most people send a happy new year GIF and happy new year images to their friends and family on Facebook, Whatsapp, Twitter, Instagram.
Interestingly, there are different animations that you can use. For instance, you may choose to share a firework GIF like the one below to wish your loved ones a happy new year.
If you decide to express how happy you are to see the new year with your loved ones, there are gifs that you can use to achieve that. Remember that, sometimes, words are unable to convey some emotional feelings perfectly. In situations like this, the gif below will be perfect for sharing.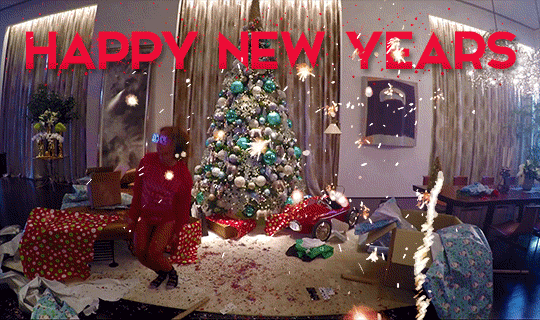 New year greetings to write in a card
If you happen to be celebrating the new year with your family or you travel home for the new year's Eve celebration, it might be wonderful to put a call across to a family member far away on new year's eve if not then.
Below is a list of the new year 2021 greetings for the family. If you want to make it special, you can also get a handmade card or gift card and inscribe any of these greetings, which you will present as your Happy New Year gift 2021. Do not forget that you can also get free printable cards online.
It's fantastic to be part of a family that has so many beautiful people in it. I love you all. Happy New Year!
Here's to another year of laughs, memories, and good food!
I wish you peace, love, and laughter in the New Year.
Hosting the perfect New Year's Eve party (aka one that doesn't involve your guests getting bored or starting to regret the past 366 days) relies on three things: strong drinks, a few great friends, and fun music.
Seasons change; years come and go, but our family grows stronger.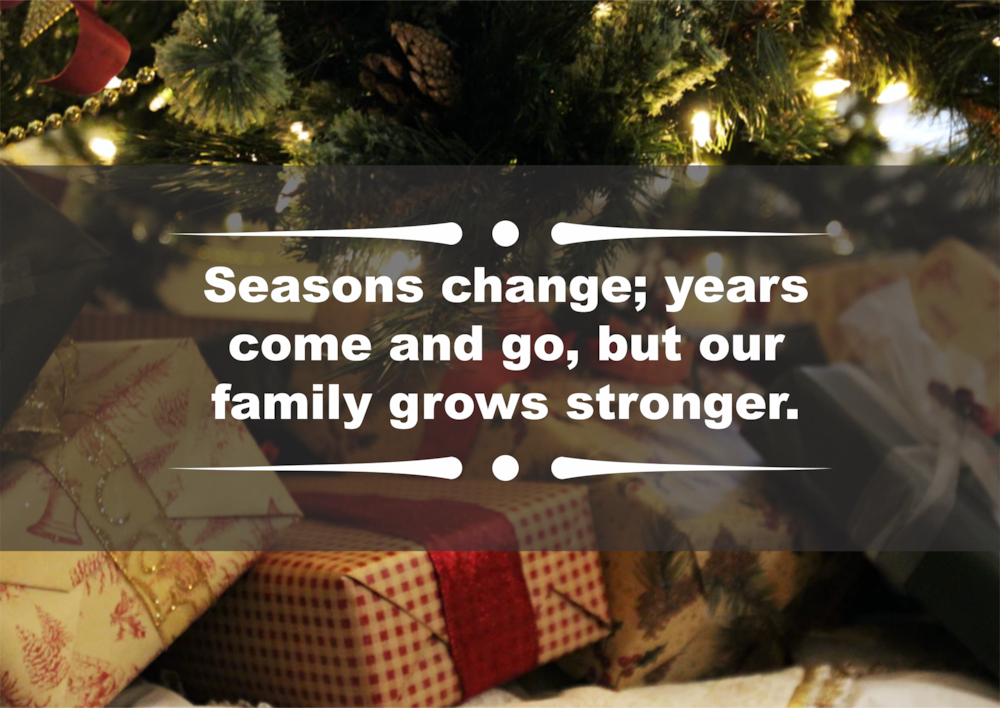 You filled my life with an abundance of love, joy, and smiles. You're the kind of wife only a fortunate one can get. Happy New Year!
You are the biggest blessing of my life. You have made every dream of mine come true. May the new year bring all the joy that you deserve!
You always give me a feeling of fulfillment. With you, I feel complete and proud. I can never think of starting a new year without you. Happy New Year!
I'm so proud of all your accomplishments this year, and I can't wait to see what you will do in the next.
Whatever the new year has in store, we'll be in it together. Happy New year to the love of my life.
Happy New Year songs
This year has had its good and bad moments, but new year's eve is your last opportunity to close the year on a good note and make way for the upcoming one. You may get the perfect party theme and appetizers. Still, without a Happy New Year song, there will be some dullness in your home.
Many classical and contemporary hits can make your new year's eve experience even better and entertaining. All you have to do is create a playlist of all your favorite new year songs while you await the new year countdown. Below are some new year songs.
Bringing In A Brand New Year" - Charles Brown
"Let's Start The New Year Right" — Bing Crosby
"What Are You Doing New Year's Eve?" — Rod Stuart feat. Ella Fitzgerald & Chris Botti
"New Year's Day" — Taylor Swift
Another beautiful new year song that has not gone out of memory is Should old acquaintances be forgot? The lyrics are powerful, and they help to appreciate the beauty of the season better. Check out the lyrics below: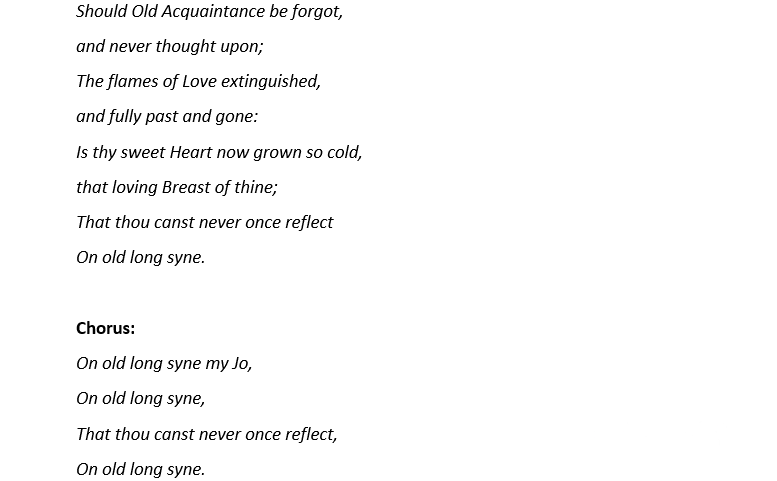 How long do you say Happy New Year?
How long you say Happy New Year does not matter because it is something you do to continually remind yourself and others that it is a new year. Besides, it a way to extend your heartfelt new year wishes to those you love, and there is no crime in it.
As you celebrate the new year, it is also important to write some new year resolutions for 2021. It can be a new financial milestone, a new target in your business, a change of lifestyle, or taking a bold step. The beauty of this is that it helps to guide you in the new year.
READ ALSO: 50 best happy birthday messages with pictures
If you have a friend or loved one who is celebrating their birthday and considering what best birthday wishes to send to them, there are many happy birthday messages with pictures that you can consider. In a post published by Briefly.co.za, more than 50 of those kinds of messages were shared. If you need wishes for him or her, you will find the post worth it.
Source: Briefly News