- Protesters who wanted to delay the peaceful transfer of power from Trump to Biden came out after outgoing VP Mike Pence, a Republican, rejected Donald Trump's calls to overturn Biden's win
- The outgoing president's supporters stormed the House Chamber while Congress was confirming Electoral College votes for the 2020 presidential election
- Pro-Trump protests had at the same time emerged across some US states with "Stop the Steal" signs prevalent
PAY ATTENTION: Join Briefly News' Telegram channel! Never miss important updates!
The was a moment of shame in the United States (US) Capitol building on Wednesday, January 6 after outgoing President Donald Trump's supporters breached security and stormed the congress in a bid to halt President-elect Joe Biden's certification process.
The US Capitol police officers were forced to draw their guns in a chaotic scene last witnessed in 1812 in the powerful country's history and four people, including one woman, are now dead.
The protesters wanted to delay the peaceful transfer of power and came after outgoing Vice President Mike Pence, a Republican, rejected his boss' calls to overturn Biden's win.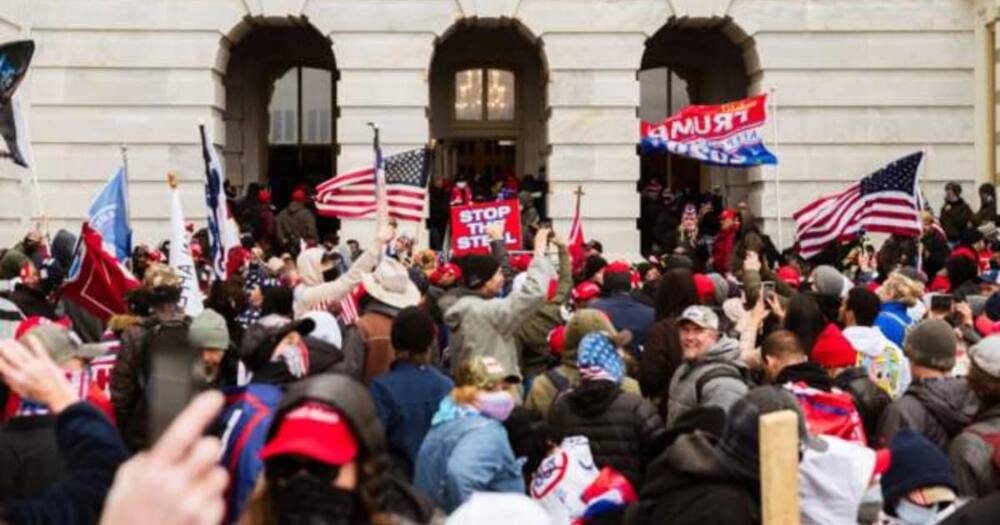 According to BBC News, the protesters entered the House Chamber while Congress was confirming Electoral College votes for the 2020 presidential election, where Democrat Biden trounced Trump by 306 to 232 votes.
Moment of shame
Re-elected House Speaker Nancy Pelosi, a Democrat, said the storming by Trump's supporters was an act of shame against the US democracy.
"Today's shameful assault on our democracy — anointed at the highest level of government — must not deter us from our responsibility to the Constitution. Tonight, we will move forward with the certification of President-elect Joe Biden's election," she said in a statement.
The mayhem forced lawmakers, who had to shield themselves from danger to temporarily, to stop the day's business under the protection of police.
One woman shot dead
Some legislators blamed Trump for inciting the violence which led to the death of one woman and three men inside the Capitol, Gulf News reported.
According to the publication, the Republican leader's staunch supporters used chemical irritants on police before breaking into the building and this was after the 74-year old called on them to fight Congress' approval of Biden's win.
Pro-Trump protests had at the same time emerged across some US states with "Stop the Steal" signs visible in their hundreds. The Senate later resumed its debate after the men in uniform secured the building by using tear gas to disperse the protesters after four hours of pandemonium.
Trump had earlier threatened not to vacate White House on Inauguration Day while insisting the presidential election was marred with fraud, claims he did not substantiate.
According to CNN, the Republican leader made the threat when speaking with some of his advisers. The report stated the president's few aides were alarmed over his comments as far as facilitating a smooth transition was concerned.
Enjoyed reading our story? Download BRIEFLY's news app on Google Play now and stay up-to-date with major South African news!