Kim Kardashian bio, age, kids, Kanye West marriage, cars, house, net worth
Kim Kardashian is one of the richest and renowned socialites. Her lifestyle is one to die for as she sets standards for living the best life. She is also known for controversial reasons after surviving two marriages. Read on to find out all about her!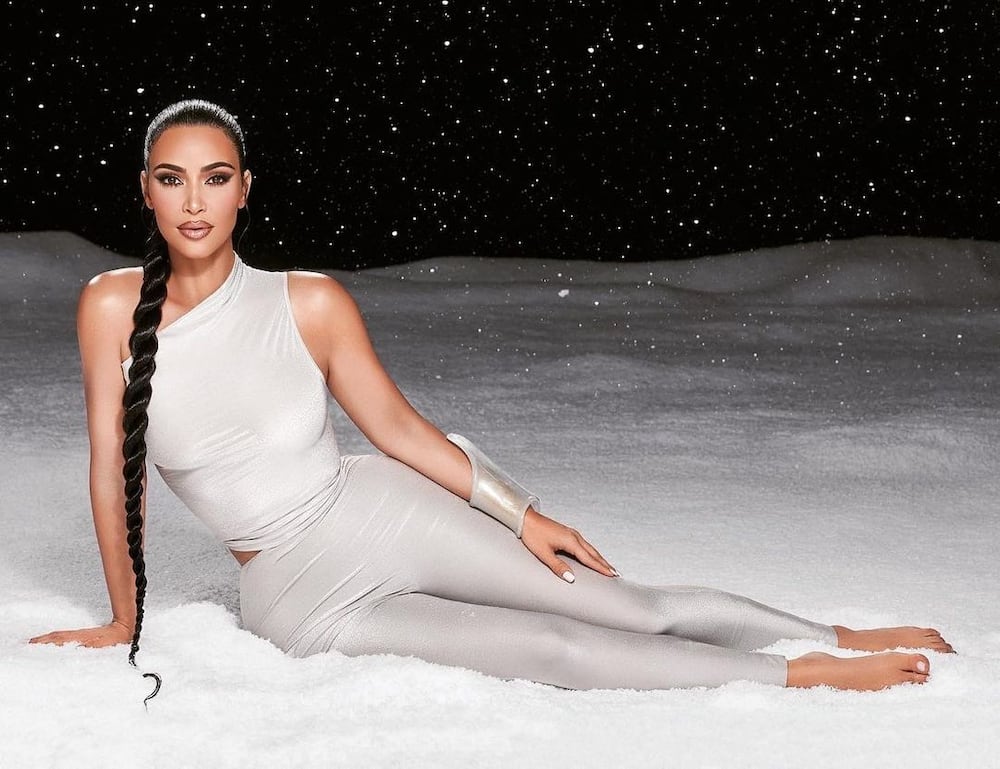 Unlike most celebrities, Kim Kardashian would best be described as a go-getter and lover of life. She has been in the limelight for the past decade, making some unforeseen moves in her career. She wears many hats; a wife, mother, businesswoman, social media personality, actress, to mention a few. It is not by chance that her lifestyle is that extravagant. How about reading on for more details about her?
Kim Kardashian profile
Full name: Kimberly Noel Kardashian
Other names: Heghine (Baptismal name)
Date of birth: 21st October 1980
Place of birth: Los Angeles, California, USA
Nationality: American
Occupation: Socialite, model, businesswoman, media personality, producer, actress
Kim Kardashian spouse: Kanye West
Children: 4
Parents: Robert Kardashian and Kris Jenner
Website: kkwbeauty.com
Kim Kardashian Instagram: kimkardashian
Kim Kardashian biography
Kardashian gained attention as a friend and stylist of Paris Hilton. In 2002, she became famous after the release of Kim Kardashian, Superstar, a film that featured her and her then-boyfriend. Later that year, she joined Kim Kardashian family on Keeping Up with the Kardashians, a reality TV show on E! The controversial show saw the family gain traction on social media, and they curved the niche to make a career out of it.
Kim Kardashian age
She was born on 21st October 1980 to Robert Kardashian and Kris Jenner. Her father was a third-generation Armenian-American, and her mother is of Dutch, English, Irish, and Scottish ancestry. As of January 2021, she is forty years old. Kim Kardashian parents divorced in 1991.
Kim Kardashian and Kanye West marriage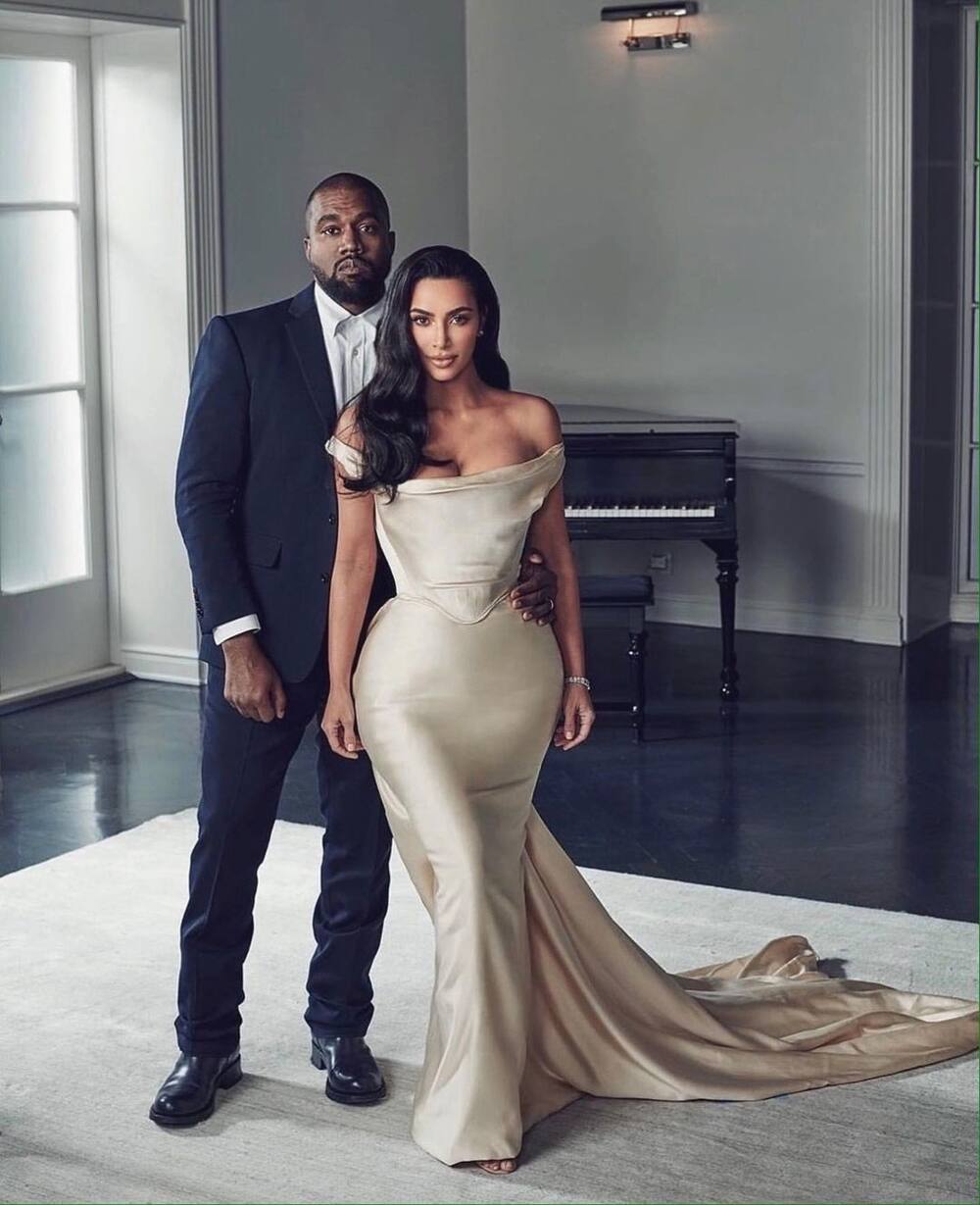 In 2000, at the tender age of nineteen, Kim eloped with Damon Thomas, a music producer. After three years of marriage, Damon filed for a divorce, and Kim blamed him for physical and emotional abuse that led to the separation. They got divorced in 2004.
In May 2011, she got engaged to Kris Humphries, an NBA player, whom she had been dating since October 2010. They got married on 20th August 2011. On 31st October 2011, she filed for a divorce on the grounds of irreconcilable differences.
In April 2012, she began dating her long-term friend, Kanye West. At the time, she was still legally married to Humphries. She finalised the divorce on 3rd June 2013, and on 21st October that year, Kanye West proposed to her. They got married on 24th May 2014 in Fort di Belvedere in Florence, Italy in a posh wedding.
Is Kim K and Kanye still together?
According to a source, Kim allegedly hired Laura Wasser, a renowned divorce attorney, to represent her. Meanwhile, Kanye West is reported to have relocated to his ranch in Wyoming, and the couple is rumoured to be getting things sorted out to separate and divorce. According to reports, Kim had become tired of her Kanye's crazy sh*t, and Kanye had grown uncomfortable with the Kardashians' lifestyle.
An alleged final straw claimed that Kimye had a nasty fight that brought up the discussion of divorce. According to the source,
They had a big fight in early December, Kanye blew up at Kim, and she was really upset. Things between them do not seem to have healed since then.
TMZ reported that Kimye was in marriage counselling and was trying to repair their relationship. According to the claims, Kim had the divorce attorney on retainer. However, she had not filed for divorce, even though the possibility of divorce was on the table. The site also alleged that Kanye and Kardashian have been living in separate houses for a few months.
Kim Kardashian kids
Kim Kardashian and Kanye West are parents to four children, seven-year-old North, five-year-old Saint, Chicago, who will be turning three on 5th January 2021, and Psalm, who was born on 9th May 2019. Kim Kardashian children have also been in the spotlight because of their unique names.
Kim has been open about her pregnancies, and she disclosed to have suffered pre-eclampsia during her first pregnancy; leading to the birth of North at 34 weeks. After delivery, she suffered placenta accreta and had to undergo surgery to remove scar tissue and the placenta. After her second kid, the doctors advised her not to get pregnant again; hence, her two youngest kids were born through surrogacy.
Kim Kardashian house
In 2018, during an interview, Kanye revealed his prospects to become one of the biggest real estate developers of all time. The statement left most people worried about his choices on matters of real estate considering how his past and current deals had gone. However, Josh Altman, a broker, argued that Kim was savvier on matters of real estate. The broker referred to how she had flipped the couple's Bel-Air home, which they had acquired for $9 million, and sold it for $17.8 million. Meanwhile, these are the houses that the couple own.
1. The minimalist mansion in Hidden Hills, Los Angeles, California
The Minimalist mansion, former McMansion, was turned into a wabi-sabi-inspired dreamscape by Axel Vervoordt, a Belgian designer. The 15,000-square-foot home is situated in Los Angeles, and it is starkly white from top to bottom, except for North's pink room. Its worth is estimated at $60 million.
2. The next-door additions in Hidden Hills, Los Angeles, California
The couple bought a four-bedroom house that is adjacent to their home. The lot sits on a 3,900-square-foot area; hence, expanding their compound. The worth of the adjoining house is estimated at $2.975 million.
Other expensive houses that Kim owns include
Mediterranean mansion in Beverly Hills
Her former condo-turned-office in Calabasas
The Faena House condo in Miami, Florida
Kim Kardashian cars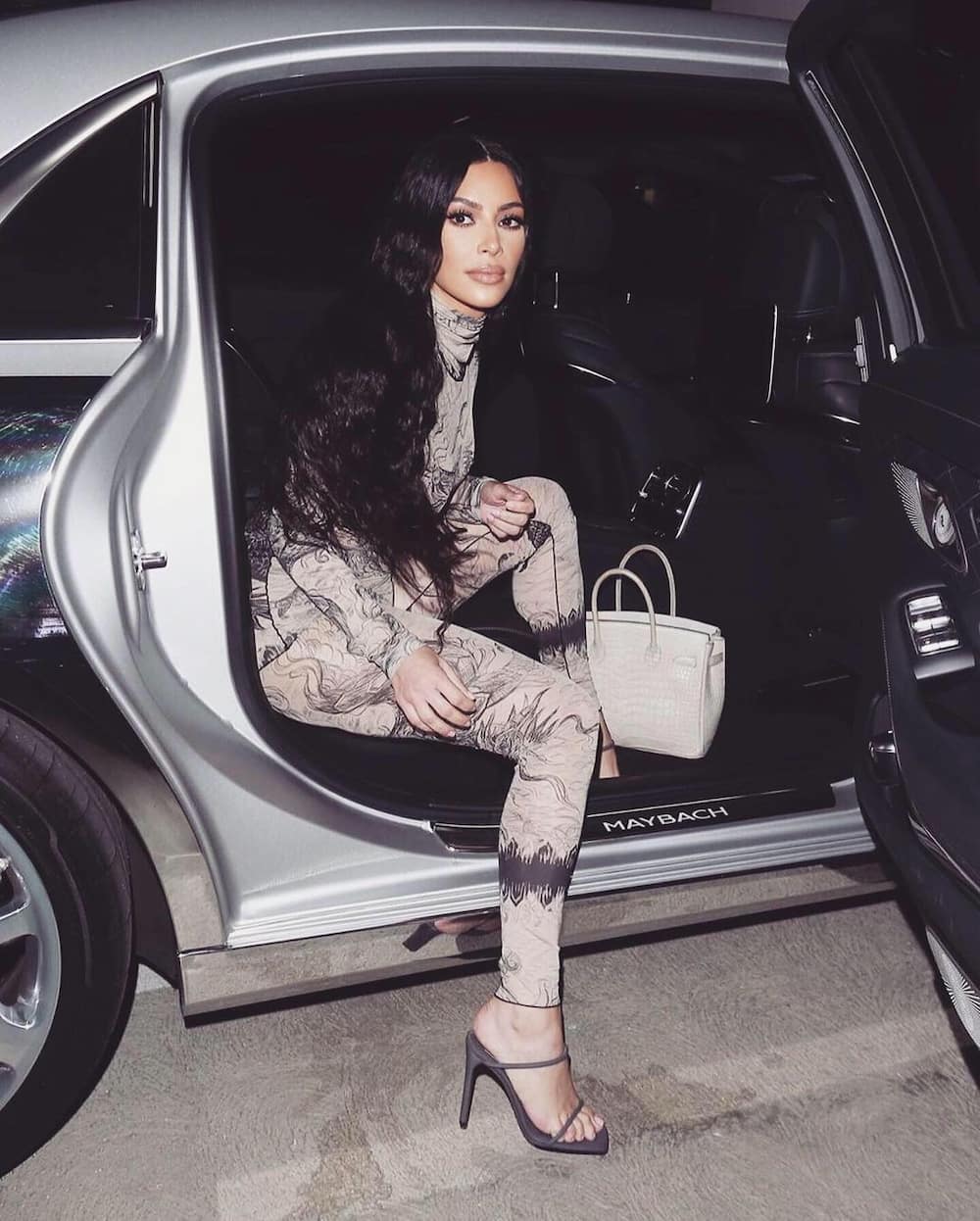 Like most celebrities, Kim has a thing for sports cars and luxurious machines. Her taste is more inclined to Italian rides. Unlike most celebrity car collections, her collection factors in her aspect of being a mother. Therefore, they have room for the whole family.
Rolls-Royce Phantom II
The reality TV star owns the black series II of the Rolls-Royce Phantom, whose worth is $300,000. She also has it in white, although it is customised with silver painting and large rims. The value of the second Rolls-Royce is estimated at $400,000.
Ferrari F430
Soon after she met her husband, Kim splashed $200,000 on a grey Ferrari F430.
The other beasts that she owns include
Mercedes-Benz G-Wagon
Maserati GT
Bentley Continental GT
Ferrari 458 Italia
Mercedes-Benz SLR
Rolls-Royce Ghost
Range Rover
Lamborghini Huracan
Kim Kardashian net worth
According to Celebritynetworth.com, Kim Kardashian net worth currently stands at approximately $900 million. The figure is attributed to KKW Beauty Line, her business, which gives her an annual turnover of up to $100 million. She also earns a dime from royalties from her mobile game, Kim Kardashian: Hollywood. She also makes money from appearances, Instagram sponsorships, and her salary as a TV star.
Kim Kardashian TV shows
Besides her business acumen, Kardashian is also an actress. Most people know her for reality TV shows. She has featured in some of the best-selling TV shows:
Australia's Next Top Model
Keeping Up with the Kardashians
America's Next Top Model
Celebrities Undercover
Her roles in these shows have fetched her some good money.
Frequently Asked Questions
Apart from Kim Kardashian news, the answers to these questions will help you know her better. You will be able to keep tabs on what is currently happening in her life. The answers to these questions will also update you on her life before fame.
Is Kim Kardashian really a billionaire?
In July 2020, Kanye West publicly congratulated his wife for becoming a billionaire. The move came after Coty acquired a 20 percent stake in her beauty line. However, her net worth does not prove that she is a billionaire, as it currently stands at $900 million.
How did Kim Kardashian get rich?
When she got into the limelight, her social media presence was a platform that earned quite some money. The Kim Kardashian: Holywood mobile game also earned her some money. However, her beauty line, KKW Beauty line, has significantly impacted her net worth and was approximated to have made returns of up to $100 million in 2019.
What are your thoughts about Kim Kardashian and Kanye West alleged divorce? Do you think the two will end their union after investing so much in it and in their businesses? Make sure to leave your comments about your thoughts on the same.
READ ALSO: Kourtney Kardashian's bikini pics have fans thinking she's pregnant
Briefly.co.za recently published the details of fans reacting to Kourtney Kardashian's pictures. The model posted photos of herself in front of a mirror in a pink bikini set, and the images got fans speculating that she can be pregnant. The model did not hint about being pregnant either.
Source: Briefly News