- Matshela Koko resigned from Eskom two weeks ago, despite taking the utility to labour court to prevent them firing him
- His laptop was found to have e-mails implicating him in sharing confidential information with outside companies
- Koko faces charges of fraud and corruption in relation to state capture at Eskom
PAY ATTENTION: Click "See First" under the "Following" tab to see Briefly.co.za News on your News Feed!
Former Eskom executive Matshela Koko's e-mails show his involvement in a plan to sell off Eskom Finance Company's (EFC) loan book, valued at between R6-billion and R8-billion, to a finance house.
The e-mails were lifted from Koko's laptop two weeks ago following a court order compelling him to release the device.
The e-mails reveal Koko was discussing financial initiatives with Regiments Capital employees, including Eric Wood.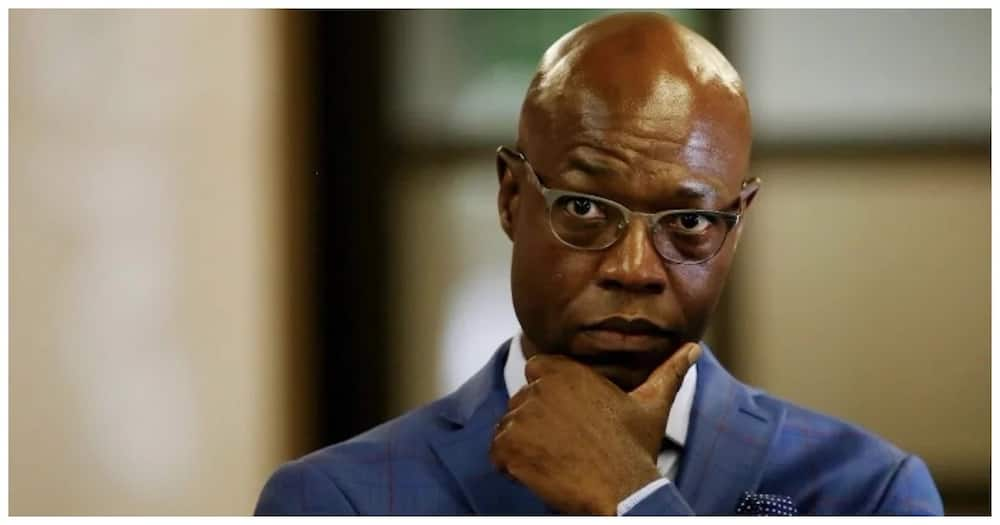 Forensic investigators, Bowman Gilfillan, assisted Eskom in its prosecution of Koko, found that between December 5 and 7, 2015, he received and commented on four versions of proposed initiatives from Regiments to unlock cash for Eskom and optimise its balance sheet.
Koko's documents show McKinsey and Regiments would earn 10% of the sale price of the loan book as commission. It is unclear why the plan did not go ahead.
READ ALSO: Zuma: If I has 6 months as a dictator children hooked on drugs would be sent to Robben Island
EFC is a subsidiary of Eskom. Its mandate is to offer loans for employees for home finance and education, among others.
Briefly.co.za gathered Koko's sudden resignation from Eskom two weeks ago came just as he was about to be confronted with evidence of his involvement in the R1.6-billion McKinsey/Trillian debacle at the state utility.
It is understood that Eskom's prosecutor in the internal case against Koko, Thembeka Ngcukaitobi, was ready to use the emails as evidence.
Eric Wood, who has been linked to the Gupta family via their associate Salim Essa, had discussed these initiatives with former McKinsey executive Vikas Sagar in a scheme to generate more than R9-billion in fees from Eskom.
Trillian and McKinsey had internal Eskom information, which they used in preparation for the contract, which was done via a closed process. Several Eskom executives, and a former board member, questioned the source of their information.
Koko's e-mails reveal that it was him, along with former chief financial officer Anoj Singh, and other senior Eskom employees who made this information available.
In the latest charge sheet Koko is charged with lying to the parliamentary committee, breaching his fiduciary duties in relation to the payment of R600-million to Trillian, failing to declare a conflict of interest and receiving benefits from a third party in relation to trips to Dubai paid for by the Gupta family, and also distributing confidential Eskom documents to people outside Eskom.
READ ALSO: Nelson Mandela photo worth R2.1 billion: Photographer suing government for unlawful use
Do you have a story to share with us? Inbox us on our Facebook page and we could feature your story.
To stay up to date with the latest news, download our news app on Google Play or iTunes today.