- Emmanuel and Thabiso play their instruments at the taxi rank to entertain passengers and earn some tips
- They love singing and music, and hope to one day record an album
- The passengers love them and say they keep them entertained while they wait for the taxis to fill up
PAY ATTENTION: Click "See First" under the "Following" tab to see Briefly.co.za News on your News Feed!
Emmanuel Mkhwanazi (24) and his friend Thabiso Molefe (23) from Buhlebesizwe, near Kwamhlanga in Mpumalanga spend their mornings playing their instruments at the taxi rank.
During the day, the two friends love to entertain passengers at taxi ranks while they wait for taxis to fill up. In the afternoons, they sing in the community choir.
The two, whose biggest wish is to record an album one day, said they wake up early every morning and go to the taxi rank to play music and sing.
Briefly.co.za learned their gospel music and love songs keep the passengers entertained and relaxed in the morning rush.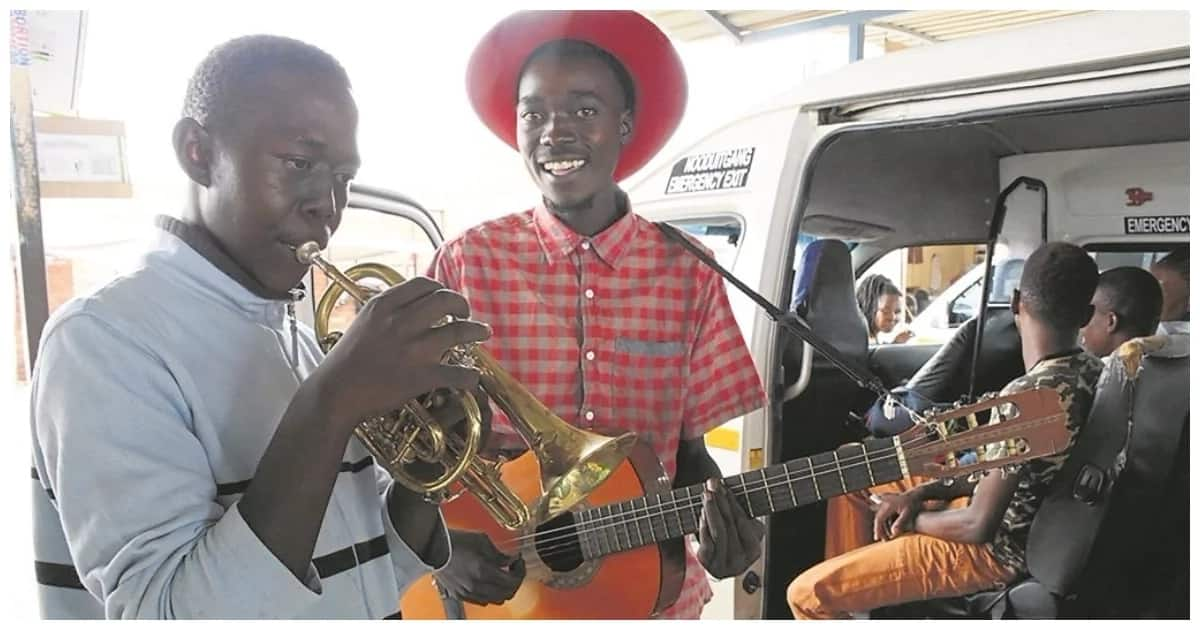 READ ALSO: Pastor's lavish birthday gift to his wife: a shopping-centre, a transport company and a petrol station
"Making music for passengers earns us our daily bread and we love it. Passengers love our music and always beg for more," Emmanuel told the Daily Sun.
"They donate money that helps us support our families. I am using the guitar skills my father taught me. I met my friend Thabiso at school and that is when we started singing together."
Thabiso said he plays the trumpet, which he learned at church, to make their music special.
"Music is in our blood and we enjoy entertaining people. After we completed matric in 2013, we both did a course in diesel mechanics."
But they both decided to follow their hearts and sing.
"When I'm playing the trumpet, I always imagine myself as the next Bra Hugh Masekela. I can also play the guitar because my friend taught me," Thabiso added.
Emmanuel and Thabiso said they started singing at Bosman and Marabastad taxi ranks in Tshwane before coming back home in 2016.
They hope that one day, they'll be able to sign with a major record label to record their own album.
Julia Mahlangu (34), and Sipho Mnyakeni (29), said the two friends have talent and will go far.
"Their singing always keeps us entertained while we wait for taxis to fill up. We really enjoy what they're doing."
READ ALSO: R900 million deal with Arsenal: Aubameyang says he'll keep playing with fast cars
What do you think of these two young men? Let us know on our Facebook page and we could publish your opinion.
To stay up to date with the latest news, download our news app on Google Play or iTunes today.
Source: Briefly.co.za