Top 15 Black History Month bulletin board ideas for school 2022
Black History Month is an annual event that signifies black people's achievements in the United States and acknowledges the immense contribution they have made to the country. Not only is it celebrated in the US, but it is also celebrated in Canada, the UK, and other countries. Find the top Black History Month bulletin board ideas for school 2022.
PAY ATTENTION: Click "See First" under the "Following" tab to see Briefly News on your News Feed!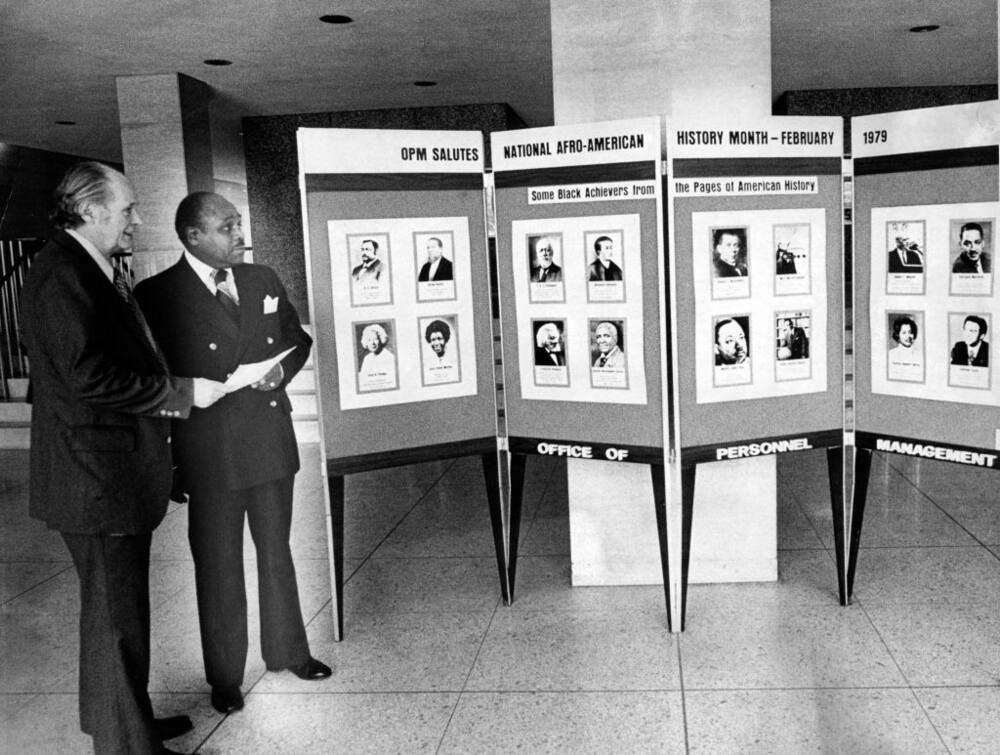 Black History Month has its origins way back in 1915, 50 years after President Lincoln abolished slavery in the US. Historian Carter G. Woodson and minister Jesse. E. Moorland founded the Association for the study of Negro Life and History to push black people's understated accomplishments.
In 1926, the group promoted Negro History Week. By the 1960s, mayors of cities, civil rights movements, and college students caused it to evolve into Black History Month. In 1976, it became a nationally recognized event when President Gerald Ford officially recognised Black History Month.
Black History Month bulletin board ideas
A bulletin board is intended to provide information on a particular topic; in this case, it is information on Black History. Different grades focus on various aspects of Black History. Find some compelling ideas for your bulletin board below.
Enjoy reading our stories? Download the BRIEFLY NEWS app on Google Play now and stay up-to-date with major South African news!
Ideas for elementary school
Children in elementary school can be inspired by bulletin boards. They will brighten up their classroom and hallway. These ideas encompass that and much more.
1. Fun, artistic and colourful
This is a stunningly done piece, with the children featuring people in traditional African dressing and including some of the greatest freedom fighters in the past and recent times. You can spot Barack. H. Obama, the first African-American president of the USA.
2. Easy to remember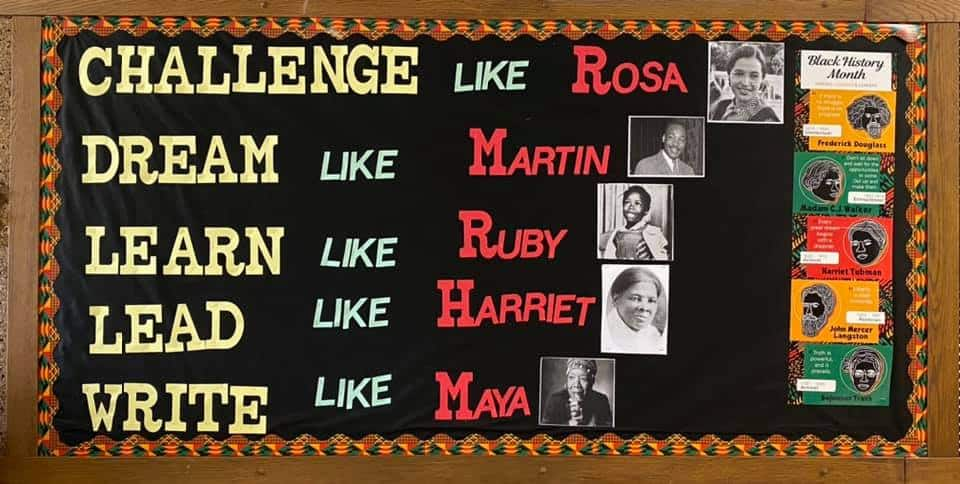 A parent for the elementary school put this together. The most inspiring for these kids in the list would probably be Ruby Bridges Hall, who faced horrible racism as a 6-year-old when all she wanted to do was go to school and learn like other white kids of her age.
3. Educative and interactive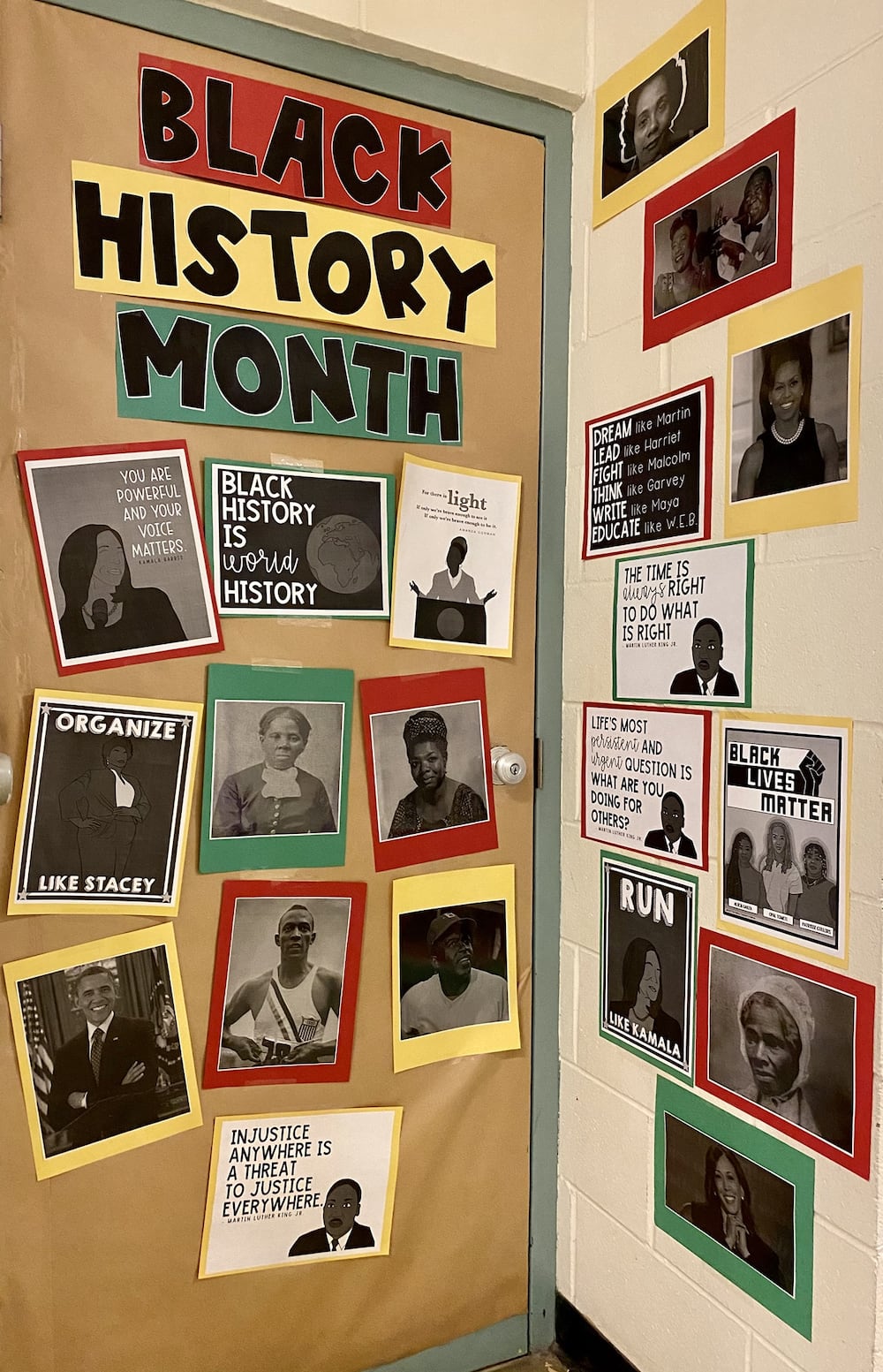 The above bulletin board features the movers and shakers of the fight, especially women. You can spot Kamala Harris, the first female, black, and Asian vice president, and Michelle Obama, the first black first lady, and many others.
4. Manageable project for an entire class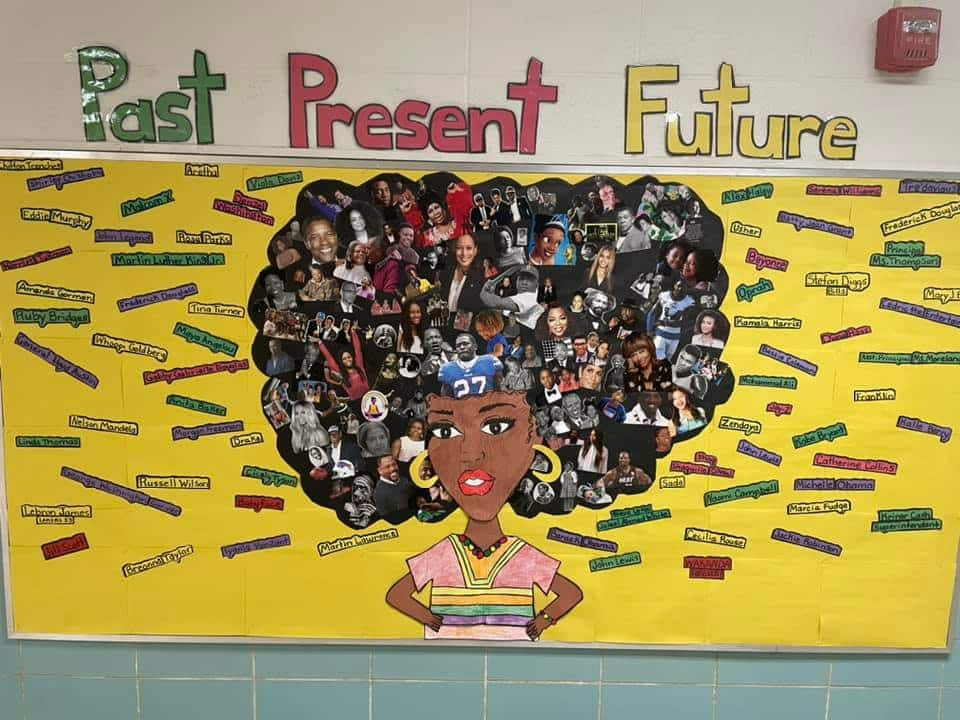 This idea features almost all inspiring black people, with a stunning collage at the large afro's center. There are names we may not usually see during BHM, but they still influence black culture to this day. For example, Oprah Winfrey, Denzel Washington, Martin Lawrence, among others.
Ideas for middle school
These students are older than elementary school kids and, therefore, have a much deeper appreciation for Black History Month. See some cool ideas that they can use below.
5. Catchy and memorable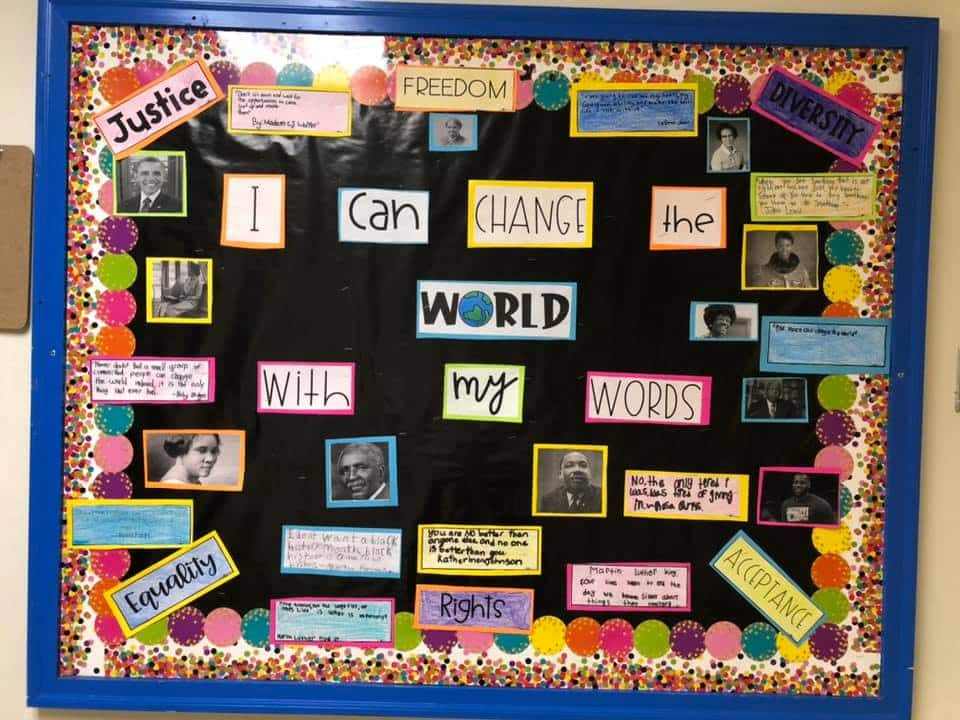 What a striking board this is. Even if the reader cannot go through the entire board, they will leave with the highlighted words ringing in their head, "I can change the world with my words."
6. Poetic and fun to decorate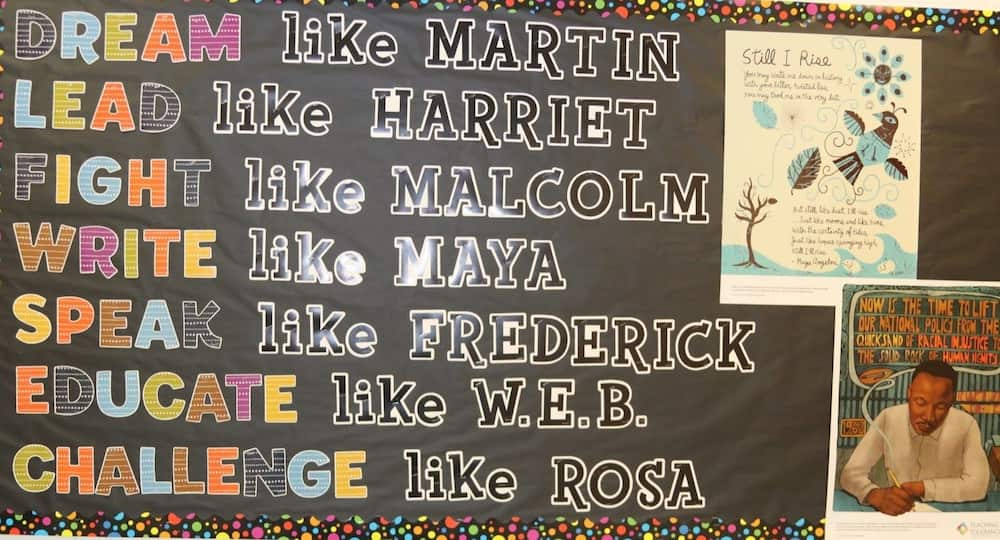 This board is striking because of the poem and the speech included. Maya Angelou's poem Still, I rise, is an assertion of marginalized people's dignity and resilience in the face of oppression. At the bottom right, it includes a section from Martin Luther King Jr's very famous speech I have a dream.
7. Colourful and simple to execute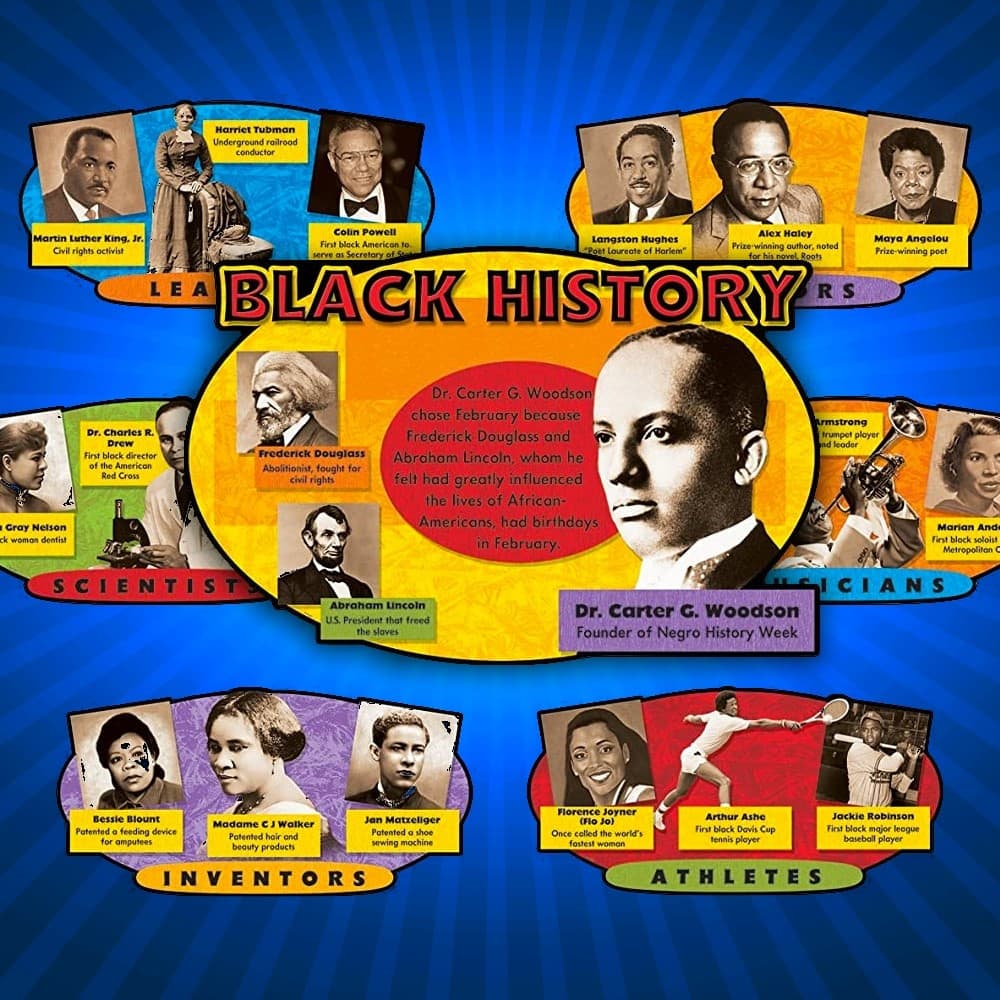 This board examines the past heroes, those who fought to free the slaves, end oppression, and give black people equal rights. It also includes scientists who made groundbreaking discoveries.
8. Educative, informative, and eye-catching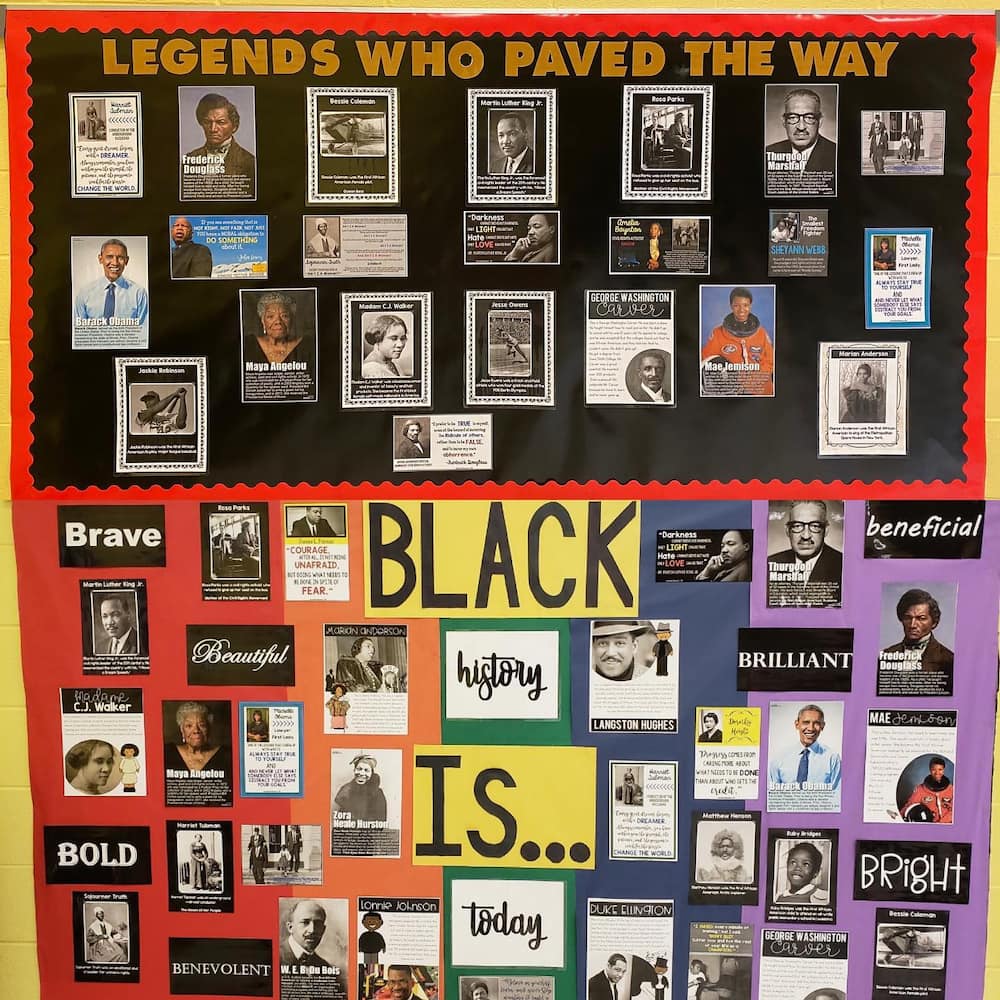 This is a more elaborate board that celebrates brave men and women of both the past and the present. The list includes Frederick Douglass, a famous abolitionist who escaped from slavery in the 1800s and fought the practice at a time when no one else of African descent dared to. He became a writer and statesman.
9. Inspirational and effortless to execute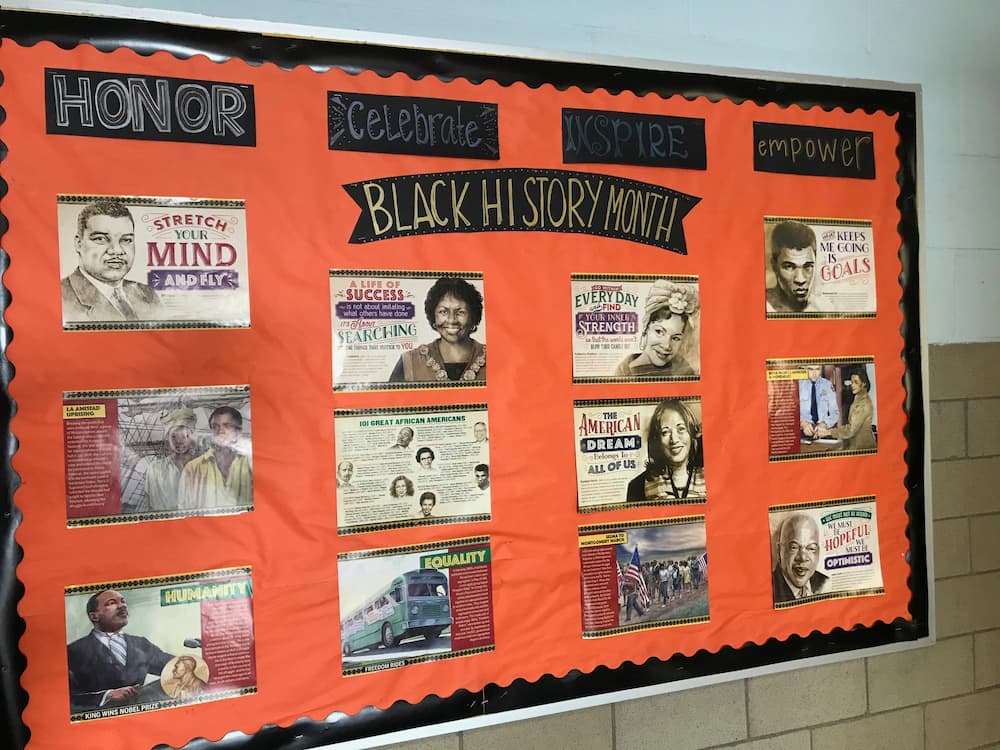 The notice board from Wilkins School has a more personal touch with hand-drawn images of the people they want to honour instead of digital photographs. It is simple but still gets the message of hope across.
Ideas for high school
The bulletin boards for high school students feature more themes of BHM. The ideas shown here are broader and include more information.
10. A project for the whole class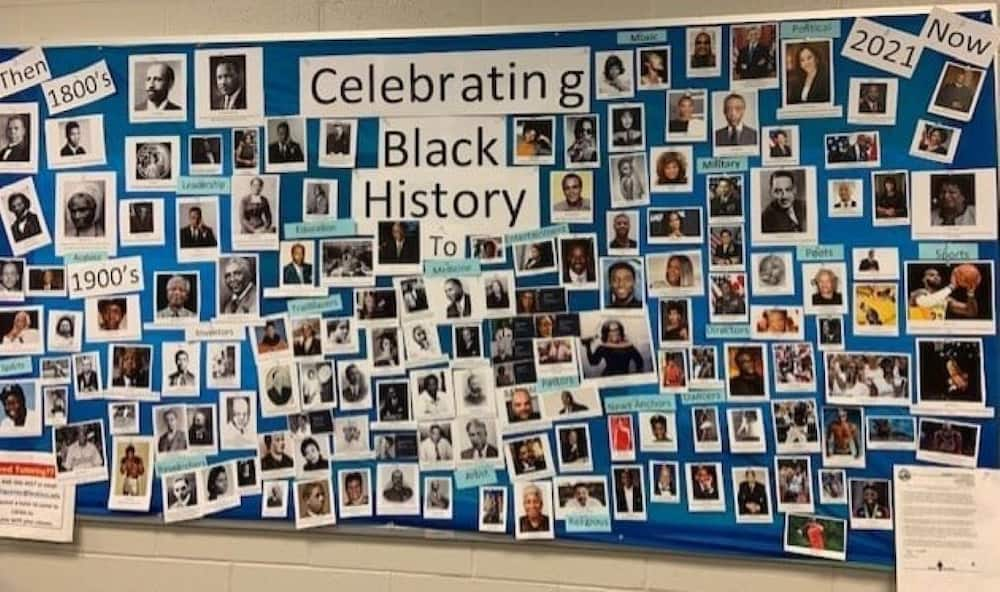 This first board has a lot of information, from the tough fighters in the 1800s to activists who continue to push for equality today. From Frederick Douglass, one of the first, to Martin Luther King in the 60s and finally Lebron James, an icon of today.
11. Informative yet uncomplicated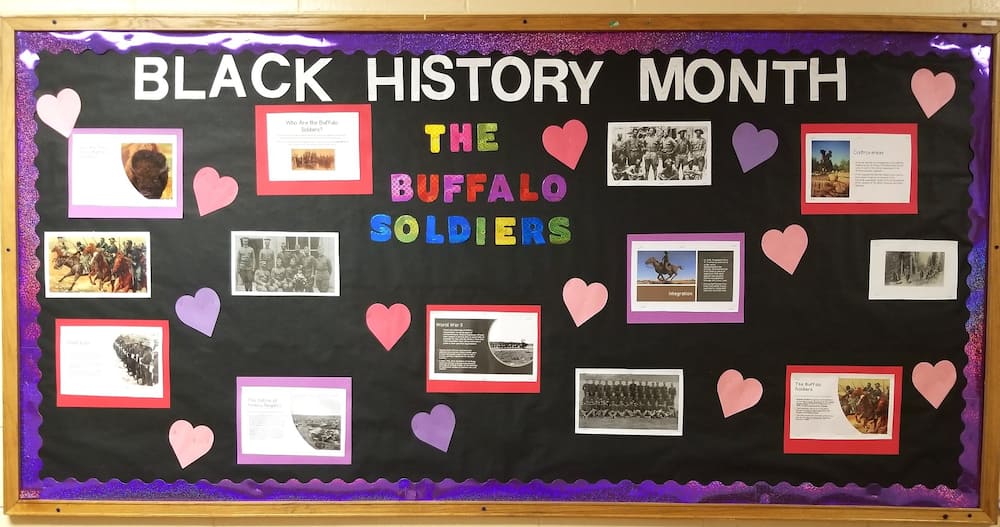 The Buffalo Soldiers were men of African descent who were tasked with protecting the white people from the native Americans. They were nicknamed Buffalo Soldiers by the native Americans, and to date, it is unknown why. Their sacrifice is cemented in BHM and ideal for a highschool board.
12. Black culture at its best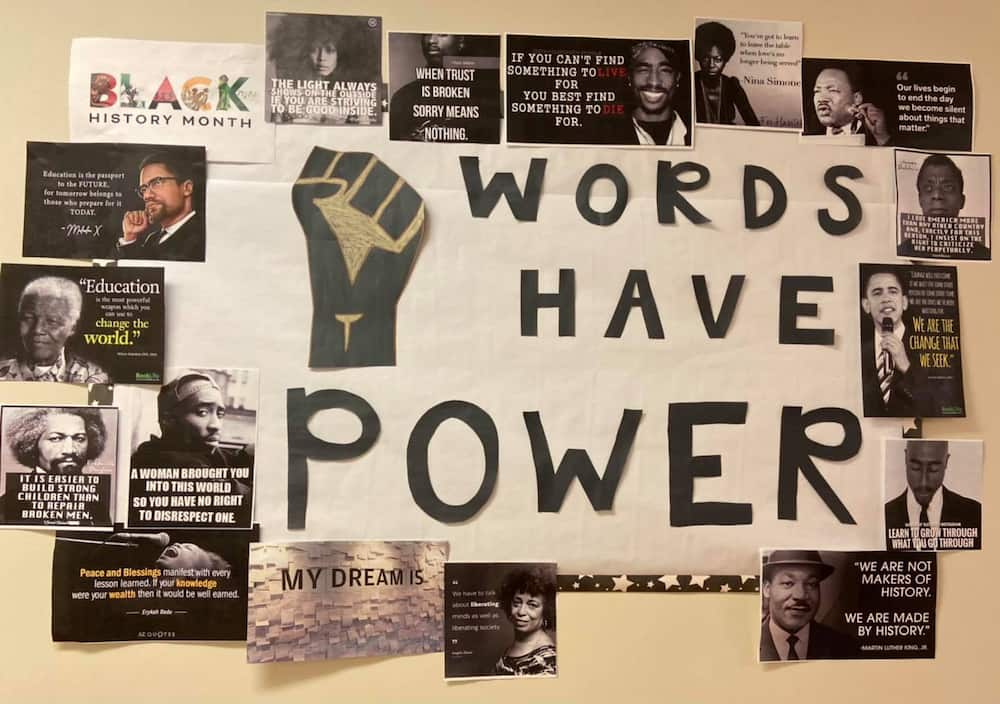 This poster includes some of the most famous quotes by famous black heroes from all over the world. Nelson Mandela, Malcolm X, James Baldwin, Tupac, and Erykah Badu.
Ideas for college
College students want topics they can deliberate on and argue about. They are thinkers who influence culture so much. Here are some interesting ideas.
13. Girls run the world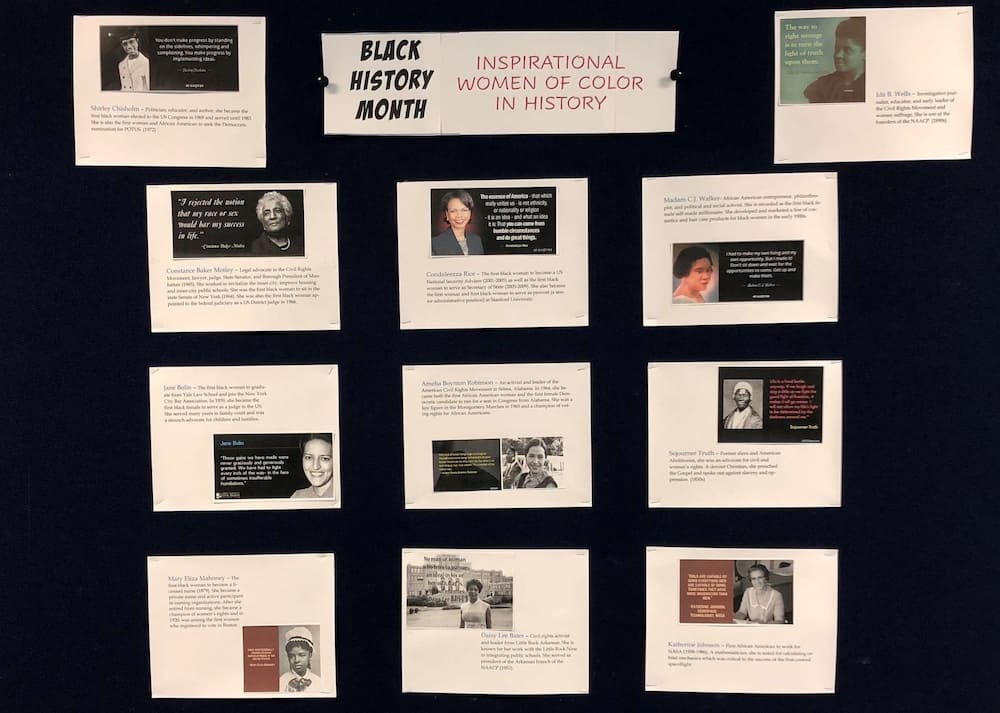 In 2021, the BHM theme is Black Health and Wellness. Nothing speaks more to that than where we are today, the progress seen by women from a time when they could not vote, to have a female VP in the US.
14. A straightforward board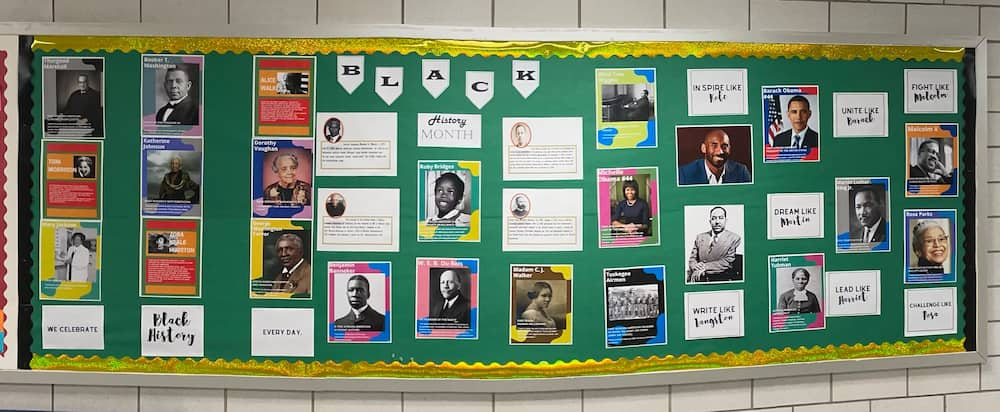 This elaborate list includes a legend who recently passed away, Kobe Bryant, the Lakers franchise's leading scorer. You can also see Harriet Tubman, who freed 300 slaves in her time, and other icons in history.
15. A fun do-able concept
This is a list that displays the people who supported the Civil Rights movement in the United States. Like Jackie Robinson, the first-ever black American professional baseball player to play in the major league despite racists, blocking his progress at every turn.
Black History Month bulletin boards celebrate black people like Harriet Tubman, Martin Luther King, Malcolm X, Mohammed Ali, Nina Simone, and many others. These pioneers fought for black liberation when they were severely oppressed for their skin colour.
READ ALSO: Top 30 famous black women to celebrate Black History 2021
Briefly.co.za recently published a list of the top 30 famous black women to celebrate Black History 2021. Famous women of colour have not only made history in their various capacities, but they continue to pave the way for the next generation.
Source: Briefly News