- Rather than turn to crime, Trash Junkies sift through our rubbish to pull out recycling
- It's not easy to earn a living this way, and some kind-hearted people are helping them out with groceries
- You can help the Trash Junkies by sorting out your rubbish to make it easier for them to collect
PAY ATTENTION: Click "See First" under the "Following" tab to see Briefly.co.za News on your News Feed!
Although recycling has become popular in South African suburbia in recent years, the place where it's really making a difference is in the lives of the TrashJunkies.
While most people think nothing of throwing away a piece of paper, or a tin can, these men and women rely on collecting as much of our recyclable rubbish as possible, in order to earn a living.
Now, initiatives are starting up to help these people by providing monthly groceries and other needs.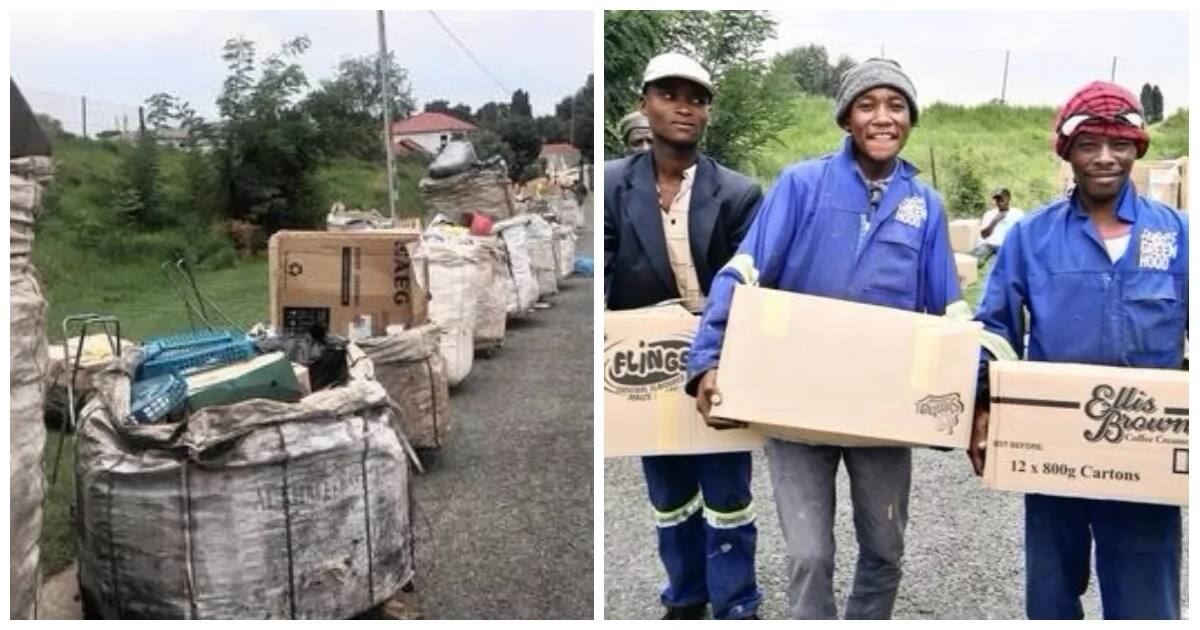 READ ALSO: Harassed for honesty: NW Finance Dept officials under investigation for leaking evidence of corruption
Briefly.co.za learned one such initiative is at the Glenhazel supermarket, where shoppers can donate any amount while they're doing their shopping.
The supermarket then uses the money to buy a list of groceries at the end of the month, which are then distributed to the TrashJunkies.
You'll see them every week, walking hundreds of kilometres to collect as much rubbish as possible, before turning it into recycling centres which pay them for it.
They earn an honest living by doing this, but it's not easy. Hosea Mobaso is 24-years old, and has been recycling for three years.
"I find it unique in a way. It is not like a normal job. It is not good in terms of health and so on; but then we do it because we can't find other jobs and some of the guys are foreigners. And we need to live.
"It is not good to always be working in these dirty bins. We can pick up diseases because we don't have the proper safety gear. We can't afford it."
But the recyclers are family, and they don't turn anyone away, even though with so many of them reliant on receiving groceries, they may not always get any.
"If they come, we do not send them away – we just stick with them. Sometimes you can get five or six guys who don't get groceries and it is quite painful. I feel bad because I imagine how I would feel if I didn't get."
One way to help the Trash Junkies is to sort out your rubbish, so it's easy for them to pick out paper, plastic, tin, and glass.
READ ALSO: The Hawks have landed: NW Premier's office raided
What do you do with your rubbish? Let us know on our Facebook page and we could feature your story.
To stay up to date with the latest news, download our news app on Google Play or iTunes today.
Source: Briefly.co.za