Illungelo Labadala village in Amaoti, Inanda, was established in 2003, as a collaboration between The Association for the Aged (Tafta) and community based organisation, Illungelo Labadala.
PAY ATTENTION: Click "See First" under the "Following" tab to see Briefly.co.za News on your News Feed!
The project is unique as it was primarily built as an old-age village where residents care for Aids orphans and integrate them into their "family".
Briefly.co.za takes a look at the three women who were the driving force behind the village.
1. Elizabeth Mbongwe
Elizabeth Mbongwe is 80-years-old but still drives from her home in Umlazi to attend committee meetings at Amaoti.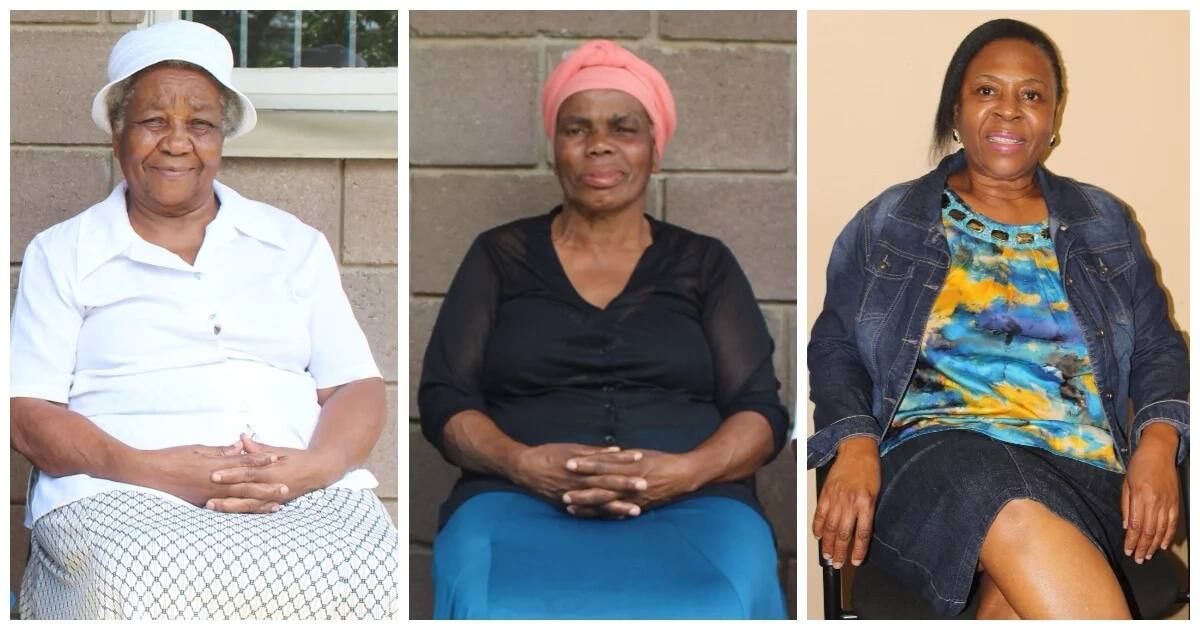 In 1999 the former nurse, who is the co-founder of the project, approached Tafta (together with her friend and colleague Victoria Mtshali) to raise awareness of the plight of the elders in the Amaoti village.
"Victoria was pensioned earlier than I was, but she told me that when I retired I had to come join her because she was being really affected by how younger generations, especially the grandchildren, were abusing the old gogos for their pension monies.
"We met with the Board of management at Tafta then CEO Margie Smith, and she became actively involved in coming into the area to begin helping the pensioners," Mbongwe said.
READ ALSO: Old flag a symbol of hope as students walk over it at Woordfees
Tafta began working with Mbongwe and Mtshali to build a home for the elderly and destitute children.
2. Theodora Makhanya
Theodora Makhanya spent 24 years dedicated to helping the aged in her community for little or no pay.
She was given the opportunity to work on the Illungelo Labadala project where she began work as a carer and managed the project's kitchen.
Now in her 60s, she remembers her first success case; "There were two gogos I knew who were staying together in the community. The one had an alcoholism problem and was severely abusing the second one for her money. I was able to bring the abused gogo to the Tafta care facility and it felt so good to be able to assist in that way".
"Being a part of the project has given us the structure to formally assist so many people in this community. I will continue assisting for as long as I can."
3. Bukisani Phakati
"I came to Tafta because I was always passionate about care of the elderly and although my qualification was in teaching, I was drawn to this position from the start," qualified educator Bukisani Phakati said.
She started at Tafta in 2000 as a social auxiliary worker.
Phakati was appointed and made responsible for Illungelo's aftercare programme.
Her special focus was on the issue of child abuse.
"We became aware of it as we investigated and Tafta played a huge role in bringing those issues under the spotlight in that community."
Phakati played teacher, mother and carer to 36 children daily.
"It was exhausting, but I remember it being the most fulfilling period of my life. We even put together holiday programmes twice a year and got sponsorships to take the children on trips to the city and other places they had never been to before."
READ ALSO: Video NDZ calls on women to boycott next election unless government provides a gender budget
Do you have a story to share with us? Inbox us on our Facebook page and we could feature your story.
To stay up to date with the latest news, download our news app on Google Play or iTunes today.
Source: Briefly.co.za