Battleground Teasers for April 2021: Will Onajite overcome her miseries?
Battleground teasers for April 2021 are already here, and it looks like April will be a dramatic month for the show! The most unforeseen events are going to unfold, and some of the deepest secrets are brought to light. Brace yourself for a rollercoaster of events from your favourite Battleground cast members.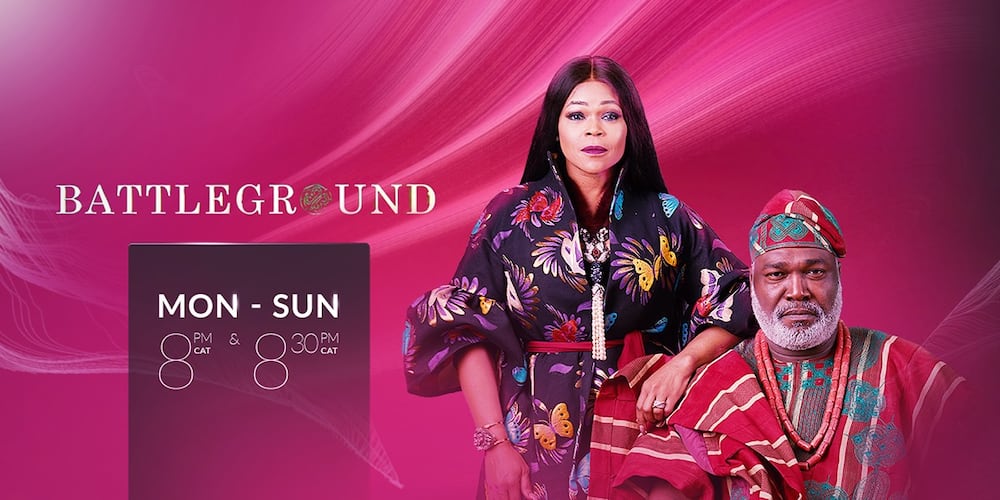 Battleground teasers for April 2021 highlight Onajite's miseries. She goes through a life-changing experience that gives her so much hope. However, her situation takes an unexpected turn, and what follows is a series of miseries. Teni's equally experiences a challenging moment but manages to bounce back. Will her enemies stop striking?
Battleground April 2021 teasers
The most recent Battleground episodes focused on Teni's dilemma on whether or not to sell the hospital. Her decision does not sit well with those around her. Will they make peace with her choices?
Episode 181 - Thursday, 1st of April 2021
Teni reconsiders her decision to sell the hospital, and Okiemute discovers what Collins has over Sophie. Hadiza receives heartbreaking news about Danlami's accident and her urgent need for blood.
Episode 182 - Friday, 2nd of April 2021
Teni's decision about the hospital's proposed sale provokes Kolade, and Adaora receives shocking news about Onajite's pregnancy. Hadiza asks Danlami to consider making peace with the Bhadmuses.
Episode 183 - Saturday, 3rd of April 2021
Kolade's apology to Teni does not go as expected, and Sophie reaches out to him for help regarding a missing girl. Later, Adaora questions Kolade about Onajite's pregnancy.
Episode 184 - Sunday, 4th of April 2021
Hadiza offers to make the first move in her and Danlami's plan, and Adaora asks Emeka out for a dinner date. Kolade asks Collins to meet him for a business meeting.
Episode 185 - Monday, 5th of April 2021
Nwosu asks the staff members to help in doing an unusual thing, and Kolade's attempts to talk to his family do not bear fruits. Collins unexpectedly shows up at Kolade's door, and Kolade rushes out of his house.
Episode 186 - Tuesday, 6th of April 2021
Teni and Adaora receive anonymous gifts, and Emeka and his father get into a heated argument. Okiemute expresses his concerns about Kolade's whereabouts, and Sophie interrogates Collin's visit. Later, Ola gets kidnapped.
Episode 187 - Wednesday, 7th of April 2021
Moshood discovers Onajite's secret, and Onajite decides to take matters into her own hands. Teni continues to plead with Emeka for forgiveness, and Kolade opens up about the details of his abduction and Ola's whereabouts.
Episode 188 - Thursday, 8th of April 2021
Nwosu and Onajite announce their engagement, and Onajite tries to make Moshood understand her situation. An enemy attacks Moshood's house, and Danlami gives Moshood a reason to doubt Kolade.
Episode 189 - Friday, 9th of April 2021
Emeka hits the nail on the coffin regarding his relationship with Teni, and Adaora makes up her mind about her wedding gift. Moshood hesitates to sign the documents.
Episode 190 - Saturday, 10th of April 2021
Teni's attempts to make Emeka jealous fail to work, whereas Kolade orders the General's attack. Dr Kalu makes her appeal, and Adaora proceeds with the wedding preparations despite Sophie's displeasure.
Episode 191 - Sunday, 11th of April 2021
Teni questions Kolade about his contribution to the end of her relationship, and Nwosu makes excellent plans. Okiemute and Kolade try to understand how The General escaped.
Episode 192 - Monday, 12th of April 2021
Onajite opens up about a secret, and Kolade concocts a plan to abduct Cyril. Teni loses control of her emotions, and Sophie instructs someone to do something to Onajite's pregnancy.
Episode 193 - Tuesday, 13th of April 2021
Sophie offers Teni a deal regarding her business, and Adaora invites Onajite's mother for a meeting. Adaora surprises Chichi when she asks her to be her wedding planner, and Cyril expresses his fears for Roman.
Episode 194 - Wednesday, 14th of April 2021
Hadiza and Danlami succeed in their plan, and Teni gets a manager for her business. Roman scares Cyril, and Sophie informs Adaora of the truth about Onajite.
Episode 195 - Thursday, 15th of April 2021
Sophie takes matters into her hands, and Onajite opens up to Nwosu about the pregnancy. Bassey worries about his terminal illness, and Nwosu's men express their concerns about losing their jobs.
Episode 196 - Friday, 16th of April 2021
Cyril discovers something strange about himself, and Moshood comes to Onajite's rescue again. News of MLA new majority shareholder cause tension, and Kolade finds out shocking details about Teni's past abortion.
Episode 197 - Saturday, 17th of April 2021
Kolade visits Emeka, and Teni feels uncomfortable about her past being under scrutiny. Tanko reaches out to Hadiza with a proposal, and Moshood concocts lies to explain how Danlami acquired the shares.
Episode 198 - Sunday, 18th of April 2021
MLA has a new CEO, and Onajite receives an heirloom from Nwosu's family. Ola visits Kolade, and Sophie worries about the poison not working for Onajite. Cyril does something that makes him the day's hero.
Episode 199 - Monday, 19th of April 2021
Onajite prepares for her meeting with Nwosu's family, and Okiemute unveils damning details about Hadiza'a past. Abiks finds out incriminating information about a past vaccination scandal.
Episode 200 - Tuesday, 20th of April 2021
Adaora discovers some shocking details, and Hosu and Mayowa return. Kolade hands Onajite a luxurious gift, and Bassey and the rest of the guests show up for the wedding.
Episode 201 - Wednesday, 21st of April 2021
Abiks visits Dr Kalu after hearing the details of the fatal accident. Adaora finds out the details of the paternity of Onajite's unborn baby. Meanwhile, Onajite second-guesses her decision to go on with the wedding.
Episode 202 - Thursday, 22nd of April 2021
The staff members point fingers at Onajite for their misfortunes, and later, Onajite and Nwosu suffer a tragic loss. Abiks offers to meet Emeka, and Kolade tries to force Adaora into having a dialogue with him.
Episode 203 - Friday, 23rd of April 2021
Adaora receives news of the miscarriage, and Mayowa gets an unexpected job offer. Abiks opens up to Emeka about the story she is researching. Emeka questions Dr Kalu about his involvement in the scandal.
Episode 204 - Saturday, 24th of April 2021
Abiks gets her exclusive, although she seems to be on a different mission. Kolade and Danlami receive farm produce, and it reminds them of their past. Elsewhere, Mayowa and Teni devise a strategy to ensure the timely payment of the loan.
Episode 205 - Sunday, 25th of April 2021
Adaora attacks Kolade, and it makes Sophie unhappy. Teni faces Onajite; hence, Onajite opens up to Nwosu about the truth. The staff contemplates visiting Onajite, and an unexpected crime happens.
Episode 206 - Monday, 26th of April 2021
Danlami discovers reasons to suspect Hadiza, and the Bhadmus family members react to the shooting. The Kalu family members contemplate helping the Bhadmus family until they receive some startling information.
Episode 207 - Tuesday, 27th of April 2021
Nwosu does everything to have Onajite discharged, and Ola's presence pisses Adaora off. Everyone panics about Kolade's abduction, and they disagree about heeding the kidnappers' demands.
Episode 208 - Wednesday, 28th of April 2021
The staff members begin to doubt Nwosu's men, and Danlami questions Hadiza about her slipup. Ola's presence angers Mayowa, and Cyril's demeanour is explained. Later, Nwosu comes across a spent bullet shell, which shocks him.
Episode 209 - Thursday, 29th of April 2021
Teni asks Bassey to re-enact his movements on that fateful night, and his response shocks her. Vyhutu eyes Onajite's position, and Okiemute and Ola have one suspect in mind.
Episode 210 - Friday, 30th of April 2021
Ola and Mayowa reach a crisis, and Onajite visits Adaora. Meanwhile, Dr Kalu finds himself in a fix, and it nearly compromises his work ethics. Later, Okiemute reaches out to Dr Kalu for the results of the DNA tests.
Onajite
Onajite and Nwosu agree to take their relationship a notch higher. However, their decision does not sit well with Sophie. She vows to ruin their plans. She instructs someone to poison Onajite, and later, Onajite experiences a miscarriage. Later, she confides in Nwosu about her late baby's father, and Nwosu promises to support her. However, Okiemute insists on conducting a DNA test. Will the results impact Onajite's relationship?
Teni
Teni finds herself in a dilemma about the hospital. Her relationship equally takes a toll on her. Her efforts to mend it do not bear fruits; instead, Emeka breaks up with her. Later, someone reveals skeletons from her closet, and it makes her uncomfortable. How will she revive her reputation?
Battleground teasers for April 2021 must have left you in suspense. If you wish to find out more details, tune in to Novela Magic every Mondays to Sundays at 21h30.
READ ALSO: The Evil Eye teasers for April 2021: Round-up of all episodes
Briefly.co.za recently published exciting details about The Evil Eye teasers for April 2021. You will not believe how the drama will unfold.
The Evil Eye teasers highlight Piya and Ansh's efforts to be together. They manage to take Mohana and Urvashi down, although Bhasmika proves to be a hurdle for them. How will they deal with her?
Source: Briefly.co.za