5 Boys Walk for 5 Kilometres to Rescue a Puppy, Hailed as Heroes
- Five boys were handed a heroes' welcome after helping a puppy in a story that has attracted the world's attention
- Following the help from the five boys, the dog, named Champ, has now been adopted and will feature in a television production set for Netflix
- While many are charmed by the five boys' bravery and love, gifts for the young men have come from as far as the United Kingdom
PAY ATTENTION: Click "See First" under the "Following" tab to see Briefly.co.za News on your News Feed!
An inspiring story of five boys who helped a puppy named Champ eight months ago continues to make headlines all over the world and they have been touted as heroes.
The five boys' story reached many globally and that resulted in them being generously rewarded for their kind deed.
According to a Facebook post through Animal Society Welfare of South Africa, the five young men's rescue mission has led to a record number of adoption applications for Champ, the puppy they saved.
It is announced that the dog has since been adopted and has a new home but what is heartwarming is the fact that they will star in a television production to be aired on Netflix.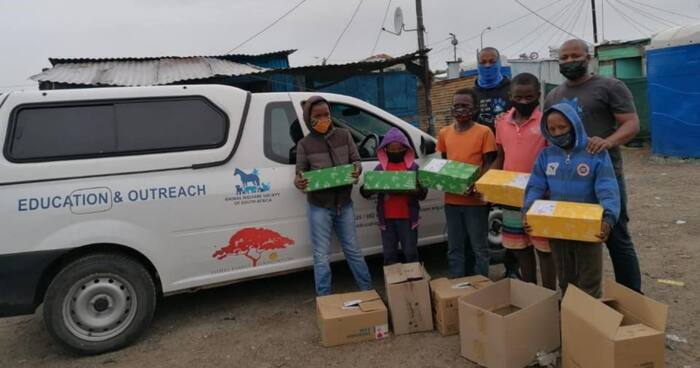 In a photograph on the society's page, the boys are seen receiving gifts and it's captioned, 'Champs, Champs Enjoy a Special Easter Long Weekend'. The society also posted:
"Who can forget the Magnificent 5 and Champ, who we had the pleasure of meeting and helping almost 8 months ago.
"Their heroic deed reverberated positively around the world resulting in them being generously rewarded and the Society receiving a record number of adoption applications for Champ, who has since been adopted to a wonderful family and gone on to become a Star of a local television production soon to be released on Netflix."
The Society further revealed that they waited for a perfect opportunity to hand over some of the gifts from as far as the United Kingdom. Added the Society:
"We managed to hand-over most of theirsgifts last year but were waiting for an opportune time to present them with their Santa Shoeboxes kindly gifted to them by the Santa Shoebox Project and a hamper of nutritious food sponsored by a donor from the UK.
"The Easter long weekend presented us with an ideal opportunity to surprise the boys who were super-excited to receive their spoils from Animal Care Centre Supervisor Lawrence Nkotha and Trainee Inspector Sivuyile Kilwa on Wednesday last week.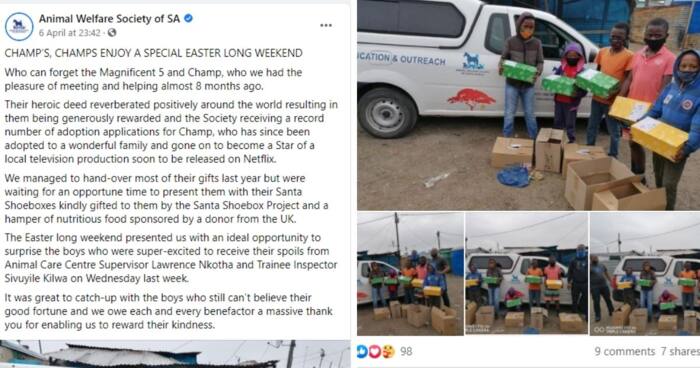 "It was great to catch up with the boys, who still can't believe their good fortune, and we owe each and every benefactor a massive thank you for enabling us to reward their kindness."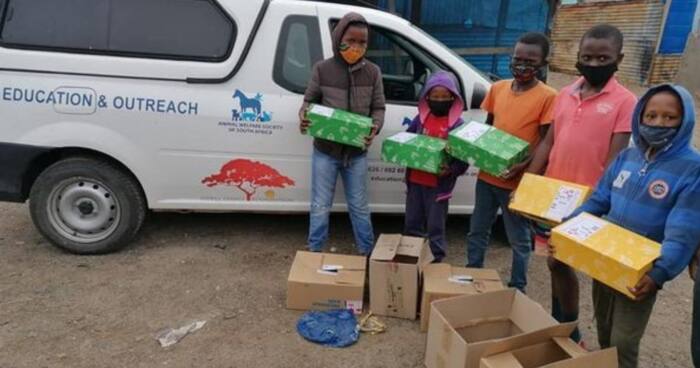 Taking a glance at the comments section, many have shown their affection for the boys and this beautiful story and Briefly News takes a look.
Carole Hambleton-Moser said:
"Magnificent story of magnificent boys and magnificent!!! It's fabulous that Champ has a wonderful home now and will be the star of local TV production. Please let us know when Netflix releases the film."
@Ansuya Buccas wanted an update on Champ:
"May we please have an update on Champ?"
@Suu Gee reckons the boys also deserve a shot in front of the television cameras:
"They all totally deserve their fame!!"
Briefly News previously reported on a story where it covered inspirational children such as the late Nksio Johnson.
South Africa does not have a shortage of child heroes and this website gathered five young South Africans who made a difference in the lives of others.
Johnson was born in 1989 in a township, east of Joburg but he was sadly diagnosed with HIV at birth and was adopted by public relations practitioner after his birth mom could no longer care for him.
The inspirational young boy was rejected from a school in 1997 for being HIV-positive, which led him to get public attention.
Enjoyed reading our story? Download BRIEFLY's news app on Google Play now and stay up-to-date with major South African news!
Source: Briefly.co.za