Scandal! Teasers for May 2021: Duma is trapped in messy circumstances
Money makes people happier to some extent because it helps them afford comfortable lifestyles. However, having more money does not give an individual more happiness than someone who has less or no money. Mamba's case is proof that the rich also cry. Find out from Scandal! teasers for May 2021 why he faces rejection.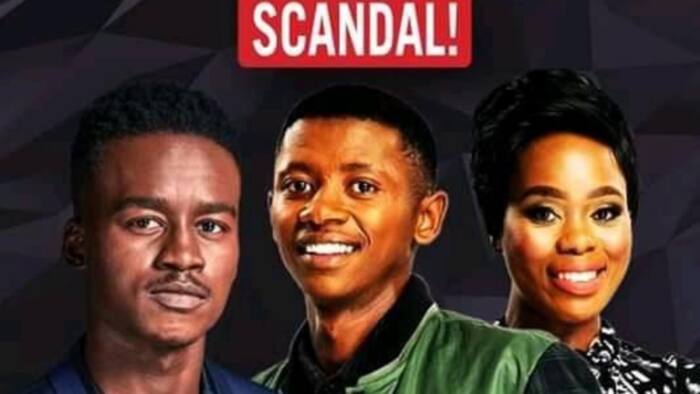 Meanwhile, Rorisang believes there is a ghost in the hotel and embarks on spying on a guest. How is the hotel's guest connected to the ghost narrative? Moreover, Gloria supports these suspicions after noticing some creepy things at the hotel.
May 2021 Scandal! teasers
Horror movie lovers are anxiously waiting for the upcoming Scandal episodes. Please do not get scared because whether the ghost exists or not, you are assured that it will not jump from your screen into your room. Furthermore, the show has enough romantic stories to distract you from things that might scare you.
Monday – 3rd May 2021
Episode 3814
Duma receives a startling proposal while Simo and his colleague blame each other. Meanwhile, the Ngemas celebrate good news. Rorisang and Gloria suspect something is wrong at the hotel.
Tuesday – 4th May 2021
Episode 3815
Mamba is outraged when he discovers someone convinced Poloko to get into a secret deal. Lindiwe and Nhlamulo receive alarming news. Timothy is speechless when his subordinate asks him a challenging question.
Wednesday – 5th May 2021
Episode 3816
Mamba is distracted by a challenging situation, and two darlings enjoy a spontaneous kiss. Nhlamulo receives the anticipated news, although it might not favour Lindiwe's plans. Gloria finds inspiration to take a different direction in her life.
Thursday – 6th May 2021
Episode 3817
Mamba is excited after meeting someone, and Poloko needs a close person to confide in. Lindiwe saves Nhlamulo when he faces a huge obstacle. Efua seeks consolation in her guardian angel.
Friday – 7th May 2021
Episode 3818
Mamba repents his past sins and shares starling information with Boniswa. Lindiwe's solution to some problems is temporary, and Rorisang learns she has more things to accomplish.
Monday – 10th May 2021
Episode 3819
Zinzile suspects her daughter is deceiving some young man. A couple enjoys their stay at a hotel, and Timothy admits he got upset. Mamba hides vital information that can save a family member's life.
Tuesday – 11th May 2021
Episode 3820
Boniswa and her ally get into a dangerous agreement. Zinzile finds some shocking information. Aya receives surprising news, and Gloria makes a tough choice to secure her source of income.
Wednesday – 12th May 2021
Episode 3821
Omphile gets more suspicious, whereas Lindiwe is under more pressure to save her skin. Boniswa saves the day while Gloria's plans are gradually succeeding. Meanwhile, Timothy runs out of luck.
Thursday – 13th May 2021
Episode 3822
Lindiwe's secrets and lies catch up with her, and Zinzile receives breathtaking information. The devastated Aya makes wrong decisions upon receiving shocking news. Timothy might be disappointed after confessing his feelings to his crush.
Friday – 14th May 2021
Episode 3823
Zinzile tells the truth when caught doing the wrong thing. Duma bears the consequences of his family's decision while Rorisang starts to believe a ghost is haunting the hotel.
Monday – 17th May 2021
Episode 3824
Mlungisi takes drastic measures when he discovers people are hiding secrets from him. Boniswa gets confused when she uncovers valuable information. Rorisang's discovery threatens to ruin Timothy's life.
Tuesday – 18th May 2021
Episode 3825
People draw weapons on each other while fighting over Nhamulo, and Lindiwe refuses to attend a ceremony. Boniswa plans to use Mamba's name to solve all problems. Rorisang traps a hotel guest in a dangerous mind game.
Wednesday – 19th May 2021
Episode 3826
Mlungisi betrays his morals to deal with the situation at hand, and Mamba's irrational decision will affect everyone close to him. Rorisang lies to a minor to save herself from trouble.
Thursday – 20th May 2021
Episode 3827
The Ngemas convince each other not to worry about the terrible mistake because everything will soon bounce back to normal. Mamba expects a generous offer but receives quite the opposite. Someone snitches Rorisang to the authorities.
Friday – 21st May 2021
Episode 3828
Some employees give Timothy the devastating news when he finds them committing a grave mistake. Mlungisi is left with only one solution to his problem, and someone confronts Nhlamulo regarding his plan. Poloko confides his problems in someone.
Monday – 24th May 2021
Episode 3829
Zinzile fears for her future, and Poloko seeks advice. Meanwhile, Mlungisi takes a risk to save his family, and Timothy helps a loved one who hurt him before.
Tuesday – 25th May 2021
Episode 3830
Mlungisi confirms his suspicions, and Mamba moves on after being rejected. Gloria and Timothy enrol in risk management courses.
Wednesday – 26th May 2021
Episode 3831
Zinzile fulfils a promise, whereas a secret is exposed. Duma is swimming in more trouble while the truth sets Timothy free.
Thursday – 27th May 2021
Episode 3832
Mlungisi discovers shocking information at once, and Simo makes a decision that will be beneficial in the future. Tebello returns to his favourite spot, where he used to spend time.
Friday – 28th May 2021
Episode 3833
The enraged Mlungisi attacks another man, and Zinzile apologises for causing significant changes in the family. Some people are disappointed in Mamba for making an unpredictable decision. Seipati spoils herself at someone else's expense.
Monday – 31st May 2021
Episode 3834
Javas exposes information that will negatively affect a particular family. Boniswa irritates her ally by telling lies and sits back to observe the person's reaction. Meanwhile, Seipati learns that some mothers are devils in disguise.
Mamba
He values his political aspirations more than anything in the world. Mamba would rather watch a family member die than disclose vital information to save the person's life. He tries to blindfold Boniswa by apologising for making terrible choices in the past. Boniswa is not a fool; therefore, she plans to go behind Mamba's back and use his name to solve her problems.
Duma
His estranged father shows up out of the blues and tries to manipulate him into rebuilding their father-son relationship. Challenging Mamba will land Duma into more problems since Mamba always forces things to go his way. Will Mamba coerce his son to accept him or soften his heart when dealing with him?
Scandal! teasers for May 2021 come at the right time when the show's viewers are eagerly waiting for Mamba's downfall. Has destiny chosen his birth son to destroy him? Please tune in on e.tv Mondays to Fridays at 19h30 and follow Duma's tough journey as he strives to stop his father's evilness.
READ ALSO: Begusarai Teasers for May 2021: Who will Poonam choose?
Have you read Begusarai teasers for May 2021? Spare three minutes to find out why Lakhan has lost interest in his relationship with Poonam. Briefly.co.za also reveals that Bindiya is keeping an eye on Poonam after learning that Lakhan no longer loves her.
Bindiya believes Poonam is an immoral woman. According to her, Poonam must have seduced Priyom because the young man is infatuated with her. Priyom will soon take over Begusarai's leadership, and he met Poonam by chance. Will Lakhan regret leaving Pooman?
Source: Briefly.co.za