- A Grade 10 pupil who was filmed throwing a book at her teacher has been suspended from school
- Her parents believe she was provoked, and the Gauteng MEC for education has said they will help the learner
- Parents at the school have condemned the child's behaviour, saying it's unacceptable
PAY ATTENTION: Click "See First" under the "Following" tab to see Briefly.co.za News on your News Feed!
On Monday, Gauteng MEC for education Panyaza Lesufi, said the Grade 10 pupil who was filmed throwing a book at her teacher was getting help.
He said the girl's parents were very firm in that their child was also a victim, although they acknowledged her actions were wrong.
"The parents believe their daughter was provoked and that she was treated unfairly.
"They acknowledge that the learner was wrong to act in the manner she did. We really feel the learner needs help and the parents have accepted the help," he said.
Lesufi confirmed the school had suspended the girl until the disciplinary process was concluded, Briefly.co.za learned.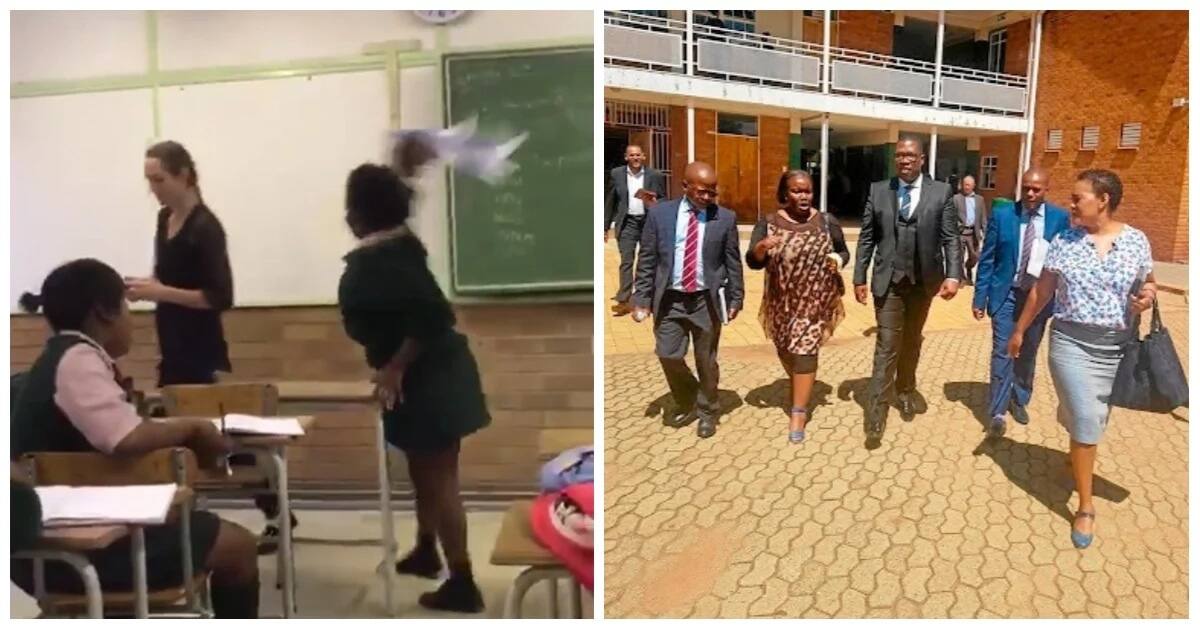 READ ALSO: Pro-Zuma lobby group halts Ramaphosa's R55 billion energy deal
One of the pupil's classmates told reporters they had a business test they were expected to write later that day, and that the learner was revising for it.
"The teacher was marking our books and asked us not to open our books. We obviously did not listen. She then walked to [her] desk [where she was seated with another girl].
"The teacher grabbed the other girl's book but she managed to pull it back. She then grabbed [her] book and they pulled it back and forth until it was torn. That's when she got up and threw it at the teacher," the student said.
"I was shocked because she is not normally like that. I was playing with her earlier and she is not like that."
Another learner said she felt the incident was bad for the school's reputation.
"The incident made us look bad. I do not feel good about what happened," she said.
Other parents at the school are outraged by the child's behaviour.
"We do not care what happened. A child is a child and she was wrong.
"They signed a code of conduct and they must live by it," one parent said.
The Education Department's spokesman Steve Mabona said the other two learners involved in the incident have also been suspended.
"The learner who took the video was also suspended. The three will be allowed to write an assessment test but will remain on suspension pending the disciplinary hearing," Mabona said.
Talking about a video of a pupil assaulting a teacher at Glen Vista Secondary school which went viral in 2013, Mabona said the teacher later resigned.
"The learner and the video taker were expelled. Two years later, the teacher resigned due to depression," he said.
READ ALSO: Absa female boss loses court case against 'old white men'
What do you think the consequences of the child's actions should be? Let us know on our Facebook page and we could publish your opinion.
To stay up to date with the latest news, download our news app on Google Play or iTunes today.
Source: Briefly.co.za