- The EFF is allegedly encouraging illegal land grabs by people in Olievenhoutbosch
- Community leaders have been selling plots of vacant land to residents at R100 each
- Government officials have urged community members not to buy or occupy land until they have discussed the issue with them.
PAY ATTENTION: Click "See First" under the "Following" tab to see Briefly.co.za News on your News Feed!
Community members in Olievenhoutbosch claimed they were given permission to illegally occupy vacant land along the R55 by Peter Seolela, EFF chairperson in the area.
They claimed to have purchased the land from community leaders for R100 a plot.
Seolela didn't deny that he was the mastermind behind the seizure of land, however he said people weeded out tall grass and trees from the land only for security reasons.
"These people are cleaning up the place because they are getting robbed and killed by criminals."
He denied claims that plots of land in the area were up for sale, Briefly.co.za learned.
"The stands are for free. No one must buy land. We had people coming from as far as Tembisa, who said somebody from Tembisa promised them stands here for R800. But we said stands are free," Seolela said.
READ ALSO: Open Letter: DA's Athol Trollip responds to Julius Malema
The community had been ordered to grab all vacant land in the surrounding area, he said.
"They must clean them up and wait on them until the department formally allocates them stands."
Residents said they have grown tired of waiting for government to allocate them houses, which they've been waiting for since 2013.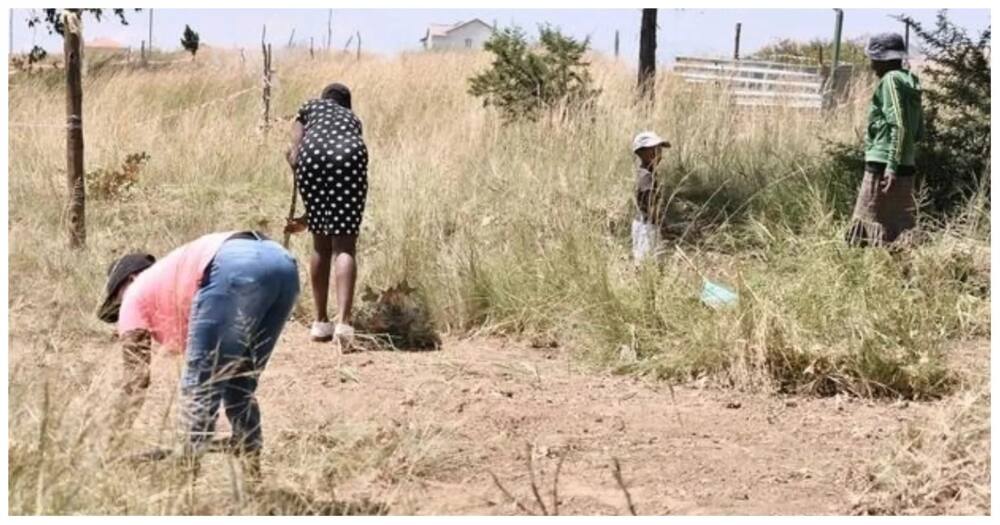 On Friday, the backyard dwellers descended on the vacant land and illegally occupied it, but police were present to stop them invading.
"Police told us a case had been opened against us. We explained that it can't be correct that some people had opened a case because of land that used to be vacant."
They only barred foreigners from illegally occupying the land, Seolela said. At least 25000 people had their names registered on the list of those who wanted land, and people were ordered not to build shacks on the land until the department had engaged with them.
It was claimed that part of the land was sold to Malawian prophet Shepherd Bushiri, the founder of Enlightened Christian Gathering Church, to build a church.
"We agreed as a community to come and clean this land to show them that this land belongs to all of us, not this guy."
One of the land-grabbers, Grace Mojela, from Limpopo, arrived in Gauteng three years ago.
"The money for renting a backyard room is too much. I pay R1200 without water and electricity."
Another backyard dweller, Cynthia Moremi, said she had previously tried to apply for an RDP house, but she was asked to produce a birth certificate for a child, "I didn't have a child back then and couldn't be granted the RDP house."
Human Settlements Department head Matilda Gasela called on law enforcement agencies to act against illegal land invaders, saying invasions delayed government development.
"Criminal elements continuously mislead the community. We call on law enforcement agencies to take strong action."
In December, a group invaded RDP houses in Olievenhoutbosch. An interdict was obtained against further invasion and a process was launched to evict 71 people.
"It seems there is a group that has concerted efforts to bring anarchy to Olievenhoutbosch. We call on the community not to be misled by opportunists," she said.
Premier David Makhura condemned the illegal land invasions, saying the activity was orchestrated by an organised group of people who came with vehicles.
Meanwhile, the City of Tshwane said it acted swiftly to invasion attempts in Hammanskraal yesterday. Mayor Solly Msimanga said metro police demolished illegally erected shacks after notices to remove them fell on deaf ears.
READ ALSO: Absa female boss loses court case against 'old white men'
Do you have a story to share with us? Inbox us on our Facebook page and we could feature your story.
To stay up to date with the latest news, download our news app on Google Play or iTunes today.