- Two farmers from Diyatalawa have proved that black people can farm
- Shadrack Mbele and his neighbour, Maseli Letuka, have both succeeded in the agriculture industry
- Now, they call on young black people to pursue studies in agriculture and follow in their footsteps
PAY ATTENTION: Click "See first" under the "Following" tab to see Briefly news on your News Feed!
Just outside Harrismith lies a small farming district, called Diyatalawa. It is here where two black farmers are thriving in the agriculture industry, despite certain difficulties.
Mixed farmer Shadrack Mbele is the son of an exceptional farm worker in the area named Ephraime.
Huffingtonpost reported the father managed to get the land on which his son is farming after the reign of Apartheid ended.
Mbele explained he got his love of farming from his father, adding they farmed long before 1994, but it was on leased land from the then-QwaQwa government.
He recalled when his father acquired the land, he was still working as a teacher. Briefly.co.za gathered his salary was used to finance their farming.
Mbele said he also owned his own taxi service in 1992 but had to sell his vehicles to fund the farm.
However, since 2006 Mbele pursued farming as a full-time career, quitting his teaching position.
The years his father worked as a farm worker paid off, and he was known to be an acclaimed cattle breeder.
"In 2007 we won... it started far back! From 1973, we had this cow – but then my dad was still a farm worker – it won a gold cup at the Rand Easter Show," Mbele recalled.
His father success proved racists, who believed black people could not farm, wrong.
Ephraime got his experience working form Bobby Dell's farm in eastern Free State, which is where he discovered his passion for farming.
Mbele's father worked alongside Dell's son, Freddie, as his apprentice. It did not take long for Ephraime to get hooked on farming.
Today, Mbele has taken over the family farm and continued to make a success of it. With news of land reforms, Mbele said it is important for young black people to get involved in agriculture.
He said the youth should be encouraged to study agriculture in the post-apartheid era, where they can get the opportunity to implement their newfound skills.
Currently Mbele has two interns helping him with the cattle on his farm. One of the interns, third-year University of Pretoria agriculture student Hlonepho Ntsoereng, said he had a blast working with Mbele.
Ntsoereng said Mbele was a good teacher, adding it is important for aspiring young black farmers to learn the tricks of the trade.
Mbele continued by talking about the difficulties young blacks would face in the agriculture sector, "The one problem in agriculture is getting funding - they do not know whether you will be able to pay it back".
READ ALSO: South Africa's tiny heroes: 5 Children that changed the lives of others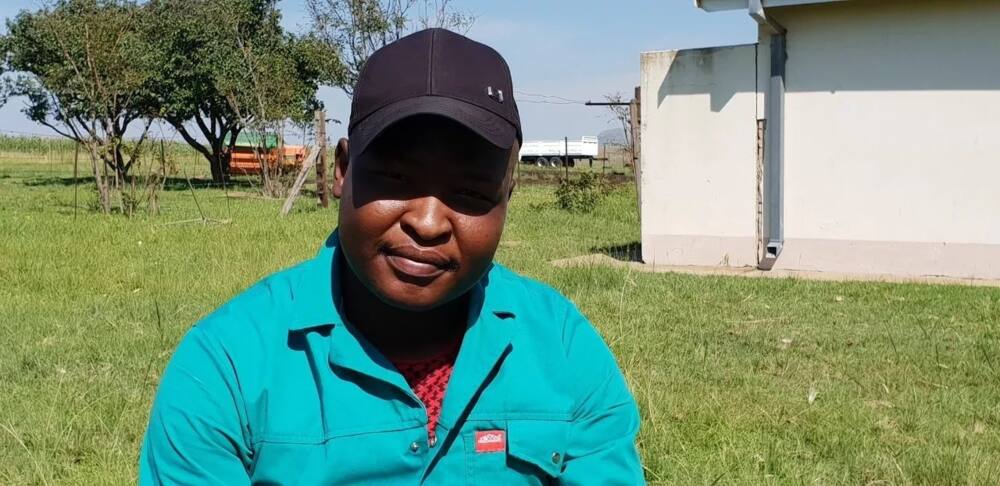 The second farmer, a friend of Mbele, is Maseli Letuka. However, unlike his neighbour, Letuka does not own the land he farms on, he leases it for about R100 000 a year.
"I do not have enough money to buy land. In this area land is very expensive – the average is R25,000 per hectare," Letuka explained.
However, despite not owning his own land, Letuka is making more than enough money. So much that his siblings have followed in his footsteps.
"Definitely the money is there – if you do not make money then you won't last in farming. My brothers are also following me – they are also keeping cattle.", he said.
Letuka has credited the National Emergent Red-Meat Producers' Organisation (Nerpo) for contributing to his success as a farmer.
Nerpo is an organisation that aims to develop the agriculture sector and at the same time urge black people to participate in the commercial agricultural business sector.
"They assisted me to buy livestock, especially the bulls; because in livestock, without a bull, you are just playing. You must be able to get the correct gene quality to modify your cattle.", he explained.
Just like Mbele, Letuka's farm has also received awards. In 2016, he was named GrainSA's New Era Farmer of the year.
Briefly.co.za gathered he prides himself over the quality of his cattle, adding his cattle was in such good shape that people at the competitions thought it was a white farmer's.
"At competitions, they ask 'Who is the owner here?' – maybe they think it is a white person."
Do you have a story to share with us? Inbox us on our Facebook page and we could feature your story.
To stay up to date with the latest news, download our news app on Google Play or iTunes today