"Israel is a terror state": Turkish President Erdogan Blows Hot Over Gaza Crisis
Israel has been described as a "terror state" following the continuous crisis in the Gaza Strip involving the Palestinian armed group Hamas
Turkish President, Recep Tayyip Erdogan, said Hamas is not a terrorist organisation but a political party
Erdogan said Israeli leaders are getting unlimited support from the West and they should be tried for war crimes at the International Court of Justice
Turkey, Ankara - Turkish President Recep Tayyip Erdogan has continued to condemn the Israeli assault on the besieged Gaza Strip by describing the Jewish nation as a "terror state."
Erdogan stated this while addressing members of his Justice and Development Party (AK Party) in parliament on Wednesday, November 15, Aljazeera reported.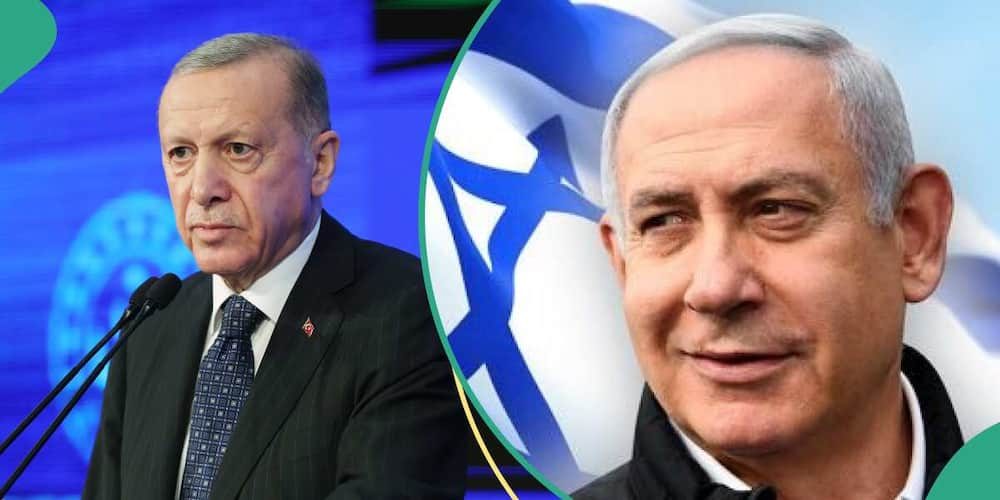 He said:
"I say clearly that Israel is a terror state."
He said Israeli leaders should be tried for war crimes at the International Court of Justice in The Hague.
Pointing to the United States and other Western allies of Israel, he said:
"While we curse the Israeli administration, we do not forget those who openly support these massacres and those who go out of their way to legitimise them."
Erdogan described Israel's military campaign against Hamas as "the most treacherous attacks in human history" with "unlimited" support from the West.
According to the Turkish leader, Hamas is not a "terrorist organisation" but a political party that won the last Palestinian legislative elections
Israel denies involvement as 500 die in Gaza hospital attack
Meanwhile, Legit.ng reported that no fewer than 500 people were killed while hundreds have been injured by an alleged Israeli air raid on Al-Ahli Arab Hospital in Gaza.
A Palestinian Ministry of Health spokesperson in Gaza, Ashraf al-Qidra, said ambulance services are trying to evacuate bodies and count the dead, among whom are many children.
He said the al-Ahli Arab Hospital is a historic hospital associated with the Anglican Church.
Israel kills 198 Palestinians
In a piece of related news, Briefly News reported that medical sources in Gaza said at least 198 Palestinians were killed in Israeli air attacks launched after a Hamas offensive against Israel that killed at least 40, and more than 1,600 people have also been wounded.
Israel said earlier it had begun striking targets in the Gaza Strip in response "to the barrages of rockets" that were part of an unprecedented attack by Palestinian militants.
Source: Legit.ng