Maasai Warrior Bravely Chases Majestic Lion Found Caught Eating His Cow: Video Goes Viral
A Maasai warrior has been praised for chasing away a lion that had attacked one of his cows
The brave Moran dashed towards the lion while wielding a spear, forcing it to run for safety
Many were impressed by how the young man faced off against the fierce cat without an iota of fear
In a daring display of bravery, a Maasai man was captured chasing a lion that had attacked and killed one of his prized cows.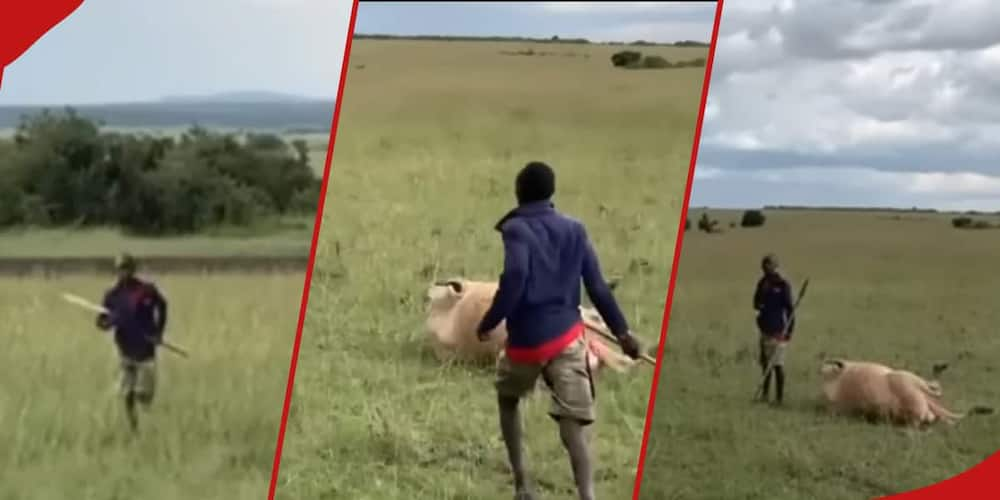 In the video shared by Maasai Sightings, the young warrior boldly ran after the lion, disregarding his safety.
Lion ran away from warrior
Tourists recorded him in a vehicle as he zoomed by them, wielding his arrow in the air.
Seeing that he meant business, the majestic cat let go of the unfortunate cow and ran for safety.
According to Animals Around the Globe, his actions can be attributed to the semi-nomadic ethnic group's traditional way of life.
The Maasais heavily depend on livestock for sustenance and cultural significance.
Lion destroyed Moran's livelihood
For this particular individual, the loss of a cow to a lion posed a direct threat to his livelihood and the welfare of his family.
The incident highlights the ongoing struggle between human communities and wildlife in the area.
While confrontations between humans and wildlife are not uncommon in the Mara, the man's determination to protect his livestock garnered admiration.
Since time immemorial, the Maasais employed lethal means to safeguard their herds, frequently organizing retaliatory expeditions to track down and eliminate lions.
Maasai morans are strong
They also engaged in ceremonial lion-killing sprees called "Ala-mayo" to represent strength and power.
The rituals served as a crucial rite of passage for young initiates aspiring to join the warrior class known as "Morani."
It is common knowledge around Masai Mara that the morans are so strong and skilful that lions are scared of them and will avoid them.
With the adoption of conservation efforts, the new generation is learning about the importance of lions and learning to live with them by avoiding conflict.
Maasai man in love with Malia Obama
In other news, a Maasai man named Jeff Ole Kishau disclosed that he was madly in love with Malia Obama, the daughter of former US president Barack Obama.
Jeff's intentions are so serious that he set aside 1000 cows as dowry for Malia's parents, Barack and Michelle.
The fact that all Jeff knows about Malia is through photos and videos from news outlets and tabloids has not dampened his spirit.
Source: TUKO.co.ke