Video of Girl, 8, Mimicking Mom Working from Home Excites Netizens
- A girl identified as Adelle was mimicking her mother, Colleen Chulis, who had been working from home since the outbreak of Covid-19
- While working from home, Colleen Chulis juggled between work and taking care of the family
- The video was received with different reactions, with many feeling that the video resonated with their day to day lives during this Covid-19 pandemic
PAY ATTENTION: Click 'See First' under 'Following' tab to see Briefly news on your news feed.
A video of an eight-year-old girl mimicking her mother's day to day chores, juggling between work and parenting, has excited netizens.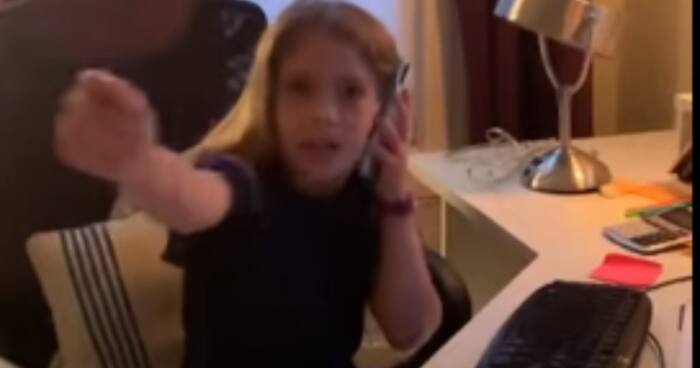 The little girl identified as Adelle is seen in a clip mimicking her mother, who has been working from home due to the Covid-19 lockdown.
The video was received with different reactions, with many feeling that the video resonated with their day to day lives during this pandemic period of working from home.
Many of them have to work as well as attend to the needs of their families.
Adelle's mother, Colleen Chulis hails from Charlottesville, Virginia, was interviewed by Good Morning America.
She explained how Adelle was on that day passionate about making little skits, and that's how the video happened.
Chulis is a regional vice president of regulated industries for SAP Success Factors.
She said she has been working from home since the start of the pandemic. Her kids, Adelle, Luke, 10, and Declan, 6, are all attending school through hybrid learning.
Chulis said that her husband, Matt Chulis, was the associate head coach for men's soccer at the University of Virginia.
Chulis said Matt was an extremely pro-active dad, and so she was the one who was often dealing with the children while working remotely.
"When my mom is on a call and tells my brothers and me to get ready for soccer practice, she is always multitasking by getting us kids ready, dealing with Gunner, our dog, working and figuring out dinner," said Adelle.
Some commented on how good Adelle was and that she should be an actress.
"This is hilarious. She needs to be an actress," Chulis said. "Wow, this is me' or 'I wonder what my daughter would do, it would probably look a lot worse."
Others perceived Adelle's impersonation as Chulis' failure to balance her work and life. Chulis explained that the pandemic had mushed in together work and home life.
"When I'm working, I'm working, and when I'm a mom, I'm a mom. It's just that now everything is mushed together," Chulis explained.
In separate story by Briefly News a funny scene happened on Sky News as a journalist, Deborah Haynes, faced a minor glitch while reporting from home.
While she was commenting on the new Hong Kong Law, the son came inside her study asking if he could have two pieces of biscuits.
A little embarrassed and distracted, Deborah said yes he could have them as she apologised to her audience for the interruption.
Enjoyed reading our story? Download BRIEFLY's news app on Google Play now and stay up-to-date with major South African news!
Source: Briefly.co.za