Proudly African: Caroline Sack Kendem Shows the Male-Dominated Textile Industry Who's Boss
Renowned textiles businesswoman and exports consultant Caroline Sack Kendem started her entrepreneurial journey with the strong will not to work for someone.
PAY ATTENTION: Click "See First" under the "Following" tab to see Briefly.co.za News on your News Feed!
Briefly News connected with Caroline, the chair of the African Women Entrepreneurship Program, while she attended the first Commonwealth Women's Entrepreneurship Global Summit last week.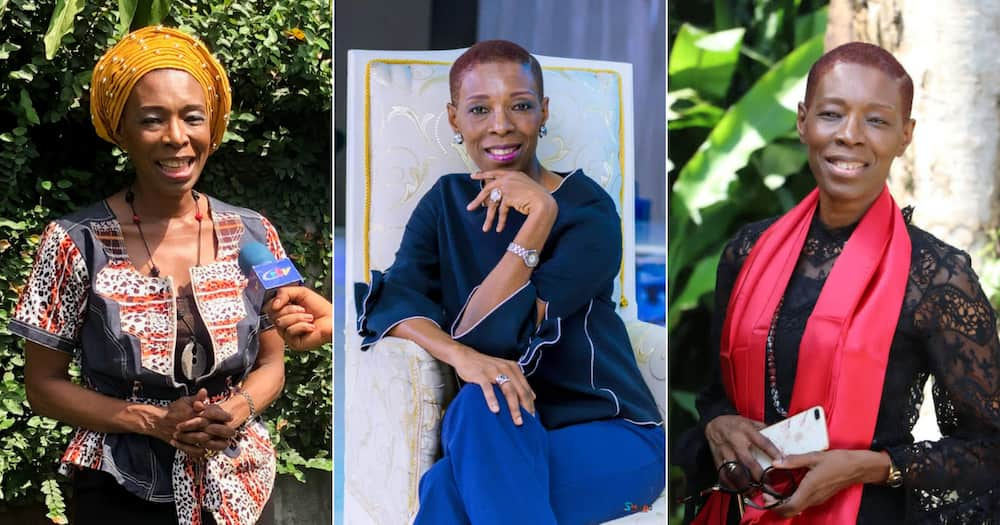 This year, the renowned businesswoman spoke about bridging gaps across nations, developing constructive partnerships and erasing barriers to market access, particularly throughout the African continent, for African women entrepreneurs.
For Caroline, making sure to have the right support around her was vital in bridging gaps across nations.
How did Caroline earn her first money?
Caroline knew from the onset of her professional journey that she wanted to be her own boss:
"I always wanted to be an entrepreneur. I knew right from the beginning that I would not work for someone. But I also knew that I needed a bit of experience to be ready to launch my own company and so I sometimes worked in the TV business."
It was an exciting day for the aspirant businesswoman, who is now working in textiles and as an agricultural exports consultant, when she received her first-ever paycheque:
"I remember the first money I earned. It was when I was the financial manager of a TV company. It was so exciting!"
But Caroline knew she didn't want to work for someone for the rest of her life:
"As soon as I felt comfortable with the local environment, I decided to set up my own company," she told Briefly News in an exclusive interview.
PAY ATTENTION: Never miss breaking news – join Briefly News' Telegram channel
Business runs in Caroline's blood
Caroline set off to graduate with a diploma in business administration with a major in finance and marketing.
Coming up with a business idea was a walk in the park for the fashion-forward Caroline. There was no need for the go-getter to come up with a business idea to set her career in motion, it was already in her blood:
"I come from an entrepreneurial family. My mum used to manage a textile factory and I grew up in that environment. The textile and fashion environment is inside me and so, very early on, I knew I would set up a factory and get my own fashion brand."
But she knew success wouldn't come purely from a passion for the industry. Caroline did clear research, spending hours on the internet, working with designers to help her establish her brand, attending trade shows as a visitor and also going to workshops.
All this was very costly, demanding and time-consuming but it had to be done to create a successful brand.
"It took me two full years to get ready to launch my business," Caroline explained.
Few people listen to a woman entrepreneur
The textile mogul told Briefly News she faced too many challenges as a woman entrepreneur to list, but highlighted one of the most difficult ones:
"Few people listen to a woman entrepreneur, especially when you are young or you look young. Indeed, most of the time you deal with men and many of them here in Africa assume that a young woman cannot set up an industry firm.
"Consequently, everything, and at all levels, becomes difficult. You have to prove so much. But it is a good lesson because this is how you become strong and you get more and more confident. What does not kill you makes you stronger," she said.
The reasons why her fashion brand failed
Caroline has earned her keep and is well respected in the industry now. The businesswoman is good at what she does and is reliable. But she admits it took time to get to that level.
Although Caroline mostly works in textiles and as an agricultural exports consultant, she also has experience launching her own fashion lingerie brand - Rouge Papaye Lingerie, founded in 2014.
Despite being a great experience, Caroline admits this venture was not profitable:
"That was a great experience. I met so many people all around the world. However, it consumed my funds and that's the main reason I could not pursue that dream any further."
PAY ATTENTION: Subscribe to the Business News Briefly newsletter to stay up to date with the latest news
Her venture met her expectations in terms of the quality of her products and customer feedback but Caroline explained she could not target the market she initially wanted to because of funding constraints.
"Funds have been at the heart of my problems. I had working capital needs that I was not able to secure. At some point, you have to be smart enough to stop before it becomes too financially dangerous. This is what I have done for now."
While the lingerie business is still open with stock available to sell, Caroline explains she's been super involved in the consulting firm with large contracts to honour:
"That's where I have been making money, so I put the fashion venture on stand-by for now with the objective to relaunch it as soon as I find a reliable partner."
A strong network is vital to build a successful business
A key component to launching a successful business is having a strong network. However, Caroline explains this isn't always enough and won't guarantee your success.
When asked what stages are important for every African individual who wants to build a strong international business, Caroline listed these vital steps:
The know-how of your business - At an international level, it is key because the market is very demanding and there are so many competitors.
The language – This is important for good negotiation.
Self-confidence.
Strong knowledge of the market you are targeting - Don't expect to sell a product because you feel it looks good to you. Check what that market is looking for.
Build your network.
Be prepared to travel and attend trade shows and conferences.
Meanwhile, in other business news, Briefly News reported that Tiger Brands has set a fund up amounting to R100 million targeted at offering capital to entrepreneurs who are either directly or indirectly linked to the food and beverages sector.
The fund is said to allow Tiger Brands to branch into new areas and expand their portfolio, which currently consists of Ace maize meal, Jungle Oats, Oros and other well-known household staples.
The fund allows Tiger Brands first preference to opportunities as it hopes to introduce new product categories into the market along with other ventures in the pursuit of growing the company further.
Enjoyed reading our story? Download BRIEFLY's news app on Google Play now and stay up-to-date with major South African news!
Source: Briefly.co.za