5 reasons to use Rain mobile in 2020
As the new year struggles to find its pace, Rain mobile is busy rolling out highly affordable internet access services to its customers. For this reason, and several others, the company is rapidly building its brand as a high-speed 4G data-only service provider, therefore, attracting widespread subscribers from across the region. Are you already subscribed to Rain mobile internet services? Here is what you may be missing.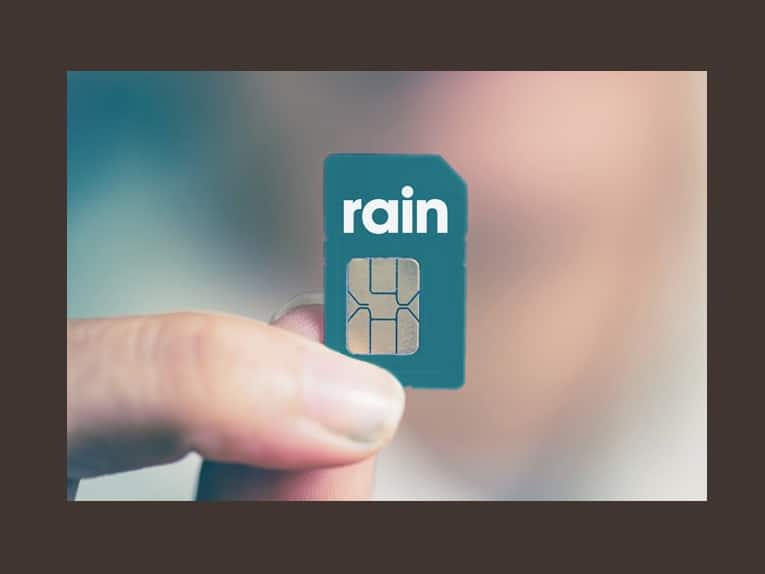 Rain offers welcoming high-speed data services at affordable prices. Even better, the company's plans do not have any contract and starters do not have to worry about their data expiring or running out given that it is uncapped. The company spent a better part of the recent year working on Rain LTE-A infrastructures across different base stations. The just-concluded upgrade and maintenance were aimed at enhancing Rain mobile coverage, network speeds, reliability, and uptime. The company has registered early successes, showing the potential of beating giant competitors such as MTN and Vodacom not only of with the prices but also with the internet speeds. Find out why you should switch to this competitive mobile in 2020.
READ ALSO: Rain LTE packages and prices 2020
Why should I use Rain mobile?
There are several reasons why this mobile will soon be one of the best options in the market. Here are some of the most particular reasons why you should consider this mobile right away and heighten your online experience to another level.
1. Large network capacity at low prices
Rain mobile successfully set its best foot affront with highly affordable mobile data plans in June 2018. The company which targets heavy internet users took the market on a wave with Rain mobile data prices for packages being as cheap as R50 for every 1GB. Economists would translate the plan to 5c for every MB, making it an unbeatable plan in the market. Mobile users also get to enjoy 19 hours of Rain unlimited data every day and all month long at the cost of R250. With promotions now at their peak, new subscribers stand a chance to get 15-90 days of free internet on buying Rain mobile devices or SIM-only bundles. Here are more reasons why Rain Mobile is perfect for you.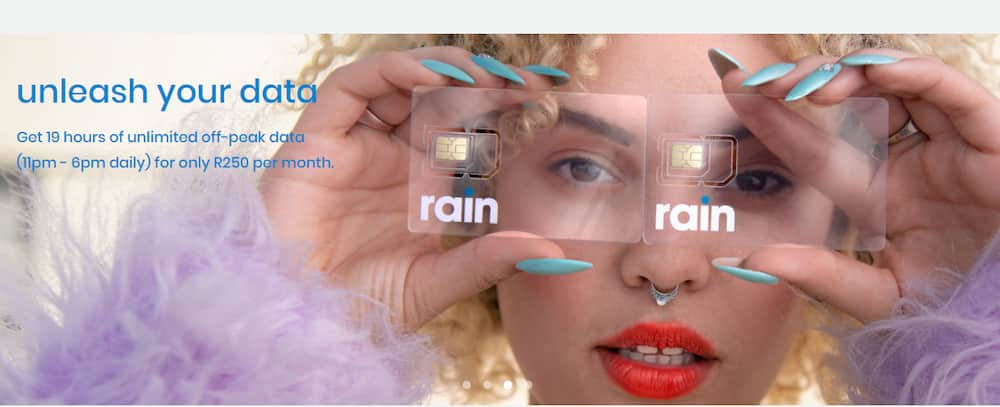 2. Exclusively supports 4G, making it relatively faster
Heavy internet users no longer have to worry about their internet network hitting a hitch when in the middle of that sensitive data stream. The company only offers LTE or 4G technology which has proven to be highly superior to its preceding networks. Unlike other companies which dedicate substantial resources in maintaining both 2G and 3G networks, this internet service provider only focuses on its 4G networks, making it the best alternative for most South African internet consumers. With a single network system to maintain, this service provider incurs low operations costs which imply affordable data plans.
3. Targets urban areas with impressive Rain network coverage
Populated urban areas have one more reason to celebrate 2020 with this mobile deploying billions on high-speed internet infrastructures. The chances are high that most people reading this article reside in urban setups and are frequent internet consumers. With most South Africans now living in urban centers, the network will not only help cut down on your internet budget but also reclaim your freedom without worries of running out of data. The company has every advantage to maintain its urban coverage plan sustainably. Technically, the company purposes to scrap all unnecessary expenditure to achieve its primary mission of making its plans affordable.
4. The unbeatable speed with a fair pricing policy
Slow connections are frustrating and often end up with incomplete tasks. With Rain mobile, you are liable to internet speeds of about 20Mbps. These speeds hit a hitch at peak time with minimal inconveniences in your streaming experience. On off-peak hours, users can enjoy speeds of up to 30Mbps and beyond. Users can stream up to 1080p videos without buffering. The network has up to date registered an extended base of loyal users.
Also, it is a fact that the company does not have as many consumers as other established network providers. For this reason, users can freely enjoy the spare network capacity through high speeds. In the current standing, the company is not worried about congestion; hence, lead times are not an issue in its connectivity.
5. Lucrative offers with excellent online support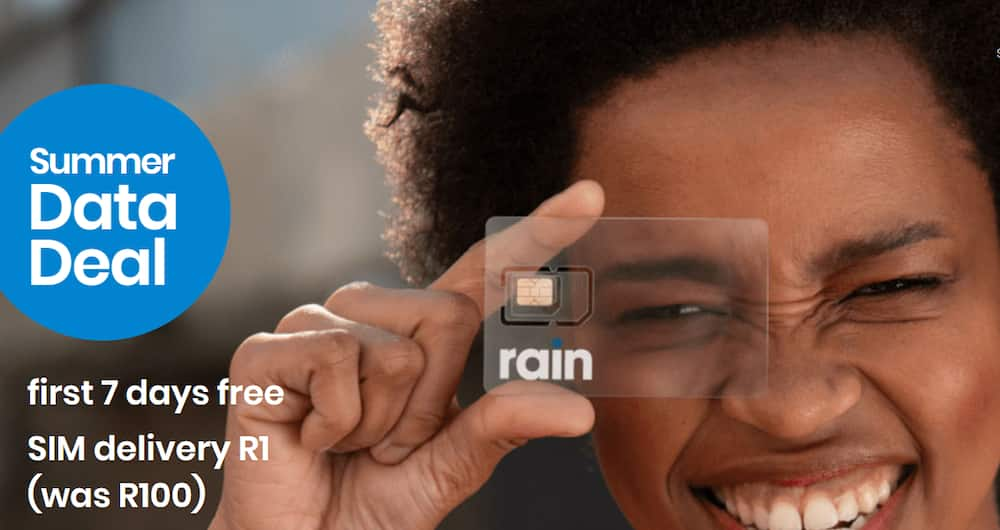 Rain is a fast-growing internet subscriber company that is promising its new customers and subscribers an array of offers. A case in point is an ongoing 15-day free data experience for all new customers to the network. Different other promotional Rain data packages are also rolling out to help the company register a broader base of customers for its fast and cost-friendly services. Another advantage of enrolling for its mobile services is that users get to manage their account subscriptions based on their needs flexibly. For customer care help, purchases, and inquiries, always contact the company online by clicking on 'ask rain', or you can use the following details to get in touch with the company:
Phone: 081 610 1000
Email: support@rain.co.za
Media: media@rain.co.za or you can download media kit.
READ ALSO: Best LTE packages in South Africa 2019
Prospective customers interested in the firm's mobile services should learn that the company is exclusively accessible online. The company further aims at lowering its operational costs to focus on meeting client needs at any time of the day. Visit Rain mobile portal today for more exciting deals that will make you question your delayed membership.
DISCLAIMER: This article is intended for general informational purposes only and does not address individual circumstances. It is not a substitute for professional advice or help and should not be relied on to make decisions of any kind. Any action you take upon the information presented in this article is strictly at your own risk and responsibility!
READ ALSO
Cheapest WiFi packages in South Africa 2019-2020
Telkom data prices in 2020
Telkom cancellation form and process 2020
Source: Briefly News