Exclusive: 'Rumble and Hum' Tattoo Artist Opens Up About the World of Ink
The world of tattoos and tattoo artists is a lot more than the dark and gloomy stereotypes that are perpetuated. Lew Williams from the hit show Rumble and Hum recently sat with Briefly News to chat about his world. The tattoo artist gave some amazing insight into life as an artist and his experiences.
PAY ATTENTION: Click "See First" under the "Following" tab to see Briefly.co.za News on your News Feed!
1. Tattoos have become popular over the years but there are sill some people who, for the lack of better phrasing, just don't get it. In your own words, what inspired your passion for tattoos and body art?
I think being from New Zealand originally, with Maori body art, it's kind of a culture thing. But it's the best interaction you can have with art and it's possibly the most challenging and most permanent and long-lasting form of art, because it's on a human being and they're going to have it until the day they die.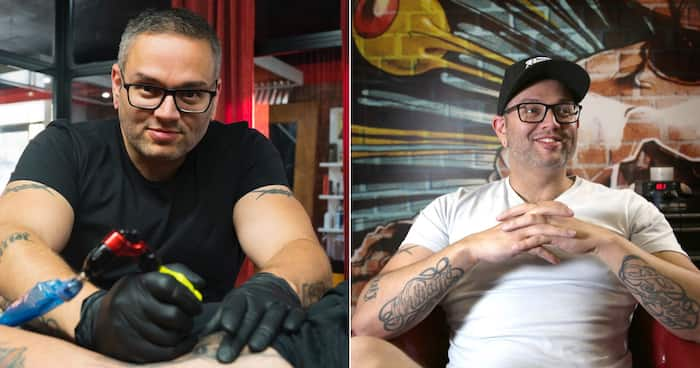 And it's unforgiving; if you're a sculptor and you mess up a piece of stone, you can get a new piece, and if you're a painter and you mess up a canvas you can get a new one. But if you're a tattoo artist, there's no undo button, there's no Ctl-Z and we can't fix the problem, it's permanent. It's on a canvas that lives and breathes and will hate you all the days of their lives if you screw up their tattoo and that, in some weird, twisted way, is what drew me to tattooing.
2. As a tattoo artist, you must have had some wild requests over the years. Please indulge us
The funniest tattoo I've ever done probably ties in to the next question on the strangest tattoo I've ever done. I have a very good friend, who was a private contractor for security forces over in Iraq and the Middle East and he was a farm boy, from a pig farm originally.
He loved bacon but, obviously, if you're in an Islamic state pork is outlawed so he wanted a tattoo to remember it when he was abroad, so he got a full back tattoo of bacon and eggs, and photo-realistic toast with 'Wakey, wakey, eggs and bakey' on it. He probably isn't the most stable of human beings and so probably isn't the best litmus test we should talk about! But that's probably the funniest and strangest.
When I first started out portraiture was the most challenging - getting an understanding of shadow, light, depth and texture. Smooth shades and good line-work doesn't come harder than in a portrait. It has to look like it's someone you know. But I love portraiture now and it's my bread and butter, so the most difficult tattoo - a face - is now one I do almost every day, because I'm known for portraiture.
The larger tattoos take a lot of time to design and custom draw and find references for, and so that's quite difficult because it's time-consuming. But now, 15 years later, there aren't really difficult tattoos for me any more.
3. You've earned multiple accolades at Cool Ink in South Africa as well as Surf and Ink in Australia, what do you think sets your work apart from the rest?
Yes, I've won a few awards in my years, but there are artists out there that are so much better than me. I look at their work and think, not in a million years could I live up to their quality and standard of work. But I think my experience sets me apart from most other tattoo artists.
I take pride in my work. I have a skill-set and a talent. But if, like me, you have that will and that urge to better yourself from your last tattoo, I think that's inevitably how you get better as an artist. So, if I was to put a pin in it, that's probably what sets me apart from the everyday Joe.
4. What do you think is a common misconception people have about what you do?
The biggest thing is that we're uneducated, or that we have a criminal intent, or that we are just outright criminals, and it couldn't be crazier or more untrue. There are politicians who are less educated and bigger criminals than most tattoo artists I know, so I think that's the largest misconception that people have, that it's a back-yard industry that has no ethics or standards or morals, that we're all thugs, listening to death-metal music.
But the overwhelming majority are just normal people who love art and who are, perhaps, a little bit eccentric and perhaps live a bit on the cusp of society, but that's about it.
5. Are tattoo styles different in other countries in terms of technique and requests from clients?
Tattoo styles and techniques do vary from country to country as well as the techniques. In mainstream tattooing there are two types of machines that we use, one is coil and the other is rotary. If you look at Japan, it has Tebori, which uses a bamboo and needle, so it's a stick and twist method of tattooing. So, technique-wise, it varies from place to place.
Stylistically speaking, if you look at Japan again, you have bold black thick backgrounds -frames - then colour which is interspersed in between. Samoan, Maori, Polynesian, that's all geometric in style, because it has cultural meaning around your ancestry and geneaology.
Europe has some of the most amazing realist artists. And in the US there's a style called Americana, which has strong, bold lines and flat colour; it's what you'd associate with sailors – anchors, swallows, pin-up girls, things like that. It's quite a two-dimensional style.
So yes, from country to country, even from town to town, there can be a huge change in the look and feel and style of tattoos. It's a hodge-podge of creativity!
6. What advice would you offer someone considering a career as a tattoo artist in South Africa?
The best advice I can possibly give you is know that this is a really, really tough career. Also be mindful that it's ego-driven, because you're creating something, that's your job. And people are going to be subjective about it. They're going to look at the art and say, 'I don't like that!' So your ego's got to be pretty strong.
And perfection is the only choice you have, because you are performing your craft on another human being – you're permanently marking them.
Also, be patient. Know that you're going to have to put in the hard yards, you're going to be the bottom of the food chain for a very long time before you pick up a tattoo machine. Draw, draw, draw, as much as you can. Paint, paint, paint.
Develop a good quality line that you can do at length, without any jagged bits. Focus on growing yourself as an artist and, when you have a portfolio that's good enough, you can approach a shop that you want to do an apprenticeship at.
Be humble, know that it's a tough career but it's one of the most rewarding careers you can do. You create bonds with people in ways you could never have done before and it's one of the few artforms that you can earn a pretty good living from.
Rumble & Hum Season Two is on CBS Reality (DStv 132) from Saturday, 17 April at 7:30pm.
Briefly News previously reported that a picture of a woman presumably named Melissa posing next to a tattoo of her name and face on her boyfriend's back has been making its way around the internet.
Many locals have taken it upon themselves to share their thoughts on the extreme gesture of love and romance. While some ladies thought it to be absolutely romantic, most gents were completely against doing such things for their girlfriends.
Enjoyed reading our story? Download BRIEFLY's news app on Google Play now and stay up-to-date with major South African news!
Source: Briefly.co.za