VFS tracking in South Africa 2019
If you want to travel to any part of the world, you must have a visa, which is a conditional authorization from the government that permits a foreigner to enter, stay, or exit that nation. For those in South Africa, during the visa application process, it is in your best interests to know about VFS tracking in South Africa so that you can stay ahead of the process. By doing so, you will enjoy a smooth process as well as avoid some common pitfalls along the way.

VFS is an acronym that stands for Visa Facilitation Services. There are a number of companies to facilitate this process such as an Indian company known as VFS Global, which also handles other passport issues. Established in 2001, this private company is now, as the name suggests, in most parts of the world. So, what is the procedure for VFS tracking in South Africa?
READ ALSO: UNISA payment methods and fees
VFS South Africa
In line with the changing South African immigration regulations, the Department of Home Affairs contracted the services of VFS Global, an external organization, in opening of Visa Application Centers across the country. These centers are located in Bloemfontein, Durban, Cape Town, Johannesburg, George, Nelspruit, Kimberly, Port Elizabeth, Mangaung, Pretoria, and Rustenburg. This move eradicated the need for applicants to submit visa applications to the Department of Home Affairs regional offices but instead encourages physically handing in of biometric data and applications at the VFS centers. Applying for South Africa Temporary Residence Visa or Permanent Residence permit? Here is how you can track your application after following the application procedure.
VFS tracking South Africa
Now, you have prepared your application, correctly followed the application steps, and after submission, you can track the progress of the process. Here are the simple steps for VFS South Africa tracking 2019.
Visit VFS Global South Africa website.
Click on the "click here" button and then enter the required reference number.
You will be redirected to the page where you will be required to enter the tracking or AURN number and your last name.

4. After feeding these details, click on submit and you will get information on your application's progress.
Depending on the outcome of the application, you can collect the decision yourself, or send a representative to the Visa Facilitation Centre with the required details to collect the decision.
How long does it take to get a visa in South Africa?
Depending on the category of visa application, Temporary Residence Permit applicants can wait for a minimum of 8-10 weeks for the process to be carried out. On the other hand, Permanent Residence Permit applicants have to wait for 8-10 months. Since each application is evaluated individually, processing time varies. So, note that South Africa's Department of Home Affairs does not give a specific length of time to process visa applications. How long does it take to get a visa to go to South Africa? For those in other countries, there is no standard period but it all depends on the visa policies in your country.
Visa costs in South Africa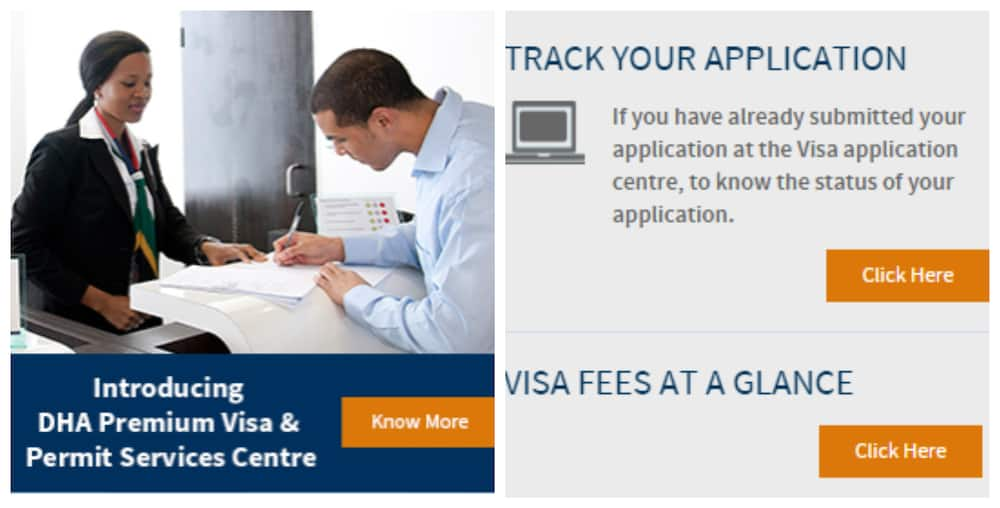 How much does a South African visa cost? Different countries have different regulations as well as varying payment systems and rates. In South Africa, visa payments are done online. If you have all the supporting documents, fill the online application form and pay the mandatory pre-pay minimum amount of R1350 to secure and schedule your appointment online. This pre-payment can be made:
Online through the secure online portal using a debit or credit card
At the Standard Bank, you will be required to download and then complete the online generated bank receipt and then deposit the cash into the nearest Standard Bank or make an EFT payment through a secure online portal.
It is important to note that after paying the amount, you can visit your online application form after three business days to schedule your appointment. For the Financially Independent Permanent Residence applicants, you will be required to pay R120 000 which should be deposited into the account of the Department of Home Affairs prior to the issuance of the permit, and the proof of payment forwarded for attention to the relevant email addresses.
What are the requirements for South Africa visa?
For those outside South Africa, the requirements for each country vary but there are some general things that you must have. These things include:
A valid passport that has at least three clear pages. It has to have a validity of at least one month when you leave South Africa.
A photocopy of the bio-data page of the passport and a professional passport size photograph
Self-employed people need to have letters from their business, certificates of ownership, and registration of the business. Retired people must present proof of retirement.
A completed application form
A copy of a yellow fever certificate
A return ticket that can be verified or something similar
If you are going to work, you need a signed proof of employment from the employer.
A non-refundable fee that you will be informed of during the application. The fee does not include the VFS service fee.
Above are the mandatory requirements. Anything else aside from this will be unique to the type of visa you want. For those in South Africa, to get the temporary or permanent residence permit, here are the steps to follow:
Complete the appropriate online form and then pay the required pre-pay fee to schedule an appointment. Have all the documents required for the application.
Go with your printed online application form, appointment letter, proof of payment, valid passport or travel papers and the supporting documents to the Visa Facilitation Centre on the day of the appointment.
At the centre, collect a token and wait for your turn. After the application process, you will be given an acknowledgement receipt which you should keep safe as it will be needed for you to be given the decision later on.
Note that you will have to register your photograph and fingerprints at the Visa Facilitation Centre, and select whether you will personally collect the decision or send a representative.
Can you travel to South Africa without a visa?
This depends on the passport you have. For example, people with US passports are free to visit South Africa without a visa if they are visiting for a period of less than 90 days. Other countries that have a similar privilege to the US include the UK, Norway, Czech Republic, Denmark, Germany, and many more. Regardless of the type of visa, VFS tracking in South Africa should be able to assist you anytime.
READ ALSO: How to calculate VAT in South Africa
There you go! You now have an in-depth understanding of VFS tracking in South Africa, as well as costs and visa application processes in South Africa. You should, therefore, have an easier time with the information provided above.
READ ALSO
Inspiring Nelson Mandela quotes on education, leadership and life
State of the nation address 2019 - key takeaways
National minimum wages 2019 in South Africa
Petrol price February 2019
15 best Business opportunities in South Africa to start with
Source: Briefly News