- AKA decided to clap back at an online user who told him to stop spreading misinformation and conspiracies
- The social media user was replying to the rapper making a comment about going to church in Level 3 lockdown and told him to be quiet with the conspiracy theories
- AKA decided to respond with a sarcastic reply about Africa being negatively used by the Western world
Pay Attention: Join Briefly News' Telegram channel! Never miss important updates!
AKA recently decided to respond to a Twitter user who told him off about peddling conspiracy theories and spreading misinformation.
The social media user had responded to one of AKA's previous tweets which read:
"Right now it's pretty much illegal to go church. Stay woke."
The reply was simply:
"Shut the f*ck up bro...we are tired of the conspiracy theories."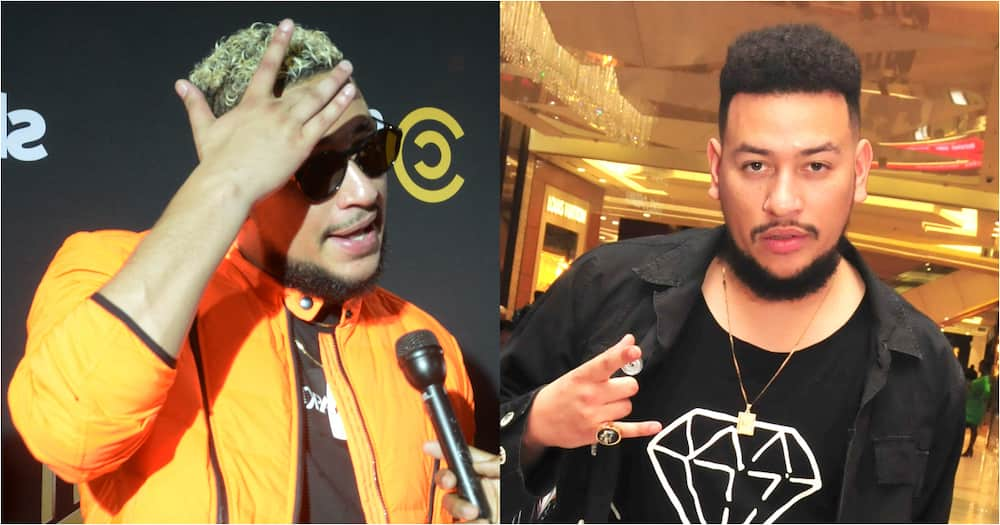 AKA clapped back sarcastically by saying:
"You right. Actually my bad, there is absolutely no reason whatsoever for us to not trust the western world's intentions for Africa & for Africans. I mean, when have they ever let us down?"
AKA implied that he was right to question everything around him due to previous abuses suffered by Africans at the hands of the Western world. Many of the replies actually missed the sarcastic tone and sought to educate the rapper on the number of ways that the West has negatively impacted Africa.
Those who did understand it agreed that healthy questioning is important but that questioning is simply one step in the process of critical thinking and that sowing doubt is not a helpful philosophical strategy.
One follower chose to ask the rapper if he understood the real-life consequences of having crowded places open again:
@edwardaaron9: "I have a Q for you AKA. As a person who experienced the virus and what it does, do you recommend people actually go to these crowded places not just churches but just places that generally have large numbers of people (possibly increasing their chances of getting this virus)?"
Briefly.co.za previously reported on when AKA got dragged on Twitter for an ignorant post about Covid-19 and how tweeps responded to him.
AKA recently took to Twitter to share his personal feelings and thoughts about the Covid-19 pandemic and the virus itself.
He posted a tweet that asked for proof that the virus can be transmitted by a person who is asymptomatic or does not present the usual signs. The rapper implied that it was not logical to think that it could.
Tweeps immediately started dragging the uninformed take and responded with a variety of replies, including that a virus did not have to make sense to AKA in order to continue to exist.
AKA's tweet read:
"Where is the PROOF that someone can infect another person with a deadly virus without showing ANY symptoms of the virus that they are carrying? Does that even make sense? How does that even sound logical?"
Twitter users responded by explaining to the rapper that his personal logic has no bearing on a virus and that if he wanted proof so badly, he should read the published scientific studies on the evidence of how Covid-19 acts.
One user added that AKA not having seen the proof did not mean the proof was not there and wrote:
@jasperlionel: "There is lots of scientific literature on this. You need to read it or get someone to explain it to you if you can't do it yourself."
Other users said that the rapper was clearly uninformed and had no expertise in the fields of science, medicine, virology or epidemiology, so his tweet doubting the experts meant nothing coming from a musician:
@errolbsk: "Study the right field and these things will make sense. Being a musician doesn't equip you to understand such things."
@ChechengweM: "Can we please talk music and leave Science and Health matters to those who have an understanding"
@nickhedley: "Come on man get your shit together"
Others took the opportunity to get some laughs in and add comedy to the situation. Check out more responses below:
@Bonisile_RMS: "Let me put it in a way you would understand; Remember that time you were infected with a Reebok deal even though you had no symptoms of getting a payment? Basically the same thing."
@Zwandid:"When reporting a tweet like this, why don't they have an option for "it's just so damn stupid"."
Enjoyed reading our story? Download BRIEFLY's news app on Google Play now and stay up-to-date with major South African news!