Moonchild Sanelly Praised for Calling Out Her Deadbeat Baby Daddy
- Moonchild Sanelly had social media buzzing after the latest episode of Moonchild Sanelly Woza aired
- Having her baby daddy on the show, Moonchild Sanelly ripped him a new one on national TV
- Moonchild Sanelly is not about to condone a deadbeat dad, and fans praised her for it
PAY ATTENTION: Click "See First" under the "Following" tab to see Briefly.co.za News on your News Feed!
Moonchild Sanelly let her baby daddy have it on the latest episode of Moonchild Sanelly Woza. When it comes to being a dead beat dad, Moonchild Sanelly has no time for it.
While Moonchild Sanelly is grateful for her babies, she is not okay with the absentness that is their father though. There is no mother that does not want the best for their children, and being absent is just not good enough for Moonchild Sanelly's princesses.
Watching the show, Moonchild Sanelly let her baby daddy know that he has done nothing to deserve the title of dad and that she will make sure her girls never end up with a man like him. Ishu!
Moonchild Sanelly thanked him for the sperm and sent him packing!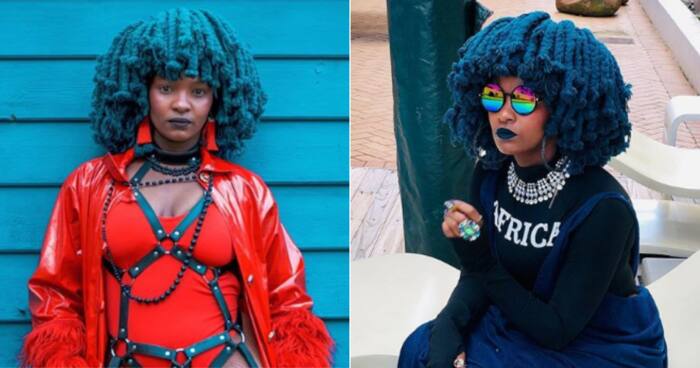 After seeing this, the people of Mzansi took to social media to discuss what had happened. For the most part, peeps were applauding Moonchild Sanelly for not tolerating a dead beat father.
"#moonchild wow!! She needed to say it to him and I support her 100% Deadbeat dads are trash....and yes thank you for the sperm, we have beautiful children but tsek ! Triggers...."
"@Moonsanelly Thank you mama for being our voice #ThankyouSpermdonor my daughter is beautiful."
"I'm glad she got to tell him he is trash in his face. Most of us never get the opportunity...but we move."
"Yhuuu bafowethu... Why you stick it in skoon if you're not gonna be responsible."
Moonchild Sanelly keeps her three daughters out of the spotlight. Only one of her daughters names is publicly known, her eldest Wafika Twisha mostly referred to as Artemis Wafika or Artemis the Goddess.
Briefly News previously reported that Moonchild Sanelly is making big moves overseas. The musician recently took to social media to show off not one but two billboards of her face in New York and Toronto.
The billboards were advertising an African Spotify playlist. Sharing the pictures on Twitter, Moonchild said:
"So funny how I've eaten at that Mc D's before. Who would have thought my face would one day be on display right above it...Pictures taken in New York and Toronto!!"
Enjoyed reading our story? Download BRIEFLY's news app on Google Play now and stay up-to-date with major South African news!
Source: Briefly.co.za