Good Samaritan helps woman recover R5 000 from ATM, she almost lost it all
- Thandi MaMkhwanazi Mchunu shared an amazing experience she had that reinforced her belief in her fellow South Africans
- She took to the Facebook group #ImStaying that a good Samaritan had saved her from losing R5 000
- She had withdrawn money from an ATM but when nothing came out she moved to the next one and a woman let her know that her money was coming out of the machine
PAY ATTENTION: Click "See First" under the "Following" tab to see Briefly.co.za News on your News Feed!
Thandi MaMkhwanazi Mchunu took to Facebook to share an amazing experience she had while withdrawing money from an ATM.
She posted the story in the #ImStaying group and revealed that she had gone to an ATM to withdraw R5 000.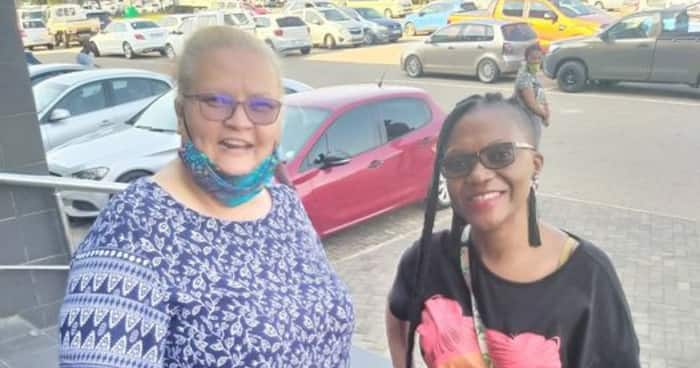 When the machine did not give her her money she had assumed that it was faulty and went to the next ATM.
A woman behind her, Mathilda Links, shouted to her that her money was coming out. Thani was so relieved. She offered to give Mathilda some money to say thank you.
The woman refused and this reinforced her belief that there are a lot of good people in South Africa. Briefly News reached out to Thandi to learn more about her experience.
She revealed that she would love to meet the woman who helped her but they did not exchange details and would love to be her friend.
When asked if she thought the bank might have helped her if she had lost the money; she said that she was not sure if the bank would help her.
When asked about how this made her feel about her fellow South Africans she said the following:
"We have good people in our country it just that poverty, job absentia etc, has turned people to be something else, but South Africans are good people. If poverty can be eliminated, we will be a beautiful country"
Here is her full post:
"Richardsbay Town, so this lady was the fourth one in the queue, here I am withdrawing R5000,00 but the ATM did not release the money. So I moved to the next ATM, while busy on that one, the first ATM released the money. This lady shouted there is your money coming out, very few people are like this lady. Thank you so much sisi, you are so kind, may the good Lord bless you more, I gave her money for a drink just to say thank you but she refused. You are so kind my dear sisi, her name is Matilda Links.
South Africa, we have good people in Richards bay"
Social media users loved the post and shared their reactions in the comment section:
Siyabonga Dlangalala:
"Oh wow this is really beautiful we need more people like her our world will be the best place."
Motlalepula David Lelimo:
"You are so lucky, sister! May the good Lord bless the lady. Eish, these ATMs, sometimes can surprise you."
Mmathari Mashao:
"Amongst us human beings, honesty is a very rare attribute especially during these covid-19 induced economic times.
May she stay richly blessed and continue to be a great example for fellow human beings to emulate ."
Geralde Leistner:
"This is lovely news. There are lots of Matilda Links, we just had no chance yet to meet them all! But unbeknown, we love all our stayers!"
Earlier, Briefly News reported that Mzansi is known for having amazing people who help others. The Brothers For Life Campaign has started an initiative to help those in need by cooking food for the hungry. They have set up a Facebook page that explains what they hoped to achieve:
"Our mission is to create a drug-free generation, involving families and communities to power change and flourish in a drug-free environment."
Enjoyed reading our story? Download BRIEFLY's news app on Google Play now and stay up-to-date with major South African news!
Source: Briefly.co.za