Quicker Global Economic Recovery Gives South Africa Hope for Growth
- South Africa will be investing almost R800 billion in infrastructure over the next three years
- Infrastructure spending will stimulate the economy, which contracted by 4% of GDP in 2020 because of the Covid-19 pandemic
- Roads, energy, water and sanitation, housing, health and education will all benefit from the expenditure
PAY ATTENTION: Click "See First" under the "Following" tab to see Briefly.co.za News on your News Feed!
By Kyle Lauf - Freelance writer
In April, Treasury reported that the global economy is recovering faster than expected from the negative effects of the Covid-19 pandemic.
The South African economy has been severely affected by the pandemic, contracting by 4% of gross domestic product (GDP) in 2020. However, there is optimism that the global recovery, high commodity prices and availability of finance will present the country with growth opportunities going into the second half of 2021.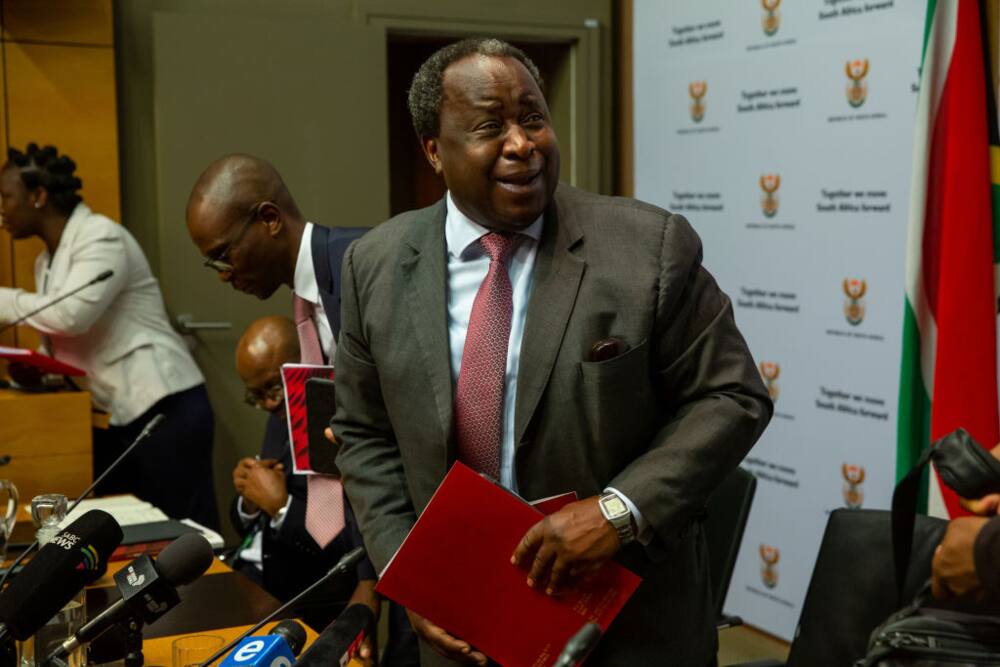 Finance Minister Tito Mboweni's speaking notes from the end of April support an optimistic global outlook despite several risks. This comes after the International Monetary Fund (IMF) predicted global economic growth of 6% largely driven by the advanced economies and China.
The successful UK, European and United States government stimulus measures, together with massive vaccine rollouts, have created better economic forecasts. Chinese economic growth is expected at 8%.
The minister said that without faster growth, the South African economy would not reach 2019 GDP levels until 2023.
Billions set aside for infrastructure projects over next three years
Mboweni plans to spend billions of rand on infrastructure projects over the next three years, including R260 billion this year.
In his budget speech in February, Minister Mboweni said South Africa would seek to invest over R790 billion in planning, building and upgrading infrastructure, providing needed economic stimulus, creating jobs and alleviating poverty.
An infrastructure fund in which the government will allocate R18 billion will seek private investment partners to finance a number of large-scale projects.
The South African Treasury's budget reforms are intended to instil greater business investor confidence, without which much needed public-private partnerships (PPP) would be slow to get off the ground.
Infrastructure investments play an integral part in the growth
In the last 20 years, South Africa has spent R3,2 trillion on infrastructure.
According to Treasury's budget review, the South African government is expected to spend R226 billion this year, as well as similar amounts in each of the next two years to build and repair infrastructure in a total of 50 Strategic Integrated Projects.
The figure is a cumulative total that includes combined expenditure from national government departments, provincial departments, local government, state-owned enterprises, public entities as well as public-private partnerships.
Government plans to spend R100bn on transport and logistics infrastructure
Approximately R100 billion a year will be spent on transport and logistics infrastructure in the medium term.
National and provincial roads agencies will be re-tarring more than 16 000 kilometres of roads while rehabilitating 6 000 kilometres of road and repairing three million square kilometres of potholes.
Energy expenditure to get R50 billion for infrastructure projects in 2021
Energy expenditure will receive an expected R50 billion allocated for infrastructure projects this year, in addition to similar amounts for the next two years.
Of this, the Department of Mineral Resources and Energy has budgeted R16 billion towards their national electrification programme. An estimated 560 000 new connections to the electricity grid will be provided, while at least 15 000 households will receive off-grid connections per year over the next three years.
PAY ATTENTION: Subscribe to the Business News Briefly Newsletter for your weekly updates
Water and sanitation spend expected to reach R37 billion per year
Infrastructure spend on water and sanitation is expected to reach at least R37 billion a year for the next three years.
This will include:
Improvements to acid mine drainage systems in Gauteng.
The raising of the Tzaneen Dam as well as river development or augmentation projects along the Crocodile-Mokolo River, the Olifants River and the Mdloti River.
Around R17 billion is to be spent on water bulk delivery systems and water services infrastructure.
Housing allocated R95 billion
The Department of Human Settlements will receive R95 billion over the medium term for housing initiatives delivered through national, provincial and local municipal government projects. These entities serve as implementing agents for housing grants and infrastructure development for urban housing projects.
Health sector to get R12 billion for hospital upgrades across South Africa
The spending on Health will include R12 billion this year, allocated towards grants for hospital upgrades across the country and the building of the Limpopo Central Hospital in Polokwane.
R40 billion allocated to Basic Education
Over the next three years, the Department of Basic Education plans to spend R40 billion on school infrastructure while the Department of Higher Education plans to continue raising university grants, particularly to tertiary institutions with faculty, staff and students from previously disadvantaged groups.
Investing in infrastructure will ensure increased economic activity
Investment in infrastructure grows the national economy by facilitating increased economic activity, creating employment and alleviating poverty. South Africa's National Development Plan has targeted infrastructure investment of 30% of GDP by 2030.
These investments are desperately needed as South Africa requires improvements in infrastructure, increased investor confidence, prudent budget management and honest government leadership, which will reverse the culture of corruption and mismanagement.
With interest rates expected to remain low and tax revenues higher than expected because of higher commodity prices and fewer deficits on personal income tax, South Africa has an opportunity to grow.
In other news, Briefly News reported that the South African taxi industry is one of the richest industries as far as the economy is concerned, but they are not paying their taxes.
This was discovered in Parliament and made public by DA Shadow Finance Minister, Geordin Hill-Lewis. Hill-Lewis posed a question to Mboweni, who reportedly made it clear that the South African Revenue Services only received R5 million in the last financial year.
Following the revelation, this implies that a large number of taxi operators aren't declaring income tax, nor are they chipping in for driver payroll tax.
Hill-Lewis posted:
"In reply to a DA parliamentary question, the Minister of Finance has revealed that only approximately R5 million in tax is collected from the entire minibus taxi industry in South Africa.
"Yet a 2019 Mail&Guardian report puts industry revenues at R90 billion a year. SARS must now act against tax dodgers in the taxi industry."
Hill-Lewis added that the number means some taxi owners do not pay payroll tax for their drivers and employees. He added:
"This means that the vast majority of taxi operators and owners are declaring no corporate tax income at all, and are not paying payroll tax for their drivers and employees. It is illegal to under-declare income and to evade paying taxes. This is a crime under the Tax Administration Amendment Act, carrying a possible prison sentence of two years."
Enjoyed reading our story? Download BRIEFLY's news app on Google Play now and stay up-to-date with major South African news!
Source: Briefly News