Customary marriage: meaning, requirements and registration 2019
The meaning of marriage in South Africa, like any part of the African continent, varies considerably. While one group of people view this union as a colorful heritage celebration enriched with African customs, the other forms an impression of a fancy white dress affair as the couple walk down the aisle. Regardless of your perception, both traditional and civil marriages remain legal affairs recognized and protected by the law. So, what is a customary marriage in South Africa?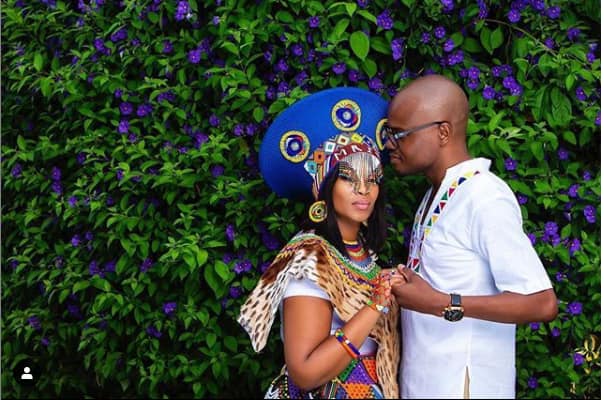 Like in any other nation that openly cherishes its ancient practices, engaging in traditional marital agreement holds a special meaning in South Africa. Customary weddings and involved celebrations are strikingly intriguing for their uniqueness and styles of expression, making them a common practice in South Africa. For a customary marriage to be acknowledged, certain requirements must be fulfilled. Here is the meaning, requirements, and registration of customary marriage in South Africa.
READ ALSO: Zulu traditional wedding culture: ceremony, colours, songs
Customary marriage meaning, definition, and what it entails
Customary marriage is union-negotiated, celebrated, and concluded by African customary laws. Traditional wedding celebrations vary significantly across different communities except for a few standard practices. Sepedi traditional wedding is one such exciting celebration that will make you want to hasten your nuptials. Some communities insist on sharing Magadi or lobola with variant song and dance celebrations. The slaughter of cattle is often done to welcome the bride into the family.
After the negotiations and payments, families spend some time saving enough resources for the eve day of the wedding ceremony. It is, however, necessary for the celebrations to take place as soon as the lobola is cleared or partly paid. Such is essential from a legal perspective considering that an early divorce or passing away of a spouse may make it difficult to prove the marriage as valid.
Customary marriage requirements and registration
One of the most recent customary marriage legal proceeding involved Lerato Sengadi. The wife to the late local artist HHP found herself at the crossroad when the family denied her as having not fulfilled their marital union through lobola payment. It was, however, to her relief when the court ruled in her favour for having satisfied all the requirements of the Customary Marriage Act, perhaps except for lobola which the judges termed as fixed.
What are the requirements for a traditional wedding to be recognized by the law?
There are several requirements for a valid customary marriage besides essential elements such as negotiation, celebration, and conclusion per the Marriage Act South Africa. For instance:
The partners must be consenting adults aged above 18.
They should not be in any other civil marital union. In essence, customary law does not allow polygamy (since none of the parties should be already married under the Civil Union Act or Marriage Act). Even so, the groom will only marry another bride should the high court render a verdict that properly regulates the matrimonial properties of the resulting marriage system.
An understanding and recognition of the Customary Marriages Act is crucial before engaging in a legal marital union. Customary marriage is assumed for a community of property implying that both assets and debts are shared jointly between spouses. Such includes those carried forward before marriage. When married in a community of property, couples lose their rights to require debts and dispose of assets as they please. Their distinct estates combine to the knowledge and consent of the other.
The couple who wish to marry out of community of property must sign an ante-nuptial agreement ahead of their union ceremony. Failure to take this step ahead of time will necessitate that the two approaches a High Court for the acceptance of their applications. Both polygamous and monogamous unions are acceptable in the African customary laws as long as they fulfill the requirements. Noteworthy is that the validity of customary marriages remains intact regardless of the registration status with no ultimate penalty.
Is lobola customary marriage? Lobola, also referred to as the bride price or bride-wealth, is essential in most customary marriages. The groom advances such to the family of the bride for customary marriage considerations. Before effecting the union, a consensus was necessary between the involved families until later when unanimity is required only between the marrying partners as opposed to their families. Customary law in South Africa does not emphasize on age as a primary requirement before the union, but RCMA needs the involved partners to have a minimum of 18 years. According to customary law, no specific age requirement exists; however, the RCMA includes a minimum age requirement of 18. The validity of a customary marriage also takes into consideration the transfer of brides and regulation of prohibited relationships.
Customary marital unions involve lengthy and complex negotiations before settling on reasonable lobola agreements. The talks are initiated and sealed commonly by the uncles of the involved partners. The law prohibits the groom from taking part in the negotiations. Women may take a passive role in the talks as the participants take sorghum beer, one sip at a time. The brand of beer has a traditional value which shows a sign of welcome without necessarily getting drunk. Lobola payment takes at least two payments before completion. For this reason, the negotiation will proceed during the second negotiation meeting in which the clearance of the bride price will end. Other gifts presented by the groom include pinafores, blankets, walking stick and shawls among others.
Registering customary marriage in South Africa
The law requires customary marriage registration at the Department of Home Affairs before the ending of three months following all proceedings. The marriage certificate issued after that will serve as proof of customary marriage between the partners. Below are some of the requirements that the couple must submit to Home Affairs for the registration of their marital agreement.
Copies of the identity cards
A lobola agreement if available
A witness from the groom's family
A witness from the bride's family
A representative from each of the two families
Important to note is that failure to register a customary marriage does not necessarily invalidate it. It is, however, necessary to complete the registration process to make it easier to handle resulting disputes in a court system. Getting married at Home Affairs is highly desirable because it guarantees the required marriage security should any conflict arise. The registration is also essential when settling divorce cases or proving the validity of the nuptials in other applications that require formal documents.
Important to note is that if one of the marrying partners is a minor implying that they are underage, you can obtain a marriage certificate by first seeking the consent of their parent or guardian. The approval written in Form DHS-32 is fundamental before a traditional wedding ceremony. When a guardian or parent is out of reach, an application should channel through the Commissioner of Child Welfare for consent.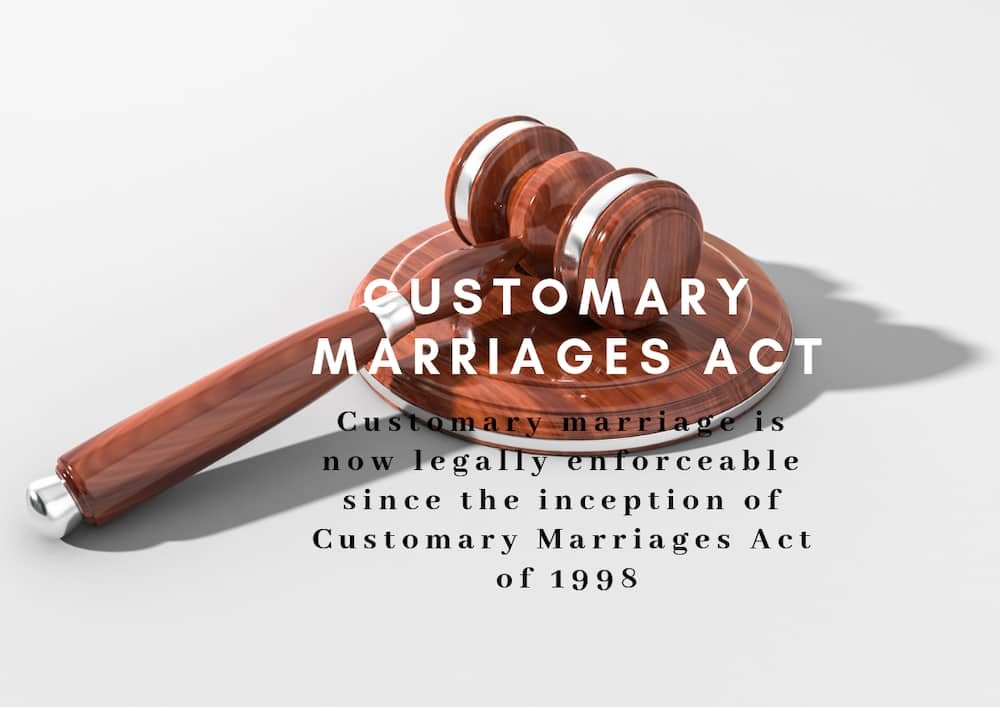 Registration of a customary marriage 2019 is simpler and straightforward for the marrying persons. Involved payments include R20 for an abridged marriage certificate and R75 for an unabridged marriage certificate. Once issued, the marriage certificate is assumed to remain valid as long as the couple remains married. All the registration procedures must be carried out at the Department of Home Affair offices or through designated traditional leaders where the offices are inaccessible.
READ ALSO: 30 best traditional wedding decor ideas in South Africa
Customary marriage is now legally enforceable since the inception of Customary Marriages Act of 1998. The act has reliably included a useful blend of protections necessary in handling resulting disputes at a court of law. With this information on customary marriage South Africa, you are better informed and placed to deal with any issues surrounding this topic.
READ ALSO:
South African celebrity weddings 2018
South African celebrity couples 2018 - pictures and stories
120 best wedding anniversary messages and wishes
Retrenchment South Africa: strategy, procedure and compensation 2019
Unfair dismissal: how to deal with it in South Africa 2019?
Source: Briefly News