Revolutionary movements are not a new thing in African countries. In South Africa, for instance, there is the Economic Freedom Fighters (EFF). This is a radical movement. It aims at ensuring that there is economic liberation in South Africa. It is also a political party that brings EFF songs as a topic of discussion. Read on to find out about the best EFF songs.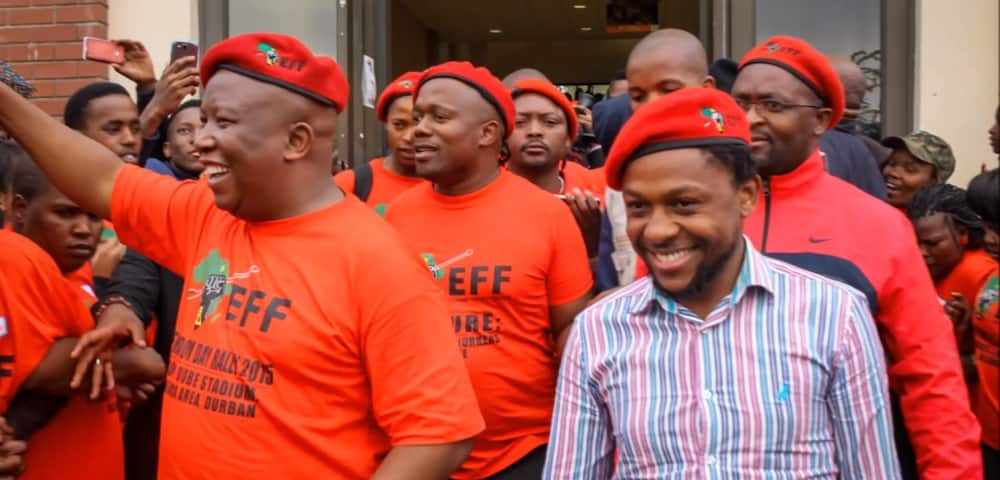 EFF is a radical movement that is under the leadership of the vocal and fearless Julius Malema. EFF aims at ensuring that there is economic freedom in South Africa. Economic freedom being a wide area, EFF has come up with several strategies to ensure that its operations are within the goals of the movement. Some of these strategies include EFF songs.
What does EFF mean in texting?
Most people associate EFF with Julius Malema and Dr Mbuyiseni Ndlozi but cannot completely comprehend what EFF means. Economic Freedom Fighters (EFF) is a far-reaching movement that was birthed in 2013. Why was EFF formed? The main reason why EFF was formed was to bring economic liberation. The goal, achieving economic revolution would be through converging the ideas of bellicose activists and any form of persuasive groups into political groups. The political parties would then speak a common language of fighting for economic independence. Now, people also wonder how many seats in parliament does EFF have because of their national popularity.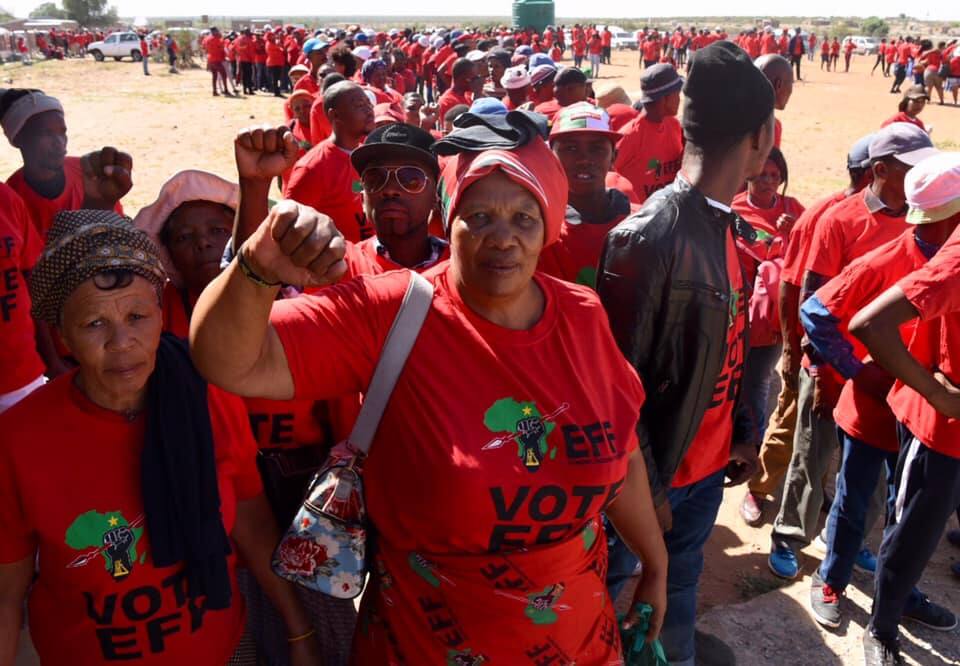 Since EFF was a radical movement, it was vital that its operations were in line with its mission and vision. For that reason, pillars of EFF were brought forth. With these pillars, EFF would at a later stage lead to economic independence.
1. Expropriation of South Africa's land without compensation for equal redistribution in use.
2. Nationalisation of mines, banks, and other strategic sectors of the economy, without compensation.
3. Building state and government capacity, which will lead to The abolishment of tenders.
4. Free quality education, healthcare, houses, and sanitation.
5. Protected industrial development to create sustainable jobs which include the introduction of minimum wages in order to bridge the gap between the wealthy and the poor, close the aparthei2wage gap, and promote rapid career opportunities for Africans in the workplace.
6. Massive development of the African economy and advocating for a shift from reconciliation to justice in the entire continent.
7. Foster an accountable, corrupt-free government and society.
READ ALSO: Why load-shedding is causing more South Africans to want to emigrate
These pillars would also dictate the contents of EFF manifesto. The 2019 manifesto, for instance, has particular areas of concern that it wishes to address. Among these areas is the financial and education sector. The theme for the EFF 2019 manifesto is our lands and jobs now!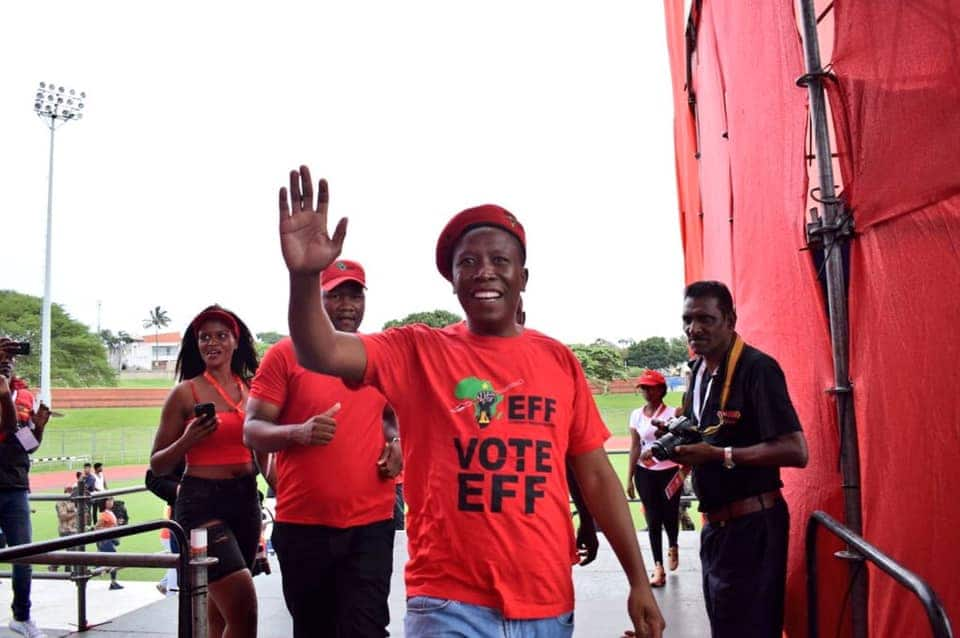 EFF songs
For Economic Freedom Fighters to pass their message concerning the areas that they feel that the sitting government is not addressing, they form songs. These songs are popularly known as EFF songs. EFF songs are sung during their political gatherings. In most occasions, the economic freedom fighters leadership leads the congregation in singing the songs.
10 best EFF songs
Ever since eff was formed, eff songs have been produced. So far, there are twelve EFF albums. These albums have been released on different occasions. The most recent album is entitled 'Asinamali'. These are the best EFF songs of all times.
Azania led by Dr Mbuyiseni Ndlozi
Azania is a freedom fighting song, and its meaning is, the land of black people at the tip of the continent South Africa. The message that 'Azania' comes with is to bring down economic apartheid in South Africa. Azania is among the best struggle melodies in South Africa.
Ayasaba amagwala
Ayasaba amagwala is not a new song to most people in South Africa. This is a struggle song. The message in 'Ayasaba amagwala' is, 'get ready; we are on the way coming.'
Biko
Biko is also another freedom fighting song. Biko was composed, in memory of Stephen Biko. The song praises his contribution in fighting for freedom. When Dr Mbuyiseni Ndlozi leads crowds in singing Biko, he urges EFF supporters to join forces in freedom fighting.
Marikana
Marikana is an EFF election song. The song reminisces on the black people that were killed by police officers in Marikana. These people were killed as they protested for better salaries. In 'Marikana', EFF reminds its supporters of the urge to continue fighting for a better country.
Shiwelele
Shiwelele is another freedom fighting song. Shiwelele was composed after a new docket was established in EFF leadership. This is the position of Economic Freedom Fighters Students' Command (EFFSC), with its spokesperson as Peter Keetse. Shiwelele initially spoke of the struggles that students went through. It was, however, twisted to represent the hardships that workers encountered. The lyrics in the song aim at gassing up the eff supporters to soldier on even if it means using force to get to the 'promised land.'
Sekusele Kancane
Sekusele kancane is another freedom fighting song. The song highlights how EFF supporters were beaten up and some killed as they tried to protest.
Izwe lami
Izew lami is also a liberation song in South Afrcia. The message in 'Izwe lami' is, 'We are on our way we are coming'.
Asisa lali emakhaya
Asisa lali emakhaya led by Dr Mbuyiseni Ndlozi is another song that relates to the struggle that black South Africans had to go through to attain their freedom. Even though the country attained its independence, there are struggles that the blacks are still facing. When Dr Mbuyiseni Ndlozi passionately leads in singing 'Asisa lali emakhaya', his intended message is that 'we sleep in our homes no more.' This song visualises the oppression that the blacks are facing.
Senzeni na
Senzeni na is an emotional struggle song. It traces back to the mass killings that took place during the struggle for independence. Dr Mbuyiseni Ndlozi emotionally leads in singing 'Senzeni na' in honour of all the lives that were lost in the hands of the white oppressors. The message of this song is,'what have we done to deserve this kind of oppression.'
Chimurenga
Chimurenga led by Peter Keetse is another revolutionary struggle song. Peter Keetse emotionally leads this song as he mentions out on the prominent African leaders who played significant roles in the struggle for independence for most African countries. Among the prominent leaders mentioned are Kwame Nkrumah and Robert Mugabe.
These EFF songs are also election songs. Through the songs, EFF highlights the forms of oppression that the blacks are going through and need for liberation. Most of these songs are emotional, to describe the intensity of how the abuse that was before South Africa gained independence is still being manifested in some parts of the country. These EFF revolutionary leaders urge their supporters to keep on fighting and to vote for EFF in the forthcoming elections for better leadership and a better nation.
READ ALSO:
EFF supporter praises MEC Jack Bloom for firm grasp of health issues
EFF's Ndlozi raises point of order asking to turn off 'racist' air-con
Top 10 tips for emigrating from South Africa 2019
In honour of John Langalibalele Dube – founding president of the ANC
Source: Briefly News