SA Hosts Global Freedom Fellowship, 2 Formerly Incarcerated Leaders Call for Education and Prison Reform in SA
South Africa was home to the Global Freedom Fellowship, a first-of-its-kind programme for former inmates who have now become leaders
The fellowship aims to put ex-convicts at the forefront of the prison reformation and innovative justice movement
Two South African fellows, Ndiphiwe Nyakati and Awande Mshotana, believe that education has rehabilitative powers, but also call for prison reform
JOHANNESBURG - A first-of-its-kind programme has thrust a normally marginalised group of leaders into the forefront of conversations about creating a criminal justice system that works.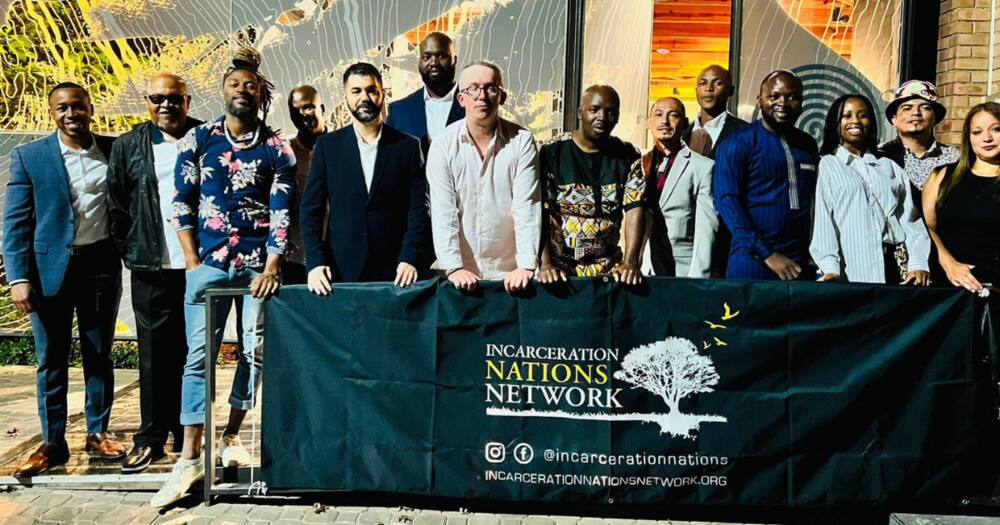 The Global Freedom Fellowship, a unique initiative started by the Incarcerated Nations Network (INN), brought together a group of formerly imprisoned people worldwide to share their experiences and wisdom on improving the global justice system.
INN and the Freedom Fellows believe the way the correctional and justice system is set up worsens crime and does not build safer communities.
The fellowship aims to create a transnational network of formerly jailed leaders and also empower them to change the world.
PAY ATTENTION: Follow Briefly News on Twitter and never miss the hottest topics! Find us at @brieflyza!
The fellows met in Cape Town and Johannesburg, South Africa, for the programme's first session, which lasted 13 days.
During the fellowship, the incarcerated leaders visited iconic South African justice landmarks, such as Robben Island.
They also spent time with currently and formerly incarcerated communities and collaborated with the Ubuntu Learning Community, a Prison-to-College Pipeline-South Africa initiative. Ubuntu Learning Community assists prisoners in obtaining higher education.
Global Freedom Fellows bid farewell at the Nelson Mandela Foundation reception
The programme has now drawn to a close, and the formerly incarcerated leaders must say goodbye to each other.
The Global Freedom Fellows gathered at the Nelson Mandela Foundation on Sunday, 2 April, for a reception commemorating the 10 years since Nelson Mandela's passing.
The story of Madiba's journey from incarceration to freedom and becoming SA's most-loved president resonated with many of the fellows. So much so that one of Madiba's well-known quotes was recited several times throughout the event.
Mandela once said:
"Education is the most powerful weapon which you can use to change the world."
Global Freedom Fellows from SA stress the rehabilitative power of education
For one fellow, education was one of the keys to his rehabilitation and reintegration into society.
Speaking to Briefly News at the event, Ndiphiwe Nyakati shared how his education while incarcerated shaped him into the leader he is today.
Ndiphiwe said he initially started studying simply to pass the time while in prison but soon realised that pursuing an education opened up his mind and helped him realise he wanted a different future for himself.
Ndiphiwe added that offering incarcerated individuals the opportunity to pursue an education opens up the realm of possibilities for when they leave jail and integrate back into society.
Ndiphiwe asked:
"One of the questions we ask is, what kind of a person do you want to reintegrate into your society? We want the person that is not going to commit crime and go back to jail."
And for the reintegration officer, education is the key:
"We know that education is empowerment. When you educate someone, you empower them. And when you empower someone, you help the person become the person they are meant to be."
Ndiphiwe was not the only person who believed in the power of education in reforming formerly incarcerated people.
Another inaugural Global Freedom Fellow from South Africa, Awande Mshotana, shared with Briefly News how obtaining an education while incarcerated altered his life.
"Many factors helped me not to go back to prison. But if I would just highlight maybe one of the many, one would be education."
Awanda explained how, when he was imprisoned, he had not finished high school. He pursued a matric certificate while behind bars and passed with four distinctions.
Awanda didn't stop there, and his desire to understand the criminal justice system that incarcerated him led him to study law. He obtained a Bachelor of Law (LLB), graduating cum laude (with honours) from the University of South Africa.
With his degree and knowledge of the criminal justice system, Awanda works as a paralegal and facilitator at a non-profit organisation, People's Law. The Global Freedom Fellow helps advise and educate people on law-related issues.
Global Freedom Fellows Ndipiwe and Awande call for reform of SA's prison system
While both Awanda and Ndiphiwe are grateful for the education they received while incarcerated, they maintain that the correctional service system in South Africa needs to be reformed.
Ndiphiwe, who works as a reintegration officer at The Message Trust in Cape Town, has first-hand experience of how the system is failing to rehabilitate incarcerated people and thereby failing to curb crime.
Ndiphwe acknowledged that the rate of crime in SA is concerning and that people who commit crimes should be jailed.
The reintegration officer also raised the point of what happens to incarcerated people while they are behind bars.
Ndiphiwe said to ensure that correctional services are releasing people in a better state than when they went to jail, the correctional department needs to improve the facilities.
This includes increasing the number of professionals to help incarcerated people with mental illnesses and addiction problems.
Awande believes that to reform the correctional services system fully, ex-prisoners must be included in the conversation about reform and rehabilitation.
"During the Global Freedom Fellowship, we coined a term called 'experienced experts'. An expert is someone who's either gone through the thing or studied it.
"For the fellows, we went through it and studied it. So we are experienced experts in the sense that we understand the holes in the criminal justice system."
Awande added that because of this experiential knowledge, former prisoners could pick up on the system's flaws and help policymakers develop interventions to improve the state of prisons in SA.
Global Freedom Fellowship founder says prisoners should lead the charge in prison reform
Speaking exclusively to Briefly News, the founder and director of INN, Dr Baz Dreisinger, gave insight into the importance of the innovative Global Freedom Fellowship.
Dreisinger said that work revolving around prison reform and the justice system needs to include people who have been jailed and have first-hand experience of how the system works.
Dreisinger added that while ex-convicts are leading the work in the US, the same is not true for the rest of the world.
Dreisinger said:
"It became really clear to me that formerly incarcerated individuals are the leaders. I conceived the idea of a fellowship that would bring individual leaders together with lived experience of incarceration.
"Why would you ever think to talk about what prison reform and justice should look like without the people who've been directly impacted?"
10 Worst prisons in South Africa: Toughest prisons in the country
In another story, Briefly News reported that South Africa has high crime rates.
Such vices have led to the establishment and expansion of general and juvenile prisons all over the country. These prisons vary in size, facilities, and inmate conditions. Which are the worst prisons in South Africa today?
The worst prisons in the country have reputations for terrible standards, often characterised by violence, diseases, and violations of human dignity.
PAY ATTENTION: Сheck out news that is picked exactly for YOU ➡️ click on "Recommended for you" and enjoy!
Source: Briefly News