CAO online application process, dates, and requirements 2020
The CAO online application platform provides all students with a central and fair avenue for securing undergraduate courses in Ireland. As a non-governmental organization, the CAO is tasked with the role of processing student admissions for both Irish undergraduate university and college courses. In order to be eligible, all students must adhere to the articulated requirements, complete the CAO online application form, pay the required fee, and submit the form on due dates.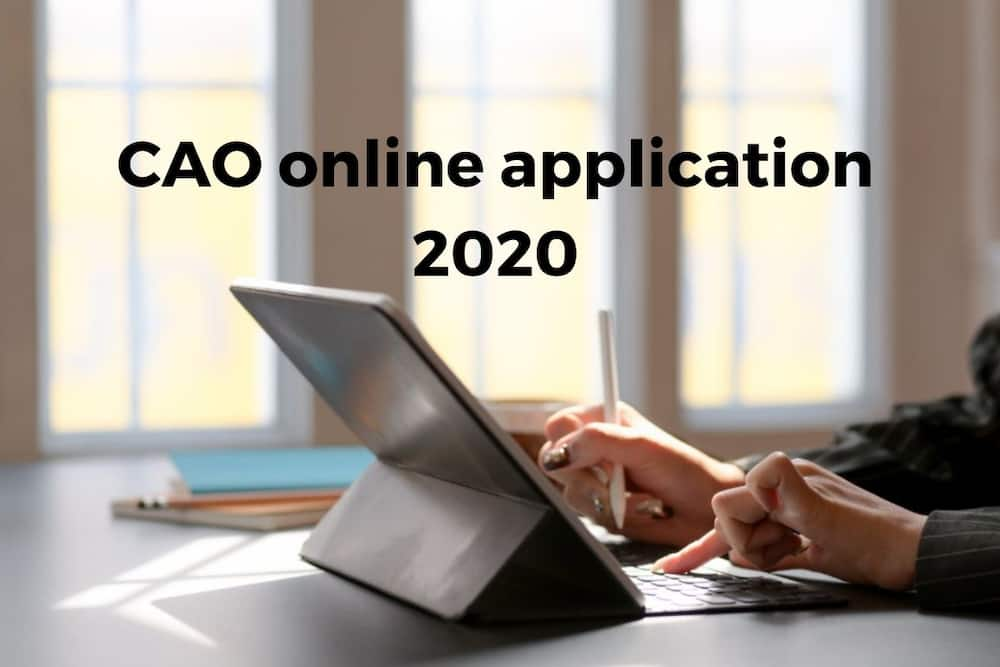 CAO online application is a crucial process for all students and individuals interested in pursuing the Irish tertiary (university and college) education venture. Apart from the online process, interested students should put great emphasis on the timetable registration deadline dates and requirements. If it's your first time applying, considering reapplying, or you are not well acquainted with the Central Application Office requirements and registration process, do not stress. This article provides you with all the necessary CAO application form details for your chance to successfully secure a position in Irish universities/colleges.
CAO application process
For you to initiate the process, you have to visit the official CAO registration website and select the "CAO My Application" icon on the website dashboard that is next to the "Home icon." You can access the CAO online website through your internet device.
Proceed to key in your required personal details correctly.
Provide your active and valid email address. This is vital as the email is one of the most used communication platforms between the website and you. Furthermore, some of the Higher Education Institutions (HEIs that fall under CAO) are known to use the email as a communication medium concerning the selected higher courses. The email also enables you to get timely notifications or updates concerning your course statistics and information updates.
Identify and choose the relevant qualification and assessment provisions based on your educational qualifications.
Payment of fee. Preview and select the best payment method you prefer. You may choose to complete the fee payment either by debit or credit card. Besides, the payment system is secure and trustworthy as Global Payments manage it. This means that no data from the fee payment and bank transaction will remain on the website hence, safety. Successful payment unlocks the other registration stages.
Password creation. Go ahead and input your initial password. For those who might have forgotten their login password, don't worry. The site provides you with a password recovery option through the link "Forgot my password." For the recovery, you will have to provide information concerning the registration No., numerals of your date of birth, and the initially used email address during account creation.
Application No. After entry of a password, you will have to click on the icon reading "Proceed with the application." This will provide you with a CAO application number that is also sent to your email address.
To confirm if your registration is successful, you will check your resisted email inbox for a message that contains your application number. If you do not get the email; even after refreshing the email icon, then this is an indication that the registration process was not successful. In a case where you do not get the No, simply contact the customer help through their official email address that is available through their website contact information.
Application dates
All the application dates share one thing in common. This is the time, "5:15 PM." As a result, make sure you do all the necessary processes and provide all the required data before 5:15 PM. Failure to apply by that time, you will fall under the category known as "CAO late applicants." It is advisable to finalize the process a few weeks before the closing date; hence, beating the deadline rush that comes with numerous unpredictable issues. Remember, the registrations process does not offer students any extensions, and its fee payment policy does not provide for compensation.
READ ALSO: University application dates for 2021
2020 Application deadline

Is it too late to apply for CAO?
Is CAO open? The answer is Yes! From the above time table, you can see that it is possible to make a late application until 1st May. The deadline for students interested in changing the course selection in 2020, also known as "Change of Mind" can do so right now. 1st July 2020 at accurately 5:15 pm marks the deadline for making the course changes. The best part is that the "Change of mind" option will not cost you a single cent. To all individuals wondering on "when can I change my CAO courses?" visit the website and check the current dates and any updates.
Fee payment
It is important to note that making an early application has more benefits compared to late. This is through the discounted registration prices that differ with 50%. For example, early applicants fee in 2020 are only €30 while being late will cost you €60.

Reapplication
Reapplication is also possible for people who had either applied in the previous years and could not commence the education program offered by the Higher Education Institutions (HEIs). You will be required to start the process by knowing your CAO status eligibility and acquire a new registration number.
How do I apply for CAO exceptional online late application?
For first-timers, you also have a chance to still apply in 2020. This is through the "Exceptional" option. As a late applicant, you will be required to pay the registration fee of €60. However, you might face specific restrictions that come with the late application. These restrictions may depend on the choice of course under the particular higher education university or college. You can find out more about the types of restrictions that you should consider as a late applicant.
My CAO application requirements

The requirements range from both computing facility setups for effective access and legal documents. Different courses present different entry requirements and conditions.
Computing requirements
For you have a smooth process that saves time and minimizing instances of data loss, the first requirement is the latest version of whatever search engine you are using to access the site. It is advisable to use a personal PC to prevent the occurrence of errors which are witnessed in publicly used cyber.
READ ALSO: UJ online application, registration, form and status 2021
Required documents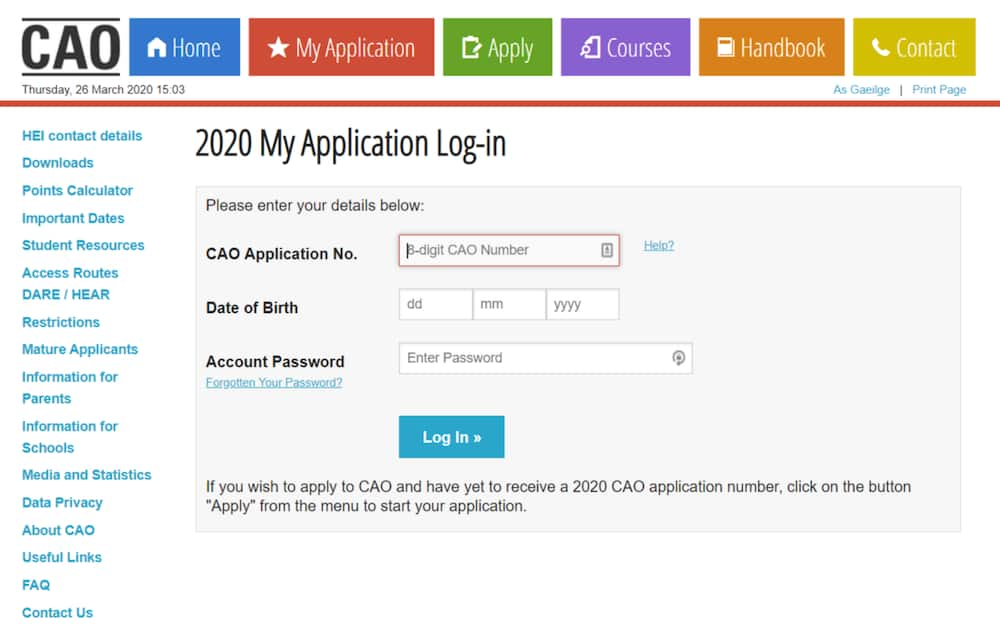 Since you will be applying to join a university or a college that provide specific courses of interest, you have to provide all the past education documents that prove you qualify for partaking the course. These supporting documents include:
Valid email address for communication
CAO application number which you require to check CAO status
Registration fee
Meeting the set deadlines
Password creation
Official certificates and result statements/ certified photocopy (All should contain the exam council logo)
An attendance certificate for people who might have enrolled but withdrawn (did not finish) a given course
Ongoing students need to provide documents proving the entry date, class attendance, and current status
Every document sent should include your CAO registration number
Any other required document based on the level and course of interest
Posting of the documents early (the documents should reach after ten days after making your registration
For more information and explanations on the required registration documents, you can download the CAO form that is available in a PDF form through the official website.
The CAO online application process is one of the most crucial and required procedures for students to achieve a position and peruse their academic advancements in Irish universities and colleges. It offers a fair and central platform where all the student documents are analyzed and articulated based on the chosen course of choice provided by the Higher Education Institutions (HEIs).
READ ALSO:
Unisa PGCE application 2020: dates, cost, and requirements
WCED online application, tracking, forms, courses, fees, requirements 2020
SASSA grants: how to apply and who qualifies?
Source: Briefly News