GBV and extreme poverty: Women impacted more by Covid-19 pandemic
- Since 2020, the Covid-19 pandemic has had a massive social and economic impact on people worldwide
- However, experts suggest that women have been impacted more by the pandemic in numerous ways
- It is estimated that 435 million women and girls globally will live on $1.90 a day or less in 2021
PAY ATTENTION: Join Briefly News' Telegram channel! Never miss important updates!
The Covid-19 pandemic has been hard on everyone, there is no doubt about it. But numerous studies have shown that women are among those affected the most.
For women in economies of every size, the pandemic has had a devastating impact. In South Africa, single mothers working as domestic workers had no income for months during the hard lockdown.
Those who were fortunate enough to work from home all the sudden had to juggle jobs and looking after their children following the closure of schools.
Briefly.co.za took an in depht look at the impact the pandemic has had on women in South Africa and abroad.
The numbers behind Covid-19 and its economic toll on women
An economic crisis has a greater impact on women for several reasons. According to UN Women, mothers are more likely to be burdened with unpaid care and domestic work – which could mean they either struggle working from home or must resign from their jobs altogether.
Most working women also earn less compared to their male counterparts and in the coronavirus pandemic, more than 70% of the frontline workers were female, meaning they were more at risk of exposure.
In the health sector, the gender pay gap is higher than the overall gender pay gap – which is around 16% according to UN Women.
Poverty on the rise for both men and women
It is no surprise that the pandemic has pushed millions into poverty. A recent report showed over 96 million people will face extreme poverty in 2021, with 47 million of them being women. This will mean that 435 million women and girls will live on $1.90 a day or less.
The poverty gender gap will also increase following the Covid-19 pandemic as more women are pushed into extreme poverty than men.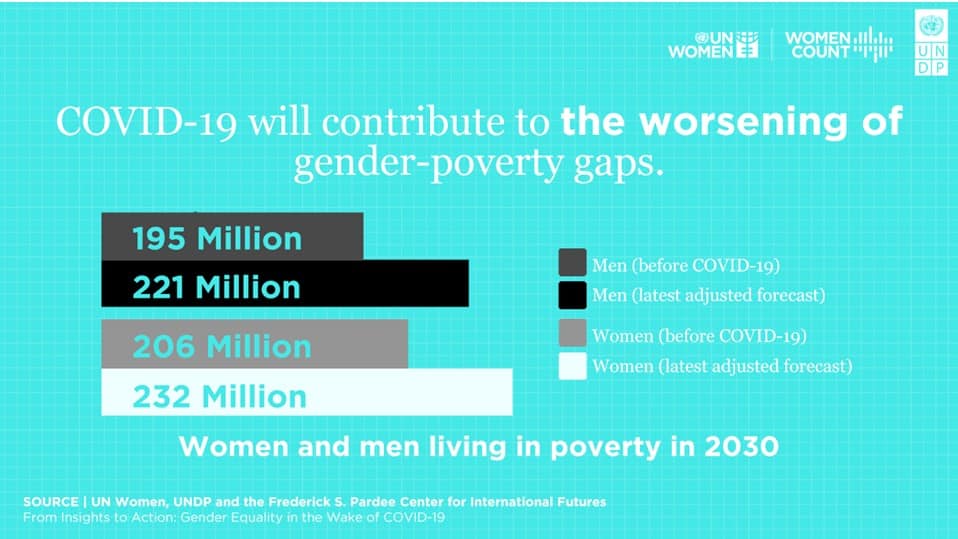 The hardest-hit industries have more women
Countries have implemented extreme measures to try and contain the spread of the coronavirus. This had led to economy as a whole suffering, but several industries have been hit harder than others.
About 40% of employed women work in the hard-hit industries compared to 36.6% men. This means globally, 510 million women are employed in the most impacted sectors.
The National Income Dynamics Study - Coronavirus Rapid Mobile Survey (NIDS-CRAM) investigated the socioeconomic impacts of the pandemic in South Africa. NIDS-CRAM found that between February and April last year, more women lost their jobs than men.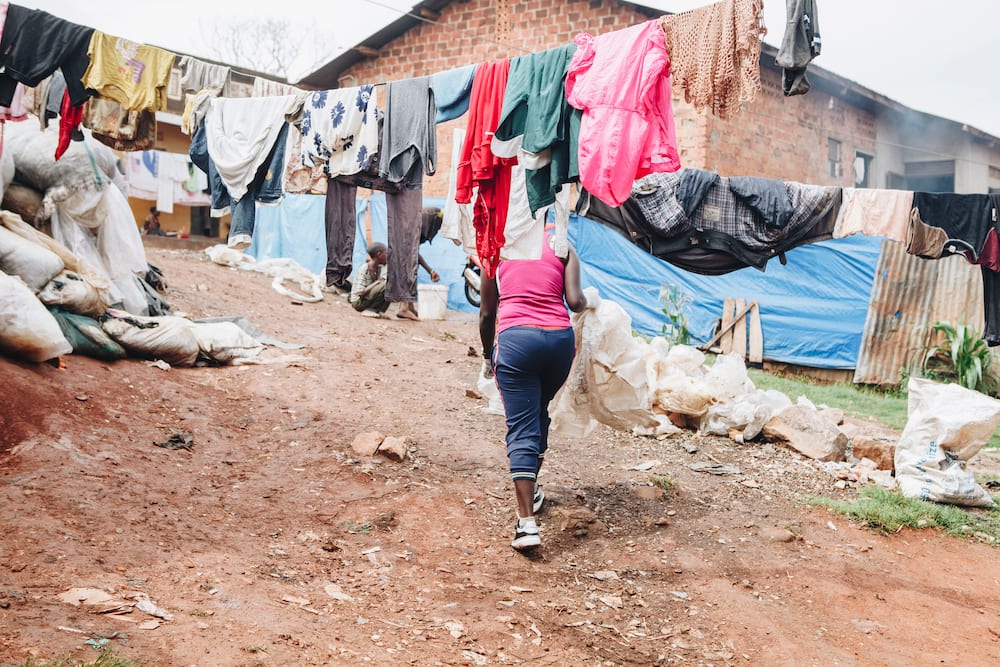 Challenges women face at home
Companies either closed during the hard lockdowns or they allowed their employees to work from home. Women were left with domestic work and looking after their children.
Aside from the added household chores and childcare, the harder lockdowns saw a spike in gender-based violence.
In the first week of South Africa's lockdown, Police Minister Bheki Cele announced that at least 2 230 gender-based violence cases had been reported. This was a 30% jump from same dates the previous year.
Social media reactions to the impact Covid-19 has had on women
Different media outlets across the world reported on the impact the pandemic has had on women and it sparked a social media debate with some users disagreeing that the female workforce had suffered more.
BBC was dragged on YouTube by several users after reporting that women were more affected.
Sea Bell wrote:
"So what? How about the effect of Covid on any group? Why is the BBC obsessed with social engineering this sympathy for women, it has nothing but contempt for white hetero men. Seriously, it's pathetic."
738polarbear commented:
"What about its impact on men or everybody. What is so special about ONE group?"
Austin Jdn wrote:
"Has the BBC done a video on the impact of Covid-19 on men? Given how many more men than women are dying from it? We live in one of the most gynocentric, misandrist times in history. Facts don't matter. All that matters is the scriptures of woke identity politics and intersectional feminism."
Kurt Franklin said:
" 'Women most affected' - what a load of rubbish. What's happening is feminist nonsense is being ignored in favour of real concerns."
Women should be included in recovery efforts
UN Women's Chief Statistician, Papa Seck, said:
"Most countries are either not collecting or not making available data broken down by sex, age and other characteristics – such as class, race, location, disability and migrant status. These acute data gaps make it extremely difficult to predict the pandemic's full impact in countries and communities. They also raise the concern that Covid-19 policy response will ignore the priorities of the most vulnerable women and girls."
Measures such as providing income support for women or business relief for female-led companies should be implemented. Informal workers, including domestic workers and street hawkers, should be prioritized in the government's plans to help people affected by the pandemic.
In other Covid-19 news, Health Minister Zweli Mkhize has stressed that it is of the utmost importance to delay the third wave of Covid-19 in South Africa.
He said that if South Africans follow social distancing rules, this can be achieved. Delaying the third wave would allow South Africa to vaccinate as many as possible.
Professor Shabir Madhi, prof of vaccinology at Wits University, believes that coronavirus numbers will rise towards May, following Easter. Prof Madhi was speaking on Monday during a leadership dialogue hosted by Wits Business School.
Enjoyed reading our story? Download BRIEFLY's news app on Google Play now and stay up-to-date with major South African news!
Source: Briefly News