50+ Eeyore quotes and sayings that will cheer you up instantly
One of the most famous cartoon characters from Winnie the Pooh is Eeyore. His exquisite sense of humor is on a whole different level, not to mention his wit and pessimistic nature. Author A.A. Milne was the man behind the book Winnie-the-Pooh in 1926. Eeyore is a grey donkey whose tail is attached to his body using a nail. Despite his pessimistic nature, there is so much to learn from him. Here are some of Eeyore's quotes to keep in mind.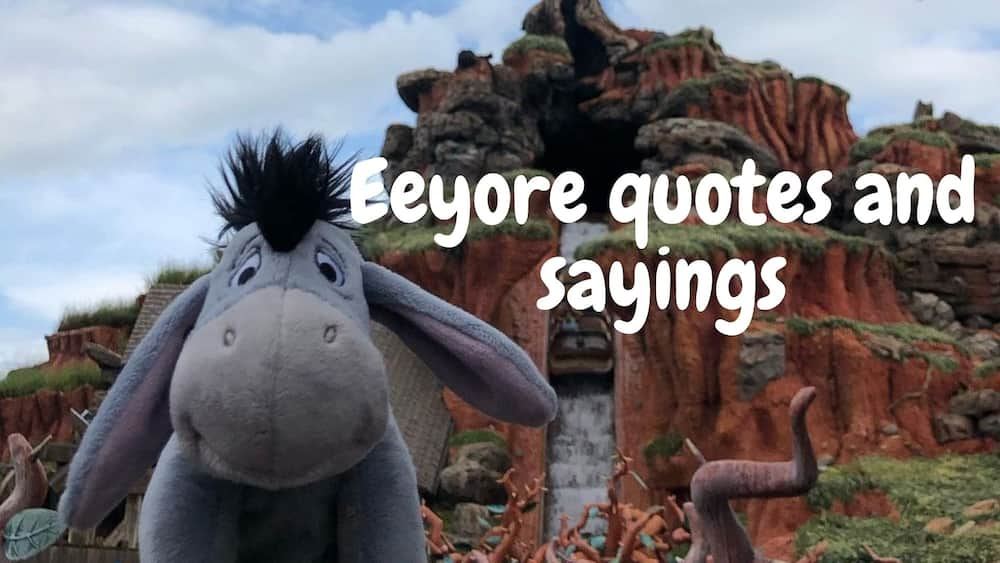 Eeyore is one of the most popular characters in Winnie-the-Pooh. His character depicts him as sad as he is constantly uttering self-deprecating and bitter comments. He is also termed as the gloomy friend in the group. Here is a glimpse of Eeyore quotes Winnie the pooh cartoon.
Positive inspirational Eeyore quotes
Eeyore's statements are based on his mood and feelings. Despite his tendency to utter some sad remarks, he can be this cheerful character that will light up your day and leave you feeling optimistic about life.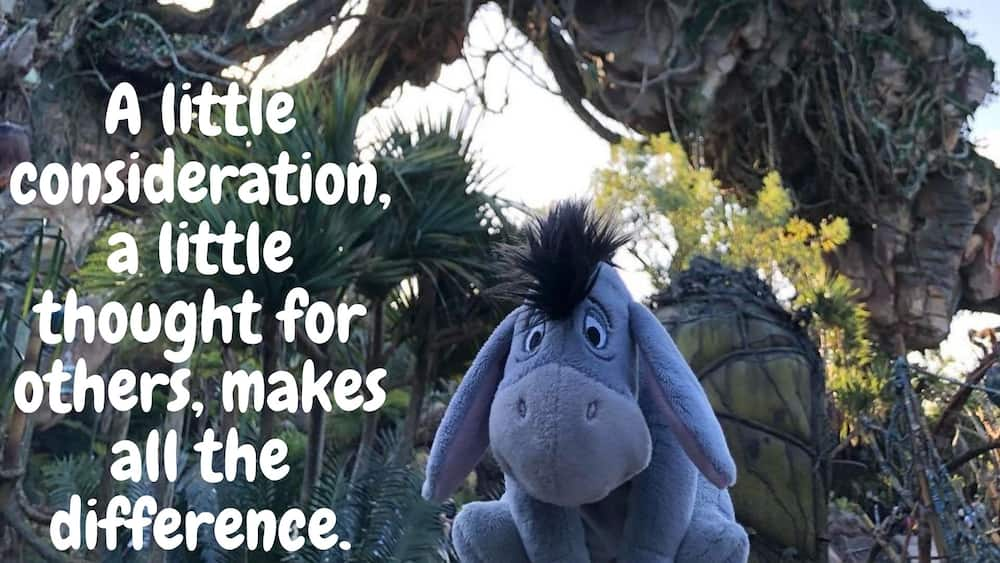 Use caution when standing by the river bank minding your own business. You might get bounced into the water.
I'm not asking anybody. I'm just telling everybody. We can look for the North Pole, or we can play 'Here we go gathering Nuts in May' with the end part of an ants' nest. It's all the same to me.
A little consideration, a little thought for others, makes all the difference.
When stuck in the river, it is best to dive and swim to the bank yourself before someone drops a large stone on your chest in an attempt to hoosh you there.
No Give and Take. No Exchange of Thought. It gets you nowhere, mainly if the other person's tail is only just in sight for the second half of the conversation.
They're funny things, Accidents. You never have them till you have them.
That's what would be so interesting, Pooh. Not being entirely sure till afterward.
If the person you are talking to doesn't appear to be listening, be patient.
Cute Eeyore quotes
Despite Eeyore's weird characters, he could be the sweetest person ever. Some of his remarks are encouraging and full of wisdom. This is a clear depiction that not every day is a dull day for him.
A little consideration, a little thought for others, makes all the difference.
I never get my hopes up, so I never get let down.
The nice thing about rain is that it stops eventually.
I know I'm just an Eeyore, but if you feel sad, I'll be your smile. If you cry, I'll be your comfort. And if someone breaks your heart, we can use mine to live. I'll always be by your side—your Eeyore.
It never hurts to keep looking for sunshine.
Eeyore quotes sad
Some days are pretty dull for the donkey. On such days, his statements are likely to make one feel sad as well. Eeyore quotes thanks for noticing me is one of his popular statements of all time, especially when he feels like the whole world is against him.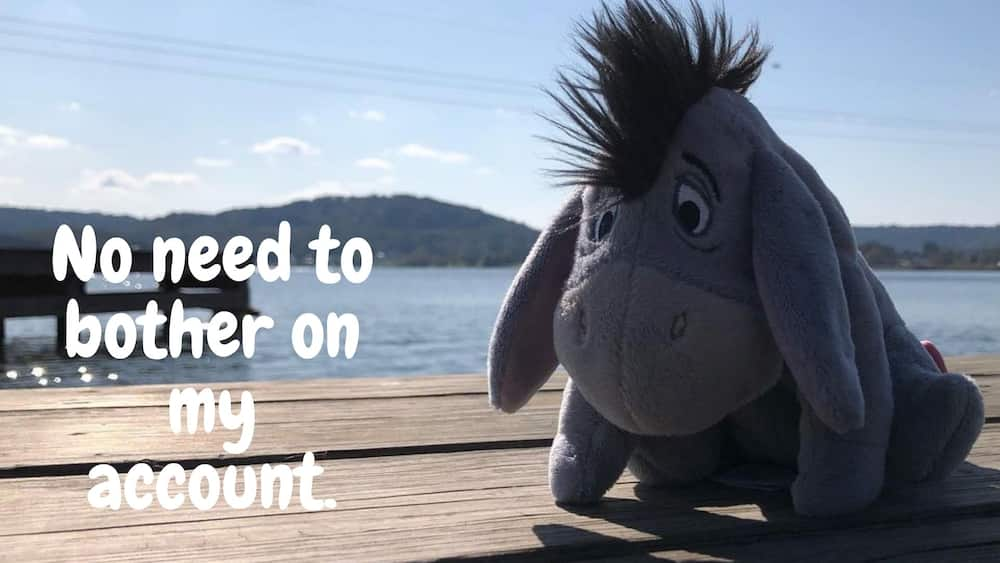 Nobody tells me. Nobody keeps me informed. I make it 17 days come Friday since anybody spoke to me.
I'm telling you. People come and go in this forest, and they say, 'It's only Eeyore, so it doesn't count.
No need to bother on my account.
One can't complain. I have my friends. Someone spoke to me only yesterday.
Thanks for noticin' me.
Eeyore quotes about death and rain
There are moments in life when you miss someone so much that you want to pick them from your dreams and hug them for real.
Sometimes you just have to stay silent because no words can explain what is going on in your mind and heart.
If I close my eyes, will the mess disappear?
It is funny how most episodes will leave Eeyore being rained on. His sad look at such a time leaves his fans feeling lost just as he is. Here are some of his quotes when it pours.
It could be worse. Not sure how, but it could be.
Don't blame me if it rains.
It's the only cloud in the sky. And it's drizzling, right on me. Somehow, I am not surprised.
Never trust a cloud, I always say.
It's snowing still. And freezing. However, we haven't had an earthquake lately.
It never hurts to keep looking for sunshine.
The nicest thing about the rain is that it always stops. Eventually.
What is Eeyore catchphrase?
"Thanks for noticin' me" is Eeyore's most frequently used phrase. It is also Eeyore favourite line.
What does Eeyore say when sad?
Eeyore has many popular quotes that he utters when he feels sad and miserable. However, one of his famous quotes is, "I'd say thistles, but nobody listens to me, anyway."
The above Eeyore quotes will leave you feeling excited and looking forward to having a positive view of life. The character in Winnie-the-Poo has many fans attached to his way of life. His quotes are full of wisdom, and one is likely to learn much from him.
READ ALSO: 30 best Mother's Day gift ideas for last minute shopping
Briefly.co.za recently published on Mother's Day gift ideas for last-minute shopping. Mother's Day celebration comes once in a while, which is why celebrating your mother or wife is very important.
Make her feel like the most important and appreciated person for all that she has been doing. And so, while you are thinking of what exactly to give her, here are some gift ideas that you may want to consider presenting your adorable queen.
Source: Briefly News