Exclusive: 'The Night Caller' Director Delves Into Mind of Prolific Serial Killer
The Night Caller is a true crime mini docu-series depicting and exploring a killer's harrowing legacy of tragedy, grief, responsibility and redemption. Briefly News caught up with Thomas Meadmore, the writer and director of the series.
PAY ATTENTION: Click "See First" under the "Following" tab to see Briefly.co.za News on your News Feed!
1. The gruesome story of Eric Cooke took place in Perth, your childhood home, how was the experience telling this story from such a familiar place and context?
Immersing myself back in the town which forged me and my values was quite challenging. I grew up with very staunch views on trusted servants being trusted. We believed in the police. We believed in the justice system. This story challenged that view, crushed it in many ways. And therefore it challenged my orientation of who and what I can trust.
It broke some innocence for me. I know that sounds silly, as I have lived long enough to know that corruption exists everywhere… but on some fundamental level it hit very hard at home for me internally. At the same time, it is truly wonderful to be able to show my beautiful home town of Perth to the world. To introduce its incredible people to the world.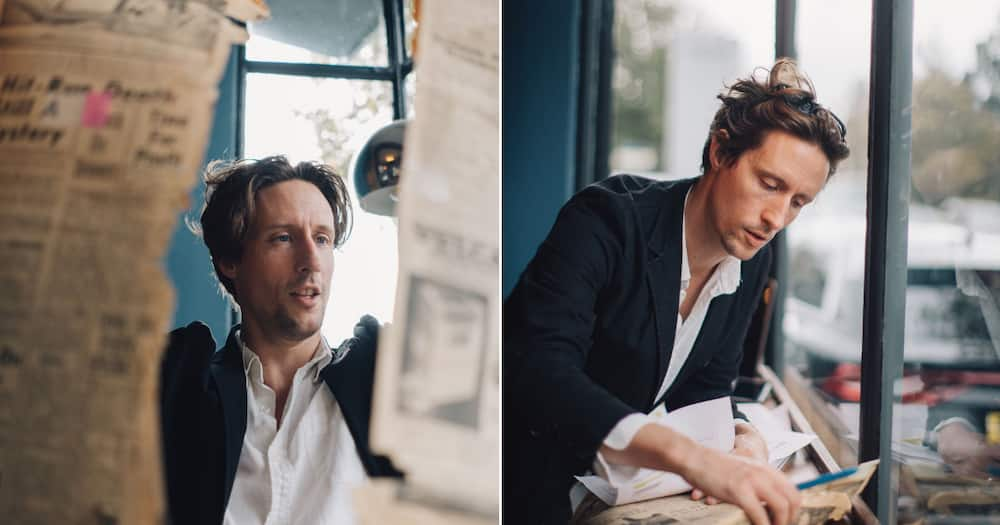 2. What inspired you to tell the story of Cooke and all who suffered during his reign of terror?
My parents were members of the community when his reign of terror took place. I grew up hearing stories of how their lives changed - going from free and easy to frightened and closed. It always left an incredible impact on me.
When I returned to Perth in 2018 to visit family, I was reminded of the story and thought about telling it from the perspective of the community itself. A bogeyman story. I thought exploring this, and the long-term impact of the trauma with a focus on the victims would be fascinating and powerful.
3. What are your thoughts on the take that serial killer documentaries glorify these criminals and motivate copycats? As a story-teller, why do you think it's important to tell such stories?
I think it's a very interesting point and discussion. Serial killings and true crime connect to a primal part of us I think. It's ultimate life and death and 'This could happen to us!' I am not a fan of gratuitous, tabloid style films. For The Night Caller, it was far more interesting to focus on the victims and the long term trauma of the community with a focus on accountability.
This film therefore has an important message about the role trusted servants like police play in these kinds of stories… as well as the community itself. It was very important to have something relevant to say about the experiences of these people, otherwise it might fall into exploitation.
4. You managed to speak to the serial killer's wife, one of the closest people to him, without giving away too much; what can viewers look forward to hearing from this source?
For me, she is the hero of the story. Viewers can expect to be shocked and inspired by what she has to say. She blew me away with her attitude toward the whole event. I think your audiences will watch her and feel good about humanity and be reminded what the value of accountability and courage can bring.
5. John Button's story is just as tragic as that of the killer, if not worse. Please elaborate on the experience of speaking to someone who served time for a crime they did not commit. Have his feelings about the case changed over time?
It was truly sad to hear John's story. He has remained in a place of sadness and guilt his entire life. He's carried a weight of shame ever since. Seeing this man, after all this time, still suffering was mind-boggling to me and therefore became the lynch pin thread of the film. He wishes for an apology from the police and justice system. He would like some accountability. He's very sad that this will never come.
6. Delving into the life of a serial killer, one can often find triggers or motivations as to why they chose to behave the way they did; upon learning more about Cooke, did you find yourself understanding, or at the very least seeing, motivations behind his gruesome killings?
Yes, I think in Cooke there was a very clever man, who was also immensely traumatised in his unstable home and rejected by a community for his disfigurements. In many ways, the community shaped him. He was a man angry, disillusioned and outcast and over a very long time developed a career of crime that led to murder.
The murder gave him a sense of power - the only power he ever felt he had - over those he perceived had rejected him. It's very sad, and inexcusable, but very interesting to look at the makings of a man like him and understand all of the elements that contributed.
7. As a decorated director, editor and producer, you have been involved in numerous projects in different genres, how do you pick your next project? What draws you to it?
GOOD QUESTION! If the phone rings, I answer! However, in terms of the projects I develop myself, it's about whether or not I can make the film or story personal to me. If I can, then the epic fire needed to fuel the project gets lit and off we go!
8. You've also tried your hand at acting, how different is the experience behind the camera as opposed to in front of it?
9. Ha, yes I have! It's very different. In front of the camera I felt a sense of control over the story for a few seconds. Behind the camera I feel a sense of control over the story from start to finish. Both make me feel immensely vulnerable. Both are wonderful experiences.
The Night Caller premiers on Sunday, 14 June‬ on CBS Justice.
Thando Thabethe to star in crime drama
Meanwhile, in other news about TV shows on crime, Briefly News previously reported that after the success of How to Ruin Christmas: The Wedding, Thando Thabethe is set to star in a new television series. This is according to entertainment blogger and commentator Phil Mphela.
Thando has been showing no mercy ever since she started her acting career. The series that the actress is going to be starring in is called Reyka. It is an eight-part investigative crime drama. The production is going to be done by both South African and UK companies.
The series is going to be filmed in Mzansi and it is going to be airing in July 2021 on M-Net.
Enjoyed reading our story? Download BRIEFLY's news app on Google Play now and stay up-to-date with major South African news!
Source: Briefly.co.za