UNISA payment methods and fees 2019 - 2020
How do I pay my application at UNISA? Both new applicants and ongoing learners often find it challenging to make various payments in the facilitation of their qualifications. While there are several methods of clearing these amounts, it is always advisable to use the recommended alternatives to avoid inconveniences. So, what are UNISA payment details and payable fees?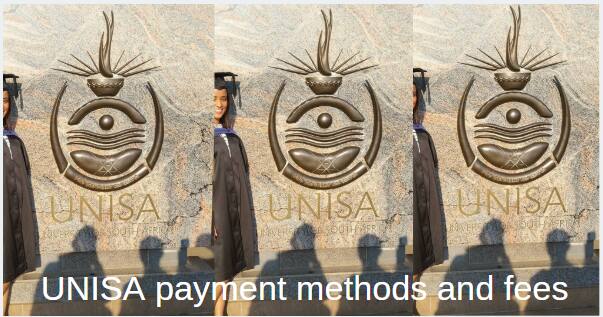 For convenience purposes, the University of South Africa accepts a variety of payment methods. Provided also are channel details and refund options among other critical financial information. While we are on the modes of fee payment, it is crucial to note that the University of South Africa does not accept cheques and cash in any of its offices. For this reason, all due financial obligations including the non-refundable online application fee of R105,00 must be channeled through acceptable options as described below.
READ ALSO: List of University of South Africa courses 2019
UNISA payment methods
There are several options to complete the fees payments. As such comes with guidelines and payment details which you must use to channel your money to the institution securely. Keeping track of the payment dates is also crucial in making sure that your fees are received ahead of the deadline. Here are acceptable fee remitting options as provided by the institution's management.
1. Bank deposits
How do I pay my application at UNISA? Banking is the most common remittance alternative among learners at the institution for application and other costs. This higher learning institution collaborates with Standard Bank in collecting fees from learners.
Payment guidelines
Ensure you have a student identification number.
Specify the category of payment you intend to submit to the university — for instance, study fees, examination fees, library charges, or exemption fees.
Make sure you accurately fill your deposit slip. Provide the relevant codes depending on the fee you are paying.
Study fee code number: "5400374721."
Matriculation exemption code: "5352X74608"
Library fee code number: "5400374225."
Access cards code number: "5400315164."
UNISA application fee payment code number: "5370810030."
Bank account number: 096R
Validate the information provided to complete your fee deposit.
The university also accepts other channels as discussed below;
2. Debit cards
This option requires learners to register or pay in person at any of the university's branches.
3. Credit cards
Only Visa and MasterCard are accepted. Also requires registration or deposits made in person.
4. Web credit card
Can you pay UNISA fees online? The web credit card is a real-time remitting alternative that accepts all fees through UNISA online payment system.
5. Postal orders, money orders
The method is exclusively accepted when directly deposited to the university.
6. Telegraphic money order
Students must provide their identity details such as surname, first names, and addresses.
7. EFT
The institution accepts EFT transactions made using appropriate codes provided above in the banking deposit section.
8. International learners payment alternative
University of South Africa recommends the following baking details for non-South African learners:
Bank: Standard Bank
Branch code: 010645
Beneficiary: UNISA student deposits
Account number: 011554622
Swift code: SBZAZAJJ
Fee payment codes;
a. Study fee code number: "5400374721."
b. Matriculation exemption code: "5352X74608"
c. Library fee code number: "5400374225."
d. Application fee code number: "5370810030."
How long does it take for the payments to reflect?
When using any of the above remitting methods, always ensure that you have included your student number as well as the correct allocation as a reference to your payment. As long as all details are accurate, the university takes 2 days to allocate transactions unless it is over the weekend. Where do I send proof of payment to UNISA if fees do not reflect on my student account within two days? For such cases, forward the proof of having paid the money to the email address: susdepid@unisa.ac.za. Put your student number in the subject line.
University of South Africa prescribed student fees 2019
How much do UNISA modules cost? You need to evaluate the full price of undertaking the qualification that you applied for at the institution prior to registering your modules. If registering online or through self-help terminals, select your modules and find out how much fees you will have to pay. You can turn to the university's study fee quotation for a more accurate study fee calculations. If registering via post or fax, first calculate the costs before registering. Your pocket will determine how many modules you can register. The fees vary based on the qualification you are pursuing and the number of modules that you will be taking. All in all, the fee includes prescribed students costs, miscellaneous fees, and charges for extra study material.
Learners should note that they must pay the minimum fee before the registration due date for each paper or module that they register for the registration process to be finalized. The institution also gives dates for which the student must complete paying the remaining fee. Paying fee should be correctly done using the detailed banking procedure above, and proper reference number put for registration to be completed on time. If employer/sponsor confirms the responsibility of paying the fees through a letter, the university can give them the quotation, and the learner should make sure that the fee is paid on time. To avoid delays in the remittance of fees, students may pay from their pockets and claim later from the sponsors/ employers. Below is a comprehensive prescribed student fee outline of various levels along with their deadlines and minimum fees.
Undergraduate and degree modules
Here is the prescribed fee breakdown at this level.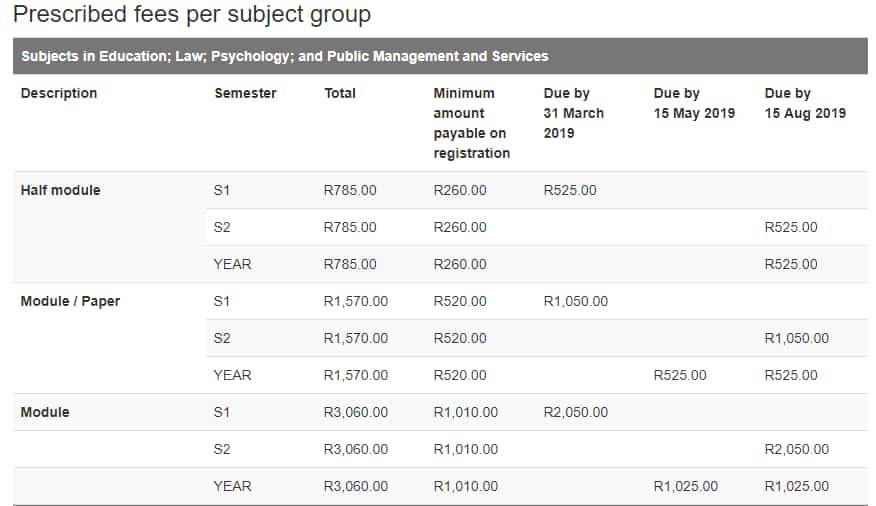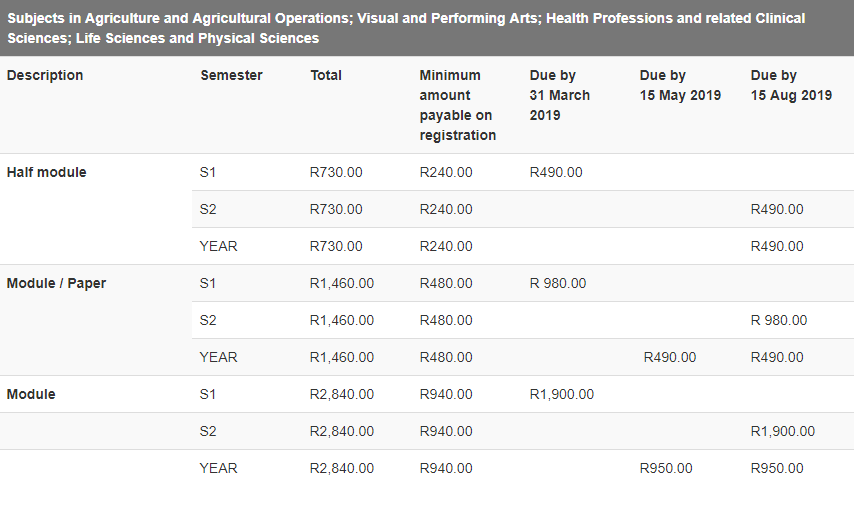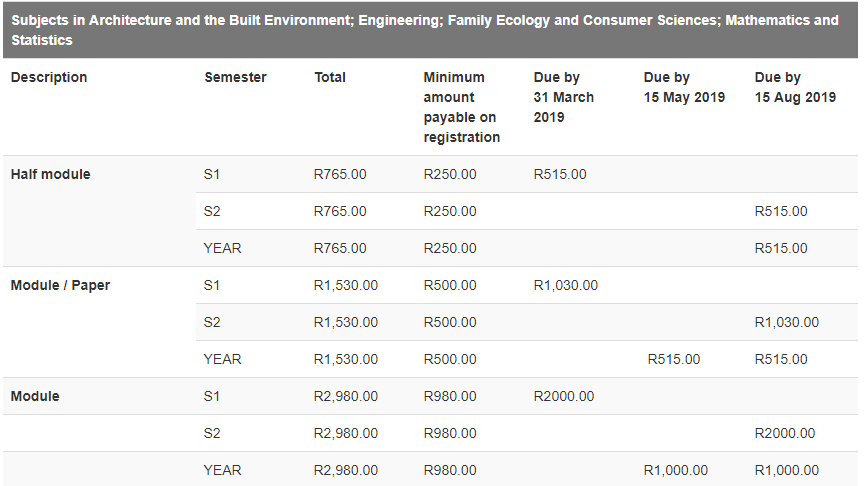 NOTE: Those seeking Matriculation exemption must pay the exemption fee with the minimum fee payable. Additionally, where applicable, the mandatory miscellaneous fees must be paid on registration including levies for learners in foreign nations as well as levies for extra study material.
Prescribed student fees for Honours and 4th year
The University of South Africa fourth-level fees are charged the same way as for modules at the honours level. Here are the amounts under this level as well as the relevant deadlines.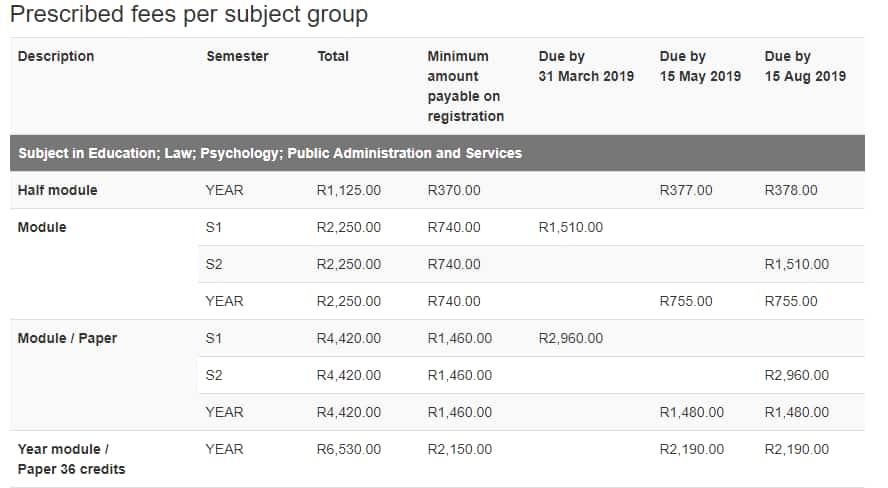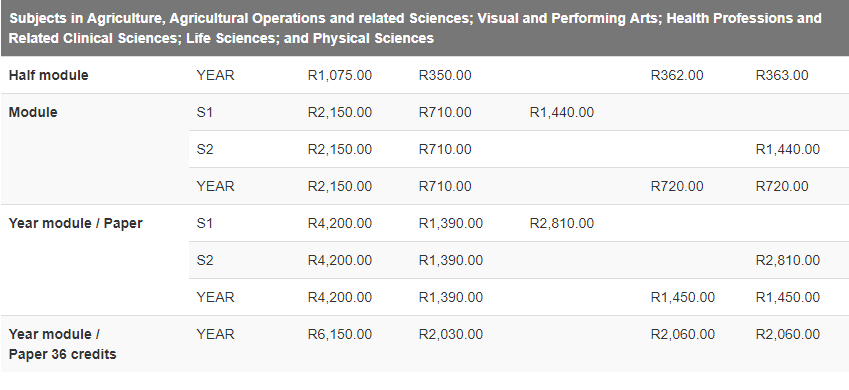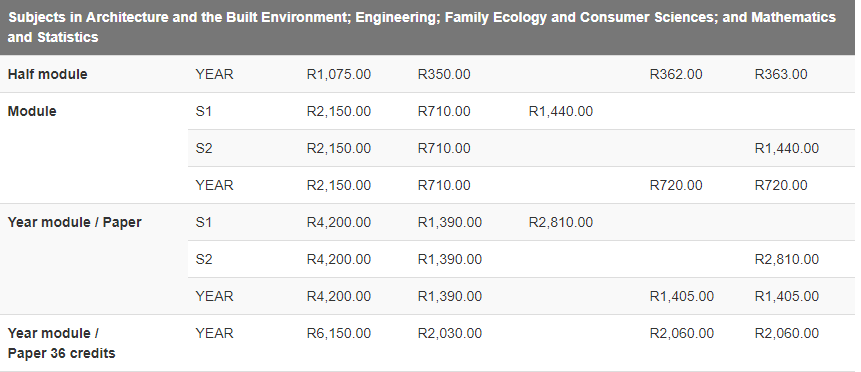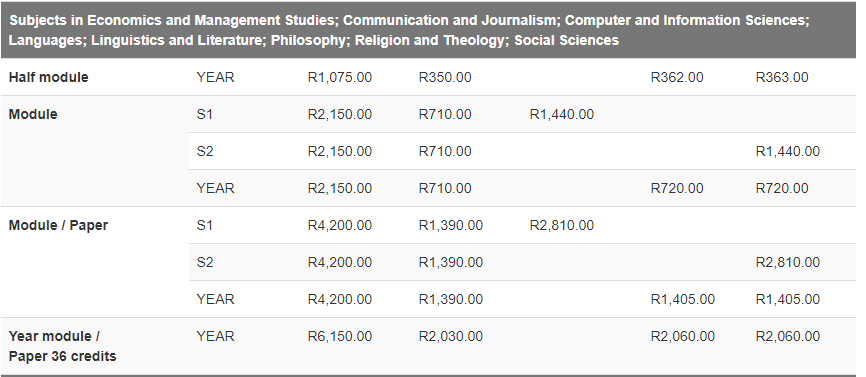 UNISA miscellaneous fees
Other than general costs, you will have to make miscellaneous payments while studying at the university, and this will contribute to your student fees. These charges may include those for exemption certificates, remarks, supplementary examinations, and library cards. Here is a comprehensive breakdown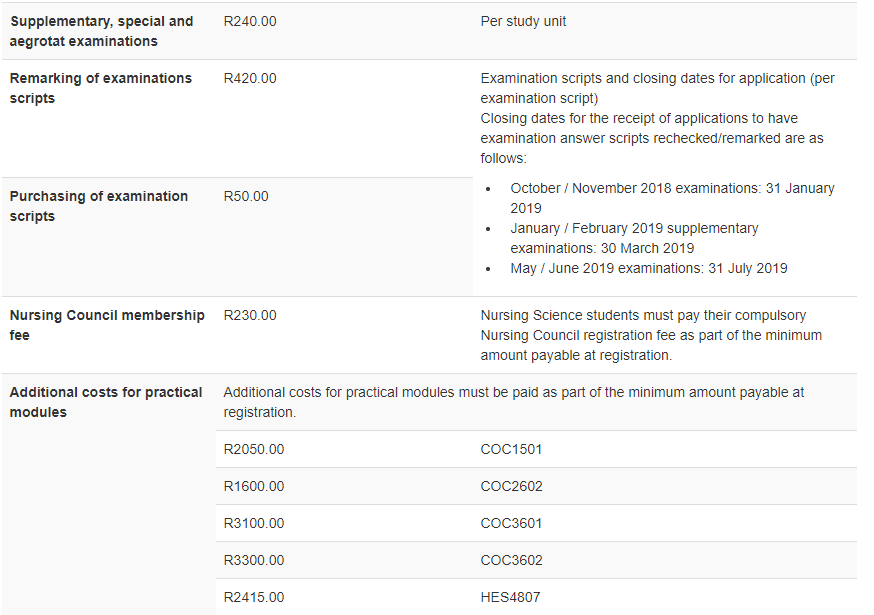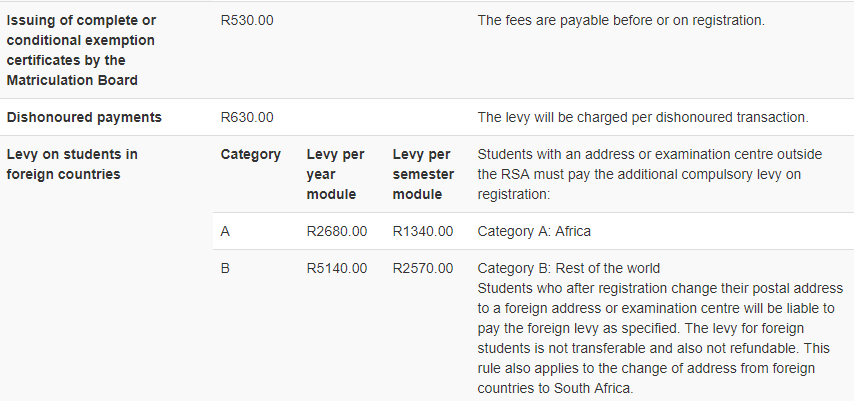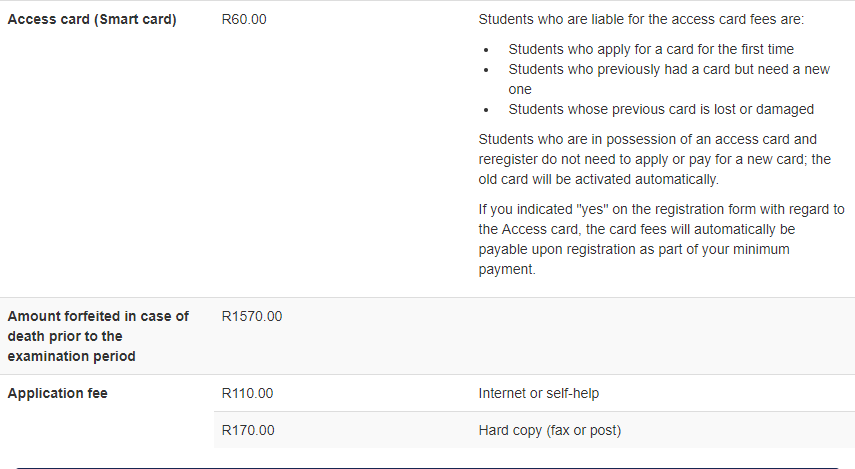 Fees for prescribed books and extra study material
There are some formative and professional modules that require additional study material. Note that the costs below are simply a guide and can change any time without prior notice. To be on the safe side, you can contact the official booksellers for final prices.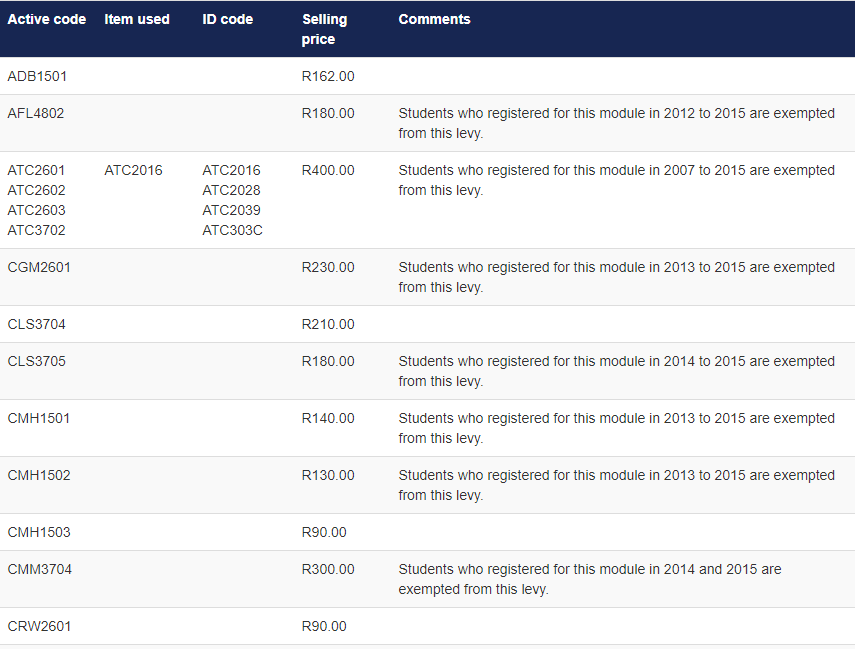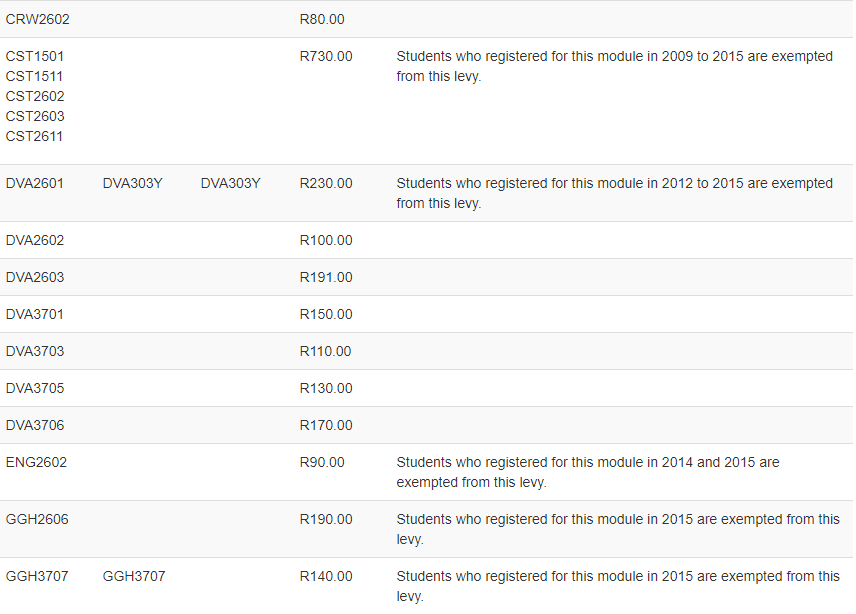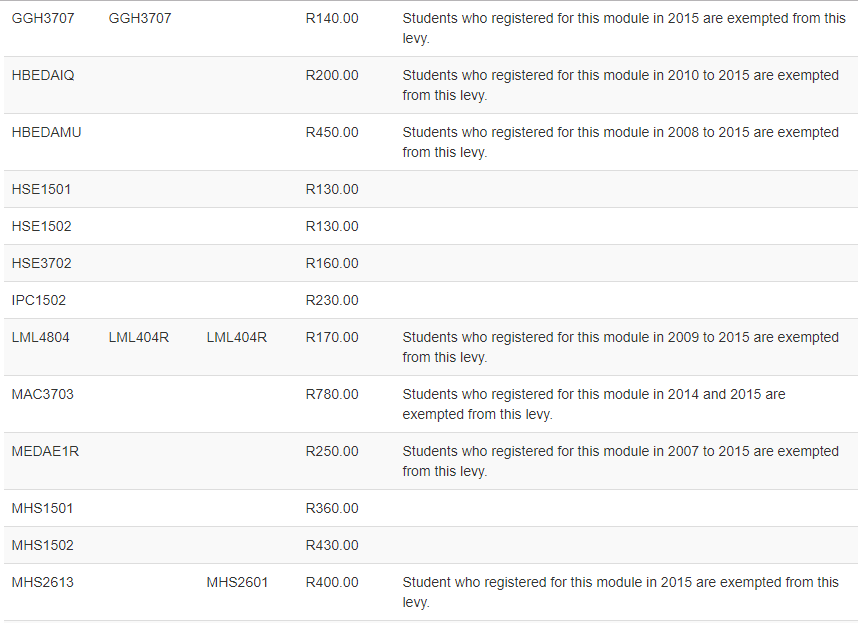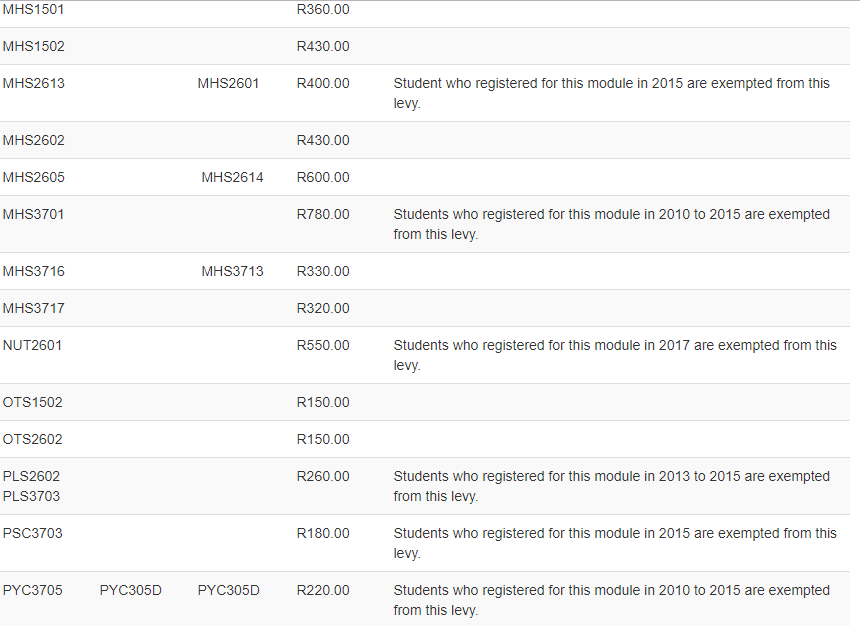 Payment issues and cancellation dates
The University of South Africa is entitled to cancelling learner's registration in the event that a credit card or cheque is tendered in payment of the minimum fee that has to accompany the registration application by the student, and the bank later returns the payment of that cheque or credit unpaid. For such a case, the registration will not be reinstated unless the full tuition fees for the learner are paid through the recognized payment methods above before the relevant due dates. When re-registering the cancelled modules, the account of the learner will be debited, per dishonoured transaction, with a once-off administrative levy.
Also, learners must note that they cannot re-register for modules at the university until they clear all outstanding fees for the previous registration periods. Those with long overdue balances may be handed to 3rd party collectors, and any legal costs incurred will be for the student's account.
UNISA 2019 cancellation dates
If a learner willingly cancels the registration of a module, he/she will be forced to forfeit either part of or the total study fees paid as shown below. Also, to voluntarily cancel your registration, pay attention to the following dates: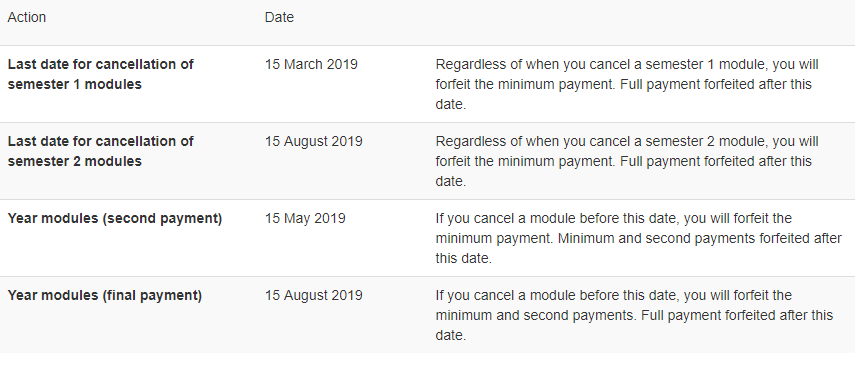 If you have financial challenges and yet you are determined to pursue your course at this prestigious institution of higher education, you can opt for student loans and bursaries among other options that will relieve you financially.
READ ALSO: University of South Africa application 2018
The payment methods are highly secured to make sure that learners complete their qualifications without an inconvenience. The university insists on the use of fee calculation tools, applicable fees structures as provided above, and recommended payment details to clear payments for different modules. With the detailed University of South Africa payment methods and prescribed fees 2019 above, you will never cross paths with the institution's financial department.
READ ALSO:
University of South Africa application dates, status, fees and process 2019
University of South Africa banking details: how do I pay UNISA fees?
University of South Africa qualifications and modules guide
Inspiring Nelson Mandela quotes on education, leadership and life
How to write an abstract with examples
Source: Briefly News