Here is what to do when your DStv decoder loses signal
Picture this: you have just come home from work and need to catch a movie or your favorite TV show and when you switch your TV on you get the DStv no signal error message. How disappointing can that be? There are various reasons why your decoder displays several errors. If you are experiencing DStv signal problems, stick around for insights on what causes such problems and how to fix signal strength on DStv.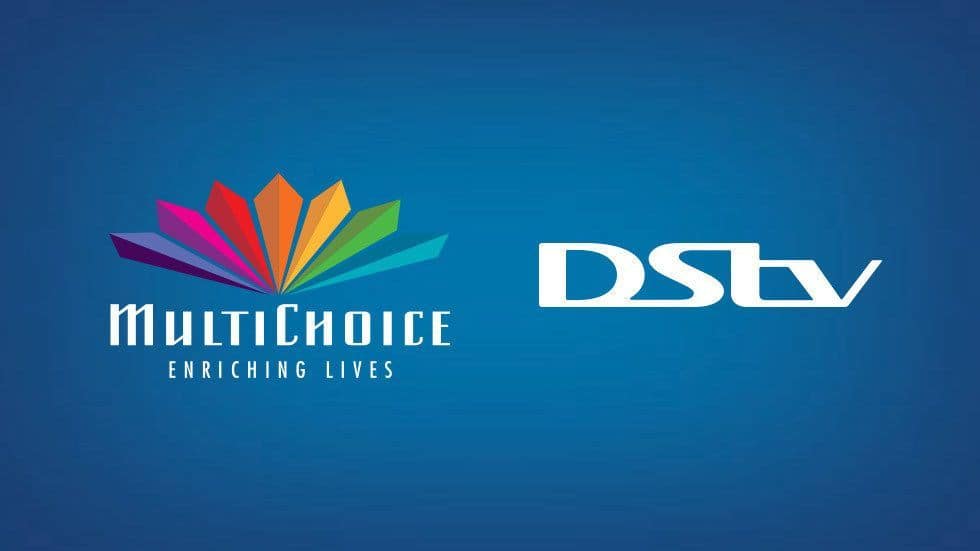 Why is my DStv showing no signal?
Whenever the decoder's strength percentage is anything lower than 100%, it implies that some DStv satellite settings are not correct. As such, proper alignment between the satellite and the dish is needed. Bad weather and other aspects such as faulty accessories or loose connections can lead to your decoder's failure to show certain channels or all of them.
In other cases, though rare, a factory reset on your decoder can interfere with the reception strength of your decoder. It is advisable to have such information in mind; at least, it might help you save some time by figuring out what caused the problem even before you can call your technician to have a look.
READ ALSO: 5 of the best Android TV box South Africa 2019
How do I clear DStv errors?
There are various DStv signal errors you should be aware of including DStv no signal on some channels, DStv error e48-32, and no signal error resulting from bad weather.

Whenever your TV displays the DStv signal strength 0 for specific channels, it is because of the difference in the DStv signal settings and channels broadcasting. In such cases, channels that fall within the lower transmission spectrum would never show. However, in most cases, this error occurs due to incorrect alignment of your dish or an incorrectly connected or damaged LNB cable.
What to do when your decoder loses signal
Did your decoder lose the signal and displays any of the common DStv error codes such as e48-32 error and DStv LNB no signal? Do not freak out. Most of these errors are not quite complex and can be solved easily. It is not advisable to always rush to your technician whenever you experience such issues. Having prior knowledge on what issues interferes with the strength of your decoder as well as how to fix DStv signal problem whenever it occurs on your TV can save you time and money.
READ ALSO: Here are the top 16 Miss South Africa 2019 finalists (with pics)
How do I fix DStv signal strength?
No one likes to be locked out of their favorite TV drama, show, or program, but you can if you are experiencing a DStv error. You may not know how to check DStv signal strength settings or even how to fix "no signal" issues on your decoder. While it is easy to address such issues, the most important thing is to figure out what caused the problem from the first place. Here are several tips to help you troubleshoot your decoder when it is not showing channels.
READ ALSO: How to clear all DStv error codes
Step 1: Check whether the cables connecting the decoder are in place
Checking the cables connecting the decoder is the first and easiest thing to consider if you experience a signal loss when watching your TV. Check the cables visually to ensure that they are intact. Often, loose cables can lead to poor strength.
Poor connection of the cables can interrupt the transmission of waves from the dish. Do not overlook this aspect even if you had not disconnected the cable yourself because cats, dogs, and kids can accidentally pull the cables. In case there are any loose cables, fix them well.
READ ALSO: How to download from Showmax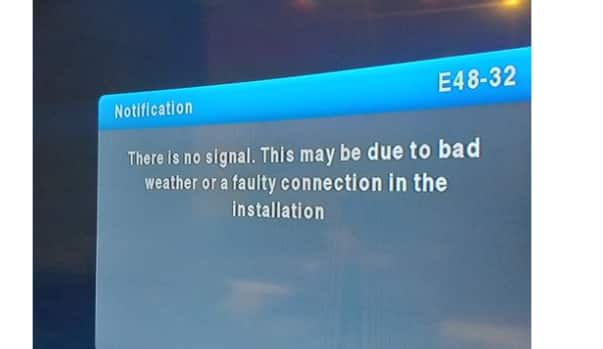 Step 2: Try rebooting the decoder
One of the simplest tips on how to clear DStv error code e48-32 or any other "DStv no strength" error is rebooting the decoder. A reboot freezes the decoder and clears any errors that had been displayed on your TV. So, why do not you try rebooting before you can think of other troubleshooting methods? Long press the power button and release to reboot. When rebooting does not help, you can move to the next tip.
Step 3: Visually check your dish
A broken dish arm or the rust on the dish can interfere with signal transmission. Usually, rust is a common problem in high humidity areas and coastal regions. If the bolts holding the dish are loose, you might experience a weak signal. Therefore, check whether your dish is firm or if it moves freely. It is important that it remains aligned with the satellite for optimum signal strength. Although you might not have the knowledge of how to align it, inspecting the dish visually helps you establish the source of the problem.
READ ALSO: List of openly bisexual, lesbian, transgender & gay actors, actresses celebrities in South Africa
Step 4: Examine the status of the Low-noise Block downconverter (LNB)
Incorrect connection of the F-connectors can have a negative impact on the functionality of your DStv. These metallic nuts ought to be connected firmly on the LNB for maximum signal strength. A similar effect is felt whenever the LNB is damaged. Tilt the LNB slowly for proper alignment.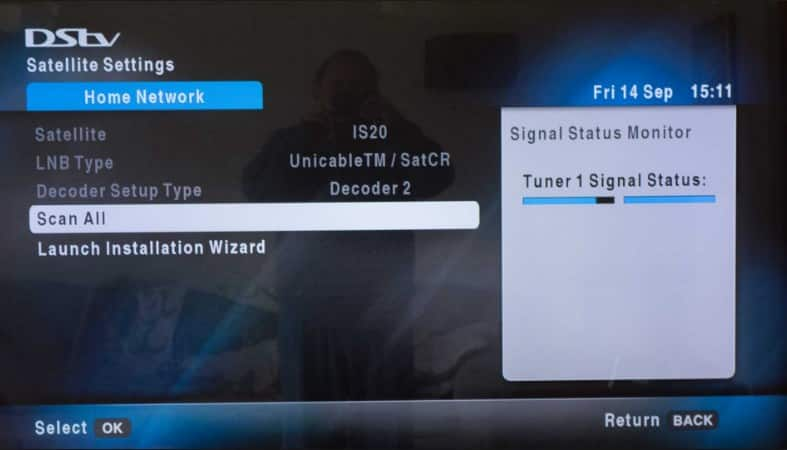 Watching TV is a great way to relax after a hard day's work. However, there are instances when your leisure time is interrupted because your decoder has weak strength or is not showing any channels at all. It is so disappointing but it does not mean that you will not be able to watch your TV again in the future. In most cases, such instances are caused by a loose connection or bad weather. However, while there are other causes of poor or no reception, it is advisable you take the time to establish the problem before rushing to call your technician or your service provider's customer care. You do not have to freak every other time you experience no signal on DStv or when your TV displays "DStv some channels no signal" error. The above tips provide a comprehensive guide on what to do when your decoder has poor reception. However, it is always advisable to seek the help of an authorized technician whenever the problem goes beyond your knowledge scope.
READ ALSO:
How to resolve DStv remote not working
Natasha Thahane throws shade at #FaceApp and various other things
Showmax vs Netflix vs DStv Now: detailed overview 2019
Source: Briefly News