It is no longer news that WBC heavyweight champion, Deontay Wilder, lost his title to Tyson Fury on the 22nd of February, 2020. Despite the loss, the professional boxer is the only American to win the WBC championship after a nine-year hiatus. Of course, achieving such a record would require a big motivation. For the former WBC heavyweight champion, his motivation can be traced to his family and daughter. So, how did Deontay Wilder rise from nothing to something in three years?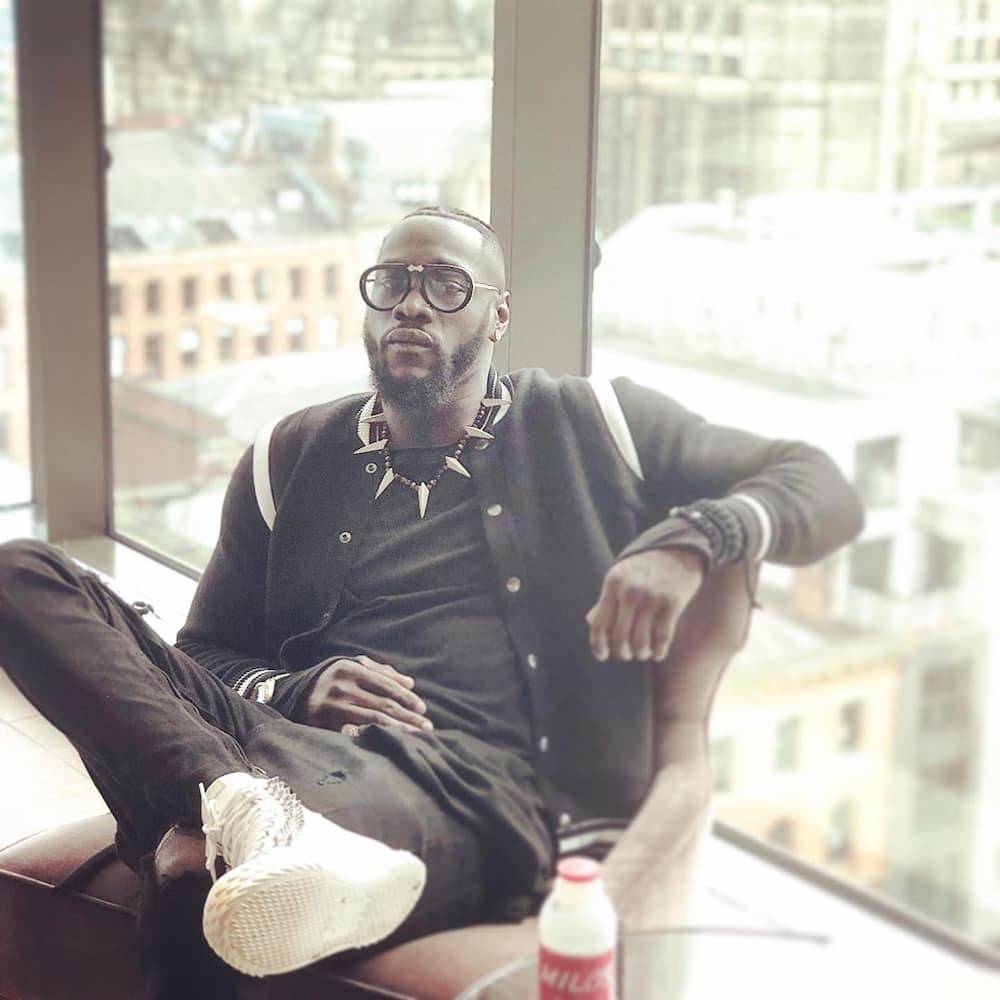 Who is Deontay Wilder? Wilder is famous as a professional boxer. His boxing career began in 2005 and, then, it was all about improving his standard of living. By 2008, he clinched the third position at the Summer Olympics and was nicknamed 'The Bronze Bomber.' From there, he kept on winning every fight until the prominent one with Bermane Stiverne in 2015. Deontay Wilder boxing career was established after winning the WBC Heavyweight Championship that year.
Deontay profile summary
Full name: Deontay Leshun Wilder
Nickname: The Bronze Bomber
Profession: Boxer
Nationality: African-American
Place of birth: Tuscaloosa, Alabama
Date of birth: 22nd of October, 1985
Age: 34 years old
Zodiac: Libra
Total fights: 44
Net worth: $30 million
Education: Tuscaloosa Central High School and Shelton State Community College
Children: Naieya, Deontay Wilder Jr., Ava, and Dereon
Background information on Deontay Wilder
Gary and Deborah gave birth to Deontay on the 22nd of October, 1985. Even though there is little information about the former WBC heavyweight champion's childhood, he should not be mistaken as Dante Wilder. So, where was Deontay Wilder born? The Bronze Bomber grew up in Tuscaloosa, Alabama.
READ ALSO: Legendary boxer, Leon Spinks, fighting for his life in Vegas hospital
There, he had his high school education and nursed the dream of becoming a basketball or football player. In fact, the boxer had made attempts to join the Tuscaloosa side, Alabama Crimson Tide, but it was all unsuccessful.
During that period, the Bronze Bomber and his wife had a daughter who could not walk due to spinal defects. He was compelled to find different means to cater for his young family. In his quest for survival, he dumped his academic wishes, took up a driving job and eventually decided to become a boxer.
How old is Deontay Wilder the boxer?
Deontay Wilder age is 34 years.
The Bronze Bomber's body measurements
The American boxer is blessed with an excellent physique. Deontay Wilder weight is 96 kg, and he is 2.01 m tall.
Deontay's family
The Bronze Bomber got married to Helen Duncan at a young age. The couple had their daughter, Naieya, in 2005, but she was down with spina bifida and could not walk. Therefore, the first Deontay Wilder fight had started while struggling to keep up as a father and husband.
Although he survived the financial battle, Deontay's long-time relationship with Helen turned sour as the couple decided to part ways. He remarried Jessica Scales, and they had three kids, including Deontay Wilder Jr. Unfortunately, the relationship could not last for more than three years due to the Bronze Bomber's infidelity.
Currently, the Bronze Bomber is engaged to Telli Swift. Deandre Wilder (a variant name of 'Deontay') and Swift have been spotted together since 2015. Furthermore, the reality TV star already has a daughter with the boxer.
READ ALSO: Gervonta Davis bio: kids, net worth, assault charges, cars
Deontay's boxing career and records
The Bronze Bomber's decade-long professional career began with a win against Ethan Cox in Tennessee. But then, he was relentless. By 2009, one year after his first victory, he defeated all his opponents in the first round of fights. He carried on with the same motivation till December 2012, when he was billed to fight Kelvin Price. He became the WBC Continental Americas Champion after winning Price by knockout.
Between 2013 and 2014, the Bronze Bomber won three fights that would set him up for the primary battle in 2015. First, he defeated Audley Harrison, a gold medallist, in the 2000 Olympics. After that UK encounter with Harrison, Deontay Wilder next fight was with Siarhei Liakhovich. Once again, the Bronze Bomber defeated Liakhovich who was a former WBO champion. In 2014, the Wilder Stiverne match was set up after he defeated Malik Scott. It was the fight that the boxer needed to earn the WBC Heavyweight Championship.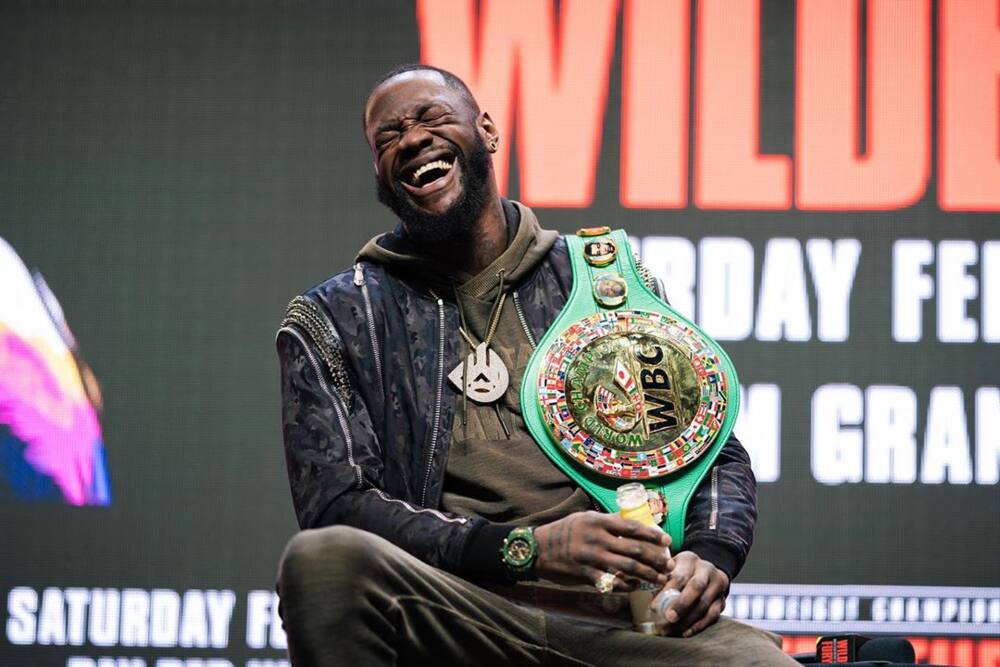 Wilder vs Stiverne was slated for the 17th of January, 2015 and it was indeed a long day of fighting. It took twelve rounds before the judges could arrive at a unanimous decision. Being his first WBC championship, the Bronze Bomber dedicated his victory to the great Muhammad Ali and his daughter. Even though he earned $1 million that night, he did not stop winning bouts. He battled several fighters, won, and received more than a million-dollar for each victory.
Between 2015 and 2020, Deontay Wilder record includes fights that could not hold because the opponents failed drug tests. For instance, his second match with Stiverne was postponed for the same reason. When they eventually fought, Deontay Wilder knockout the former WBC heavyweight champion to confirm his dominance.
Another case of a failed drug test was with Luis Ortiz, the second boxer that the Bronze Bomber defeated twice. The Bronze Bomber's fight with Ortiz could not take place in 2017. But in March 2018, the boxer defeated Ortiz in a fight that got him his highest-earning in his career.
Tyson Fury had initially fought with boxer Wilder in 2018, but it ended in a draw. The American boxer went on to set up a rematch with Luis Ortiz. The Deontay Wilder vs Ortiz 2 match was settled with a knockout in the 7th round, but that would be the last victory recorded by the Bronze Bomber.
READ ALSO: Gardener becomes unbeaten boxing legend after employer shows kindness
Who did Deontay Wilder lose to?
Deontay Wilder last fight was with Tyson Fury on Saturday night on the 22nd of February, 2020. He lost in the 7th round via a technical knockout.
Wilder boxing career has seen just one defeat in 44 fights. According to BoxRec, Wilder record includes a 98.13% knockout ratio. So, it is not even a question of how many times Deontay Wilder has been knocked down as he has won 41 fights through knockout.
Most of his victory has been attributed to the length of his reach. Deontay Wilder wingspan is 2.11m. After his recent loss, his boxer rating has dropped, and he is currently the fifth boxer in the world.
Deontay's trainer
After the loss to Fury, Deontay Wilder trainer has been in the news for throwing in the towel in the 7th round and also, giving a 'funny' excuse for his loss.
According to Jay Deas, Wilder's boxer costume while making an entrance might have been too heavy on him. His comments have sparked social media outrages from the Bronze Bomber's fans.
What is Deontay Wilder net worth?
In 2019, Forbes listed the Bronze Bomber among the highest-paid athletes in the world. Based on the rating, Deontay Wilder net worth is estimated to be over $30 million, which places him on the 56th position on the Forbes list.
He has been able to achieve this feat through his fights and endorsement deals. For instance, in an endorsement deal with Everlast, the boxer makes half a million dollar yearly. How much does Deontay Wilder make per fight? The former WBC heavyweight champion makes at most $3 million, which is the amount he earned in his second match against Luis Ortiz in 2019.
Even though there is no information yet on the next fight that Deontay Wilder is involved in, it is believed that the five-time WBC heavyweight champion will bounce back to winning ways.
READ ALSO: Thabang Makwetla age, wife, education, qualifications, party, previous office, restaurant, speech, house and contact details