"I've Never Shot Anyone Since Joining the Force": Brave Officer Awarded
- Sunday Erhabor, a police officer, has been commended for his conduct in facing serious intimidation but never drawing his own weapon
- He managed to diffuse the situation and the video of his bravery and diplomacy is going viral
- Saying that he has never had to shoot anyone in al the years of his service impressed many and money has been raised to reward Erhabor
PAY ATTENTION: Click "See First" under the "Following" tab to see Briefly.co.za News on your News Feed!
When Sunday Erhabor, a police officer of the Lagos command and Assistant Superintendent of Police (ASP) was attacked, harassed and bullied by an erring driver going "one way", never did he know that the terrifying moment would shoot him into the limelight, and of course, fetch him encomiums and an award.
The 53-year-old celebrated policeman was on duty with his subordinates at Four Point by Sheraton Hotel, Oniru on Saturday, April 17, when a man identified as Victor Ebhomenyen, 33, drove against the traffic.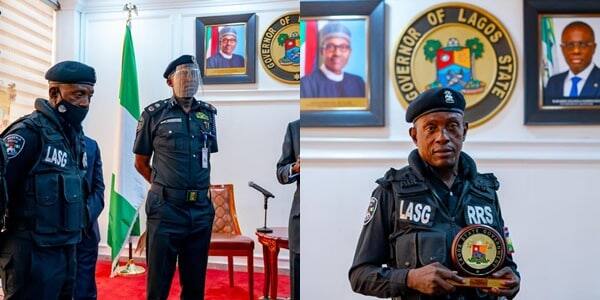 Efforts by ASP Erhabor to arrest the traffic offender led to a scene of chaos as the ageing officer was humiliated and even threatened with job loss by Ebhomenyen and his cohort.
Armed with his official AK-47 rifle, Erhabor did not retaliate or pull the trigger. He, instead, demonstrated civility and patience, maintaining professional conduct in the face of intimidation.
His professionalism, which came on the heels of the protest against continued police brutality, hit the internet and since then, the police officer has become a celebrated role model for the men of the Nigeria Police Force (NPF).
Sunday Erhabor received an amazing award for his conduct from the government of Lagos state, Babjide Sanwo-Olu. This came hours after Nigerians raised ha lot of money for the officer who has less than five years left in service.
Speaking with The Punch in an interview on Tuesday, April 20, ASP Sunday Erhabor, who has worked "mostly in general duties", said he restrained from pulling the trigger because "it was not a criminal issue, it was a civil issue".
"I can't resort to the use of my gun just because somebody slapped me. If I did, in the end, my punishment would be worse than that of the person who slapped or harassed me," he said.
On alcohol and married life
ASP Erhabor, who lost his wife Mary to cancer in 2009, said he is never a friend of alcohol and smoking. In fact, he said he always warns his colleagues about the danger of smoking and drinks in their personal and professional life.
"I never shot anybody since I joined police force in 1992"
Forced into the police by lack of job and other struggles, Erhabor said since he became an officer of the country's foremost law-enforcement agency, he has not shot anybody.
In other Briefly News these two cops acted like heroes in an action movie and arrested five suspects after a car chase. Constable Gomolemo David Phiri and Constable Moses Moshwadiba have been praised for their dedication to their duty to protect and to serve.
The two constables were off-duty when they noticed five suspicious men running out of a cellphone shop and driving away in a silver Toyota Etios. The two constables were unarmed but decided to investigate and pursue the suspects in Constable Moshwadiba's private vehicle.
They called in for reinforcements and were joined by Brits and Hartbeespoortdam police members near Damdoryn where they managed to intercept the suspect's vehicle.
Enjoyed reading our story? Download BRIEFLY's news app on Google Play now and stay up-to-date with major South African news!
Source: Briefly.co.za