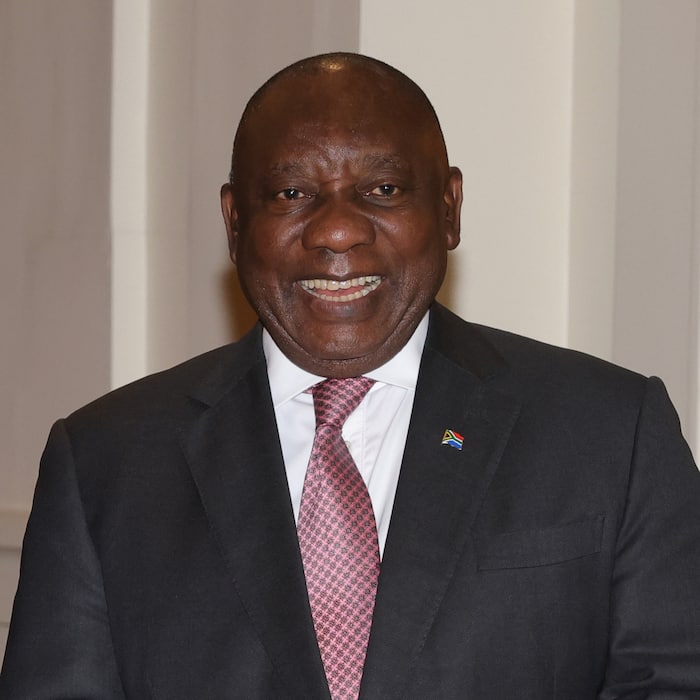 Cyril Ramaphosa
Birth name: Matamela Cyril Ramaphosa
Born: 17 November 1952
Place of birth: Johannesburg, Gauteng, South Africa
Nationality: South African
Main activity: Businessman, politician, trade union leader, anti-apartheid activist
Political party: African National Congress (ANC)
Cyril Ramaphosa is the current president of South Africa and the leader of the ANC. He played a key role in the negotiations that brought an end to apartheid and led to a new era of nonracial democracy in the 1990s.
Early life and education
Ramaphosa was born to Samuel and Erdmuth Ramaphosa in Johannesburg. His family was relocated to Soweto in 1962 due to apartheid policies. He studied law at the University of the North, where he became involved in student activism. He later completed his law degree through correspondence from the University of South Africa.
Career and achievements
Ramaphosa became a national figure as the secretary of the National Union of Mineworkers (NUM), the biggest in South Africa. He led several strikes and campaigns for better wages and working conditions for miners. He also became a prominent member of the anti-apartheid movement and joined the ANC. He was the chief negotiator during the talks that ended apartheid. He was also elected as the chairperson of the Constitutional Assembly that drafted South Africa's democratic constitution.
He became a successful businessman, owning stakes in various companies. He also founded the Cyril Ramaphosa Foundation, a philanthropic organisation.
He came back to politics in 2012 when he was elected as the deputy president of the ANC under Jacob Zuma. He became the deputy president in 2014. He was seen as a reformist and a potential challenger to Zuma, who faced allegations of corruption and mismanagement. In December 2017 became the president of the ANC. In February 2018, he succeeded Zuma as president of South Africa.
Personal life
Ramaphosa has been married three times. His first wife was Hope Ramaphosa, whom he married in 1978 and divorced in 1989. They had one son together. His second wife was Nomazizi Mtshotshisa, whom he married in 1991 and divorced in 1993. They had one daughter together. His current wife is Tshepo Motsepe, whom he married in 1996. They have three children together.
Ramaphosa is also an avid wildlife enthusiast and owns a game farm called Phala Phala in Limpopo province. He breeds rare animals such as buffalo, sable antelope, roan antelope and white rhino.
Net worth
According to Forbes magazine, Ramaphosa's net worth was estimated at $450 million in June 2021, making him one of the richest people in South Africa. He owns several cars, including Jeep Grand Cherokees, Volkswagen Golfs, Mercedes-Benz ML-Class models, BMW 3 series and several Mercedes-Benz V-Classes.
Career path
National Union of Mineworkers - Secretary General (1982-1991)
African National Congress - Secretary General (1991-1997)
Constitutional Assembly - Chairperson (1994-1996)
Shanduka Group - Executive Chairman (2001-2015)
MTN Group - Non-Executive Director (2001-2013)
Lonmin plc (now Sibanye Stillwater) - Non-Executive Director (2010-2013)
Bidvest Group - Chairman (2004-2013)
McDonald's South Africa - Chairman (2013-2014)
South Africa - Deputy President (2014-2018)
African National Congress - Deputy President (2012-2017)
African National Congress - President (2018-present)
South Africa - President (2018-present)
African Union - Chairperson (2020-2021)