How to check who called me in South Africa (with infographics)
With the recent rapid advancement in the telecommunication and telephone industry, new issues regarding phone calls have emerged. In the process of receiving calls, one faces the need to identify whoever is calling. The question many people want to be answered is how to check who called me South Africa. Nowadays, smartphones are increasingly penetrating the market for mobile communication, and thus, all android devices have caller ID embedded in it. When a call is received, the caller ID is shown, and if it is saved, other details such as the name is also displayed.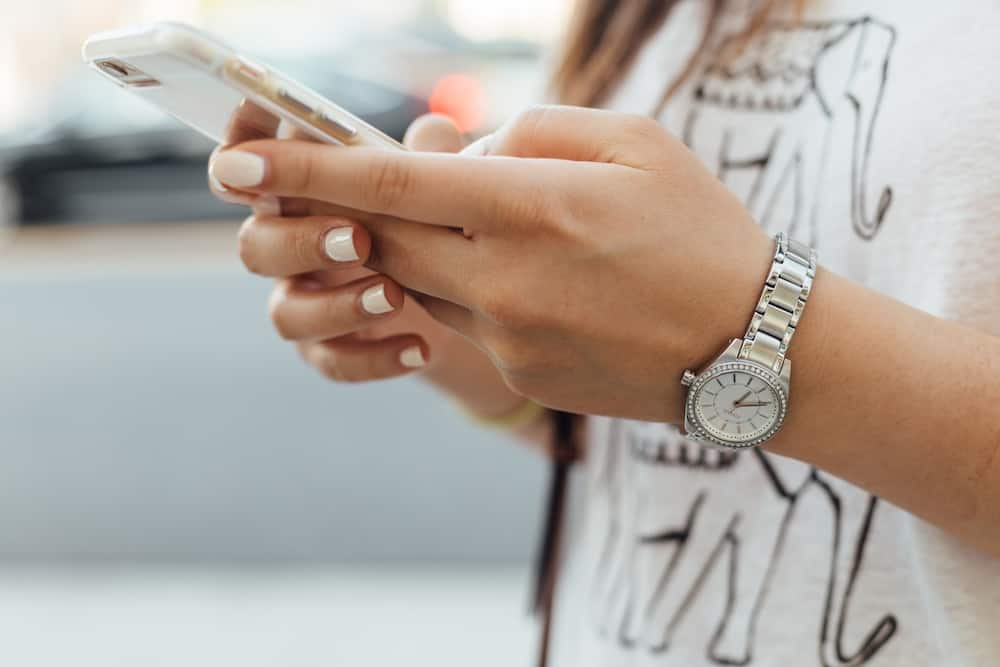 In this article, we have given ways on how to check who called you.
How to check who called me South Africa
If someone calls you with a hidden identity, do not worry, as there is a way you can unmask an unknown call. A smartphone user in South Africa needs to download third-party applications from Apple Store if running on Ios or Google Play if running on Android. There are many third-party applications one can use to trace a phone call in South Africa for free that include:
Call App: Caller ID, Call Blocker & Recording calls
Truecaller: Caller ID, spam blocking &Call Record
Contacts, Phone Dialer & Caller ID: drupe
Contactive
Trapcall
Current caller ID- made by the directory company White Pages thus has access to the company's rich directory.
The following simple steps allow you to trace a call from an unknown caller ID, private or blocked phone number.
1. Download the third-party app on your smartphone, say, Truecaller.
2. Sign up/register and make sure it is activated.
3. When receiving a suspicious call, decline or leave it to ring for some time and Truecaller will do its trick.
4. On the screen, you can now see the callers ID and take appropriate measures like return the call or report it to the authorities.
Note that some of these applications also have a reverse lookup feature enabling further tracing of calls.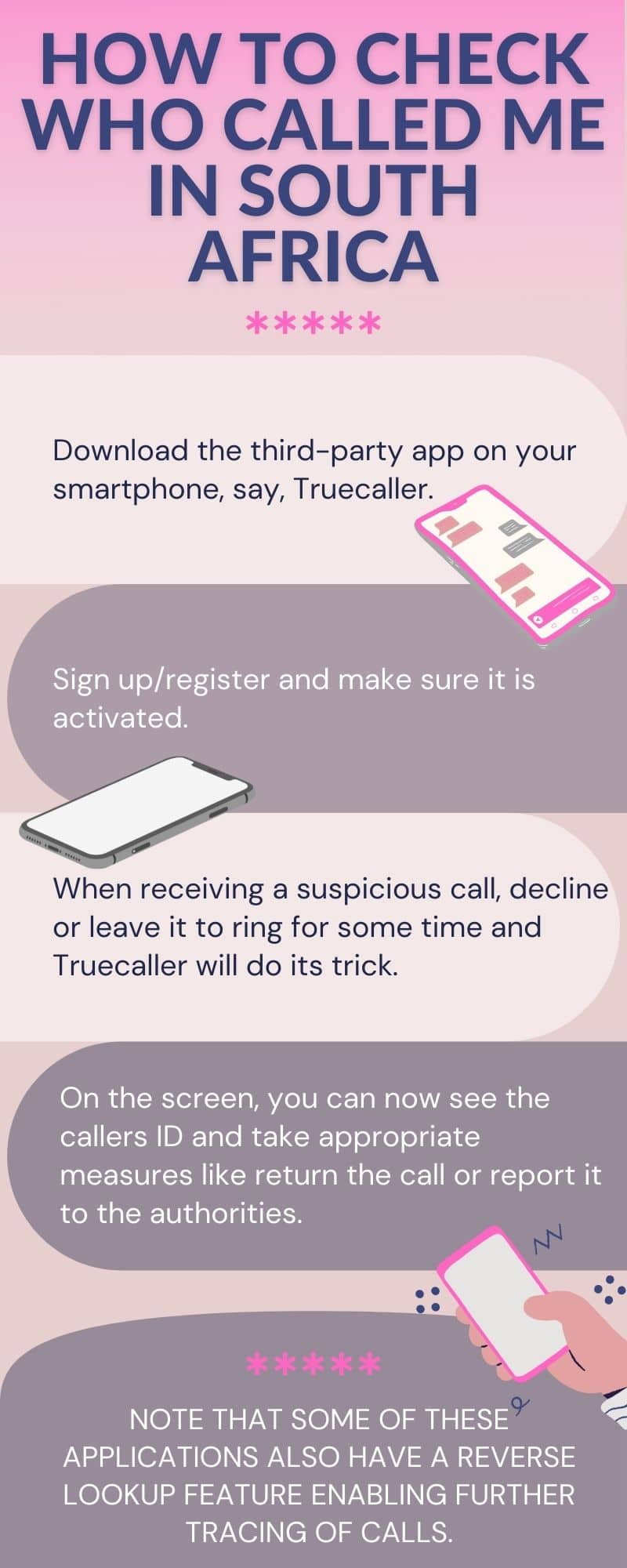 Who called you South Africa from a no caller ID number?
There are always numerous persons calling from unknown phone numbers. They may range from con men and phone scammers to ex-spouses or legit businesses and clients trying to get to you. These calls are made to mostly get ones attention, provoke or even fleece mobile phone subscriber's money and financial details.
Below is a list of the people of who might have called you from an unknown caller ID or blocked numbers:
Ex-boyfriend or girlfriend wants to catch up or talk about the breakup.
Legit businesses and clients are trying to contact you.
A scammer is trying to con you or to phish your identity over the smartphone. This is mainly because nowadays most people use mobile banking.
A prankster is getting on your nerves. They can be friends trying to get your attention.
A person or institution calling during an emergency when listed as next of kin.
A former business associate in case of a deal gone wrong or trying to get new business deals.
Nevertheless, an unwanted and unknown call is a breach of your privacy, and thus, one needs to find out the details of the call.
The need to find out who called you
Unknown calls are unsafe for everyone using mobile phones. The following are major reasons for knowing who called you:
Mobile phone harassment is a serious and sensitive issue. Most of the times unknown calls are meant to be harmful, hence the need to find out who is behind the harassment and how to prevent it.
It does not take much for a call to be considered a case of bullying or harassment. It may take the following forms:
Making vulgar and obscene comments and suggestions
Impersonation
Attempting to con and scam people over the phone
Any attempt to steal any financial information of a person over the phone
Refusal to identify oneself over the phone.
This causes a lot of discomfort and frustration to an innocent receiver. There is thus a need to do a phone number search South Africa to identify these spam calls and block them.
Telephone number search South Africa
A conventional method to check who has called you using a telephone landline is to use Reverse Phone Lookup or Reverse Telephone Directories. Here, one checks through a collection of telephone numbers and associated customer details. Reverse phone lookup South Africa is done by using ZLookup. One enters the phone number and clicks on lookup. The site's algorithm sifts through many records in South Africa to find you the actual owner of the phone.
Other known sites for Reverse phone lookups include FREE Carrier Lookup and Search Yellow Directory, and both are accessible in South Africa.
READ ALSO: Calling your man every minute won't stop him from cheating - Keroche breweries daughter advises ladies
How to stop unwanted calls and prevent them from calling ever again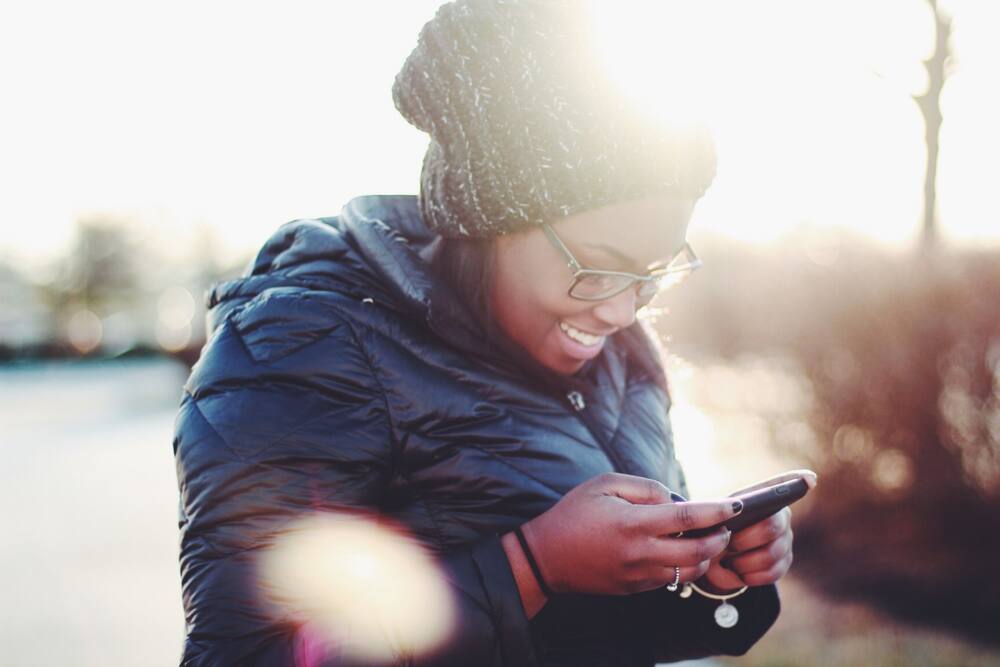 After downloading the true-caller or trap-call app, one can tweak and use the available features for free. Such a feature is needed to block spam and unwanted calls. After entering the phone number that is disrupting your peace, these third-party apps will block them from calling or forwarding texts to you.
The following is a step by step procedure to block a number from calling you again on true caller app on Ios or Android
1. Once you are logged in click on the drop-down menu on the top left of the screen.
2. Click on the settings tab.
3. Then, scroll down to "Block" and click on it.
4. Click on My block list and add or remove the numbers you want to block or unblock respectively.
5. You can also automatically block top spammers i.e. frequently blocked numbers.
Another great feature of these applications is the call recording feature which allows one to record calls for future use. In case of any harassment and bullying, this feature helps in storing the call as evidence. Below is the step by step procedure for recording a call using Truecaller app on iOS or Android Devices.
1. When on a call click,, on the drop-down menu on the top left of the screen.
2. Click on the settings tab.
3. Scroll down to "Call recording".
4. Click on "Start Call recording".
We hope that you have found this article helpful. Now, you do not have to Google" how to check who phoned me South Africa" any more.
READ ALSO:
Claws out, but Queen B has the upper hand in the Bonang-Pearl scrap
Durban businessman goes on unacceptable rant, calls president the k-word
Source: Briefly News