How to reverse eWallet payment in 2023? (with infographic)
The FNB eWallet service allows South Africans to send and receive money instantly. The service allows people to transfer money from their bank accounts to registered mobile numbers across the country. What happens if you make an erroneous transaction? Well, the reverse eWallet service comes to your rescue.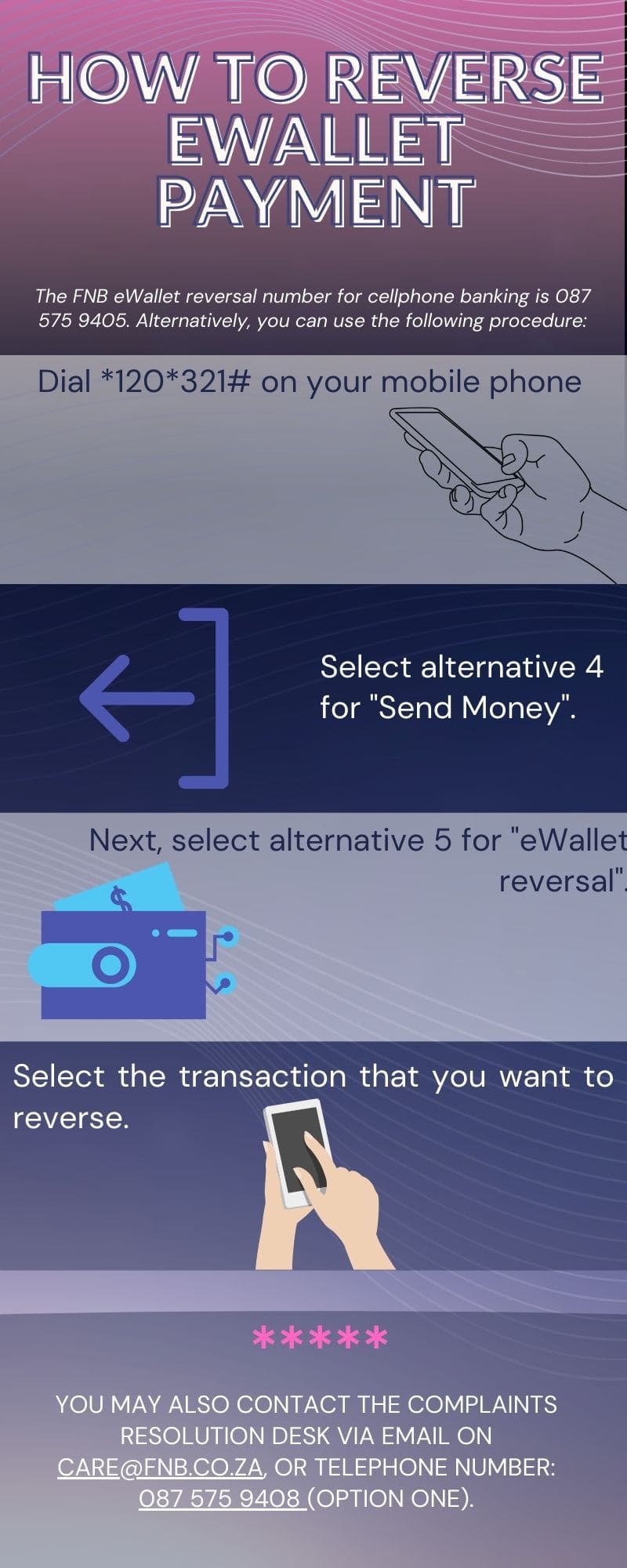 The FNB eWallet service allows recipients to receive money instantly. They can withdraw at any FNB ATM countrywide. If you mistakenly send money to the wrong person, the reverse eWallet feature allows you to reverse the money back to your eWallet.
Reverse eWallet: all you should know
Have you ever wondered how to reverse an FNB eWallet transaction? Well, reversing your transaction is pretty easy. There are multiple ways of doing it, as explained below.
Using the FNB eWallet helpline (call centre)
Most people feel high levels of stress the second they discover they have made an erroneous transaction. If you are in similar shoes, breathe in and out.
Next, call the FNB customer care desk and request a reversal. The contact details to use are listed below.
Complaints resolution telephone number: 087 575 9405 (Note there may be a charge when requesting a reversal)
Complaints resolution email address: care@fnb.co.za
Customer care desk: 087 575 0362/ 087 575 0000
NB: Kindly note that you will receive a faster response when you make a call instead of sending an email.
Using FNB's eWallet reversal USSD code
You can request a reversal using a USSD code. The steps to follow to accomplish this are listed below.
Dial *120*321# on your mobile phone.
Select alternative 4, i.e., Send Money.
Next, choose alternative 5, i.e., eWallet Reversal.
Select the transaction that you want to reverse, and follow the prompts to complete the process.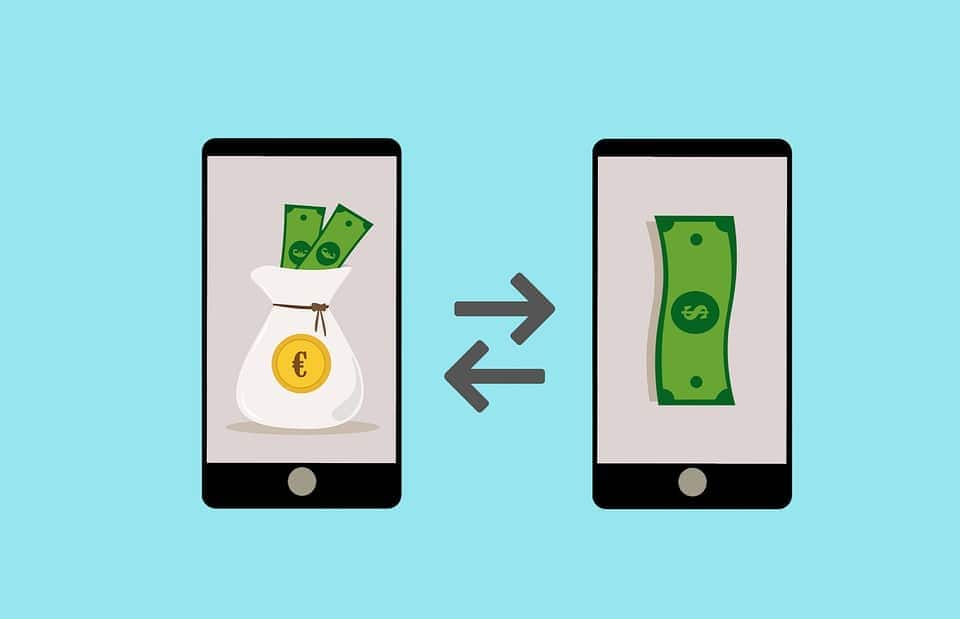 How to reverse eWallet on the FNB app in South Africa
If you wish to learn how to reverse eWallet on the FNB app, follow the steps below. The process is straightforward.
Log into your FNB app.
Select your debit order account.
Click My Debit Orders and check the list of your debit orders the system will display.
Select the reason for disputing the debit order.
Click Reverse or Stop.
Select Confirm to accept the terms and conditions.
How long does it take to reverse eWallet?
The duration FNB takes to reverse the money depends on the circumstance under which the transaction has been made.
If you send money to the wrong recipient and call FNB's customer care centre, the reversal will take up to four business days to reflect on your end. Usually, the money is returned to the sender within 15 business days if the recipient's number is inactive.
If you receive money you were not anticipating from an unknown sender, do not withdraw it. The FNB reverse payment system will automatically revert to the sender after the PIN expires.
FNB and Standard Bank allow free money withdrawals at specified retailers. The receiver of the money must use a valid PIN within seven days for Nedbank and 30 days for Absa and Standard Bank. If the recipient fails to withdraw the cash in the given period, the money is reversed to the sender's account.
NB: The FNB eWallet PIN you receive is valid for four hours only. Upon expiration, the recipient can make another FNB eWallet PIN request by dialling *130*277#.
Cost of reversing eWallet transactions
You will be charged a fee of R50 to get back the money sent to the wrong number. All clients should note that FNB does not give assurance it will reverse your money because situations differ.
Therefore, every client should double-check the bank account or mobile number and the amount before hitting the send button to avoid wrong transactions.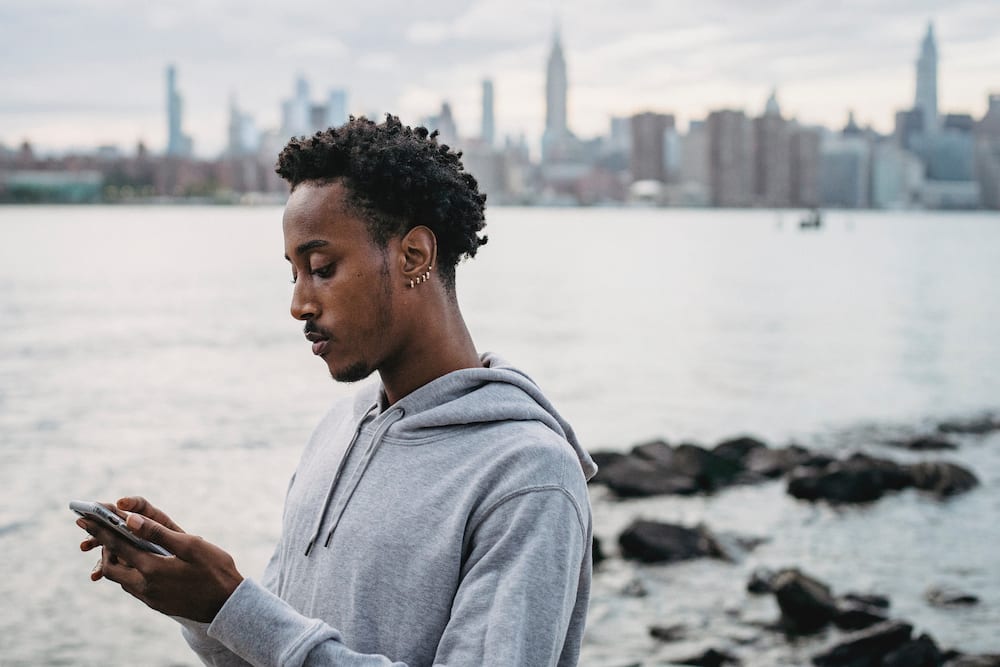 How to send money properly to avoid reversals
FNB's eWallet service is convenient because it works on multiple platforms, i.e., mobile banking, ATM, mobile app, and online banking. Follow the steps below to make successful transactions regardless of the platform you are using.
Select Send Money on your chosen platform, then choose eWallet.
Insert the mobile phone or bank account number of the person you wish to transfer.
Double-check the recipient's mobile phone or bank account number to ascertain the digits are correct.
Next, enter the amount you wish to send. You will be asked for a PIN.
Lastly, confirm and submit the transaction.
You will receive an instant message after the money has been deposited into the recipient's account or mobile number.
NB: If your FNB eWallet is blocked, call the customer care desk for assistance.
How do I retrieve money from eWallet?
If you have money in your eWallet, you can withdraw it at an ATM. You can also use it to purchase airtime, data bundles, electricity tokens, or pay for goods and services.
Can I reverse an eWallet transaction?
Yes, you can make a reversal using the USSD code, app, or calling the FNB complaints resolution desk. Note that reversals are not guaranteed and are dependent on specific circumstances.
What should I do if I experience FNB eWallet problems?
If you experience any challenges with your eWallet, you should contact the bank via the customer care numbers given earlier.
How long does money stay in an FNB eWallet?
Money received from another person stays 15 business days in an inactive eWallet before being automatically reversed to the sender.
Can eWallet automatically be reversed?
Yes, the bank automatically returns money sent to an inactive eWallet after 15 business days.
It is normal to panic when you send money to the wrong number or account. Fortunately, the reverse eWallet service by FNB can help you to recover your cash, depending on the circumstances.
DISCLAIMER: This article is not sponsored by any third party. It is intended for general informational purposes only and does not address individual circumstances. It is not a substitute for professional advice or help and should not be relied on to make decisions of any kind. Any action you take upon the information presented in this article is strictly at your own risk and responsibility!
READ ALSO: Urgent loans for blacklisted direct lenders in South Africa (2023)
Briefly.co.za recently published how to get urgent loans for blacklisted direct lenders in South Africa in 2023. Have you been blacklisted because you could not pay up the funds you borrowed due to various reasons?
If you find yourself in a fix after being blacklisted, you have a chance to access some more cash. There are urgent loans for blacklisted direct lenders in SA, which you should learn about.
Source: Briefly News