Khanyi Dlomo, fully known as Khanyisile Dhlomo is a celebrated South African TV host as well as the founder of Ndalo Media and Ndalo Luxury Ventures. She started her career really young as a newcaster and later moved to magazine at the age of 22 years. Around the same time, she became the Editor of True Love Magazine.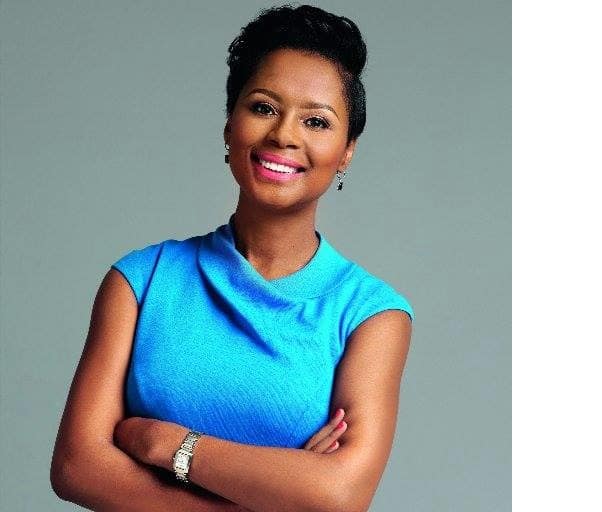 With a career that is rather impressive, she is one of the best people to look up to. Over time, her hard work and leadership saw the magazine grow and expand even beyond South Africa.
Khanyi Dhlomo biography
The established career lady is currently 45 years old and at the epitome of her career success. The beauty was born on the 17th of December 1974 in Umlazi, KwaZulu-Natal, South Africa.
Education
Dhlomo is a graduate of The Girls' Collegiate School, in Pietermaritzburg. She became the first black girl to have attended the school. Khanyi went to University of the Witwatersrand, Johannesburg, where she graduated with a BA degree in Communications and Industrial Psychology. She went on to join Harvard University where she graduated with a Masters in Business Administration.
Marriage
She has had two marriages one of which ended up in divorce. In 1992, she got married to Sthembiso Mkhize but after a few years, the two split in a divorce that was wrapped up in 2003. She went on to marry Chinezi Chijioke in 2009, who is her current husband.
Khanyi Dhlomo married the love of her life in a wedding when she walked down the aisle with her Nigerian-American husband, Chinezi Chijioke. The colourful ceremony was held on December 20, 2009, at the Allee Bleue in Franschhoek – the Cape Winelands, South Africa. The two lovebirds met while she was completing her MBA at Harvard Business School. The husband is from Arochukwu, Abia State in Nigeria.
The two meet in 2005 at a fundraiser for the African Leadership Academy, founded by Fred Swaniker. The two are based in South Africa since Khanyi co-owns a media company whereas her husband is a consultant for McKinsey & Co. Her company is known for publishing different magazines that include Destiny, a popular women's business and lifestyle magazine.
Children
Khanyi is a mother of two kids. Her children are known by the names Hugo Mkhize and Khaya Mkhize. She is often seen taking pictures with her children which shows how much she loves and adores them. This therefore answers the question of how many children does Khanyi Dhlomo have.
Khanyi Dhlomo pictures
Khanyi takes a lot of pictures and shares them on her social media pages. Her Instagram page is proof of this. She shares different photos of herself with family and others people. Check out the different pictures she has shared before.
READ ALSO: Londie London age, real name, instagram, songs boyfriend, and hot photos
Khanyi's Career journey
As mentioned earlier, she started her career in media early in her life. The interest grew after winning the Thandi Face cover Girl competition when she was only 16 years old. In 1995, at the age of 20 years, and as a student of journalism at the University of Witwatersrand, she got into history books when she became the first black newscaster for SABC1, South Africa's national broadcaster.
At the time, South Africa was in the initial stages of its national rebirth with the country undergoing the famous post-apartheid liberation. Most corporations were being mandated to take in more blacks as a means of becoming more representative of the new 'rainbow nation.' As such, for the first time, black South Africans were being absorbed and given opportunities at jobs that were previously reserved exclusively for whites. SABC1 also felt the pressure to fall in line with new directives, which is why Dhlomo, who previously worked on low-paid freelance reporting jobs for them, got a chance to serve as a news anchor.
She went on to become the editor of True Love Magazine at the age of 22 years, something that saw the magazine's circulation double in just one year. After 8 years as the editor, she stepped down and relocated to France where she worked as the manager of South Africa's Tourism Board in Paris. She later returned to South Africa in 2007 where she founded Ndalo Media, partnering with Naspers which saw them successfully publish Destiny magazine.
In 2008, she launched DestinyConnect.com that serves as the online extension of Destiny magazine. In July 2009, Destiny Man, edited by Kojo Baffoe was launched as well as its online extension the DestinyMan.com. Dhlomo later on launched her boutique department store, Luminance, in 2013.
Awards
With so much on her plate for the period she has been in media, it is only obvious that she has been recognized for what she does so passionately. The following two awards crown her success. These are:
2001 AdVantage Magazine Editor of the Year
Most Influential Woman in South African Media 2003
Khanyi Dhlomo latest news
The accomplished business woman after a lot of reflection announced that she would be closing down her company. This decision came to pass as a result of financial difficulties that it had been facing for quite a while now. This was something that was announced in December 2018. She went on to thank the employees for their contribution to the company's success for the period of its existence. She also thanked shareholders and said that both employees and shareholders were her main concern at the moment. It is sad to see that the company that had touched many South Africans over the years through its different faces close down.
Khanyi Dhlomo is indeed a phenomenal woman. Hers has been a journey of inspiration as she scales new heights in her career. The fact that her company is facing financial problems now does not demean the fact that she is one of the most influential women in South Africa's media. Hers is a journey that only many can admire.
READ ALSO:
Sandile Shezi biography: net worth, foundation, wife (girlfriend), house, cars and instagram
Prince Kaybee biography: age, cars, family, songs, albums and song theft allegations
Kyle Deutsch biography, age, award, songs and career