Best South African biltong recipe
A South African biltong recipe will help you to make strips of meat that has a combination of a strong taste of pepper and roast meat, coriander aroma, a tough exterior and slight softness in the middle. However, the steaks have a slightly different aroma depending on the ingredients in the recipe. Biltong originated from the early Dutch settlers in South Africa. The name comes from "bil," meaning the rear of a beast and "tong," meaning cutting the steak in strips. It is dried or dehydrated meat. The Dutch dried game meat to preserve it.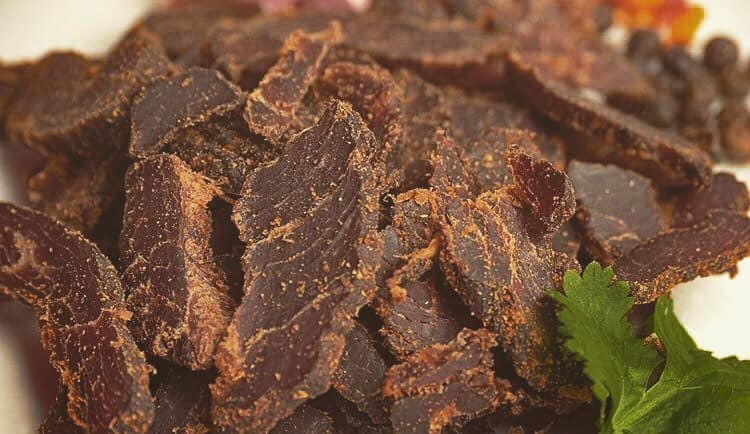 There are many other recipes that you can use, but be assured that these are the best biltong spice recipes. You can add ideas to them to make your most favoured taste. You can also have fun making them with your kids.
How to make biltong
The process is simple. Follow the guidance of the best biltong recipe ever step by step.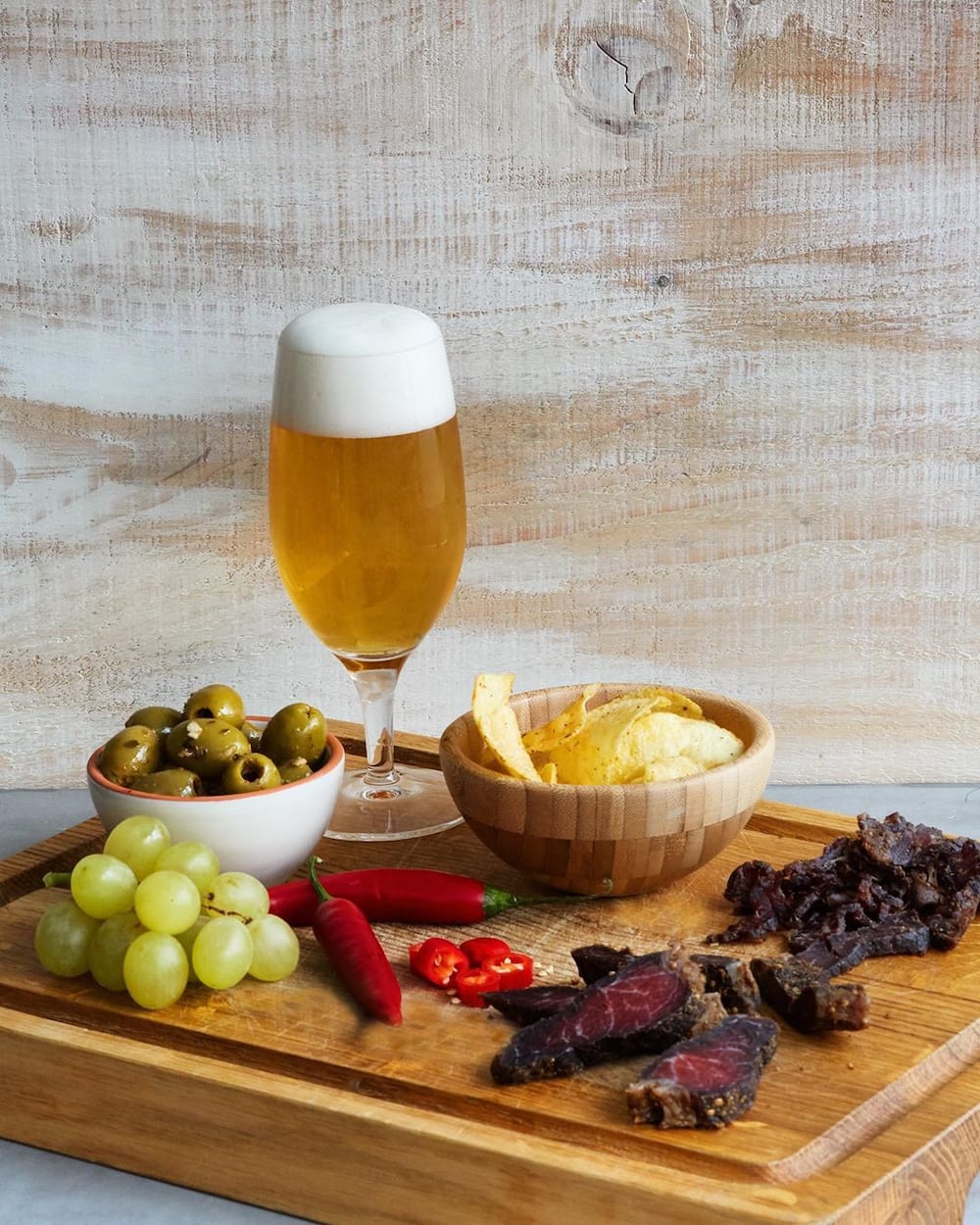 Biltong recipe Afrikaans
This is the typical way that most South Africans use to cook this delicious food.
Required kitchen equipment
A knife
A bowl
A pestle and a mortar
A clean working surface or a tray
A fridge
Hooks
A biltong box
Ingredients
2 ½ kg lean meat (beef, game meat, mutton, etc.)
¼ cup coriander seeds
¼ cup of salt
3 cups brown vinegar (or balsamic)
1 tablespoonful milled black pepper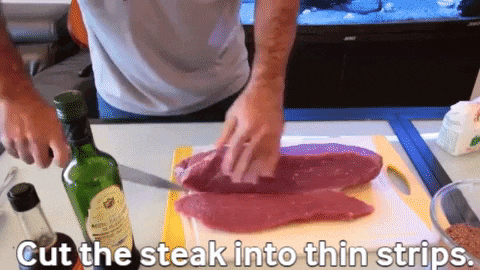 Instructions
Roast coriander seeds on a dry frying pan or crush them as fresh as they are using a pestle and mortar. Roasted coriander seeds have more intense flavour than fresh ones.
Mix the crushed coriander seeds with pepper.
Cut thin strips out of the steak. Sprinkle salt on it generously until the salt covers all the sides of the steak strips. Allow the salt to dehydrate the meat for an hour.
Scrap as much salt as you can off the strips and put them in vinegar for around three minutes for curing.
Sprinkle the mixture of pepper and crushed coriander seeds and refrigerate the meat for a day while mixing everything after every few hours.
Hang them to dry in a suitable spot where there is adequate air circulation such as behind the fridge or in the open air or in a biltong box.
The strips of meat will take around five days or more to dry, depending on the weather conditions. If there is high humidity, they may take longer to dry.
Check if they are read by cutting through the thickest part. The inside should be slightly pink or grey. Grey ones are dehydrated completely. Press the steak; if its blood oozes out, the biltong is yet to get ready. Allow it to dry for a few more days.
Biltong spice recipe using a dehydrator
This method works much faster than using a traditional biltong recipe. A dehydrator will dry them within a day or two, but the traditional way will take you five or more days to dry the steaks.
READ ALSO: 10 easy mince recipes South Africa
Required kitchen equipment
A knife
A bowl
Trays or hooks
A food processor or a blender
A clean working surface or a tray
A dehydrator
Ingredients
2 kg lean meat (game meat, beef, pork, mutton, etc.)
¾ cup coriander seeds
1 cup of salt
½ cup pepper (cracked)
3 cups apple cider vinegar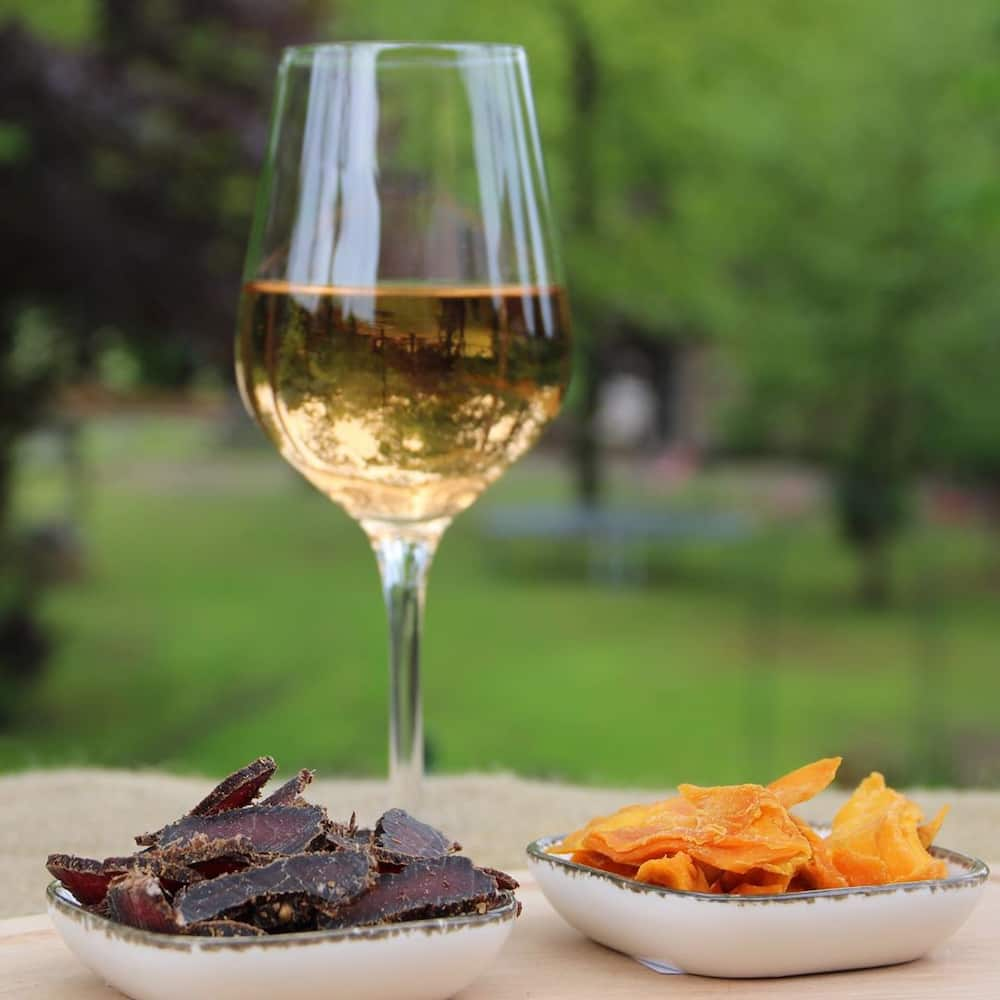 READ ALSO: Tastiest ever banana bread recipe with oil | Best banana bread recipe
Instructions
Trim off any excess fat from the steaks, place them on a tray and sprinkle salt on both sides. Pat the salt onto the meat before you turn to sprinkle the salt on the other side. Allow it to rest for 1½ hours so that the salt draws out the moisture. The longer you wait for it to be salted, the saltier it will get; hence do not leave it for too long.
As you wait for the meat to get salted, grind the coriander seeds in a food processor for a few seconds or roast them before grinding for a richer flavour.
After 1½ hours, it is time for the curing process. Pour the apple cider vinegar into a bowl. Scrape off the salt from the steak using a knife and submerge them into the vinegar for 2-4 minutes.
Take them out of the vinegar and sprinkle each steak with enough pepper and coriander on both sides.
Place the meat in the dehydrator while they are lying flat on the trays or hang them inside the dehydrator. Hanging the meat will make them dry for a longer time than the one on the trays because of the low air circulation around the meat. However, the longer the time, the better because the steaks will dry completely and get spicier. If they will be on the trays, wait for at least 12 hours and set the dehydrator at 155 F or 68 C. Hang the meat using hooks for 26 hours at 35 – 40 C.
Test the steaks after 12 hours if they were on trays on 24 hours if they were hanged. Cut through the thickest part, it should be slightly pink in the middle, but others prefer it to be grey because grey ones are dry completely. Press it, and if the pink area bleeds, the steak is not ready. Allow it to stay in the dehydrator for 2-3 hours.
Wrap your biltong in wax paper or paper towel and put it in airtight containers for refrigeration. It will last for several months.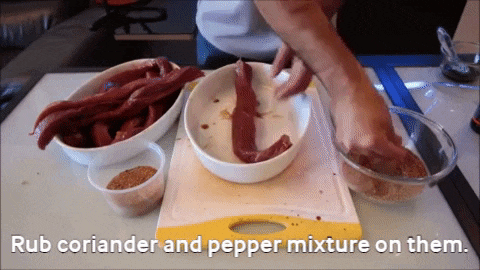 READ ALSO: 30 easy and tasty dinner ideas South Africa
FAQs:
What is biltong spice?
They are salty, spicy, and dried strips of meat that are eaten as snacks or used to make vegetables, salads, and soup in South Africa.
Can you use a dehydrator to make biltong?
Yes. Please hang the steaks in the dehydrator after salting and bathing them in vinegar for 26 hours at –35- 40 C or put it on a tray and allow it to stay in the dehydrator for 12 hours at 155 F or 68 C.
How long do you marinate biltong?
Marinate them for a day while they are in the fridge. If you will use a dehydrator, marinate them for five minutes or so before putting it in the dehydrator.
How long do you leave biltong in vinegar?
Submerge it in vinegar for about three to four minutes for the curing process to take place effectively.
We hope that you have found the best biltong recipe here. Traditionally, the South African biltong recipe uses brown vinegar. People substitute it with cider vinegar (balsamic) these days. However, it is recommended to stick to the brown vinegar for you to get the real unique taste of biltong. You can also add more spices and ingredients like cloves, paprika, garlic, chili flakes, hot sauce, and more when marinating the steaks. Enjoy your meal!
READ ALSO: How to make quick and easy chicken biryani recipe in South Africa
Source: Briefly News