How to make the best homemade droewors recipe South Africa
Droewors are traditional South African sausages. Many people love them because of their delicious flavour. Unlike some other traditional dishes, this South African version of sausages can be made at home. Also, the ingredients for making homemade droewors are readily available.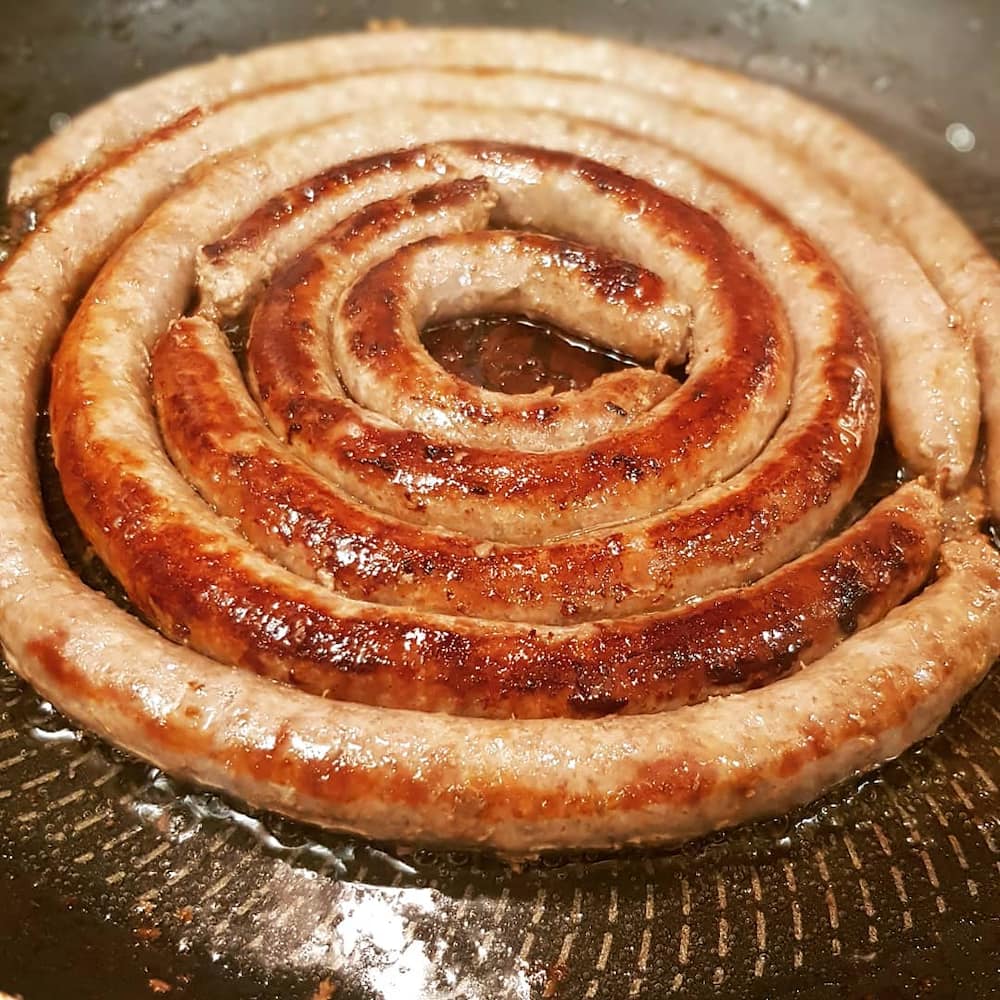 Often, the flavour of droewors largely depends on the quality of ingredients used, especially meat. In other words, the better the quality of ingredients, the better tasting droewors and vice versa. Also, the spices used to flavour the meat are essential. That said, can you make perfect homemade droewors at home if given the right ingredients?
Best droewors recipe
Often, different people may have different ideas on how to cook this delicious South African dish. However, it is vital to strictly follow the procedure and have the right ingredients on your cooking table. Below is all you need for your homemade droewors recipe.
Ingredients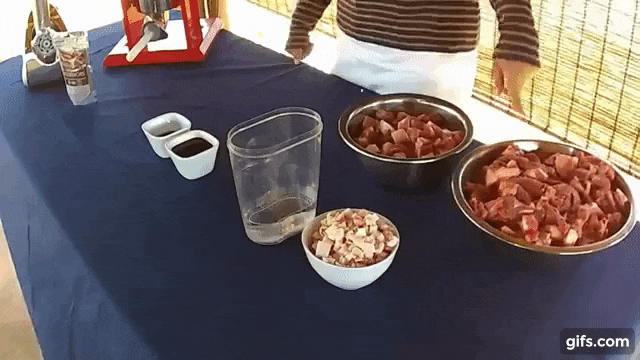 2 kg of beef
1 kg of fatty pork, belly/shoulder/neck
90 g of thick sausage casings, soaked in water
125 ml of dry red wine/ dark vinegar wine
10 ml of ground allspice
15 ml of fresh ground pepper
45 ml of coriander seeds
10 ml of brown sugar
30 ml of salt
2 ml grated nutmeg
5 ml of cloves, whole
2 ml of grated nutmeg
READ ALSO: Easy butter chicken recipe South Africa
Instructions
Cut the meat into long and narrow strips to facilitate mincing.
Place them in a freezer for about 30 to 45 minutes until they are partially frozen.
Remove them from the freezer and transfer to a large bowl.
Mince the meat through a coarse mincer to attain a rough texture.
Roast coriander seeds and cloves in a dry frying pan until they become brown and aromatic.
Using pestle and mortar, grind the dry spices. Sift to remove husks and then mix with the remaining spices and brown sugar.
Sprinkle over the mince and add vinegar or wine.
Remove the droewors casings from water and drain them.
Once dry, place the casings over one end of the filling horn. Alternatively, you fit a 12mm-funnel to your sausage filler. After that, load the minced meat into the hopper of the filler.
Tie one end of the casing and start feeding them with the mixture, while leaving a 3-inch length hanging down.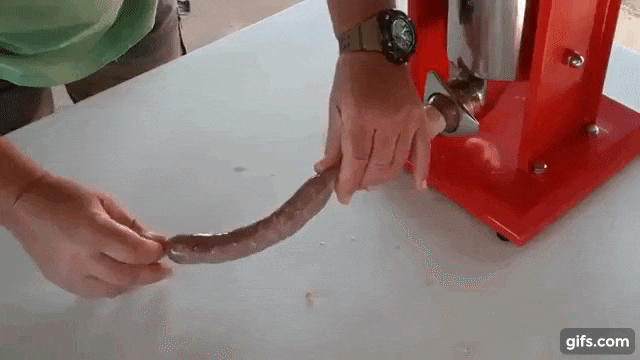 11. Secure the casing with a little pressure on the horn to avoid unrolling when feeding the mixture into them.
12. Using your hand, try to mould them to attain uniform thickness. Besides, this is an essential step if you are learning how to make droewors for the first time.
13. Once each casing is full, remove it while attached to the horn and tie the other end.
14. Hang the sausages in a dry place for about three to six days.
15. Finally, grill them over hot coal until the skin becomes crisp. The middle should also turn pink when fully cooked.
16. Serve right away.
NOTE: Do not over or underfeed the casings with the mixture. Otherwise, overfilling will cause the wors to burst out. On the other hand, underdoing it can result in air bubbles.
How to dry wet droewors
Usually, droewors and biltong are dried before they are grilled. In the case of droewors, one should hang them in a draughty and cool place for about three to five days. It is advisable to use plastic or metal hooks.
The number of days they take to dry depends on the weather condition. Overall, by the end of, for example, five days, they should be able to lose about 40 to 60% of their weight.
READ ALSO: Best homemade Cinnabon recipe South Africa
The fastest way to dry them is by using a biltong cabinet. Adjust it to a temperature of 30°C and switch the UV lights on. A day later, switch off the UV lights and continue drying at a temperature of 32°C to attain the desired moisture levels.
Droewors nutrition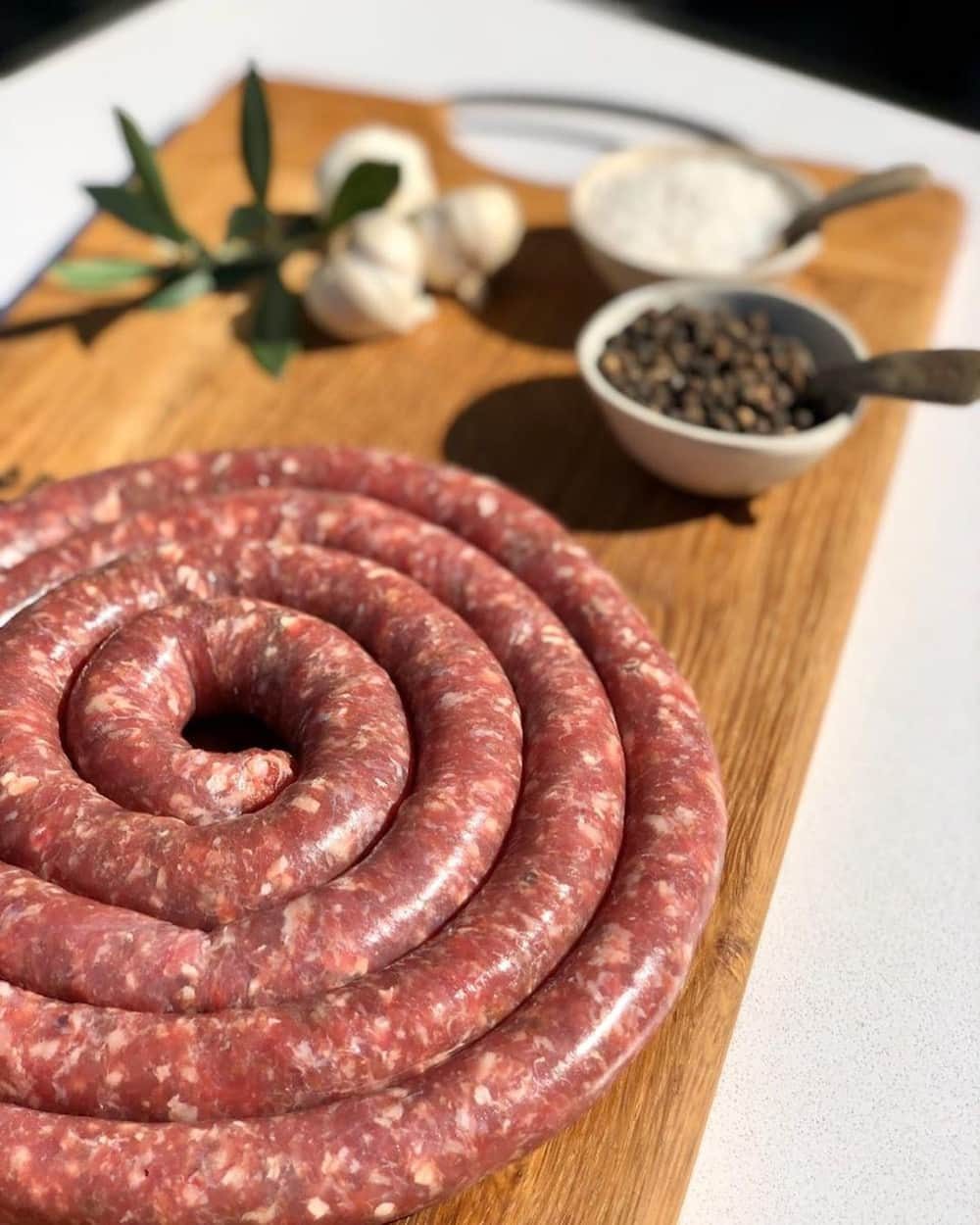 Are droewors good for you or not? Apart from being tasty, droewors have many health benefits. Its nutrition value is also another vital aspect you may want to consider.
For instance, 100 grams of droewors reportedly contain 366 calories, 20.5 grams of fats, 1.05 grams of carbs, and 48% of protein. The same applies to droewors wiele, the commercial ones.
Frequently asked questions
There are many queries online about droewors resep. Some are about the ingredients, while others are on the procedure of making the South African sausages. Below are the answers to some of the questions.
Can you make droewors from boerewors?
In most instances, it is not advisable. They are somewhat similar, but boerewors are more of kebabs than sausages. Besides, boerewors contain pork or veal, which make them leaner than droewors.
Is droewors a biltong?
No. Biltong is cured meat while droewors are traditional sausages. Also, the process and ingredients of each slightly differ, as it is the case to boerewors. Bitong is primarily made from ostrich meat, kudu, and springbok.
How long does droewors last?
Similar to biltong and boerewors, droewors can last for about four to six days, if preserved well. Beyond this period, they may start to grow moulds. Vacuum seal in a tight container and store them in a fridge for excellent results.
Arguably, the South African food culture is not complete without traditional food such as droewors. This mouth-watering snack is packed with a delicious flavour and a sweet aroma that will leave you begging for more. Overall, we hope that you are now inspired to try this droewors recipe at home.
READ ALSO: Best homemade tuna pasta recipe South Africa
Briefly.co.za on Thursday created a post on how to make tuna pasta from the comfort of your home. Unlike some recipes, all the ingredients you need for tuna pasta recipe are readily available and cheap. The method of preparation is also easy.
Tuna is not only tasty but also contains a high nutritional value to the body. For instance, it is packed with Omega 3 and fatty acids, which are essential in fighting heart diseases. Also, it is an excellent source of energy.
READ ALSO:
Quick and easy homemade pizza dough recipe
Best and easy homemade koeksister recipe South Africa
10 delicious pasta and mince recipes in South Africa
7 amazing aubergine recipes that you cannot resist
Source: Briefly News