10 times pastors in South Africa made headlines for doing crazy things
Prosperity churches have attracted a lot of followers across South Africa. This is primarily attributed to the fact that people are hungry to overcome obstacles in life or to be successful in the easiest and shortest way possible. This situation has given many pastors in South Africa the opportunity to play with their beliefs.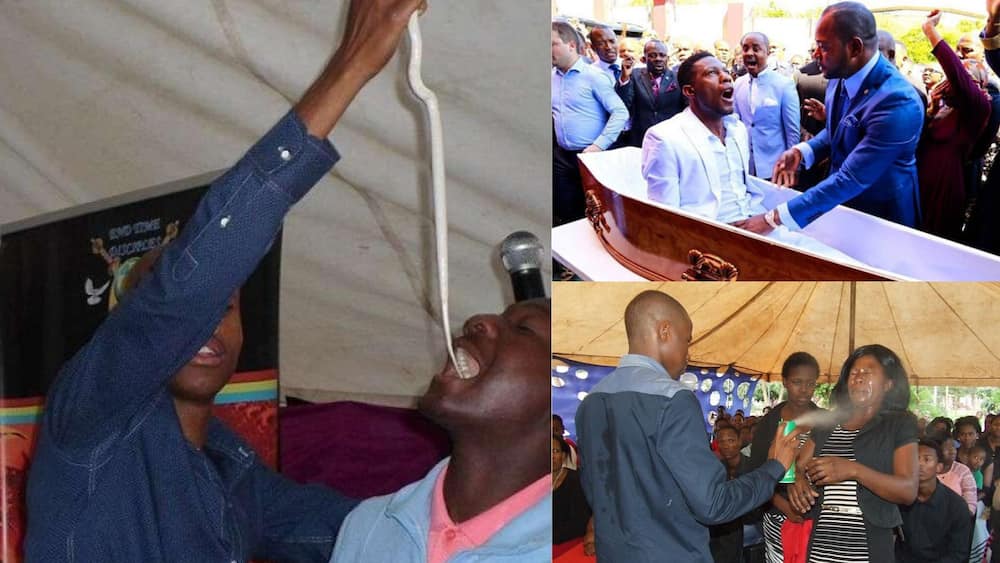 Christianity in Mzansi has been a question of debate for some time now. Most of the religious leaders have been involved in things that leave the world with unanswered questions. What is more disturbing is the fact that their followers are willing to do whatever their pastors tell them without question. Take a look at some of the acts.
The infamous acts of Pastor Penuel Mnguni
Do you remember what Pastor Penuel of End Time Disciple Ministries did to his congregation? He has done a lot of crazy acts that make the world wonder if his followers are sane. The following are the three insane things done by the young pastor in the name of God.
1. Swallowing live snakes
Live snakes are poisonous, but Pastor Penuel does not think so. He convinced his followers to eat the crawling creatures. He claimed that no harm could come to those who ate it because he had earlier commanded a live snake to turn into chocolate, and it was so. According to reports, he also made his congregation to eat dog meat and worms.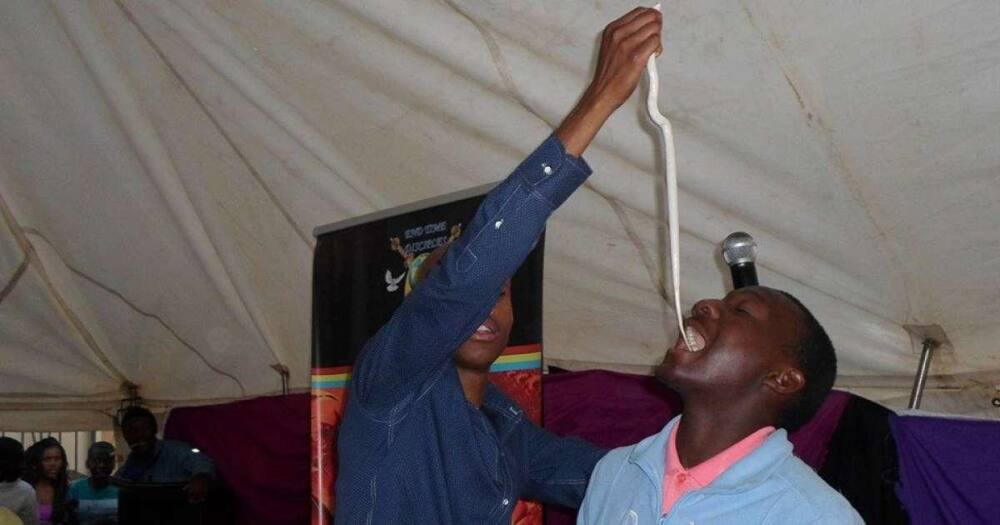 2. Making women strip naked in church
Pastor Penuel asked his female followers to remove their clothes so that he could pray for them. As if this is not enough, he was seen walking and sitting over their bodies as a way of delivering them from evil spirits.
3. Ordering congregation to eat a carpet
The self-proclaimed young prophet asked his followers to eat the church's carpet, saying the power of God had turned it into food. He started eating it himself and urged the congregation to do the same. The End Time Disciple's Ministries posted the video on its Facebook page claiming that those who were sick had been healed and that many received breakthroughs.
Insane acts done by powerful pastors in South Africa
South Africa has a long list of men of God that are known globally for their great contribution to Christianity. Some of them have, however, come under intense scrutiny after what they made their followers do or believe.
4. Lethebo Rabalago and doom insecticide
Pastor Lethebo of Mount Zion General Assembly sprayed doom insecticide on the faces and other parts of his followers, claiming it had the power to heal terminal ailments like HIV-AIDS and cancer. After being accused of endangering the lives of people, he claimed that he was only using unconventional methods of healing. Tiger Brands came out to refute the claims saying that their products are meant to kill specific insects and are harmful to humans.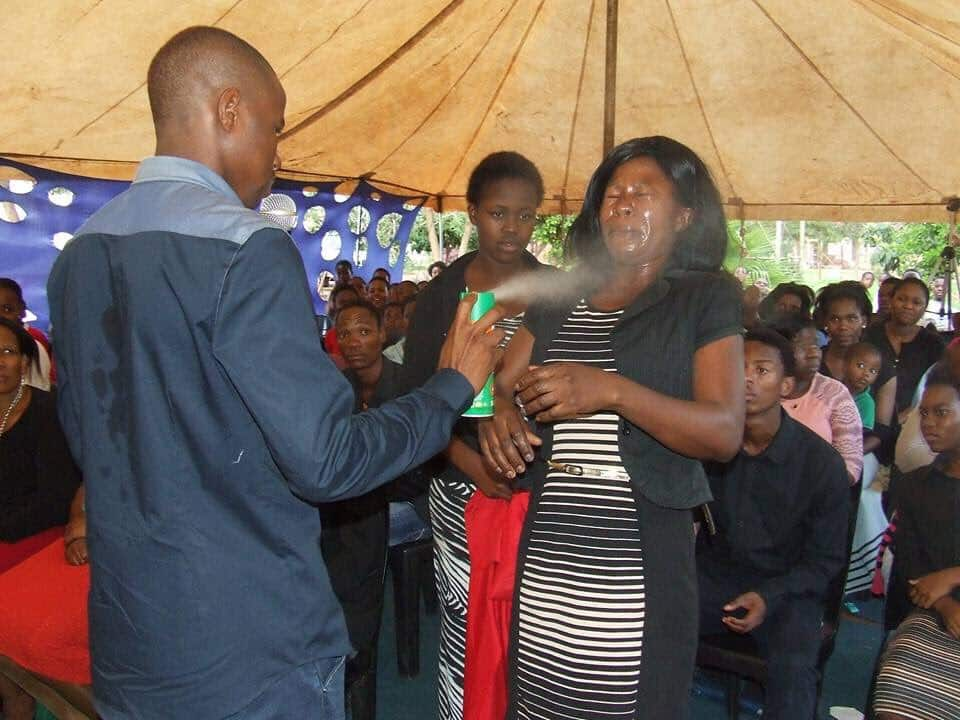 5. Prophet Light Monyeki and rat poison
Prophet Light Monyeki of Grace Living Hope Ministries made his followers drink holy water that had been mixed with rattex, which is used to kill rats. The church's believers ran to the front to drink the poison after the prophet drank some and said it was a demonstration of their faith.
6. Alfred Ndlovu and 30 days dry fasting
Pastor Alfred wanted to emulate Jesus Christ, who had fasted for 40 days and 40 nights according to Biblical recordings. The pastor went to the nearby bush where there are no material temptations so that he could fast for 30 days and nights without eating or drinking as Christ did. A hunter later discovered his dead body. Malnutrition could not respect his faith.
7. Pastor Lesego Daniel and grass eating
Pastor Lesego of Rabboni Center Ministries told his followers to eat grass like cows to draw them closer to God. The members of the church later claimed that the act had delivered them as some had been healed. Some followers, however, became ill.
8. Prophet Bongani Maseko and engine oil drink
The head of Breath of Christ Ministries shocked the world when he made his followers drink Havoline engine oil. He claimed that the poison in the drink could not harm the people because prayer renders the poison harmless.
9. Pastor Alph Lukau and the resurrection power
The head of Alleluia Ministries International, Pastor Alph Lukau, left everyone in shock after claiming to have resurrected a Zimbabwean man. Reports later indicated that the church had gone to several funeral homes to get a hearse, coffin, and sticker. What a great way to act!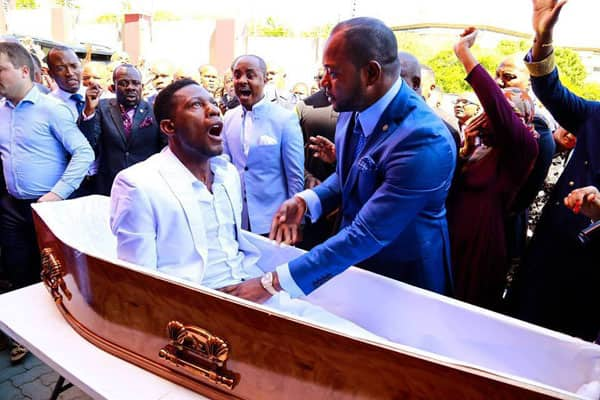 10. Prophet Paseka Motsoeneng and Jesus selfies
The pastor of Incredible Happenings Church claimed that he was taken to heaven by God, where he took pictures with Jesus, God, and the angels. He also said Jesus has a beautiful black wife who is Xhosa. He started selling the heavenly pictures which he took with his Samsung S5 at R5,000.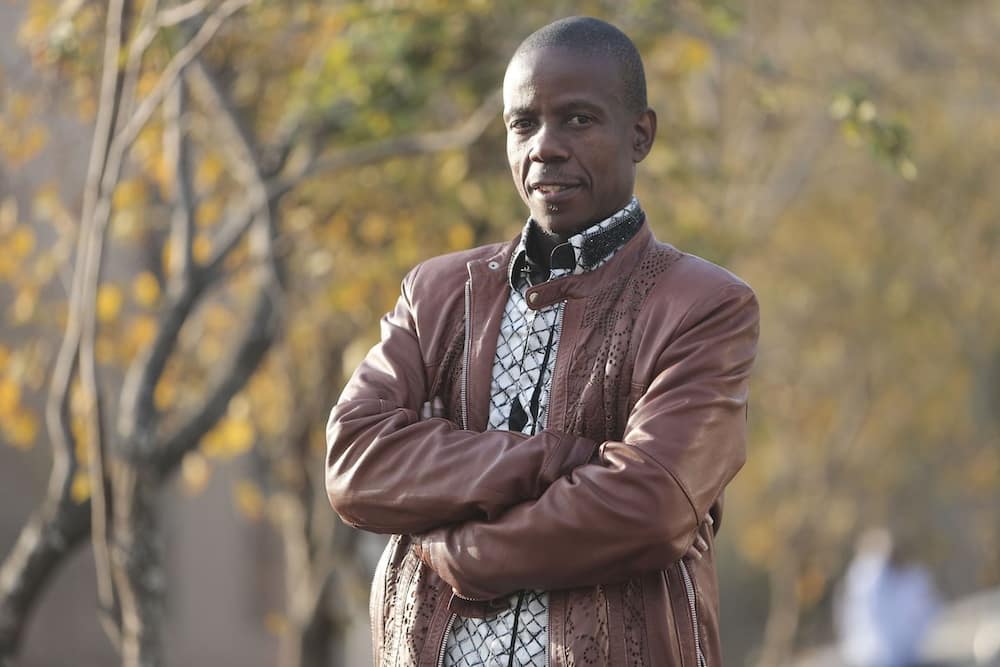 READ ALSO: Prophet Bushiri asks for offerings again and gets roasted online
Q&A
Here are some frequently asked questions on South African pastors.
Which is the biggest church in South Africa?
Zion Christian Church(ZCC), with its headquarters at Zion City Moria, has the largest gathering of the faithful across South Africa. It is also considered the richest church in South Africa.
Who is the richest pastor in South Africa?
Pastor Alph Lukau of Alleluia Ministries International has an estimated net worth of $1 billion, according to Forbes. This makes him the wealthiest pastor in Mzansi.
READ ALSO: Snakes, doom and resurrections: A look at 5 controversial SA pastors
Pastors in South Africa have continued to thrive on the ignorance and desperate needs of their followers. The government may not do much because there is freedom of worship in the country. It is for the followers to choose their churches wisely by bearing in mind that there is a long list of false churches in South Africa that they have to watch out for.
READ ALSO:
Top 20 richest pastors in the world
Most popular religions in South Africa
Top 5 richest pastors in South Africa and some of their most expensive possessions
RCCG pastors who waited for 23 years for baby share experience
Source: Briefly News