Inspirational Happy Women's Day wishes, quotes and messages
South Africa has morphed into a country that recognises the value of equality of every race and gender. The cumbersome fight to end the apartheid rule took the efforts of both men and women. It resulted in the establishment of Women's Day as a national holiday. Why is the day marked, and what are the most suitable Happy Women's Day messages, wishes and quotes that you could share? Read on for more details.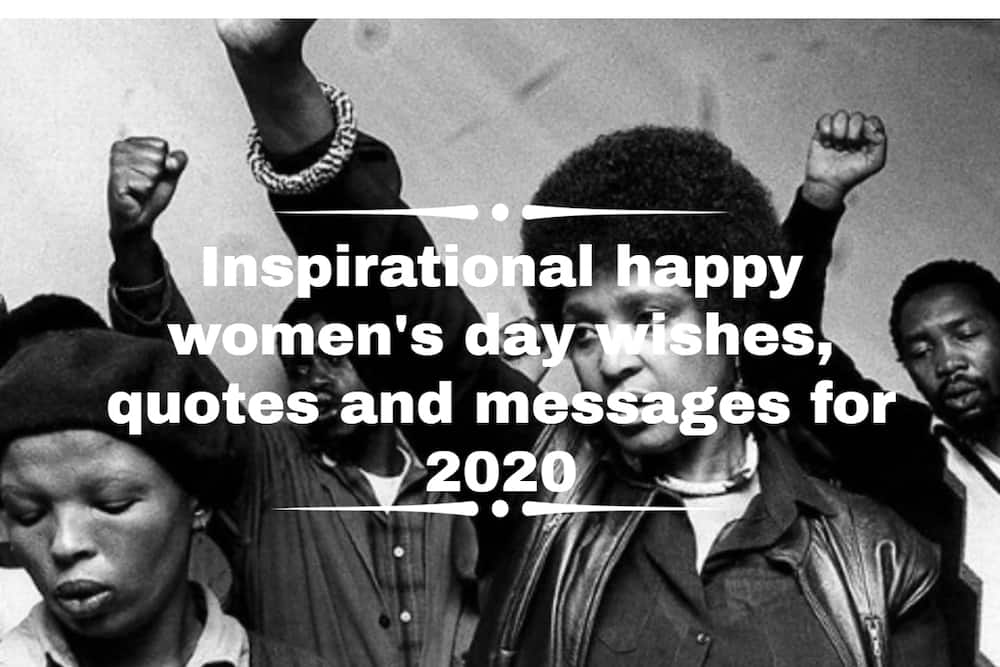 Happy Women's Day is a special occasion in the history of South Africa. It is not a second Mother's Day. It is a national holiday that is marked to honour the impact that women had in ending the apartheid rule. One of the ways of commemorating this day is by sharing quotes, wishes, and messages and reflecting on the impact that the messages have.
Why do we celebrate Women's Day in South Africa?
Women's Day in South Africa is a special occasion that the country marks on 9th August every year. It is marked to commemorate the march that was held on 9th August 1956 by more than 20,000 women to the Union Buildings in Pretoria. The march was done in the quest for racial equality. It was a protest against the pass laws which the apartheid government had proposed. The pass laws were to restrict further the movement of black women in South African society.
Federation of South African Women organised the 1956 march. It was led by four courageous women, Lilian Ngoyi, Helen Joseph, Sophie Williams, and Rahima Moosa. The leaders had organised for the women to sign petitions to express their frustration and anger about their freedom of movement being restricted. The petitions were delivered at the office of JG Strijdom, who was the prime minister. The women sang freedom songs during the march, and Wathint' abafazi, Strijdom! became the anthem of the march.
The march bore fruits as the restrictions were lifted, prompting the nation to recognise the bravery that these women showcased, as they risked detention. This prompted the country to brand 9 August National Women's Day, a holiday that South Africa religiously marks.
READ ALSO: These are the best places to celebrate Happy Women's Day in South Africa
Imbokodo quotes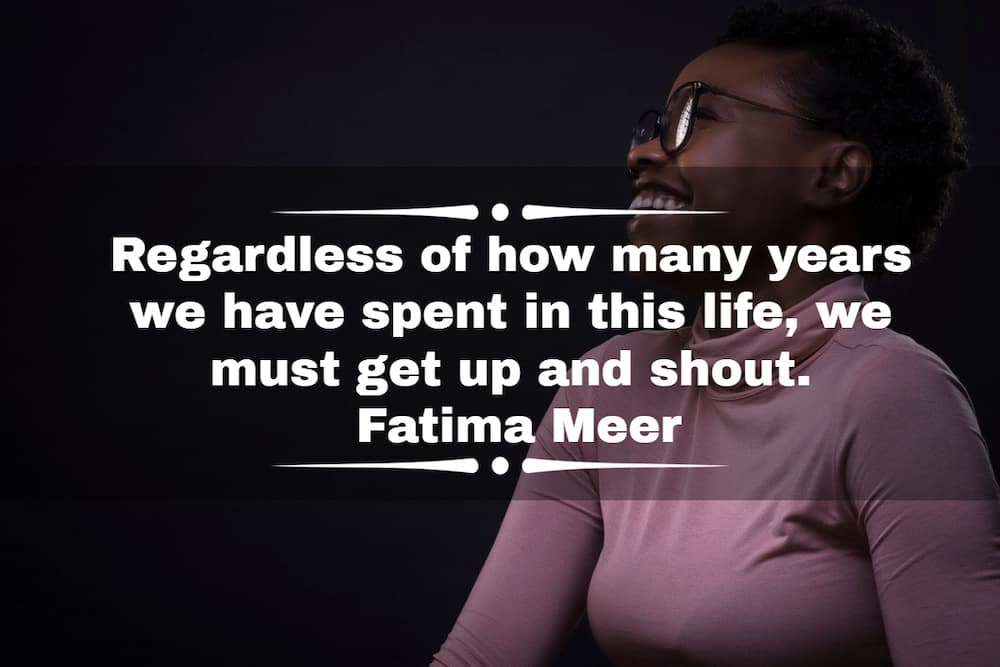 These quotes were made by the women who propelled the march. They also explain the history of women' day in South Africa. They were made to influence more ladies to join the movement and remind them of the value of a united voice. To date, the quotes are made to honour the freedom fighters as well as commend their brevity and impact they had in the society. They include:
You strike a woman, you strike a rock.
Regardless of how many years we have spent in this life, we must get up and shout. - Fatima Meer
I stand for simple justice, equal opportunity and human rights. The indispensable elements in a democratic society – and well worth fighting for. - Helen Suzman
The overwhelming majority of women accept patriarchy unquestioningly and even protect it, working out the resultant frustrations not against men but against themselves in their competition for men as sons, lovers and husbands. Traditionally the violated wife bides her time and off-loads her built-in aggression on her daughter-in-law. So men dominate women through the agency of women themselves. - Winnie Madikizela-Mandela
Women are the people who are going to relieve us from all this oppression and depression. The rent boycott that is happening in Soweto now is alive because of the women. It is the women who are on the street committees educating the people to stand up and protect each other. - Nontsilelo Albertina Sisulu.
Men are born into the system, and it is as if it has been a life tradition that they carry passes. We as women have seen the treatment our men have – when they leave home in the morning you are not sure they will come back. We are taking it very seriously. If the husband is to be arrested and the mother, what about the child? - Lilian Ngonyi
I felt a lump in my throat when I looked at this large army of women: dignified women, courageous women. I felt so humbled to be part of such bravery. - Sophia Williams-de Bruyn.
I don't doubt for a moment that the revolution will result in a nonracial society. - Helen Joseph.
Through life, I have learned that the most important critic whose judgement of my actions matters, is my conscience. - Thuli Madonsela
READ ALSO: What is Women's Day South Africa and why do we celebrate it differently?
Happy Women's Day quotes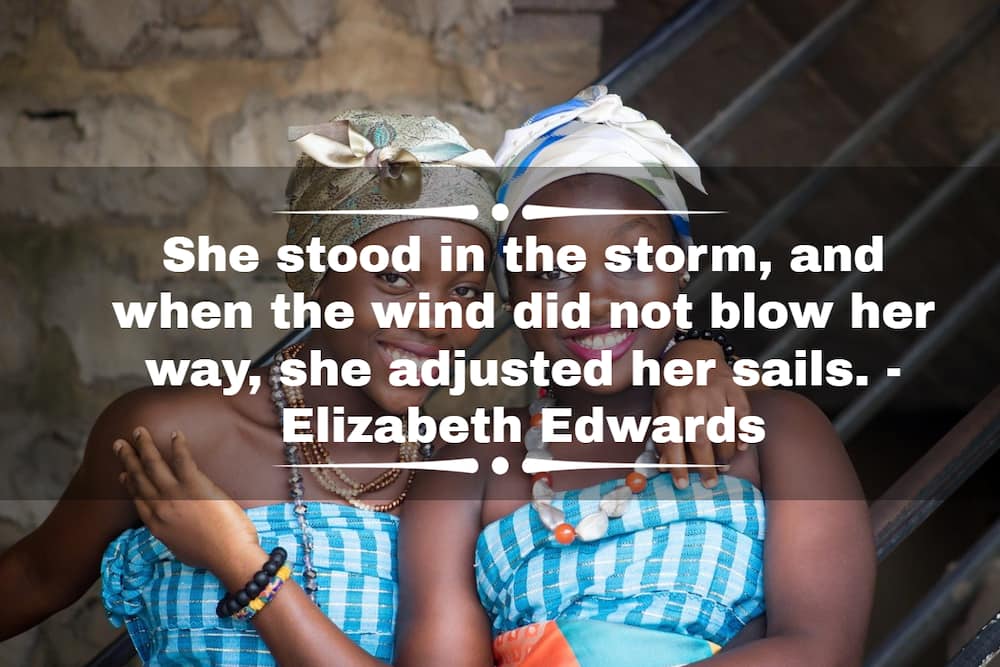 These are some of the Happy Women's Day quotes and sayings that you could share with the ladies in our life to remind them of their value. The messages are not only uplifting but also appreciative of the impact they have on society.
The fastest way to change society is to mobilize the women of the world. - Charles Malik
A woman is the full circle. Within her is the power to create, nurture and transform. - Diane Mariechild
Honour your daughters. They are honourable. - Malala Yousafzai
A woman with a strong voice is, by definition, a strong woman. - Melinda Gates
I'm a woman. Phenomenally. Phenomenal woman, That's me. - Maya Angelou
She stood in the storm, and when the wind did not blow her way, she adjusted her sails. - Elizabeth Edwards
It's the fire in my eyes. And the flash of my teeth. The swing in my waist. And the joy in my feet. I'm a woman. Phenomenally. - Maya Angelou
I am not free while any woman is unfree, even when her shackles are very different from my own. - Audre Lorde
Women of South Africa are some of the most powerful people on Earth. Change what you believe is possible for yourself. - Oprah
You could share these messages in the form of text messages or cards.
READ ALSO: Women's Day: Meet the 1st Chief Marine Engineering Officer at EL Port
Happy Women's Day messages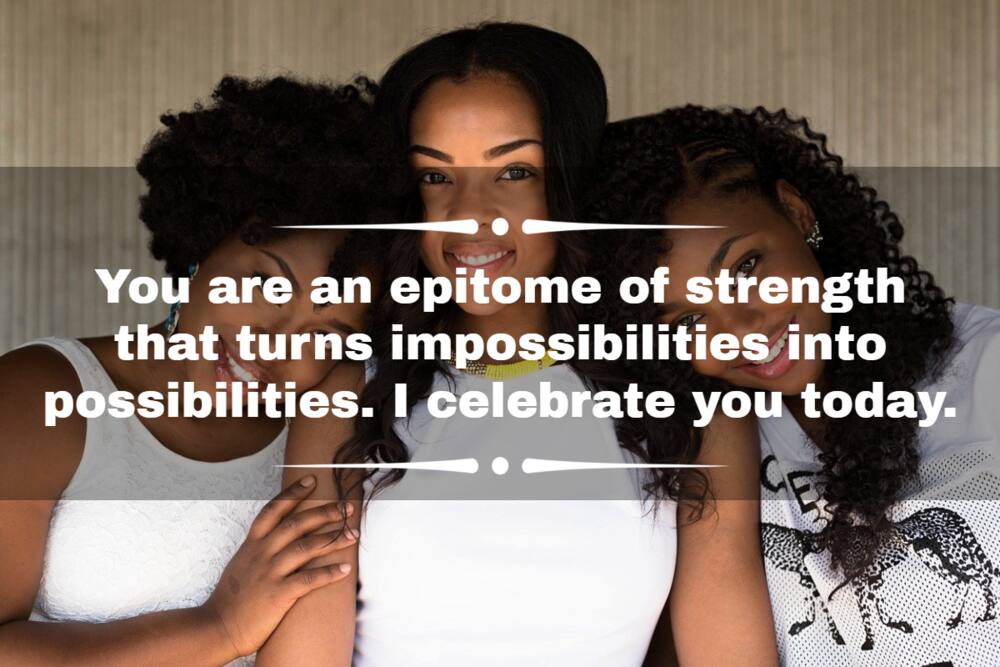 You could share these messages with the ladies in your life to remind them of the value that they bring to your life:
No matter the angle that I look at you, you appear to be my angel. I am honoured to be associated with you!
You are smart, special, and unique. I celebrate you every day!
Every time I look at you, all I see is a superhero with unmatched superpowers. I am glad to have you in my life.
You are an epitome of strength that turns impossibilities into possibilities. I celebrate you today.
Thank you for being the woman that you are in my life. I celebrate you every day!
READ ALSO: Diamond Platnumz shares photos of women in his life to celebrate IWD
Happy Women's Day wishes
During this special occasion, you could share these wishes to remind the ladies in your life of how special they are to you.
I look at how much you have achieved and cannot fathom how brave you are. I wish you more life to mark this special day.
You are a mother, a sister, and a wife. And none of those titles matches how much value you bring to the souls that you touch. May your legacy live on.
You are an embodiment of strength. You have raised brave ladies who look up to you and would love to become half of who you are.
This is to the brave women in our lives. May we know them, may we be them, may we raise them.
Frequently asked questions
These are some of the questions and answers that will highlight the importance of this day in South Africa. They will also explain how the holiday is marked.
Why do we celebrate Women's Day in South Africa?
The day is marked to remember the 9th August 1956 march that South African women made to the Union Buildings in Pretoria. The march was to petition the pass law that the apartheid government was imposing on the South African ladies, requiring them to carry an internal passport called a pass.
Is Women's Day a public holiday in South Africa?
Yes, the day is a public holiday that South Africans mark every year. It is celebrated on 9th August. The holiday is marked to honour the women who protested against the apartheid rule.
What is Women's Month in South Africa?
In South Africa, August is Women's Month. It is marked to honour the women who marched to protest against the pass rule. The pass rule restricted the movement of South African women.
What date is happy Women's Day in South Africa?
The national holiday is marked on 9th August every year. Therefore, this day is considered to be a national holiday. It is celebrated to commemorate the women who protested against the pass rule.
How do we celebrate Women's Day in South Africa?
With the lockdown measures that the country has put in place, congregating to mark this national holiday will be impossible. However, there are other ways of marking the day. They include sending gifts to the ladies, conducting virtual celebrations and supporting women-owned businesses.
READ ALSO: Ntsiki Mazwai slams Julius Malema for speaking on Women's Day
Briefly.co.za reported on 10th August 2020 about the controversies revolving on Julius Malema making a speech on Women's Day. Ntsiki trolled him for doing that.
Ntsiki Mazwai was not impressed by male politicians making a speech on behalf of women, on a national holiday that is meant to honour women. Among those that he slammed was Julius Malema.
If you have no idea why it is a national holiday, the details of happy Women's Day will help you wrap your head around everything that is happening. You could use this opportunity to send your loved ones uplifting and inspiring messages.
READ ALSO:
Somizi celebrated his mother on Women's Day in an emotional post
In history: SA celebrates first Women's Day and Mbeki unveils monument
Women's Day: Nomzamo Mbatha shares an important message on self-care
Source: Briefly News