History Post: Cyril Ramaphosa Looks at 60 Years of Apartheid South Africa
- The South African president Cyril Ramaphosa has penned a piece as he looks back at the apartheid system that was introduced 60 years ago
- Ramaphosa says the day, 31 May, marks a fateful day for many South Africans and some would rather not like to remember it
- Apartheid was introduced in Mzansi back in May 1961 by the National Party government, and Ramaphosa says the system favoured a minority (Whites)
- Breifly News looks at the history and the background of the apartheid system as Ramaphosa now boasts about a democratic constitution that favours everyone in the land
PAY ATTENTION: Click "See First" under the "Following" tab to see Briefly.co.za News on your News Feed!
South African president Cyril Ramaphosa has looked back at the old republic which was ruled by the minority as the country marked 60 years since the formation of apartheid.
Ramaphosa was speaking in his weekly letter where he said sixty years ago, on 31 May 1961, apartheid South Africa became a republic.
Apartheid South Africa was declared a republic six decades ago and the declaration was to the detriment of nearly 90% of the country's population, the African National Congress president has said in his weekly letter.
With the country having entered into a democratic state 27 years ago when it first held a public election in 1994, Ramaphosa pointed out the fact that Mzansi now has a constitution that favours everyone.
He looked at the fact that the country's constitution is armed with a Bill of Rights which gives everyone a chance of living a dignified life.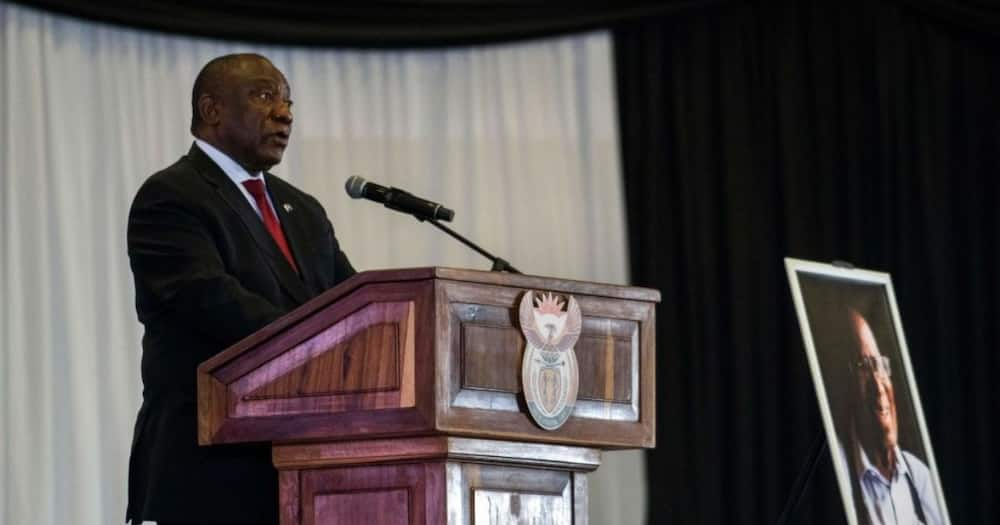 Ramaphosa said:
"Today is the anniversary of an event in our history that most South Africans would rather not remember.
"Sixty years ago, on 31 May 1961, apartheid South Africa became a republic, cutting its ties with the British Empire. But while a 'republic' is generally defined as state in which supreme power is held by the people and their elected representatives, this was not the case in South Africa.
"The Constitution of the apartheid republic pledged allegiance to God, "who gathered our forebears together from many lands and gave them this as their own."
"It was a Constitution written by and for a racial minority, and it used faith to justify tyranny. It outlined the administration of government, providing that only white people were eligible to vote and serve as public representatives. It contained no Bill of Rights."
With the late and first president of the country Nelson Mandela having led the country in its transition from apartheid into a rainbow nation, one can recall one of his famous quotes.
"Never, never, and never again shall it be that this beautiful land will again experience the oppression of one by another and suffer the indignity of being the skunk of the world."
Coming back to Ramaphosa's sentiment to mark this historical day, he also touched on what former Prime Minister Hendrik Verwoerd. He added:
"In a televised message from the Prime Minister's residence, now known as Mahlamba Ndlopfu, Prime Minister HF Verwoerd said: "We seek the gradual development of each of our groups in a certain direction. Here the solution is openly sought by retaining the white man's guiding hand."
"We are very happy to be a united people," he declared to the world.
"But the reality was that we were not a united people. We were inhabitants of a country where one's rights, prospects and life expectancy was determined by one's race.
"For two decades, the Republic of South Africa Constitution Act of 1961 was the legal impetus for the repression of nearly ninety per cent of the South African population. It provided legal cover for discrimination, dispossession and exploitation.
"This unhappy anniversary takes place in the same month that we celebrate the 25th anniversary of the adoption by the Constitutional Assembly of our new democratic Constitution, which became the birth certificate of a real united nation."
According to a report carried by History.com, the apartheid system was started by Verwoerd, who became prime minister in 1958, and went on to refine apartheid policy further into a system he referred to as "separate development."
Verwoerd's ascendancy into power led to the introduction of the Bantu Self-Government Act of 1959 which saw the formation of 10 Bantu homelands known as Bantustans, thus separating black South Africans from each other and enabled the government to claim there was no black majority.
Moreover, there were more than 3.5 million people who were forcibly removed from their homes and deposited in the Bantustans between 1961 and 1994, many were plunged into poverty and hopelessness.
However, political parties such as the ANC, Pan Africanist Congress, and others resisted the system.
The resistance to apartheid within South Africa took many forms over the years, from non-violent demonstrations, protests, and strikes to political action and eventually to armed resistance.
PAY ATTENTION: Never miss breaking news – join Briefly News' Telegram channel
Together with the South Indian National Congress, the ANC organized a mass meeting in 1952, during which attendees burned their pass books.
A group calling itself the Congress of the People adopted a Freedom Charter in 1955 asserting that "South Africa belongs to all who live in it, black or white." The government broke up the meeting and arrested 150 people, charging them with high treason.
Following sanctions from countries such as the United Kingdom and the United States, and pressure from bodies such as the United Nations, the ruling National Party led by Pieter Botha sought to institute some reforms, including the abolition of the pass laws and the ban on interracial sex and marriage.
With pressure coming from all corners of the globe, Botha was pressured to step aside in favor of F.W. de Klerk in 1989.
De Klerk's government subsequently repealed the Population Registration Act, as well as most of the other legislation that formed the legal basis for apartheid.
De Klerk also freed political prisoners such as Mandela on 11 February 1990, thus paving the way for a new constitution in 1994 - which enfranchised blacks and other racial groups - and national elections that year led to a coalition government with a non-white majority, marking the official end of the apartheid system.
Meanwhile, Briefly News reported that the 11 of February marked 31 whole years since Mandela was released from prison on Robben Island in Cape Town.
Upon his release, Mandela was given his possessions which consisted of 22 boxes and one surfboard.
To commemorate this important day in history, hundreds of South Africans have headed online using the hashtag, #Mandela, to express their thoughts on the struggle hero and first black president of South Africa.
While many celebrated Mandela's release and importance in history, not everyone thought that he deserves any praise.
Enjoyed reading our story? Download BRIEFLY's news app on Google Play now and stay up-to-date with major South African news!
Source: Briefly.co.za