Banting breakfast recipes
There are many reasons why people opt for a banting diet. Before moving on, let's quickly note what this type of diet entails. Banting involves embracing a diet that is low in carbohydrates and high in fat, which is also commonly abbreviated as LCHF. The two common reasons to hop into the LCHF diet is to lose weight and trying to live healthy. Having said so, the best way to start your banting journey is to know how to prepare LCHF breakfast meals and here are some great banting breakfast recipes.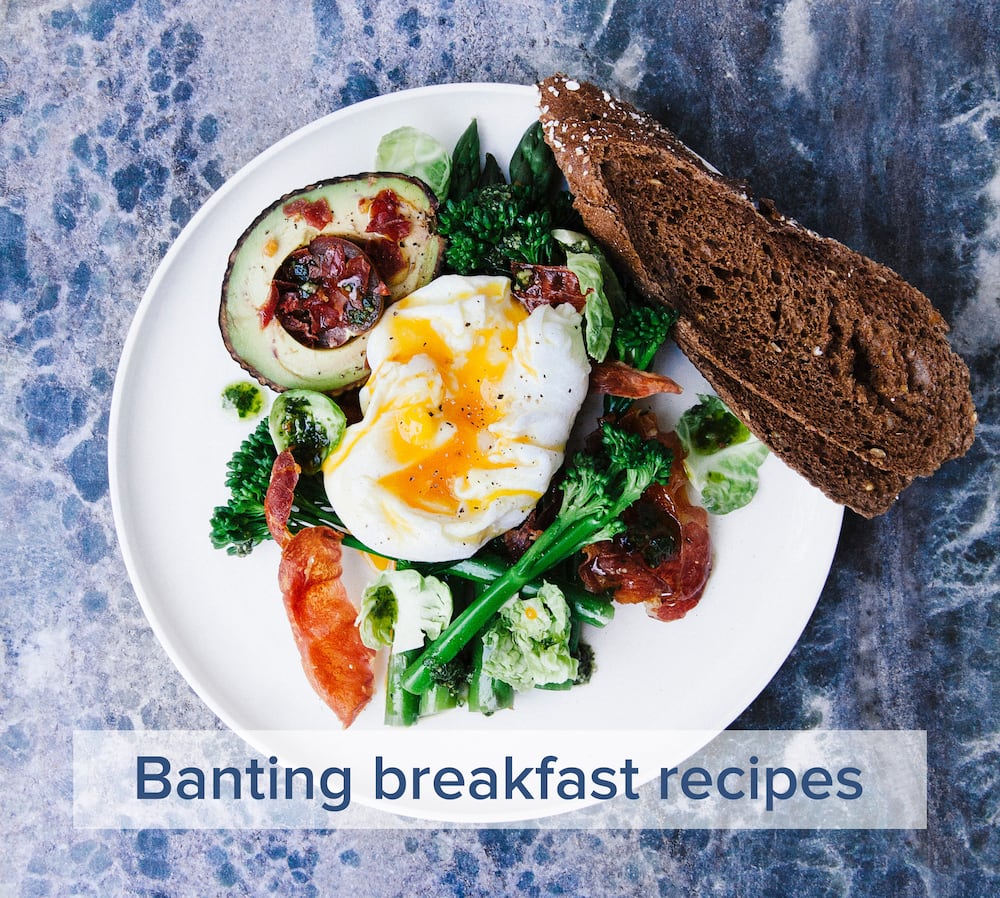 As you go through the recipes explained below, you will notice that eggs are common components of the meals. However, there are many other banting breakfast ideas that require no eggs. At the same, if you are committed to banting, then the sky will be the limit for your creative ideas when coming up with a diverse banting menu.
Banting diet breakfast recipes
For beginners, preparing banting meals in the morning for your breakfast could be challenging. Worry no more. Here are easy banting breakfast ideas that you can implement.
1. Spinach and feta omelette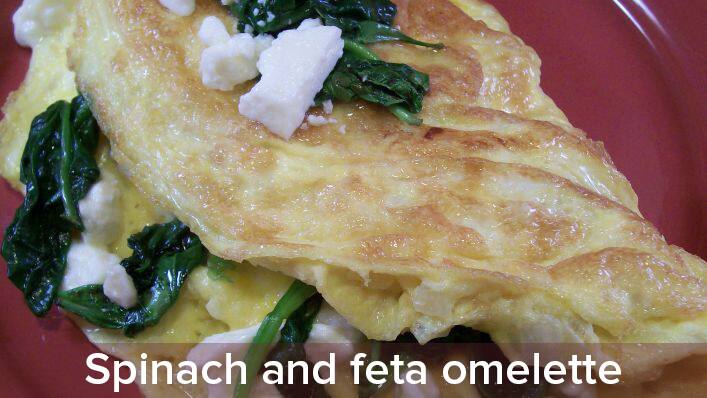 The recipe for preparing this meal is easy and takes few minutes. Who wouldn't want a meal that's quick to prepare in the morning especially when in a hurry?
Ingredients:
1 tablespoon of butter
1 egg
1 tablespoon of fresh cream
3 tablespoons of chopped spinach
2 tablespoons of feta cheese
Himalayan salt
Black pepper
Preparation steps:
Melt the butter using a pan.
Beat the egg and the fresh cream together and add them to the pan.
Wait for a couple of minutes for the egg to be semi-done and then add the spinach, feta cheese and season to taste.
Now flip over the one half of the egg to form an omelette.
Enjoy with some fresh salad to compliment your meal.
That is how easy and quick it is to prepare a Spinach and feta omelette.
2. Banting meatball bake recipe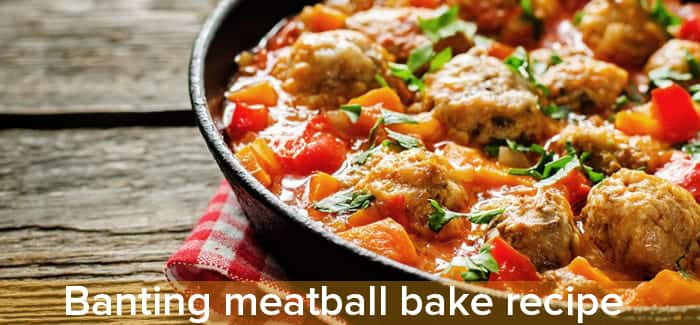 Do you only have twenty minutes to spare in the morning before you leave for work? For the love of banting, you can go for this interesting banting option.
Here are the ingredients you need:
400 grams minced steak
1 egg
3 tablespoons of chopped coriander
1 tablespoon of mixed dried herbs
1 tablespoon of ground cumin
Himalayan salt
Pepper
2 tablespoons balsamic glaze
Coconut flour
2 tablespoons of olive oil
Sliced cloves of garlic
Sliced chillies
Tomato paste
Tomato puree
1 tablespoon of xylitol
Grated mozzarella cheese
The list of these ingredients is quite a mouthful but the resulting meal is one of the most satisfying banting breakfast meals.
Preparation steps:
Put the minced meat in a bowl.
Properly beat the egg and pour it into the bowl with the minced meat.
Add the chopped coriander, mixed dried herbs, and ground cumin.
Then add some Himalayan salt to taste.
Add some paper for flavor as well as the two tablespoons of balsamic glaze.
Mix all these combined ingredients until uniform.
If need be, add the coconut flour.
Form small balls from the mixture and place them on a plate.
Put two tablespoons of olive oil in a frying pan and fry the balls.
Turn the balls frequently until all the sides fry properly.
Heat one tablespoon of olive oil in a saucepan.
Add two thinly sliced cloves of garlic.
Add two sliced chilies.
Add one tablespoon of tomato paste and 200 grams of tomato puree.
Add some Himalayan salt and pepper to taste.
Add one tablespoon of xylitol.
After that, stir for up to one minute.
Allow to simmer until it is done.
Pour the sauce over the meatballs until they are completely covered.
Top the meal with one cup of grated mozzarella cheese.
Bake at 200 degrees Celsius until the cheese melts and then grill for another 1-2 minutes.
Serve your well-prepared banting meatballs with vegetables, if you prefer some.
3. Spicy egg smoortjie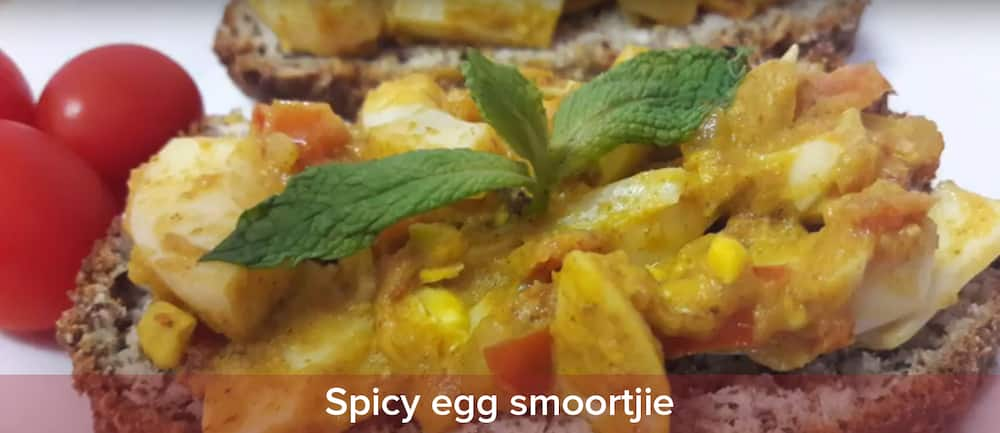 This type of Smoortjie has been around for long. It is easy to prepare and versatile. The versatility of this meal shows through the ease with which you can double it up if you are more than two in the house. Besides taking this meal for breakfast, some opt to prepare it for lunch.
Here are the ingredients you need:
3 eggs
1 tablespoon of coconut oil
1 tablespoon of butter
1 small chopped onion
1 – 2 chopped tomatoes
½ tablespoon of dhania or coriander powder
¼ tablespoon of chili powder
½ tablespoon of curry powder
½ tablespoon of jeera powder
½ tablespoon of turmeric powder
Himalayan salt to taste
Xylitol to taste
2 tablespoons of water
Preparation method:
Boil the eggs and set them aside.
Melt the coconut oil and butter and fry your chopped onion.
Once the onion is slightly brown and translucent, add chopped tomatoes and braise for a further 2 minutes.
Add all the remaining spices and allow to simmer for about 3 – 7 minutes until the spices are well blended and cooked through.
Add water if necessary.
Peel and chop the boiled eggs and add to the tomato and onion mixture.
Blend the mixture with chopped egg until it becomes uniform.
Provided that you have all your ingredients ready, the spicy egg smoortjie is one of the quickest banting breakfasts to prepare.
READ ALSO: Banting dessert recipes
4. Banting granola recipe
If you are into cereals as one of your ways of remaining healthy, then the idea of looking for easy banting breakfast cereal recipes must have crossed your mind. Thankfully, here is a simple banting cereal meal preparation steps that you can follow.
Ingredients needed:
160 grams of raw organic almonds
80 grams of milled golden flax seeds
160g raw organic pecans
80 grams of raw coconut flakes
80 grams of xylitol or coconut blossom sugar
80 grams of cold pressed coconut oil
10 grams of sea salt
160 grams of raw organic macadamias
120 grams of raw organic sunflower seeds
80 grams of organic pumpkin seeds
Preparation method:
Pre heat your oven to 160° Celsius.
Chop the nuts and pumpkin seeds into small pieces.
Combine all your ingredients (except the coconut flakes) into a large mixing bowl.
Mix properly until the oil spreads evenly throughout the granola.
Spread the granola out on a baking tray and bake for 5 minutes then using an egg lifter mix the granola around and bake for another 5 minutes.
Leave the granola to cool and pack it into an airtight container.
5. Banting muesli recipe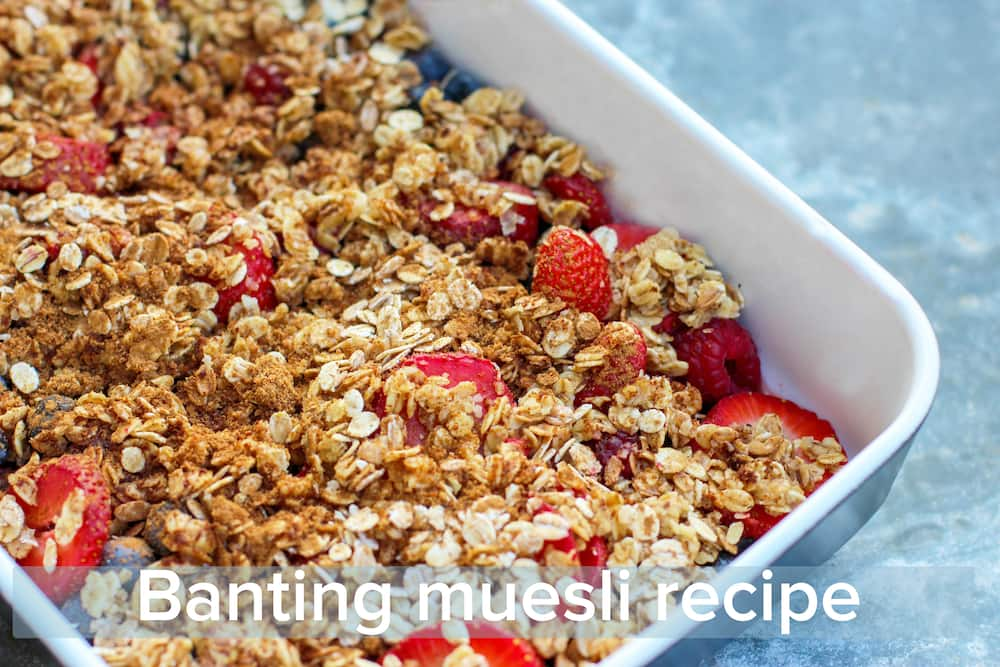 This recipe is your go-to option if you're tired of the other egg-filled banting recipes. Cereal lovers will readily confess their love for this recipe. Additionally, you can opt to leave out sweeteners when preparing this meal. As such, the option of eliminating sweeteners from the ingredients makes banting muesli good for diabetics.
Ingredients needed:
400 grams of gluten free oats (rolled oats are best)
100 grams of sesame seeds
350 grams of apple puree
100 grams of flaked almonds
2 teaspoons of cinnamon
1 teaspoon of ginger
100 grams of pecan nuts
100 grams of xylitol (this is optional)
200 grams of raisins or golden sultanas (this is optional)
60 milligrams of olive oil
Preparation method:
Pre-heat your oven to 170° Celsius.
Mix all the ingredients except the raisins/sultanas.
Carefully spread the mixture onto a large baking tray.
Bake for about 40 minutes
Stir the mixture during baking to make sure that it turns out as an evenly baked golden muesli
Remove from the oven and mix in raisins/sultanas
Allow to cool completely on the baking tray
Store in an airtight container
All the recipes described above are easily prepared at home especially if you want something homemade besides the Spur banting menu options like banting shakes. Choose your preferred banting breakfast recipes from the ones described above and keep enjoying your LCHF lifestyle.
READ ALSO:
5 cheap recipes with VAT-free products to make your family happy
Sun sets for e.tv breakfast show Sunrise after a decade on air
Top 10 South African fast food brands revealed
Source: Briefly News