Butternut and sweet potato soup recipe South Africa
A delicious soup will not only keep you warm but also meet your craving needs with satisfaction. The mouth end flavors ingrained in every butternut and sweet potato soup droplet is a sweetness you should try in your next cooking experience. Several variations of the soup are available for you to entertain your family and friends in that special upcoming common meal. Anytime, grab one of our favorite sweet potato and butternut soup recipes for a mouthwatering soup.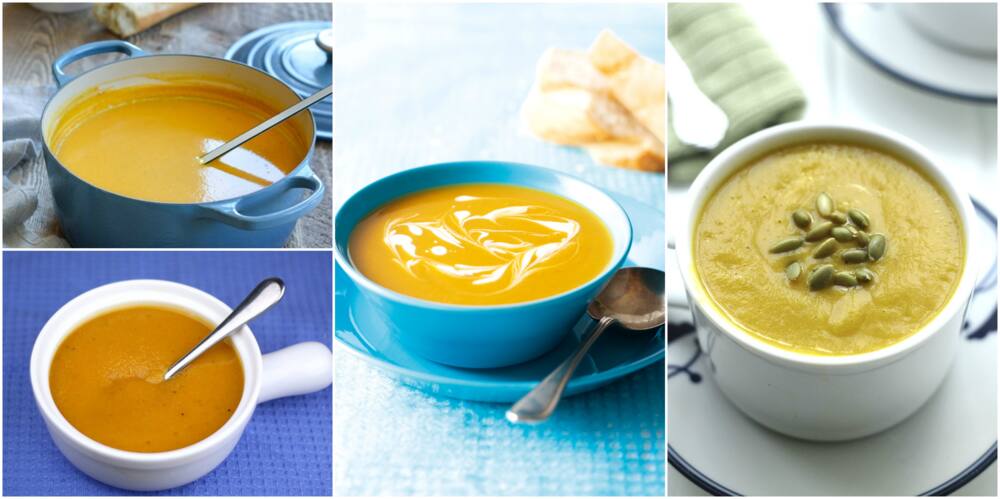 I am one of the cooking enthusiasts who are out there trying every new appealing recipe that rocks my attention. In my experience soup preparation is tricky but with the right recipe and skills, it never goes wrong. Bottom line, soup preparation is straightforward and only calls for a good understanding of the required ingredients and cooking procedure. Provided below are authentic and finger-licking sweet potato and butternut soup recipes that you can make at home.
Variations of sweet potato and butternut soup recipe South Africa
Skilled chefs are those that pursue new cooking methods away from kitchen conventions. It is through such levels of curiosity that most of the best-selling potato and sweet potato soup recipes were discovered. Continue reading to discover exciting recipes for butternut soup.
READ ALSO: 10 easy mince recipes South Africa
1. Butternut squash and sweet potato soup
Here is a detailed guide for preparing butternut squash and sweet potato soup.
Ingredients: 6-8 servings
2 pounds -pre-cut butternut squash
2 cups -roughly chopped yellow onions
1 cup -heavy cream
1/2 teaspoon -ground black pepper
8 cups of chicken broth
3 tablespoons -honey
3 tablespoons -unsalted butter
1/2 teaspoon -ground cinnamon
1½ teaspoons of salt
1/4 teaspoon -ground mace
1/8 teaspoon -ground nutmeg
2 medium sweet potatoes, peeled then cut into 1-inch chunks
1 tart yet sweet apple (such as Fuji), peeled and cut into 1/2 inch pieces
Cooking directions
Add butter to a large pot and place it over light heat to melt.
Add the chopped onions and prepare them for about 5 minutes until they turn soft and translucent.
Add a mixture of butternut squash, chicken broth, pepper, salt, and sweet potatoes to the pot and bring the mix to a boil.
Cover the pot and lower the heat for simmering until the vegetables become tender in about 15 minutes.
Now, turn off the heat and add honey, diced apple, and puree. Use a handheld immersion blender to smoothen and attain a creamy mixture.
Stir in the nutmeg, mace, heavy cream, and cinnamon and then bring the mixture to a simmer. Taste while adjusting the seasoning as you find it necessary.
Now, simmer over low heat for the soup to thicken and the appropriate thickness is achieved. It is important to realize that the soup thickens further as it cools.
The good thing about this type of soup is that you can freeze it for up to three months and will defrost later until the required consistency is regained.
2. Diced butternut and sweet potato soup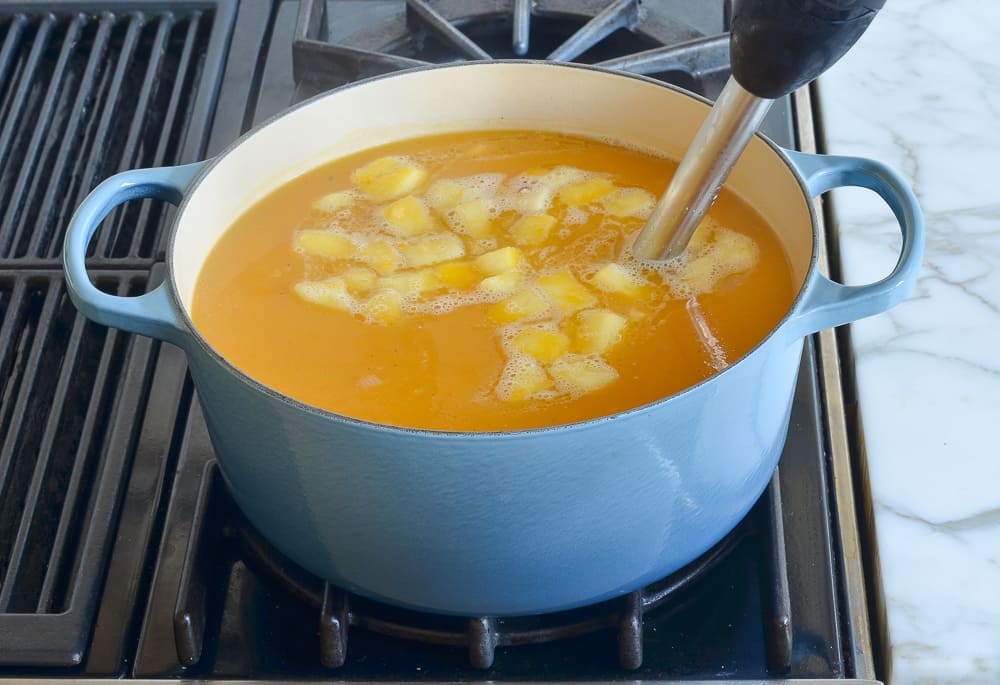 Ingredients: 1-2 servings
350 grams -diced butternut squash and sweet potato
¼ teaspoon -ground cinnamon
750 milliliters -hot vegetable stock
Well ground pepper
¼ teaspoon -ground mace
4 teaspoons -buttermilk
Cooking directions
Place sweet potato and diced butternut in a saucepan together with vegetable stock or hot chicken.
Bring the mixture to a boil and then simmer it for about 15 minutes for the vegetable to become tender. Add pepper for flavoring.
Now, puree the soup using a blender.
Pour the blended soup into a couple of bowls and add 2 teaspoons of buttermilk, giving necessary swirls before serving.
3. Butternut squash sweet potato soup
Obtain the following affordable ingredients and then follow the cooking instructions below for tasty butternut squash sweet potato soup.
Ingredients
1 Teaspoon -olive oil
1/4 teaspoon cinnamon
1 -large diced yellow onion
6 cups -vegetable stock
1/2 teaspoon ground pepper
1 teaspoon sea salt
3 cups -peeled and chopped sweet potato
4 cups -peeled and chopped butternut squash
Cooking directions
Heat olive oil in a pot placed over medium-high heat.
Add the onion and let them cook for about 3 minutes until they turn translucent.
Now, add the sweet potato and butternut squash and then cook for about 2 minutes.
Top with spices and vegetable stock bringing them to a boil.
Lower the heat and then cover and simmer for about 20 minutes.
Remove from the heat allowing the soup to cool slightly.
Smoothen the soup using an immersion blender.
Serve while warm.
Interestingly, the soup can maintain its flavor for up to a week of refrigeration.
4. Sweet potato and roasted butternut soup
Did you know that you can use roasted diced butternut mixed with sweet potato to come up with mouth-watering soup? Here is how to make this sweet soup.
Ingredients
1 -large sweet potato, peeled and chopped
Diced butternut squash pieces
A drizzle of olive oil
1 -large carrot, peeled and chopped
1 teaspoon of olive oil
2 cans -low sodium vegetable broth
Salt and pepper, to taste
1/4 teaspoon nutmeg
1 chopped onion
2 cloves of chopped garlic
1 cup water
1 teaspoon cinnamon
Salt and pepper, to taste
Cooking directions
Bring the oven to 400 degree Celsius of heat.
Add diced butternut squash, carrot, and sweet potato on a large baking sheet.
Drizzle some olive oil and then toss the veggies to coat them with oil.
Season with pepper and salt.
Roast inside the oven for about 45 minutes while stirring gently every 15 minutes. Remove the veggies from the oven and place them aside.
Add olive oil inside a large soup pot followed by the onions. Cook to achieve tenderness before adding garlic and cooking further for a couple of minutes.
Stir the roasted veggies in the mixture and then cook for about 5 minutes.
Add in water and vegetable broth. Add cinnamon, pepper, salt, nutmeg, and stir gently.
Leave the soup by itself to cook for about 20 minutes.
Puree the resulting soup using a handheld blender.
In the end, serve the soup while hot. You can opt to freeze the roast butternut soup for later use.
READ ALSO: Banting bread recipes
The butternut and sweet potato soup recipes are quite versatile. If you love to experiment with your ingredients, you can replace the nutmeg with a grated orange and add chopped parsley. You can also use turmeric, ginger, bay leaves, celery, coriander, fresh lime, brown sugar, and cilantro or any other of your favorite spices depending on what your taste buds are craving. Pick your favorite recipe from any of the four above and start your cooking experience today.
READ ALSO:
Banting green list recipes
5 easy and healthy chicken wrap recipes
10 best vegan soya mince recipes South Africa
What to serve with Eisbein
Easy Malva pudding recipe with ideal milk
Source: Briefly News