Easy homemade recipe for biscuits South Africa
Do you ever wonder what goes into those crispy homemade biscuits that keep reappearing at the dinner table? Well, the recipe for biscuit is here to help you prepare these pastries right in your kitchen. Remember to keep all the ingredients and cooking directions on the check to achieve flavourful tastes.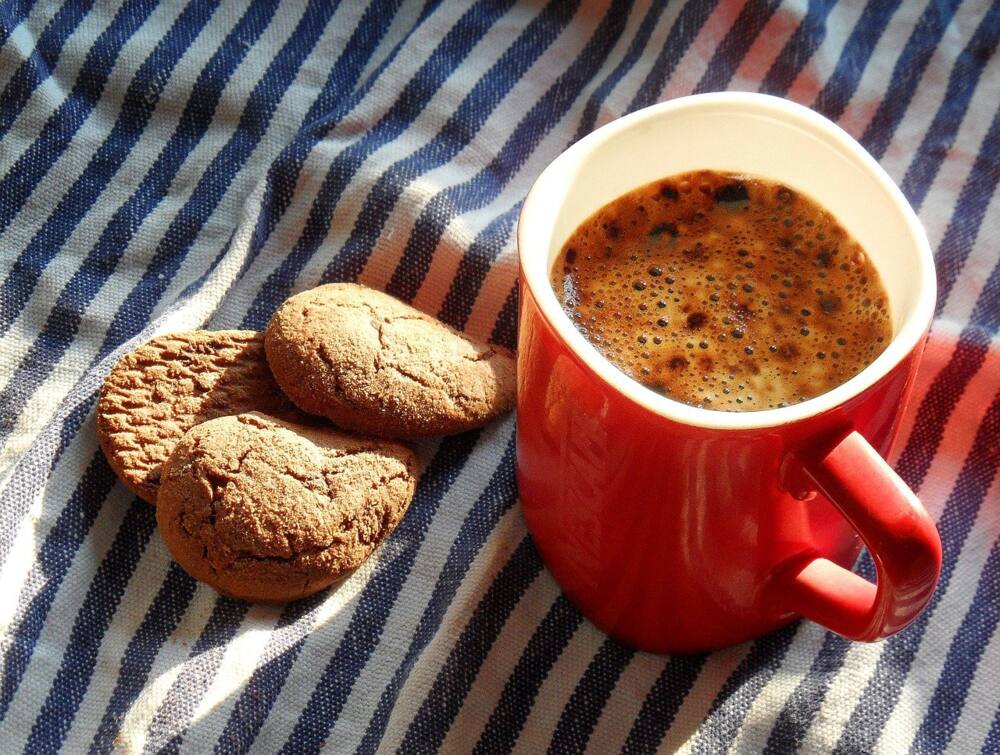 Preparing yummy pastries is more manageable with all ingredients and cooking directions. Follow these recipes and enjoy delicious and easy-to-make baked goodies. They are even easy for people who say they cannot bake.
How do I make biscuits from scratch?
Knowing the ingredients and cooking directions is critical for anyone looking forward to making their first biscuit or sharpening their baking skill. Overall, the preparation process is ordinarily challenging without a quick recipe for biscuits. Here is a simple recipe that you can follow.
READ ALSO: Easy banting recipes
Easy recipe for biscuits- making 8 to 12 biscuits
Which is the best recipe for biscuits from scratch? The best recipe is one that uses readily available ingredients, and the steps are easy to follow. You will never go wrong with this authentic recipe for biscuits.
Ingredients
What are the main ingredients of biscuits? Unless you are preparing specific-flavoured pastries like ginger or butter biscuits, most of these ingredients are already in your kitchen.
2 cups of all-purpose wheat flour
½ cup shortening (any baking fat that is solid at room temperature)
¾ cup milk
1 tbs baking powder
2 tbs of sugar
½ tsp salt
Cooking method
How do you make biscuits from scratch with all purpose flour? The cooking method matters most. With all ingredients ready, preparation takes about 15 minutes.
Preheat oven to 230 degrees C (450 degrees F).
Sift flour, salt, and the baking powder in a large mixing bowl.
Add the shortening and mix until it forms coarse crumbs.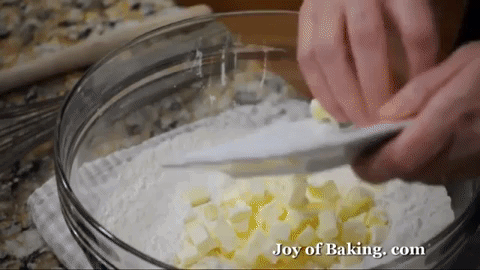 4. Add milk into the mixture while stirring using a fork. Mix until the dough becomes soft and moist.
5. Apply some flour on a clean surface, then turn and toss the dough until it is no longer sticky.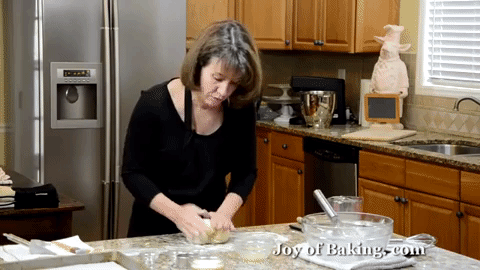 6. Roll the dough into 0.5-inch thick sheet. Cut with a biscuit cutter into the desired shapes.
7. Collect the unused dough and repeat the rolling and cutting process.
8. Place the biscuits on ungreased baking sheets.
9. Bake in the preheated oven for about 10 minutes, or until golden brown.
10. Serve with your preferred drink.
Buttermilk biscuits and sausage gravy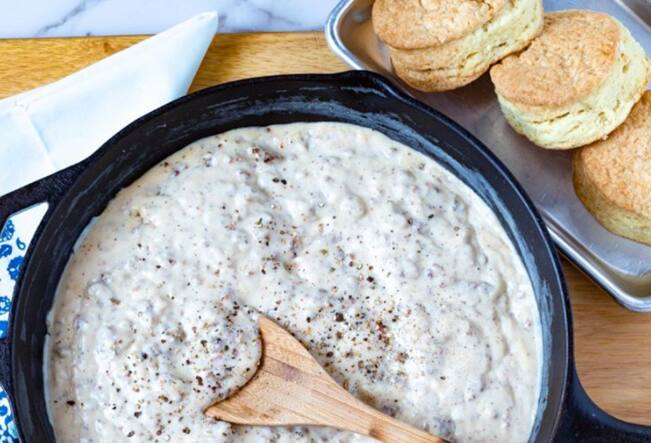 Biscuits, when taken with sausage gravy, contain balanced nutritional content and flavours. Furthermore, the treat is a perfect alternative for the red lobster recipe for biscuits.
Buttermilk biscuits ingredients
1½ tsp (7.5 g) of salt
1 tsp (6 g) of baking soda
3/4 cup (180 g) of chilled butter
1½ tbs of baking powder
1½- 2 tbs (18.75 g) sugar
3 cups (390g) of all-purpose flour
1¼ cup (300 ml) of chilled buttermilk
Sausage gravy ingredients
2 1/2 cups (612.5 g) of milk
3 tbs (42.6 g) of butter
½ tsp (0.40 g) of dried thyme
1 tsp (3 g) of Cajun seasoning
½ tsp (1.5 g) or more of paprika
1 pound (453.6 g) of breakfast sausage
½ tsp (0.9) of crushed red pepper
3 tbs (21 g) of all-purpose flour
Salt and pepper to taste
Buttermilk biscuits cooking directions
Start by gently mixing the flour, sugar, baking soda, and salt in a large mixing bowl.
Grate the frozen butter into the bowl with a mixture.
Create a sink in the middle of a mix and pour in buttermilk. Stir continually until the forming of a rough ball. Meanwhile, be careful not to overmix in the process. Place the mixture inside a fridge and allow it to rest for about 10 minutes.
Transfer the dough to a floured surface and continue kneading to achieve consistency. This fine-mixing step is critical, and it should take about 4 minutes to complete.
Roll out the dough gently to a thickness of about ½ inches.
Now fold the dough and repeat up to 8 times before pressing it back to 1 inch in thickness for cutting.
Use a circular cookie cutter of about 2-inches and arrange the cuttings evenly on a baking sheet.
8. Separate the wedges before placing on an ungreased baking sheet and brushing with cream.
9. Place in a preheated oven and bake at 400° for about 15 minutes or until they turn light brown.
Sausage gravy recipe- preparation steps
Warm a large skillet over medium heat.
Add sausage, creole seasoning, paprika, and thyme. Use a wooden spoon to break the mixture into chunks.
Continue stirring until the meat crumbles and starts browning.
Pour the sausage into a plate.
Melt the butter and whisk in the flour until you achieve a perfect mixture.
Cook for about 1 hour to do away with the taste of flour.
Introduce the milk. Be careful not to form lumps. Bring the mixture to a simmer before switching to medium heat. Simmer gently for about 8 minutes until the mixture thickens to form a cream sauce.
Stir in a mixture of sausage, pepper, salt, and crushed red pepper.
Remove the gravy from the heat and leave it to thicken as it rests.
Cut the biscuits horizontally and top them with sausage gravy before serving.
This easy gravy recipe for biscuits may take about 15-30 minutes to cook from scratch. Serve biscuits with gravy while still fresh and warm. You will be happy with the outcomes of this recipe for biscuits and gravy.
READ ALSO: How to make the tastiest butternut fritters in South Africa
Tips of makings yummy biscuits
Cold butter is the main secret of making tasty biscuits without additional ingredients. Working the dough with cold butter ensures it does not soften much before the oven. It should stay as cold as possible throughout the preparation process.
Grating is necessary for even distribution of fat when preparing the dough. Alternatively, you can speedily cut the frozen butter into the mixture using a pastry blender. The latter may take up to 5 minutes before the bowl's mixture resembles coarse crumbs.
What is the best flour to use for biscuits?
Experienced chefs recommend cake flour when preparing pastries. Other types of flours such as self-raising, white bread flour, brown bread flour, bran flour, and nutty wheat may not guarantee delicious biscuits. Choose good cake flour.
How do you make homemade biscuits from scratch without milk?
Buttermilk is excellent for achieving proper flour consistency before baking. However, you can replace the milk with water. These no-milk biscuits prepared from scratch are equally tender and light.
Simple, right? The homemade recipe for biscuits comes with many options for customized flavours. Try this simple biscuit recipe and share your experience in the comments below.
READ ALSO: Easy fresh fruit recipe for smoothies
Briefly.co.za shared simple fresh fruit recipes for smoothies. There are as many fresh fruit smoothie recipes as the number of fresh fruits in the world; therefore, the ingredients you have will do just fine. An example of a healthy smoothie is one with kale.
You can use different liquids in a smoothie. For instance, some people prefer using ice cubes, while others go for filtered water. Other liquids used in a fresh-fruit smoothie include almond, coconut, soy, and rice milk.
READ ALSO:
How to cook the perfect ugali recipe and serve with braai
Best homemade Cinnabon recipe South Africa
The best recipe for South African sousboontjies
Source: Briefly News