8 Batho Pele principles, implementation and impact to the community
Batho Pele principles are all about putting people first. What is more, Batho Pele is rooted in the legislative frameworks. This was started as a mean or initiative meant to work on transforming the public service regardless of the level. It means "People First" and was launched in 1997. Batho Pele was birthed due to the fact that democratic South Africa inherited an unfriendly Public Service that lacked the necessary skills and attitudes needed to meet and address all developmental challenges that the country was facing.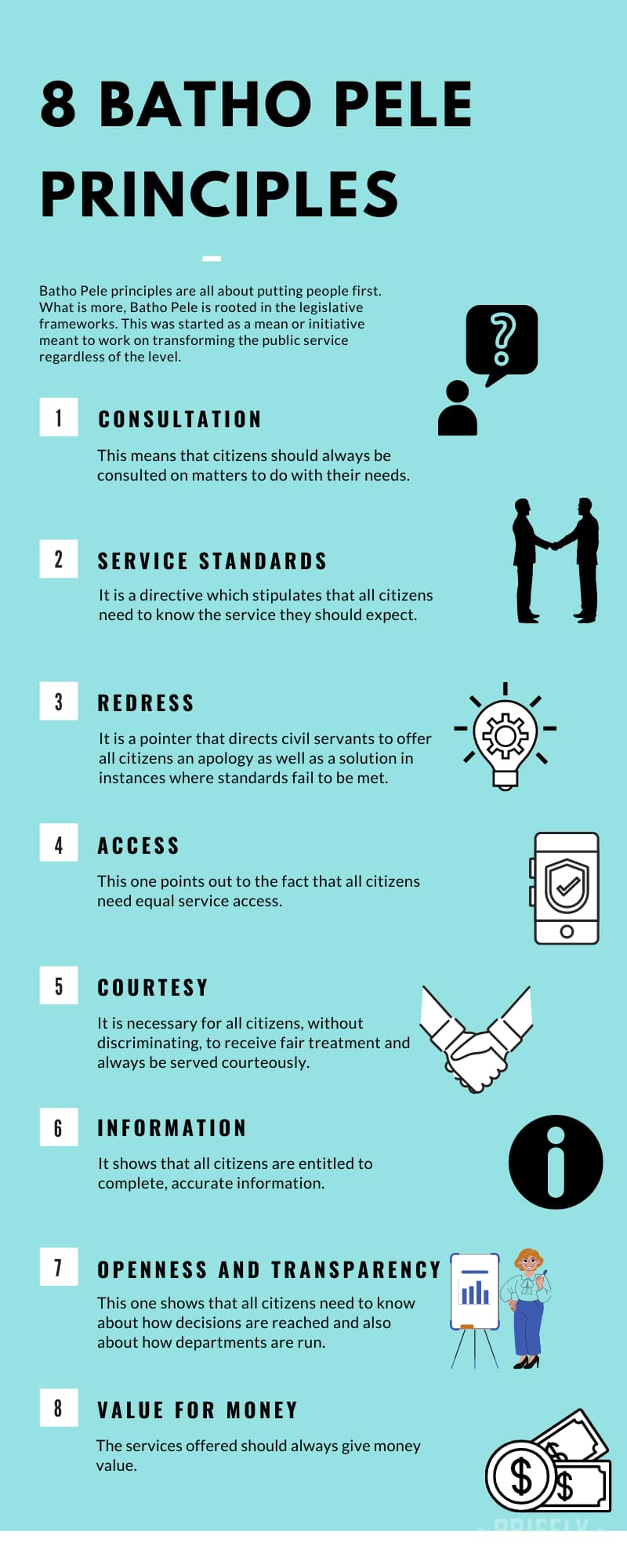 To transform the Public Service it would be necessary to discard the old culture and change it to ensure proper service to people not to mention that all staff would in turn work to their full capacity as well as learn to treat state resources respectfully. This would not be an easy thing, of course.
8 Batho Pele principles
One may ask, why Bathopele? Well, the Sesotho word means people first. This basically means that the Bathopele principles are all about helping to improve delivery to the people. It is actually an approach aimed at getting public servants to stay committed to their work to people and also to find means to enhance this service delivery.
The approach needs the public's involvement especially with regards to holding the Public Service accountable for quality help offered. It is also about moving Public Service from an approach that is rules-bound which is what hinders delivery to one that encourages innovative and result-driven methods. This just means that the public servants find different ways to offer services in a better way as opposed to coming up with excuses as to why the government cannot.
Managers in the public space, therefore, have an important role to play when it comes to the creation of an enabling environment for staff members to work effectively in their interactions with customers. This requires the managers to focus on motivating staff, and ensuring they have the necessary tools to work. They can do this by providing continuous support especially during times of stress and pressure. As such, the Batho Pele is summarized in a slogan that goes, "We belong, we care, we serve."
Consequently, it is focused on putting people first by adhering to the following overarching frameworks:
We belong: This implies that we are part of the Public Service and should thus work hand in hand with respect to fellow colleagues
We care: It is a directive that shows that we should care for the public that we serve, that is the customers
We serve: It is up to the public servants to deliver exceptional service to all citizens.
The basis of the Principles explained
Consultation: This means that citizens should always be consulted on matters to do with their needs.
Standards: It is a directive which stipulates that all citizens need to know the service they should expect.
Redress: It is a pointer that directs civil servants to offer all citizens an apology as well as a solution in instances where standards fail to be met.
Access: This one points out to the fact that all citizens need equal service access.
Courtesy: It is necessary for all citizens, without discriminating, to receive fair treatment and always be served courteously.
Information: It shows that all citizens are entitled to complete, accurate information.
Openness and transparency: This one shows that all citizens need to know about how decisions are reached and also about how departments are run.
Value for money: The services offered should always give money value.
The 8 principles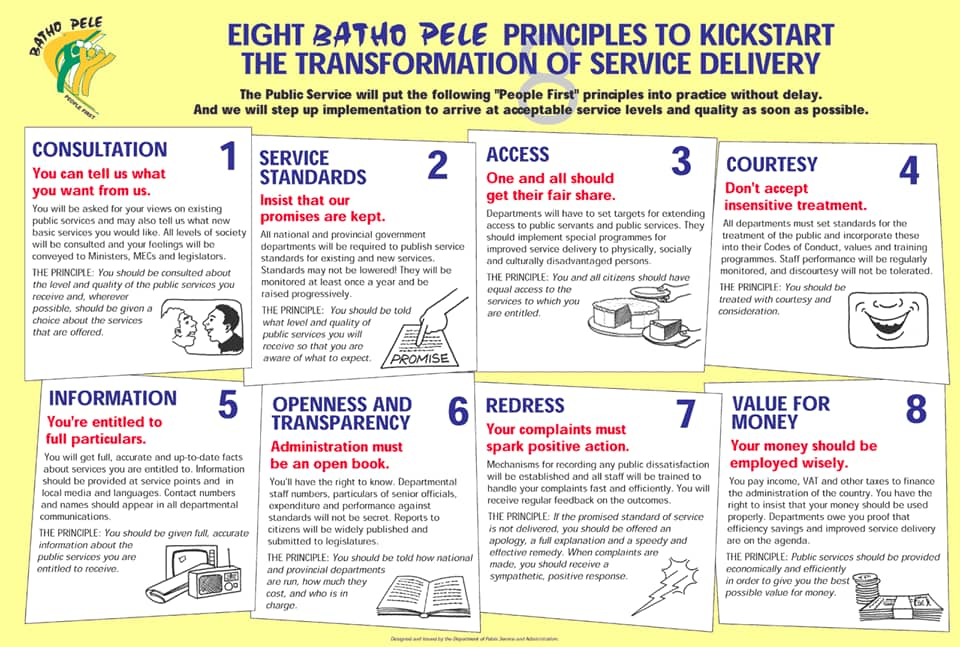 These are the Batho Pele principles in municipalities. Public servants need to adhere to them. Chances are that they are part of the Batho Pele principles poster details. They include:
1. Consultation
This means to interact with, while you listen to and also learn from those you are serving. Public servants must stay in touch with those they serve. They can do this by finding out the needed help, understanding how customers want services delivered as well as getting feedback on areas of dissatisfaction. This stage is meaningless if no feedback gets to the management for necessary system changes. This way, the management can take the right steps for improvement of services to all.
2. Service standards
All departments have service standards which act as a guide when it comes to service delivery especially with concerns of quality or standard. The service standards stipulate procedures and duration within which it takes to get certain services from specific public service quarters. For instance, going to Home Affairs to apply for an ID Book, one should have the necessary documentation and expect the ID book to be out in 6 weeks. Failure to keep this standard should translate to the department explaining to the customer and probably extend an apology.
3. Redress
Redress applies when people fail to get what they need from the Public Service, they have a right to redress. This means that the public servant should immediately apologize to them and also tell them what solution they are offering to their problem. In case of none, the manager should be involved to ensure the issue is sorted out once and for all. It is necessary to apply this as one of the Batho Pele principles in education.
A public servant that is considered successful is one whose ability to deliver expected results is unquestioned. It is imperative for citizens making complaints to get positive responses after they have been shown some sympathy. It focuses on the promotion of the Administrative Justice Act which allows citizens want reasons for certain decisions being taken by the government especially if it has an effect on them.
The Act makes sure that citizens will have a right to lawful administrative decisions as well as ensuring fairness in all procedures. The Act also accommodates appeals in case an explanation was not satisfactory enough. The court or an independent tribunal may be involved at this stage.
4. Access
Every citizen is entitled to equality. It is especially more relevant to persons with a disability, illiterate folks and those from rural areas as they may find it challenging to access some, if not all, government services. Public servants play a special role to ensure that anyone needing special help gets it. It is up to the managers and supervisors to ensure that disabled people, more so those in wheelchairs and walking aids get into a public building with ease. Those with visual disabilities should be helped too.
5. Courtesy
Public servants have to remember that they are employed to help the people and to give them assistance entitled to them. This means that they should not become hindrances or obstacles. It is only right therefore that they are courteous and offer a helping hand whenever needed. This is one of the Batho Pele principles health guides that should be adhered to. Furthermore, people in the health sector need to be more courteous.
6. Information
Citizens need full disclosure and must be given full info concerning the services they need. It is necessary for the public servant to find out about the information in case they are unaware. In the case of referrals, there should be enough clarity on what the customer should get and what they should expect. When people are informed then they can access better assistance and the queues will be shorter. It is important for the public servant to spend a bit more time with people that need a better explanation.
7. Transparency
Public Service and administration should be transparent. It is the right of people to access these services. Unfortunately, this does not happen moreso when poor people are involved as they don't get access to basic services which ought to be free, or even benefit from social grants because they do not know how to get the right information. It is important for people to understand how things operate, how the different department works, as well as who is in charge and what the plans and budgets are.
8. Value for money
This Batho Pele principle insists on taking care of resources. Public servants should safeguard the scarce resources offered by the government. This way, they can always deliver services that are cost-effective and efficient. It is the duty of the servants to inform the management of resource wastage as well as look for ways of saving money and time. This should happen without compromising service quality.
Batho Pele principles act as guidelines on how public servants should behave in their places of work. These principles are meant to keep servants grounded and make service delivery convenient, easy and fast.
Source: Briefly News